TORONTO (Mar. 26) — Whether the Toronto Maple Leafs demolish a team with no defensive posture (Florida), or get demolished by the best regular–season club in more than a generation (Tampa Bay), it is elementary for another two weeks. Until the night of Apr. 11, when the opening–round playoff series against Boston is expected to begin at the TD Garden. Only then do games start to matter once more.
The remaining six matches of the regular schedule — beginning Wednesday night, at Philadelphia — are exhibition tune–ups, six months after the real exhibition games. All the Leafs must be concerned about is somehow avoiding injury to key personnel. Otherwise, patterns and final scores are meaningless. For more than a month now, the Leafs have been locked into their playoff stance in the Atlantic Division; incapable of moving up toward Boston or being snatched from behind by Montreal. A reason, perhaps, for their concurrent lethargy on many nights. Yes, Frederik Andersen is flailing again in March. Yes, the Big Dane must get it together in the next fortnight. But, no, he can't be as physically spent as last year — not after a mid–season hiatus during which he appeared on only four occasions between Dec. 22 and Jan. 31. A slight groin–strain; the National Hockey League All–Star break and the Leafs' mandatory five–day schedule lapse accorded Andersen the breather Mike Babcock would have otherwise denied him. So, big Fred should have abundantly more fuel to begin the Stanley Cup tournament this spring; a good start for the Blue and White.
As for the general malaise of the past month, it can be turned around at the drop of a puck. Don't let anyone tell you a hockey club must enter the playoffs on a roll. These eyes, over the past 50 years, have watched innumerable teams founder toward the end of the regular schedule, only to ramp it up three or four nights later in the opening Stanley Cup match. So, again, pay little concern to the remaining Toronto results this season — the mantra I've tried to impart on a work–colleague, Michael Berlin, whose blood–pressure admittedly rises and falls with every minute of every game. In order to retain health, fortitude and sanity for the playoffs, Michael and his fellow Leaf fanatics need to hit the "ignore" button for the next two weeks.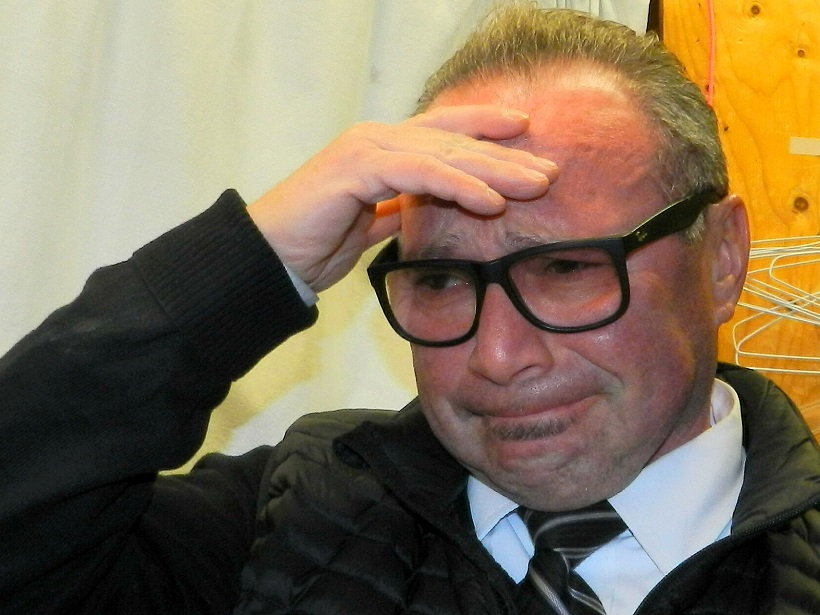 I'VE TRIED TO ENCOURAGE MY BENJAMIN'S COLLEAGUE, MICHAEL BERLIN, TO STOP WORRYING ABOUT THE LEAFS UNTIL IT MATTERS — IN MID–APRIL. BUT, I'M NOT SURE THE MESSAGE IS SINKING IN.
Monday night's 7–5 victory over Florida at Scotiabank Arena lifted the pall for those concerned the Leafs had forgotten to score. Even that should be filed away. Yes, John Tavares pored in four goals… but me, you and your bald uncle could do the same against the Panthers. Conversely, the Maple Leafs go back to the Nassau Coliseum on Apr. 1 and Tampa Bay returns to Scotiabank on the 4th. Alfred Hitchcock never supplied anything as ghoulish as the poundings Toronto absorbed last month against the Islanders (6–1) and Lightning (6–2). Again… who cares? The Islanders need to get by Pittsburgh and Washington before any playoff clash with Toronto. And, the Leafs — deep breath — have to eliminate the Bruins in a Stanley Cup series for the first time since 1959 before encountering T–Bay. Nothing that happens between now and the final regular–season game (at Montreal), Apr. 6, will have any playoff bearing on the Leafs. Unless the club incurs another critical injury. Defensemen Travis Dermott and Jake Gardiner need to return at reasonable health for the Maple Leafs to have any chance of upending the Bruins. Dermott could suit up this weekend; Gardiner, in a best–case scenario, will recover from his back injury in time for Game 1 at Boston.
So, breathe easy, Toronto hockey zealots, and have some fun in the next two weeks. Go hard on statistics. The Leafs (45–25–6) can still finish with 108 points — three more than the franchise record set last season. They can win 50 games for the first time. With a regulation victory at Philadelphia Wednesday night, Toronto would equal its club–mark of 23 road triumphs in one season (from 2003–04). Individually, Tavares, with five goals, can become the first Leaf since Dave Andreychuk in 1993–94 to score 50 in one season (only the fourth, overall, after Rick Vaive, Gary Leeman and Andreychuk). Mitch Marner is the first Leaf to accrue 90 points since Mats Sundin (94) in 1996–97. If he records 96 points, Marner will fall in behind only Doug Gilmour (127 and 111) for most in one season since 1980–81 (when Wilf Paiement had 97). Morgan Rielly is the first Toronto defenseman since Borje Salming in 1979–80 to record 70 points. He needs to get hot in the remaining six matches to equal the franchise record for blue–liners of 79, established by Ian Turnbull in 1976–77. Auston Matthews (35–34–69) has a decent shot at hitting the 40–goal mark for the second time in his young career. Kasperi Kapanen (19), Patrick Marleau (16) and Nazem Kadri (15) could join Tavares, Marner, Matthews, Zach Hyman and Andreas Johnsson among Leafs to record at least 20 markers.
None of which, naturally, will matter come Apr. 11, in Boston.
But, all of which should provide intrigue beforehand.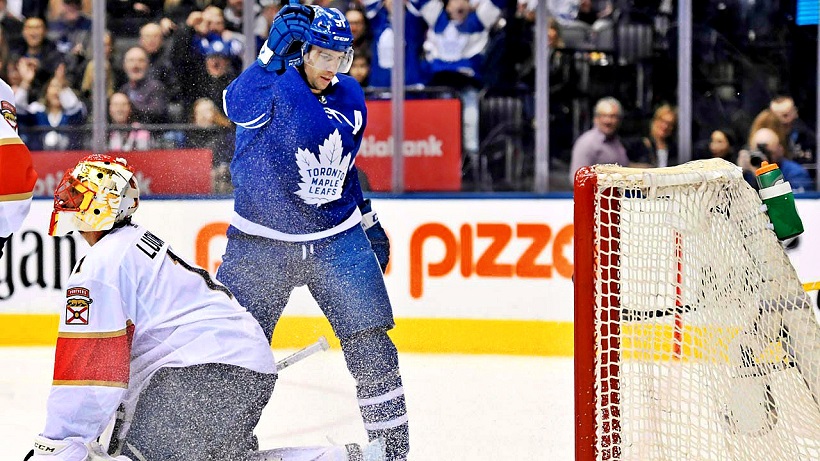 JOHN TAVARES WAS UNSTOPPABLE AGAINST FLORIDA ON MONDAY NIGHT, SCORING FOUR GOALS.
NATHAN DENETTE THE CANADIAN PRESS
RECORD WATCH ON THE GULF: Tampa Bay is enjoying one of the most–prolific regular seasons in NHL history. The Lightning (59–14–4) can become only the third team to win 60 games by defeating Washington at home on Saturday night. Montreal went 60–8–12 in 1976–77 and amassed the league record of 132 points. Detroit was 62–13–7 in 1996–97 (131 points) and holds the mark for most victories in a season. Tampa needs to run the table (5–0–0) in its remaining matches to equal Montreal's points record. Three wins will tie Detroit's total from 22 years back… No team, since New Years Eve, has been hotter than Carolina. The Hurricanes were 15–17–5 before defeating Philadelphia on Dec. 31 to begin a remarkable 27–9–2 stretch. With 91 points, Carolina holds down the No. 1 wild card playoff berth in the Eastern Conference. But, the Canes could still move into any of the Top 3 spots in the Metropolitan Division — Washington leads with 96 points; the Islanders and Pittsburgh have 95. Though Barry Trotz of the Islanders is a virtual lock to win the Jack Adams Award as NHL coach–of–the–year, Rod (the Bod) Brind'Amour should accrue plenty of votes for his second–half work behind the Hurricanes' bench.
EMAIL: HOWARDLBERGER@GMAIL.COM