TORONTO (Mar. 17) — Happy St. Patrick's Day. Happy green blog–print.
Perhaps I'm in the minority, but I'm still not overly concerned about the Leafs going into a defensive slump in mid–March. Far–better now than in mid–April. Neither do I believe this downturn is coincidental to the absence of Top 4 blue–liners Jake Gardiner and Travis Dermott. Though it doesn't adequately explain the lack of preparedness in the first period of recent games, the Leafs cannot prevail with Martin Marincin, Igor Ozhiganov and Justin Holl assuming more than part–time minutes. When the aforementioned are elevated from spot to regular duty, the club is handcuffed. And, it complicates the task of general manager Kyle Dubas in the off–season, if the Leafs decide to let Gardiner (an unrestricted free agent) walk. You cannot merely plug a veteran hole on defense with a minor–leaguer. It's a cheaper option, but also precarious. For all of his apparent foibles, Gardiner is an excellent skater and an above–average puck carrier. None of the part–timers playing full time at the moment can match his skill–set. So, if the Leafs cast him aside in the summer, as expected, Dubas will need to unearth an acceptable replacement. Dermott isn't as flashy as Gardiner, but also has good puck–moving skill. The Leafs are badly missing both men right now and will not last more than five games against Boston in the playoffs if they aren't back in the line–up… Neither Frederik Andersen nor Garret Sparks are performing to standard between the pipes — an obvious concern with the Stanley Cup tournament three weeks away. Again, without Gardiner and Dermott, opponents are controlling and cycling the puck more effectively in the Toronto zone. Scoring chances and goals against have therefore multiplied. Neither have the forwards been of particular help behind center–ice, which must be driving Mike Babcock a little crazy. Though the Leafs rebounded from a 5–2 deficit on Friday night to edge Philadelphia, 7–6, the game likely nauseated Babcock. Under no circumstance will such pond–hockey suffice in the playoffs. The Leafs have repeatedly shown they can score in bunches and win games against weaker opponents on talent alone. But, they'll need far–more commitment without the puck in April and May…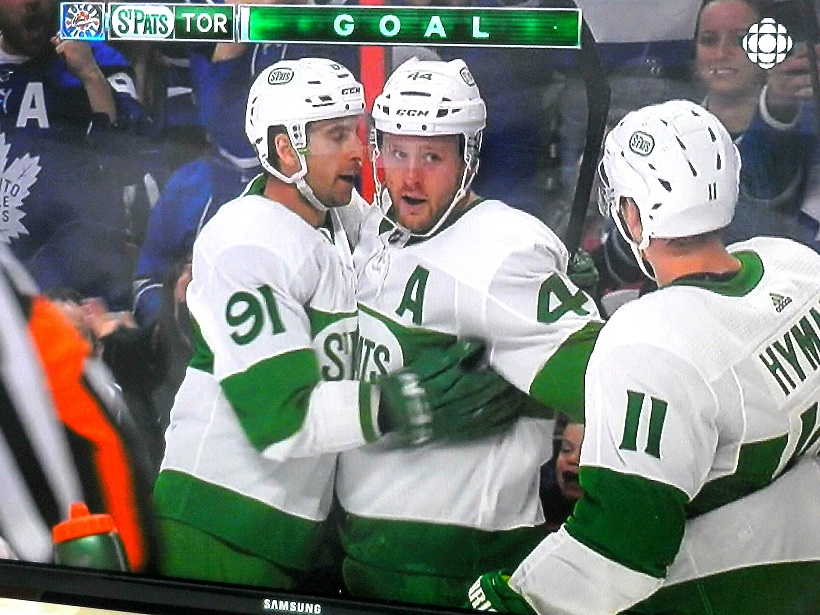 JOHN TAVARES (91) AND ZACH HYMAN (11) CONGRATULATE MORGAN RIELLY ON SCORING HIS 20th GOAL OF THE SEASON FOR THE LEAFS, WHICH BRIEFLY CUT INTO OTTAWA'S 2–0 LEAD ON SATURDAY NIGHT. THE LEAFS WORE THROWBACK TORONTO ST. PATS' JERSEYS IN HONOR OF ST. PATRICK'S DAY. CBC/ROGERS IMAGE
Morgan Rielly now has 68 points, which equals the number compiled by Bryan McCabe in 2005–06 for third, all–time, among Leafs defensemen in one season. Only Borje Salming and Ian Turnbull produced more, between 1976 and 1980. Rielly is providing the Leafs that long–missing element: a Norris Trophy threat capable of 70–plus points. Without Gardiner and Dermott, however, Rielly must assume too much of the load… For whatever reason, talk of the vacant Leafs captaincy has resumed this week — Kevin McGran of the Toronto Star and Steve Simmons of the Toronto Sun each weighing in on the issue. My ol' pal, Steve, thinks that John Tavares should wear the 'C' whenever the club gets around to awarding it. But, I have long–felt (and written here) that Rielly is the de–facto captain and leader. Whenever there's a dispute on the ice, Morgan can be found arguing on behalf of his teammates and he's a terrific media spokesperson for the club. Tavares has done the same in his first season with the Leafs; his comportment and reputation, on and off the ice, are impeccable. But, what has Rielly done to fall a rung below Tavares in consideration for the 'C'? As mentioned, he's having the best statistical year on the Toronto blue line in nearly four decades, and defense is a tougher position to master than forward. By–passing Morgan for the captain's role would be an insult to arguably the club's most–valuable performer in 2018–19… Interesting, also, that the debate excludes Auston Matthews, the Leafs most dynamic player. Yet, I concur that Rielly and Tavares should be considered beforehand. Matthews does his talking on the ice — non–verbally. He isn't nearly as comfortable in the media spotlight as Rielly, or as well–spoken as Tavares. I'm not sure I would burden Matthews with the 'C'. Let the kid go out; make plays and score goals. That's what he does best… Condolences and sympathy to my old FAN–590 running–mate Stormin Norm Rumack on the loss of his mother, Sylvia, who passed on Thursday night at 96. In today's sanitized, conflicted media environment, in which TSN and Sportsnet co–own the Leafs, Norm could never get away with his shtick from the mid–to–late–90's, when he ruled, yelled, ranted, raved, argued and threw conniptions on the air as the "late–night vampire". Today, it's all about "branding". Only the slick survive. Norm told a funny story on Sunday about the time he took the phone–recording of a death threat to Metro Toronto police. The detective, obviously a listener to The FAN–590, looked at Rumack and said "I'm surprised it hasn't happened to you yet." Which must have been comforting to my good friend (sigh)… And, I leave with a prediction: Despite their horrible defensive posture of late, I suspect the Leafs will play one of their best games of the season in Nashville on Tuesday night. The Predators are exactly what the Leafs need right now — a strong, disciplined and playoff–savvy opponent. Traits that often bring out the finest in Babcock's crew. Now, in honor of St. Paddy's Day…
THINGS THAT WERE GREEN
(Even in Black and White)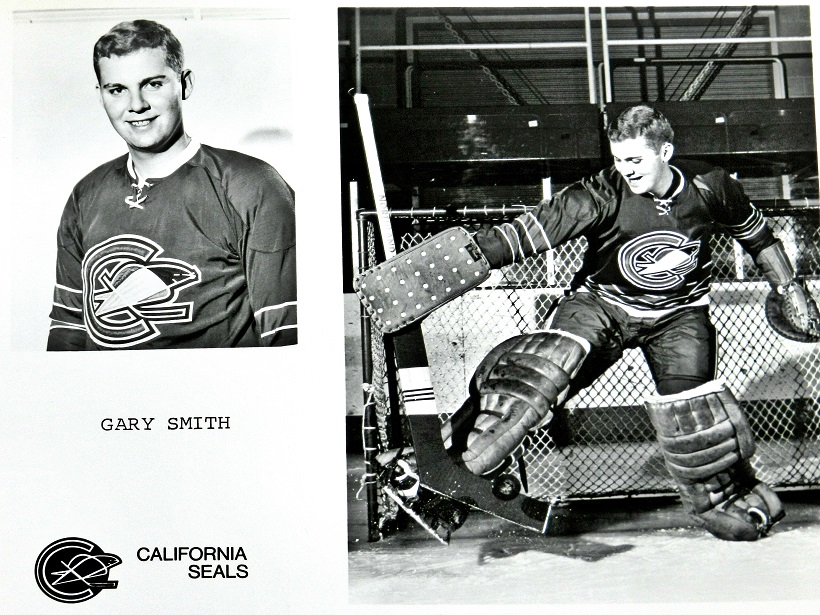 When the NHL doubled in size by adding six expansion teams in 1967–68, the California Seals and Minnesota North Stars became the first clubs since the Toronto St. Pats (in 1926) to wear green as primary color. These black–and–white photos of the original Seals jersey were issued to media after training camp in 1967. Both Gary Smith (above) and Gerry Ehman (below) had formerly played for the Leafs.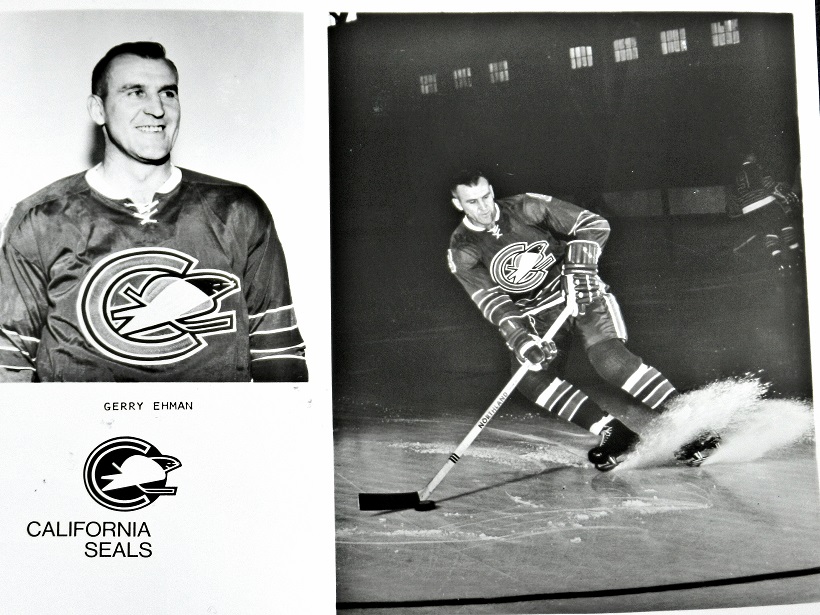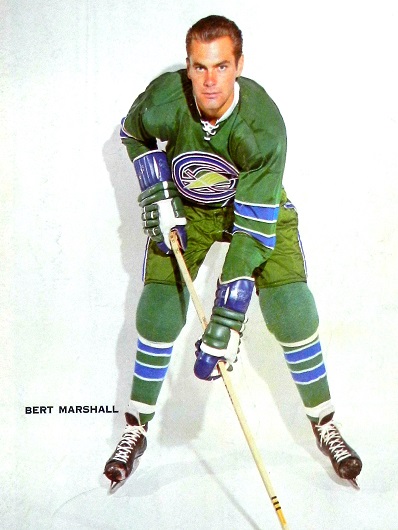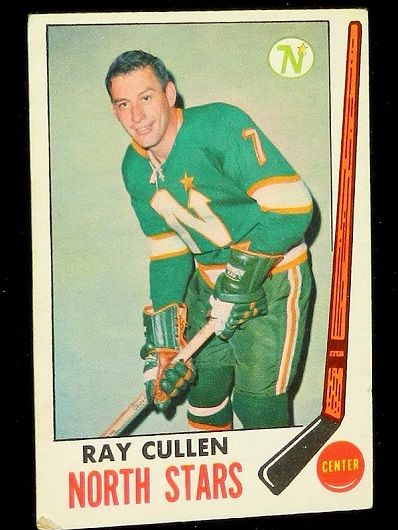 COLOR IMAGES (ABOVE) OF THE ORIGINAL SEALS AND NORTH STARS UNIFORMS.

IN 1970–71, THE SEALS TURNED TO GREEN AND GOLD FOR FOUR SEASONS.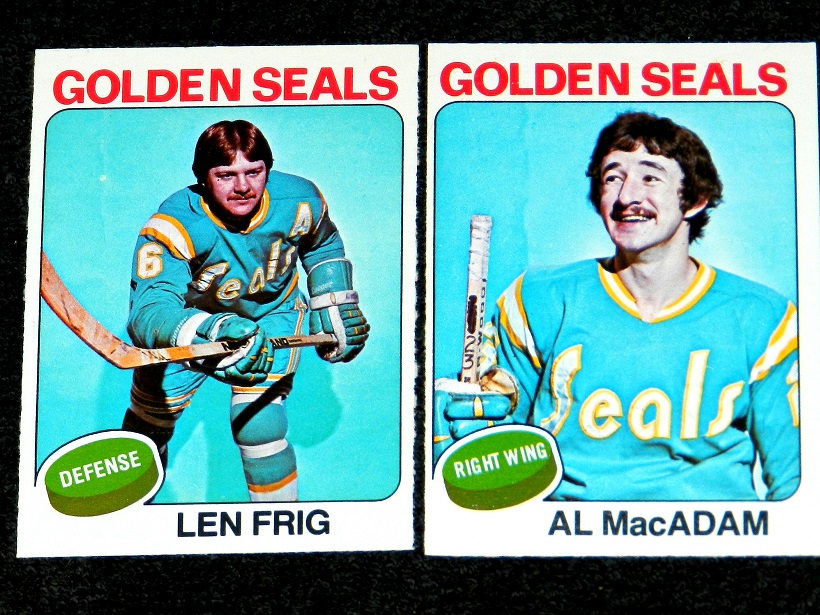 IN THEIR FINAL TWO NHL SEASONS (1974–75 / 1975–76), THE SEALS WERE LESS–THAN GREEN — WEARING MORE OF A TEAL OR TURQUOISE ON THE ROAD. THE CLUB CALLED IT "PACIFIC BLUE".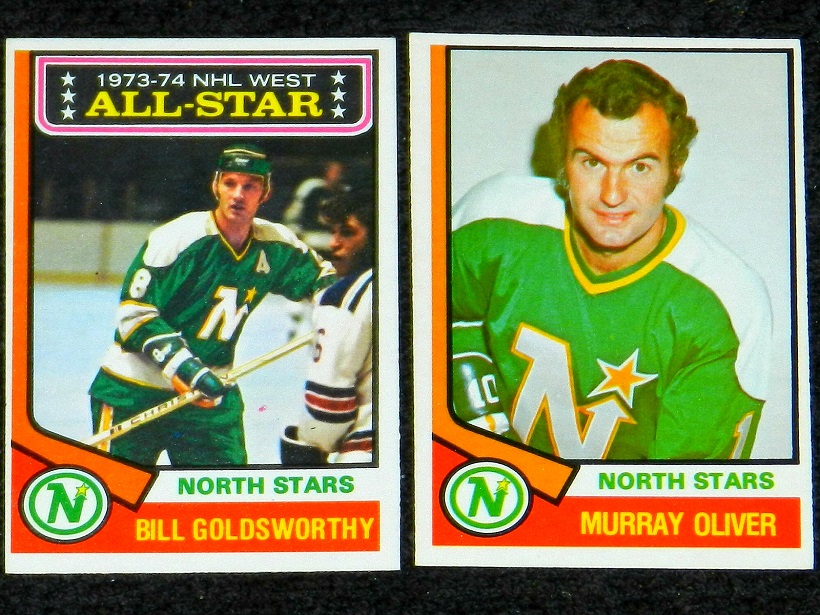 THE NORTH STARS VARIED THEIR UNIFORM DESIGN ON A FEW OCCASIONS BETWEEN 1968 AND 1991, BUT MAINTAINED GREEN AND GOLD AS PRIMARY COLORS.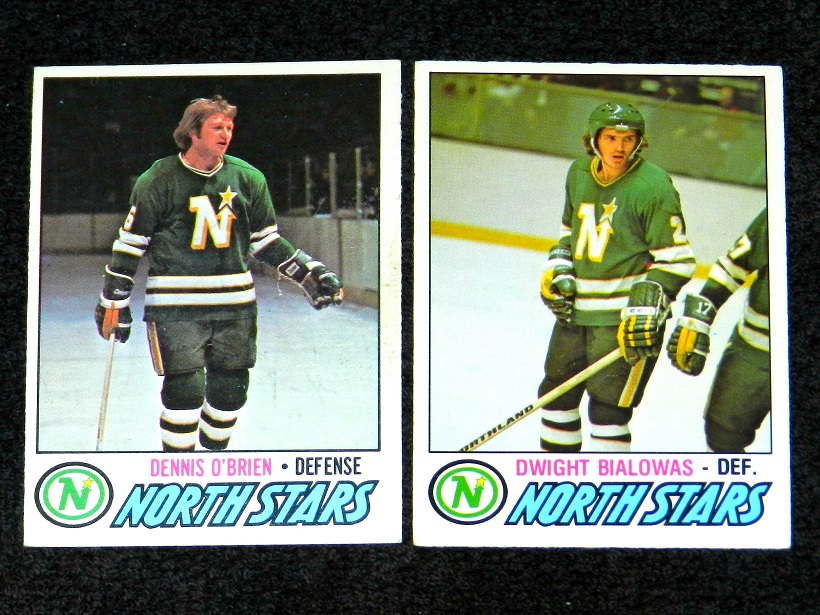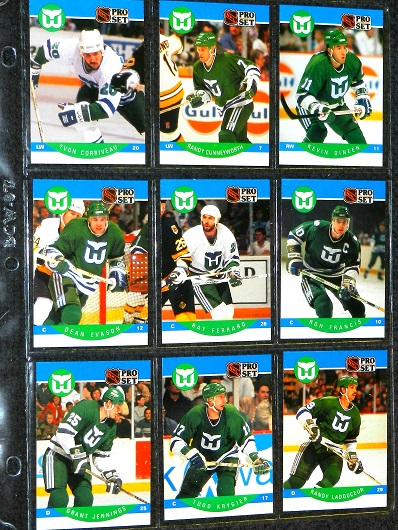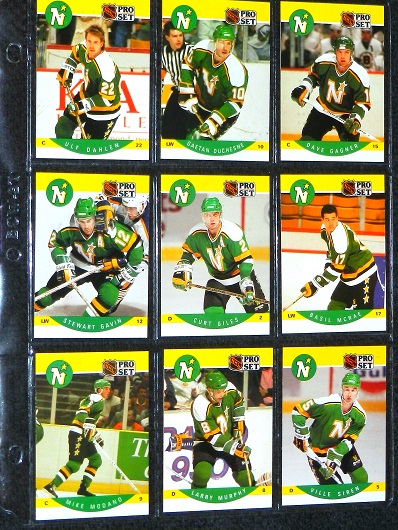 WHEN THE NHL ABSORBED FOUR REMNANTS FROM THE WORLD HOCKEY ASSOCIATION IN 1979–80, THE HARTFORD WHALERS (LEFT) JOINED MINNESOTA (RIGHT) IN WEARING GREEN.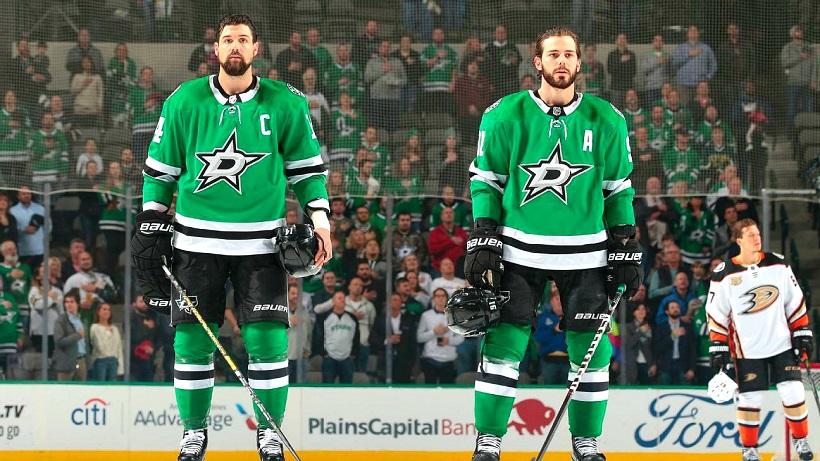 TODAY, THE DALLAS STARS (ABOVE) AND MINNESOTA WILD (BELOW) CARRY THE GREEN BANNER.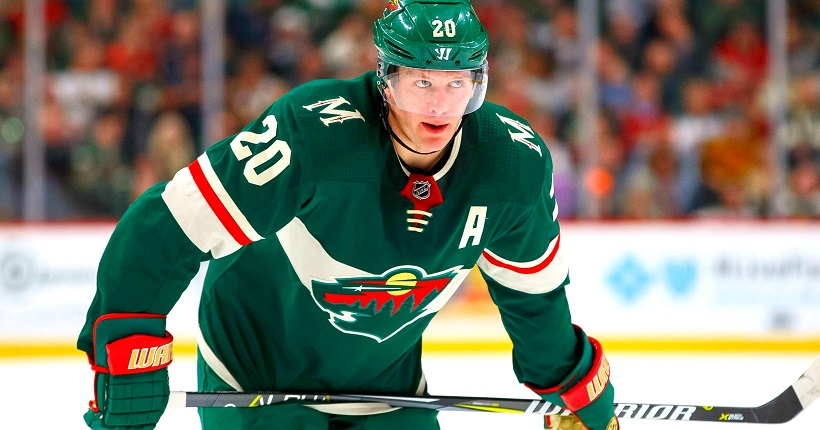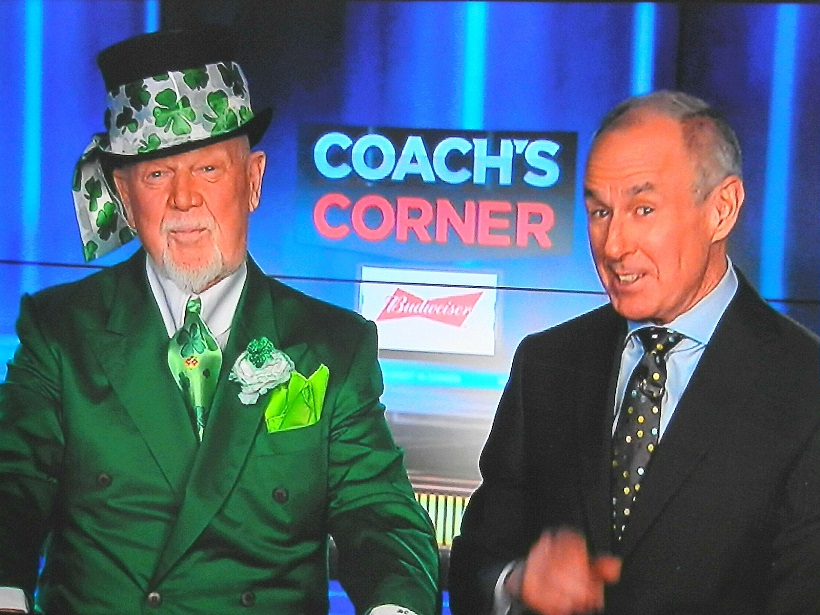 AND, WE KNEW THAT ONLY GREEN GRAPES WOULD APPEAR ON TV SATURDAY NIGHT.
EMAIL: HOWARDLBERGER@GMAIL.COM