TORONTO (Mar. 31) — I'm not sure I would call it full–blown panic. But, pretty–darn close. After a number of dubious performances in the past month, a second loss by the Maple Leafs in 14 nights to the National Hockey League's worst team pushed fans to the edge of the cliff. Being embarrassed on Hockey Night In Canada — nationwide — by the Ottawa Senators twice in three Saturdays was more than the local zealots could stomach. Even my best efforts, in this corner, at gestalt therapy failed. Abysmally.
For evidence, we turn to that bastion of prudence and stability: H–F Boards. A quick perusal of comments on the Leafs page in the wake of Ottawa's 4–2 victory at the Canadian Tire Centre reveals hysteria. Though Toronto's Magic Number to clinch a playoff berth remains at one with four games left (either a single point gained, or lost by Montreal, will suffice), fans are envisioning a cataclysm. Unconstrained vitriol spewed forth at Garret Sparks, Mike Babcock, Kyle Dubas, William Nylander, Patrick Marleau and, of course, those conspiratorial referees. Here, in alternating colors, is an anguished fan–base… nearing the gorge:
I'm sick of Sparks. ****ing sick of him. Just waiting for the game where he gets booed out of Scotiabank Arena.
We suck. At least Babcock will get canned when Boston wipes their ass with us. **** the Sens for playing our goal song.
Leave Sparks in Ottawa. Let him find his own way back and hopefully just get lost along the way. ****ing trash.
I never want to see Sparks in net again, he's absolute garbage.
Can we fire Babcock now? The team has tuned him out. Players are showing no heart. This is all on the coaches. Something needs to be done before this year is wasted.
Stick a fork in them. They're done. Embarrassing as a fan to watch.
Losing AGAIN to the bottom team in the league. The Leafs are SO gone in the first round.
When Dubas retooled the team to accommodate "Me–lander" coming back, it sent a message, loud and clear.
This team started 26–10–2 (117 point pace) and has since gone 19–16–5 (88 point pace). That is totally on Dubas.
Isles clinched tonight. We couldn't. Monday we could clinch against the Isles but we all know we will get smoked. Maybe we will try again against Carolina, but they will be desperate so probably not. This team is so weak mentally it makes me sick.
We would get swept by the Sens in the playoffs. Some think we have a chance against the B's. God bless you guys.
At this stage, I couldn't care less if the Leafs make the playoffs. What's the use if they put on embarrassing shows like this? At least we won't give Bruins' fans the pleasure at our expense… AGAIN!
Two goals against the worst team and a .904 goalie, but some people will come in here and blame the reffing for the loss. Also [getting] in before the advanced–stats people say we played good and should've won.
What else could the team do? There is only 2:03 left when the penalty against us was called. If the refs called a proper game pulling the goalie would've resulted in a Sens penalty and we could have had 1:45 of 5–on–4 time with the goalie pulled. But the zebras are blind or they ignored the slew–foot on purpose. Either way I won't begrudge Babs for pulling Sparks when he did.
Would kill for this team to have half the heart of the Caps.
Sens might have traded away a good part of their roster, but they still have way more heart than the Leafs. Gutless performance.

MARC DesROSIERS USA TODAY SPORTS

They won't pick up another point, and the Isles will destroy them on Monday.
If you're going to call out the rest of the team, you better ****ing make sure you show up. Good job you ****ing piece of ****. Garrett Sparks is the worst Leafs goaltender I've ever had the misfortune of watching. Get this bum off the team.
The Leafs had all the chances and gifted calls in the first two periods. This team is just brutal and won't be going anywhere. You thought you moved on from Phaneuf? He's back in the form of Zaitsev.
Losing to Ottawa once is no big deal; burn the tape and move on. Losing to Ottawa three times is inconceivable! No one should ever refer to the Leafs as one of the top teams. Boston is now a heavy favorite.
Two goals on 44 shots….yikes!
Kadri and Marleau have really taken steps back. Nylander is soft, over–paid, flashy; the odd–time player. Babcock has everyone scratching their heads. Dubas has made some bad moves. Sparks is terrible. This team has to make some serious moves this summer. The core needs to do some soul–searching.
The Leafs get screwed by bad officiating pretty consistently, so it's hardly worth worrying about anymore. But tonight was on another level. Just brutal.
Two blatant missed calls…. Chabot interfering with Kapanen and the trip on Tavares. The Johnsson call on Tkachuk was questionable. Hard to win or play physical if the refs wont let you.
Please… please miss the playoffs. That way we might be able to get rid of some garbage.
Being a Leafs fan is its own level of Hell. We need to revise Dante's Inferno.
Tavares did not come to Toronto because of ****ing Dubas; he came because of the talent [Mark] Hunter gathered for this team; his wife is from Toronto and his family is in Toronto. The team was trending upward before Dubas.
One step closer to the season being over. Maybe a miracle will happen and this team shows up for the playoffs. Maybe.
Babcock will cost us in the playoffs. The fans can say "he won a Cup; elite, fantastic, super coach." But, he is below average.
While missing the playoffs is very unlikely, it might be the best thing going forward. To say this team is flawed — from management, to coaching, to the ice performance — would be a huge understatement. I fully expect to be shot down for ignoring they are in an elevated position in the standings that was earned in the first 20 games before the rest of the league realized they are a bunch of soft players.
We were better last year because the Nylander/Matthews/Hyman line was consistently producing; Marner/JVR/Bozak were producing and, most of all, Kadri was producing. This year… yeah we have Tavares, but lost JVR, Bozak, Kadri, Nylander and "McBackup"… and our consistent Freddy.
The goaltending was absolute garbage again, as is the usual with Sparks. I really and truly hope the Sparks experiment is over for good. He can't even compete against a **** team like Ottawa. Just absolute trash. I guess this game is meaningless, as they've lost most of the last 10 anyway. Boston is gonna cream us in 4 or 5… easily.
They are going to miss the playoffs.
Enough is enough with Marleau. Just sit him for a game. I don't give a crap about his streak.
The alcoholism that is a result of being a Leafs fan has shortened many a life.
I have given up on this team since December and this coach is just awful. If you can't blame half of this garbage on the coaching style than I can't argue with you.
Like many others, I'm convinced this team has zero chance against the Bruins. I can't recall ever being this fatalistic about the team's potential in the playoffs. There was that fading team that got Pat Burns fired and limped into the playoffs under the guidance of Nick Beverley. Then there was that 1990 team under [Doug] Carpenter that played zero defense while playing run–and–gun hockey. I still held out hope in those years. What's different is that a better version of this team still didn't seem good enough last season.
Yep, it's not a surprise that the group who supports Babcock the most also wants Dubas to be fired immediately. Anything to deflect blame. In reality, nobody is going to fire a GM who's had one year and done mostly good things over the coach who's had four years and done nothing.
What frightens me about this team is they have Tavares, Rielly and Marner with career years… and they still suck.
Can't beat the turds; not going to come close to beating the Bruins. It's over. Four–game sweep.
It's definitely a reflection of how horrible Babcock is. Vast upgrades to the roster and the team may end up with same points as the rookie team from 2016–17. Precisely ZERO progress with the core. Blows my mind how some folks still can't see how bad he is.
Forget about beating the Bruins.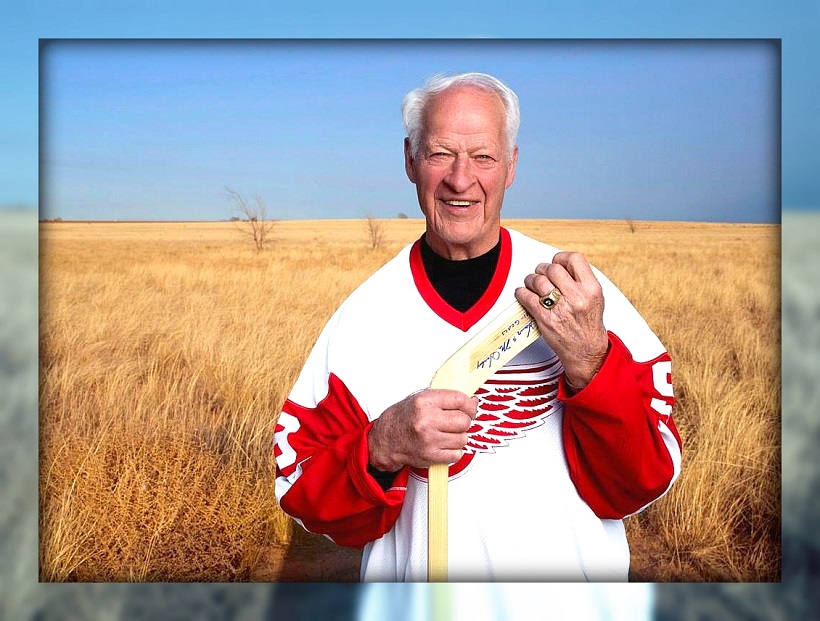 GOD BLESS MR. HOCKEY, WHO WOULD HAVE BEEN 91 TODAY. GORDIE HOWE DIED JUNE 10, 2016.
THOSE NHL SCOUTS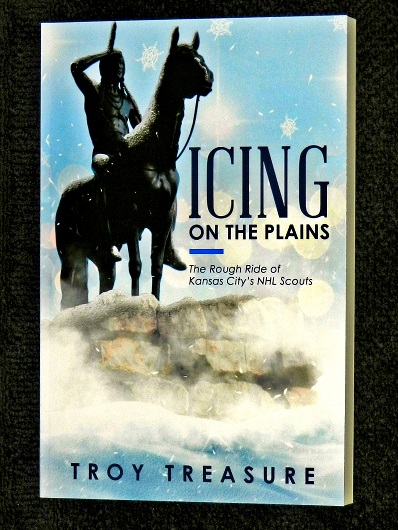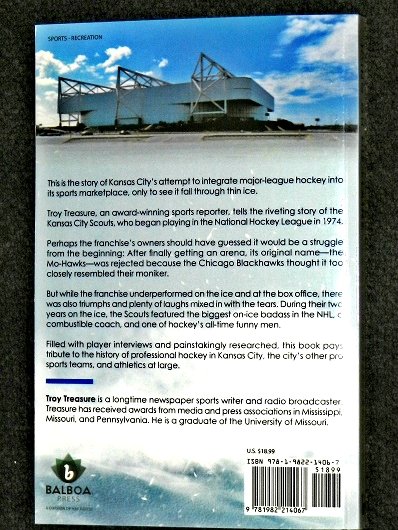 Many of you reading this blog may not have heard of the Kansas City Scouts. But, they live on today as the New Jersey Devils. Kansas City MO was awarded an NHL team (with Washington DC) in the fourth wave of expansion, for the 1974–75 season. The club played only two seasons at Crosby–Kemper Arena — accruing a dreadful combined mark of 27–110–23 in 160 games — before re–locating in Denver (as the Colorado Rockies) in 1976–77. The Rockies then moved to East Rutherford NJ for the 1982–83 season.
I am currently reading the above book (by Troy Treasure) on the two–year history of the Scouts.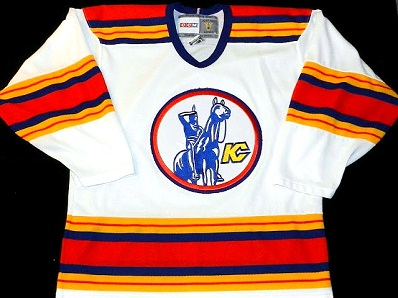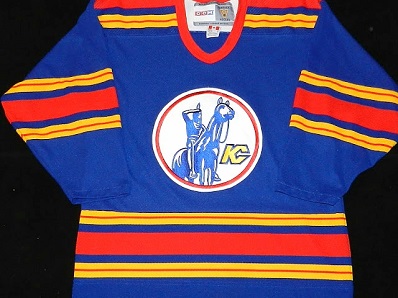 Kansas City wore these jerseys during its brief NHL existence: home (left) and road (right).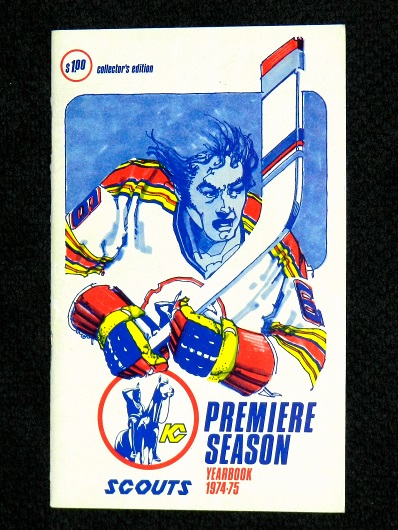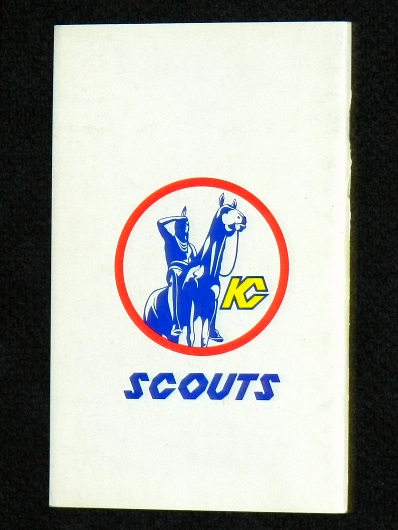 In my collection, the front and back–covers of the Scouts inaugural NHL media guide.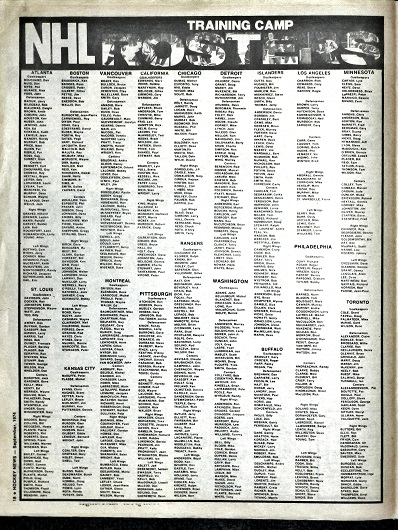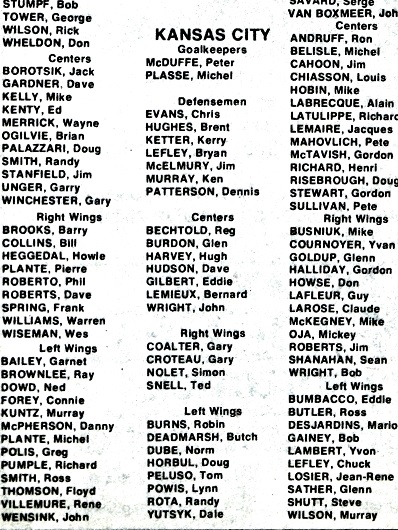 From THE HOCKEY NEWS, Kansas City's first training camp roster (top–right). Recognize any names?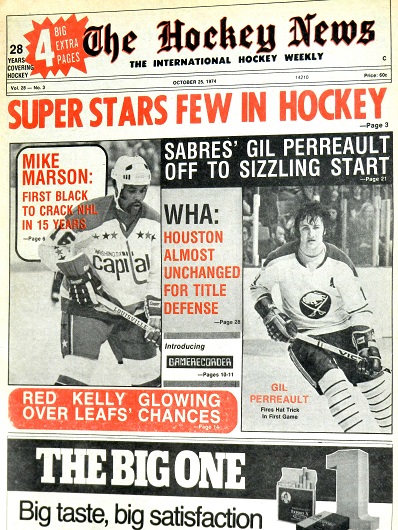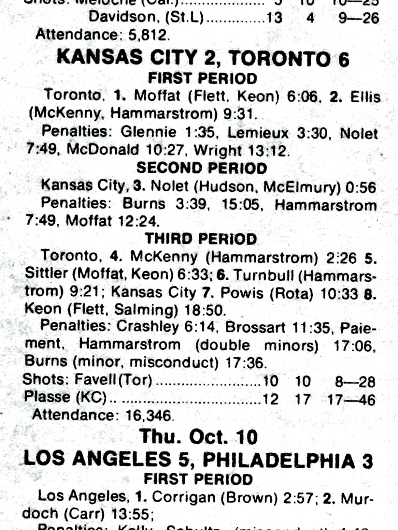 The Scouts played their first–ever game here in Toronto, at Maple Leaf Gardens, on Wednesday, Oct. 9, 1974. From the Oct. 25, 1974 edition of THE HOCKEY NEWS, is the summary (top–right) from that game.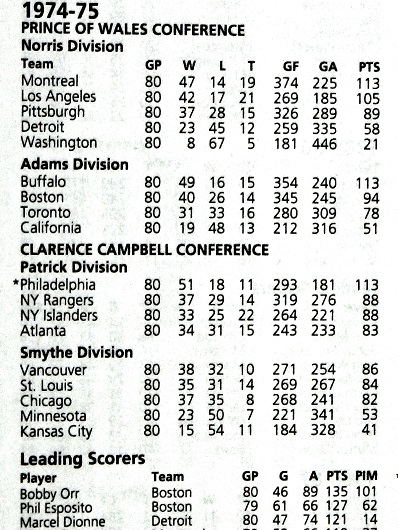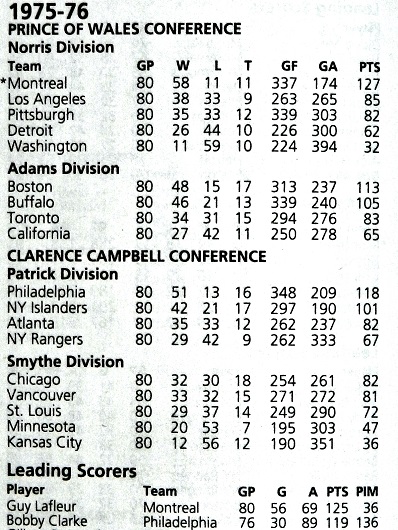 Kansas City finished dead–last in the Smythe Division during both of its NHL seasons.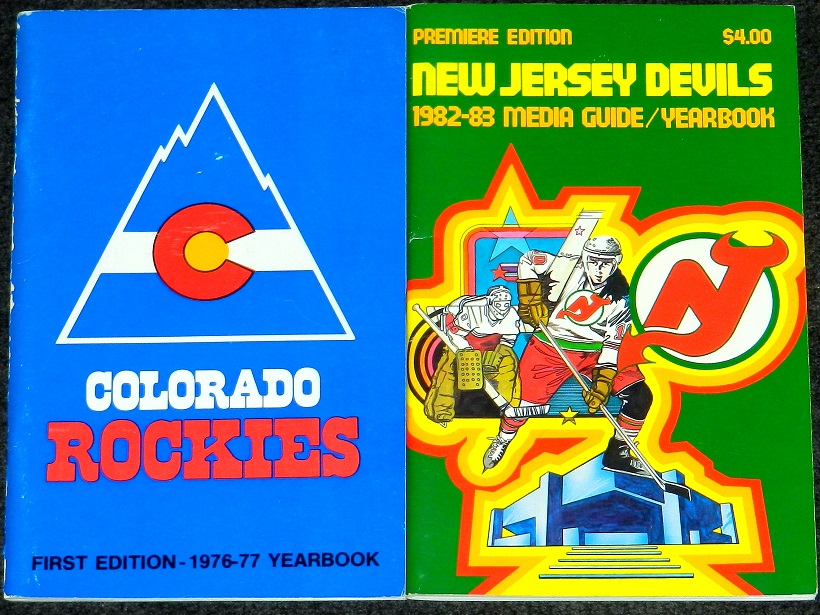 The Scouts moved on — first to Denver in 1976 (left) then to East Rutherford NJ (right) in 1982.
EMAIL: HOWARDLBERGER@GMAIL.COM