TORONTO (Apr. 20) — To paraphrase Mark Twain from 122 years ago, "rumors of Mike Babcock's death have been greatly exaggerated." The future of the Toronto Maple Leafs coach drove the dialogue as recently as Friday evening on Prime Time Sports — Bob McCown, Stephen Brunt, Richard Deitsch and John Shannon wondering if and when Sheldon Keefe might graduate to the big club from the AHL Toronto Marlies. Roughly one hour later, the puck dropped at the TD Garden in Game 5 of the Leafs–Boston Bruins playoff series.
And, the topic became moot.
It was the finest hour of Babcock's term behind the Maple Leafs bench. He not only devised a marvelous defensive game–plan, but coerced his players into executing it without pause. That the Leafs could go to Boston in a pivotal Stanley Cup match and prevail by out–grinding the Bruins was considered implausible. Until it actually happened. On Friday. Now, just about anything is conceivable in this spring of shocking results: the National Hockey League's top two teams from the regular season — Tampa Bay and Calgary — losing seven of eight games to be ousted with nary a whimper. Still very–much alive? The specter of an all–wildcard Stanley Cup final involving Colorado or Dallas in the West; Columbus or Carolina in the East.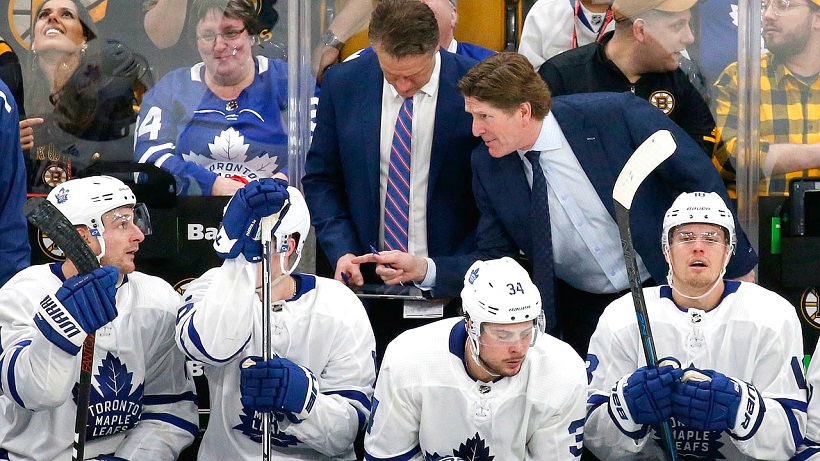 MIKE BABCOCK PUSHED ALL THE RIGHT BUTTONS ON FRIDAY IN BOSTON. THE 2–1 VICTORY IN GAME 5 WAS HIS FINEST WORK AS COACH OF THE MAPLE LEAFS. MARY SCHWALM THE ASSOCIATED PRESS
Indeed, the Conference quarterfinals have been sillier than ever. The Maple Leafs are now poised to win a rare matinee at Scotiabank Arena on Sunday (3 p.m. EDT) and advance in the playoffs for the first time in 1½ decades. Not since Apr. 20, 2004 — 15 years ago tonight — has Toronto ousted a Stanley Cup opponent (Ottawa). The club failed to qualify 10 times in the interim (including a franchise–record seven consecutive years, from 2006–12) and thrice lost in the initial round: to Boston (2013, 2018) and Washington (2017). A victory either Sunday here in town, or Tuesday back in Beantown, sets up a Toronto–Columbus Eastern Conference semifinal; the Maple Leafs with home ice advantage. Hardly a bettor's choice beforehand.
I know exactly what Leaf fans are thinking: "Don't count your chickens, Berger, before they're hatched." And, I'm right with you. We all know the Bruins won't perish without a struggle; the notion (gulp!) of another Game 7 showdown at TD Garden cannot be ignored. But, I called Toronto in 6 prior to the series and have no reason to backpedal. Even if the Bruins survive Sunday, the Leafs — by virtue of their meticulous performance on Friday night — will return to the TD Garden with swagger. Not fear. Thus the importance of the Game 5 conquest. Toronto, among the best road teams all season, won by playing "Bruins" hockey. And kept the Good Friday gathering on Causeway St. quiet until David Krejci ruined Frederik Andersen's shutout bid with 44 seconds remaining. It was, infinitely, a perfect road game. With Babcock the mastermind.
So, the conjecture involving the Maple Leafs and their coach, with respect to performance, is no–longer justifiable. It doesn't preclude the possibility that Babcock and Kyle Dubas are tired of working together and may part in the summer. But, that would be done mutually (can you envision Babcock and Ken Holland reuniting to coach and manage the NHL expansion team in Seattle?). Otherwise, Sheldon Keefe stays with the Marlies (or heads elsewhere in the NHL) and Babcock the Leafs (for a fifth season)… even if the Bruins rebound to win this series. We said beforehand that only an embarrassment — a four or five–game rout by Boston — would validate a coaching change. The Leafs are well–beyond that; on the cusp of prevailing in a playoff round for the first time since 2004; in a year when any of the remaining teams could legitimately win the Stanley Cup. Such is the bonus for having the top seeds in each Conference eliminated early.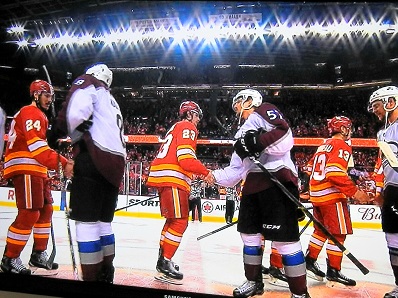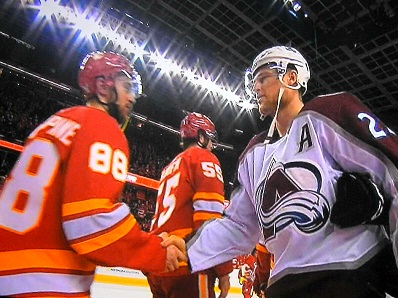 IN THE SPAN OF FOUR NIGHTS, THE NHL'S TOP TWO TEAMS WERE BOUNCED FROM THE OPENING PLAYOFF ROUND. TUESDAY, IT WAS COLUMBUS SWEEPING TAMPA BAY; FRIDAY (ABOVE), COLORADO TAKING OUT CALGARY IN GAME 5 AT THE SADDLEDOME. SPORTSNET IMAGES
During Prime Time Sports on Friday, the panel agreed the Leafs' optimal Stanley Cup window is two or three years down the road. Which, in all–due respect, was nonsense. We don't know, for example, who will be playing goal for the club at that time. Andersen has two years left on his contract and will be 32 when it expires. He's seen a lot of rubber the past three years. John Tavares will be 31 and, likely, losing a step. Who replaces Jake Gardiner and Ron Hainsey on defense? And, how competently? We do know that, barring the unforeseen, Tavares, Auston Matthews, Mitch Marner, Morgan Rielly and (perhaps) William Nylander will remain the core of the hockey club. But, too much can happen in "two or three" NHL seasons. Given the shocking results in the first playoff round this spring, the Leafs may not have a better opportunity to end their interminable championship drought. It must begin, of course, with one more triumph over the Bruins.
THE LAST TIME: Apr. 16, 1987 — Maple Leaf Gardens
We told you it was 15 years ago tonight that the Leafs last won a playoff series. But, it's been twice that time since the club eliminated an opponent on home ice after winning Game 5 on the road. As the Leafs will try to do against Boston on Sunday. When did it last occur? Exactly 32 years and four days ago — on Apr. 16, 1987 at Maple Leaf Gardens. Toronto, coached by the late John Brophy, was still part of the Campbell (or Western) Conference and matched up against St. Louis in the opening round for a second consecutive year.
The Blues, under Jacques Demers, had won a tight, seven–game clash in 1986.
After splitting the first four games in '87, the Leafs prevailed in the pivotal fifth match at old St. Louis Arena. Game 6, at the Gardens, is still remembered for a highlight–reel goal scored on a breakaway by plugger Brad Smith (a.k.a. Motor City Smitty) in the opening minutes. The Leafs won, 4–0, and advanced to the second round of the playoffs against Detroit. Tending goal for St. Louis in that series was current Maple Leafs TV analyst Greg Millen. Doug Gilmour was a star center for the Blues, still six years before he would nearly guide the Leafs into the Stanley Cup final (1993). Future Toronto captain Rob Ramage patrolled the blue line for St. Louis and goalie Rick Wamsley, who would later play for and help coach the Leafs, backed up Millen.
Here, in my '87 playoff scrapbook, are newspaper images from that last Game 6 ousting on home ice: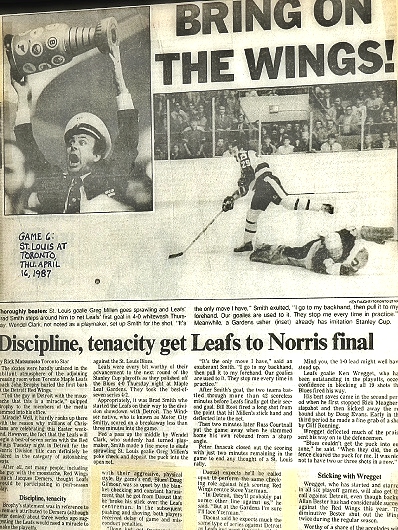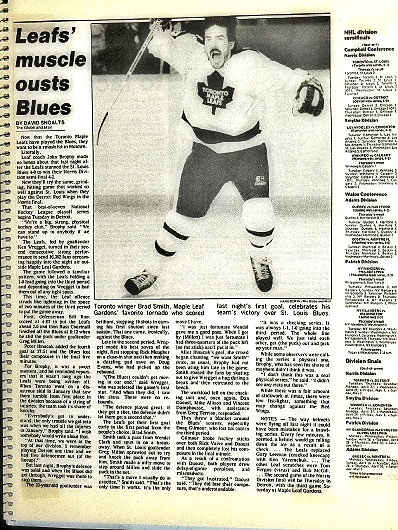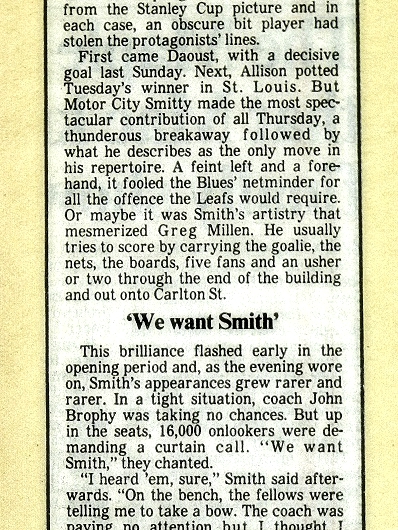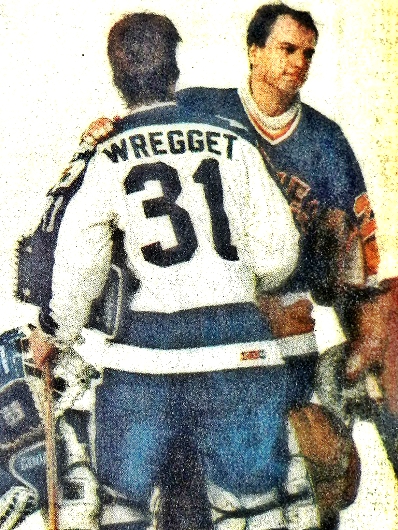 GAME 6 ELIMINATION RESULTS
Sunday afternoon will mark the 13th occasion since their last Stanley Cup victory, in 1967, that the Maple Leafs can eliminate an opponent in Game 6 of a best–of–seven series. Their record in the previous 12 attempts was 5–7. But, Toronto won nine of the 12 playoff rounds. Here is a Game 6 breakdown:
APR. 16, 1987 — St. Louis 0 at Toronto 4 (Series Result: Leafs in 6).
MAY 01, 1987 — Detroit 4 at Toronto 2 (Series Result: Red Wings in 7).
APR. 29, 1993 — Detroit 7 at Toronto 3 (Series Result: Leafs in 7).
MAY 13, 1993 — Toronto 1 at St. Louis 2 (Series Result: Leafs in 7).
MAY 27, 1993 — Toronto 4 at Los Angeles 5 OT (Series Result: Kings in 7).
APR. 28, 1994 — Toronto 1 at Chicago 0 (Series Result: Leafs in 6).
MAY 02, 1999 — Toronto 1 at Philadelphia 0 (Series Result: Leafs in 6).
MAY 17, 1999 — Toronto 4 at Pittsburgh 3 OT (Series Result: Leafs in 6).
APR. 24, 2000 — Toronto 4 at Ottawa 2 (Series Result: Leafs in 6).
MAY 07, 2001 — Toronto 2 at New Jersey 4 (Series Result: Devils in 7).
APR. 28, 2002 — Toronto 3 at New York Islanders 5 (Series Result: Leafs in 7).
APR. 18, 2004 — Toronto 1 at Ottawa 2 OT (Series Result: Leafs in 7).
EMAIL: HOWARDLBERGER@GMAIL.COM