TORONTO (Apr. 26) — When taking a moment to read between the lines of words spoken during the Maple Leafs' annual locker clean–out on Thursday — and, for whatever the cryptic messages were worth — I'm sensing Mike Babcock will not return for a fifth season behind the Toronto bench. My suggestion of this is two–fold: the club's general manager and its highest–profile player seem to not want him back.
To poach a horse–racing term, that's a rather ominous exactor.
Only Babcock truly knows why he chained Auston Matthews to the bench for 41 minutes and 12 seconds of Tuesday night's mutual–elimination game in Boston. With 18:48 of ice–time, Matthews certainly wasn't overworked; nor did Babcock appreciably shorten his bench in the third period after Sean Kuraly scored (at 2:40) to provide the Bruins a 3–1 edge. "Depends on shift length; depends on how many centers [we] have," said the coach on Thursday. "When we're winning, [Matthews] plays more; when we're losing, he plays less." Which didn't appear to be the case in Game 7. One would presume Babcock had reasons for this and wasn't bent on sabotaging his own team. Yet, he refused to directly answer the question while, otherwise, coming off as pleasant and poised in nearly 11 minutes at the podium in Scotiabank Arena. When queried on the issue, Matthews took the fifth: "I'm not deploying myself out there," he replied. Nor did Matthews appear to be much of a scoring threat Tuesday when on the ice… which likely played into Babcock's decision process.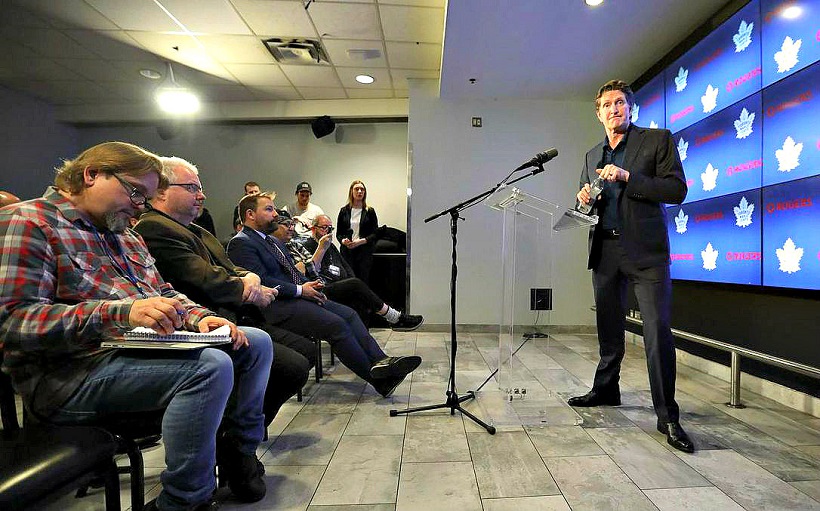 MIKE BABCOCK IN FRONT OF REPORTERS THURSDAY AFTERNOON AT SCOTIABANK ARENA.
For his part, Kyle Dubas should have gone straight from the arena to a ballroom. In his prime (with Ginger Rogers), Fred Astaire never tap–danced as adroitly as Dubas when addressing whether Babcock will return next season. No hint of an endorsement emanated from the GM, who brilliantly (if disingenuously) turned the focus toward himself… understanding, full well, he isn't going anywhere. But, we do know this: At no point during their first season together here did Dubas speak glowingly about Babcock; not, at least, in the few times he appeared before cameras and microphones. The coach, on the other hand, freely alluded to depth issues with the hockey club while defensemen Jake Gardiner and Travis Dermott were sidelined late in the season. And though he later back–pedaled, Saskatchewan–Mike is too canny allege by "accident".
I wrote in this space on Wednesday that the Leafs should retain Babcock and work toward narrowing the roster imbalance between skill and tenacity. I stand by that comment today. But, I'm not Kyle Dubas. Or, Auston Matthews. Neither of whom seems — and I stress, seems — at all enamored of the veteran coach.
In the always–peculiar chain–of–command with the Leafs, Babcock was hired by Brendan Shanahan on May 21, 2015. Two months and two days later (July 23, 2015), Shanahan hired Lou Lamoriello as general manager to replace David Nonis. Normally, a GM is brought aboard first and allowed to pick his own coach. But, availability dictated that Babcock arrive before Lamoriello. With the club prior to each was Dubas, who became Shanahan's first appointee (in July 2014) as assistant GM. At the end of last season, Shanahan chose to not renew Lamoriello's contract. The Hall–of–Fame executive took his act to Long Island and presided over the surprise club of the National Hockey League this season. Dubas was elevated to the GM's chair in Toronto less than two months later (May 11, 2018). Given that Shanahan brought Dubas to the NHL and chose him to replace Lamoriello, we'll assume Dubas now has the authority to determine Babcock's future — though a decision to fire Babcock would still likely require Shanahan's consent, if not approval.
After three consecutive first–round playoff eliminations; with Matthews unlikely to be disappointed by a change behind the bench, and given that Dubas would probably wish to hire his own coach, is there enough ammunition for the young GM to make a change before next season? My assumption: an unequivocal "yes".
HOW IT'S ENDED FOR THE LEAFS UNDER MIKE BABCOCK, COURTESY THE TORONTO SUN: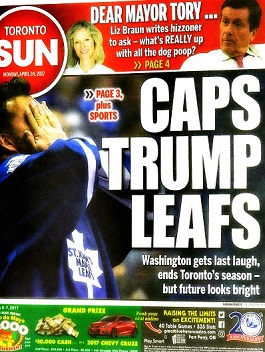 A fly in the ointment, clearly, could be the money owed Babcock to not coach the Leafs for the next four seasons — $23.5 million — an amount that would terminate only if Babcock were hired elsewhere. Maple Leaf Sports and Entertainment would hardly go broke if having to lay out such cash while gambling that Babcock will not wish to sit idly for nearly half–a–decade. This corner has postulated that the NHL expansion team in Seattle, scheduled to debut in the 2021–22 season, might seek to reunite Ken Holland and Babcock; the two having worked together for 10 prosperous years in Detroit. Holland was kicked upstairs by the Red Wings last week to make room for incoming GM Steve Yzerman. Seattle could do a lot worse than Holland and Babcock, with respect to name–recognition and accomplishment in the sport. Pierre LeBrun of TSN reported on Wednesday that Babcock has no "out" clause in his contract with the Leafs and could therefore not move elsewhere at his own behest. That would obviously change if Babcock were fired by Dubas.
The important matter of replacing Babcock cannot be minimized. The name mentioned exclusively is Sheldon Keefe, coach of the defending American Hockey League–champion Toronto Marlies. Dubas had a say in MLSE hiring Keefe to guide its AHL affiliate in June 2015, and Dubas managed the team that won the Calder Cup last spring. If the GM is adamant about elevating Keefe to the NHL, there will be yet more ammunition to terminate Babcock. I therefore anticipate the Leafs to make a change before next season.
EMAIL: HOWARDLBERGER@GMAIL.COM