TORONTO (Apr. 27) — Let me begin this blog with a sincere wish that Vladimir Guerrero Jr. enjoys a long, productive and healthy career with the Toronto Blue Jays, lifting the club and its ardent fan–base to countless moments of merriment. Because one day, sports people in this city will review the coverage before Guererro's first Major League Baseball appearance… and gasp at the overkill.
Even by today's Internet/social media–fueled standard of delirium did Sportsnet and its Blue Jays "partnership" outdo itself on Friday night. I felt sorry for my old pal, Dan Shulman, who habitually provides balance and perspective while booth–mates Buck Martinez and Pat Tabler propagandize everything about the baseball team owned by the company they, too, work for (I know… "branding"). But, Dan had no hope of injecting reason on Friday. Not a prayer. He simply followed the party–line and offered platitudes to compliment Martinez, who could barely contain himself when the telecast began at 7 p.m. Eastern.
This was, in every way, the network–TV equivalent of an orgy; missing only the guttural resonance of a human climax. I kid you not — it verged on baseball pornography. In all of my years watching and covering sport, I have never witnessed such abstract, histrionic glorification of an athlete; particularly one that had yet to play his first game. Even the bacchanalia in San Francisco in the moments after Barry Bonds broke Hank Aaron's Major League record for home runs (hitting No. 756 on Aug. 7, 2007) paled in comparison to the Vlad–mania on Sportsnet. Wayne Gretzky surpassing Gordie Howe's decade–old National Hockey League record of 1,850 career points on Oct. 15, 1989? Accomplished, remarkably, in Edmonton while skating for the Los Angeles Kings? Forget it. A monk's convention when measured against Guerrero Jr.'s debut.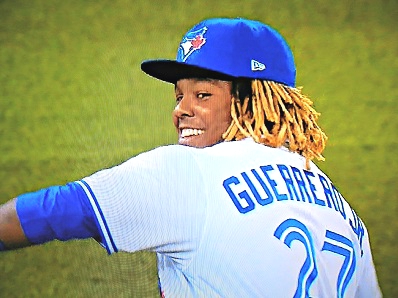 FOR THE FIRST HALF–HOUR OF FRIDAY'S TELECAST, SPORTSNET SEEMED TO HAVE JUST TWO ANGLES AT ROGERS CENTER: THE VLAD–CAM… AND ANOTHER IN CENTER–FIELD TO SHOW PITCHES — SUCH AS THE INITIAL OFFERING TO GUERRERO (BOTTOM–RIGHT), DELIVERED BY MIKE FIERS OF THE A's, IN THE BOTTOM OF THE FIRST INNING. TORONTO BEAT OAKLAND, 4–2, ON A WALK–OFF HOME RUN. SPORTSNET IMAGES 

Prior to the first pitch of the ball game, Sportsnet cameras focused only on Guerrero and family — his dad: Hall–of–Famer Vladimir Sr.; his mom; his friends from the Dominican Republic; even his grandma, found sitting by herself, away from the commotion, in a private box above third base. Oddly, there was no sign of the family pet. If you had tuned in; somehow unaware of the hype surrounding Guerrero Jr.; merely to watch a baseball game, you wouldn't have had a clue which club the Blue Jays were facing. Not until the home team took the field to begin the first inning did we finally notice someone wearing a grey, Oakland A's jersey.
Shulman opened the telecast by offering a hint of perspective: "There's no–such thing as a sure thing in baseball, but, boy, it feels like Vladimir Guerrero is about as close as you can get," said the Toronto–born play–caller. Martinez sounded like a teenager in love during the pre–game schmaltz–ery. "A minute ago, when they put his name up on the JumboTron, the fans really reacted and his teammates went nuts. Ohhh, Vladdy's here!! Aren't we having a great time! They were all having a blast with it," Buck marveled.
At one point, Buck suggested the Blue Jays "have never had a player like this before." Interesting, given that Martinez, as a catcher, was teammates with such franchise legends as George Bell, Dave Stieb, Tony Fernandez and Willie Upshaw. And, later managed the greatest slugger in team history, Carlos Delgado.
God only knows how Shulman would have restrained Martinez and Tabler on the telecast; Sportsnet was prudent enough to keep the latter at home. As for all that was said about Guerrero before his first at–bat… well, you can probably find it somewhere on YouTube. But, the coup–de–grace from Martinez came early… after Billy McKinney of Toronto gamely dove into the seats down the right–field line attempting to snag a fly ball. When the outfielder emerged, empty–handed, Martinez said, "Everybody is energized with Vladdy Guererro in the ball park." You could almost envision the Blue Jays playing hop–scotch and skipping rope outside the clubhouse.
Today's newspapers got into it as well. Steve Simmons of the Toronto Sun — also among the few in the local media that can be counted upon not to cheer–lead — was impossibly gripped by the moment. "There is a feeling around the Blue Jays of optimism and excitement — a feeling that's different than anything that's been around here in the past," Simmons wrote today. Steve: you and I covered two World Series parades here in Toronto. And, there's never been baseball excitement like this before?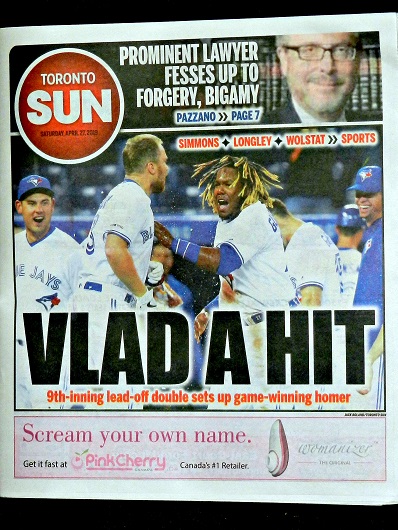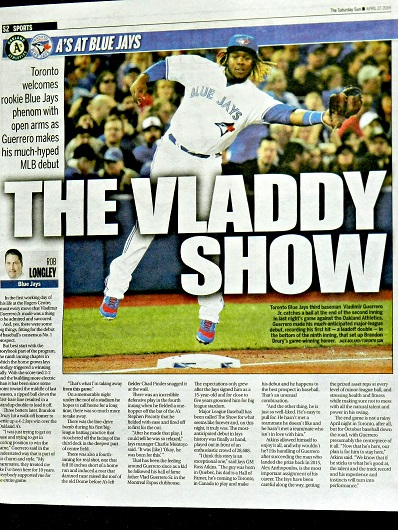 YES, THE PRINT MEDIA DID ITS PART TO FAN THE FLAMES OF VLADDY–MANIA.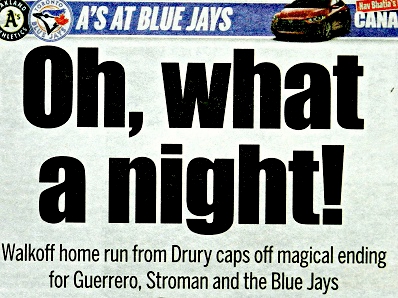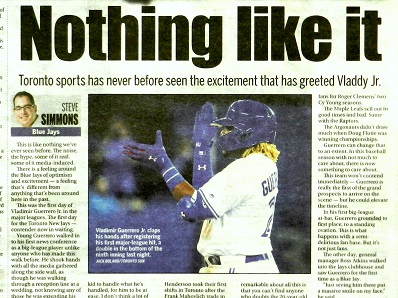 But, I guess you can't blame people for getting caught up in the commotion. Not after the Blue Jays purposely waited until the day after the Leafs were eliminated to call up Guererro from Triple–A Buffalo. It would have been difficult to maximize excitement when no one was paying attention. With the hockey heroes sidelined until October, and the Raptors in–between playoff series, the baseball hype–machine went to work. Resulting in a frenzied build–up we may never–again witness on network television in this land.
EMAIL: HOWARDLBERGER@GMAIL.COM