TORONTO (May 14) — Barring the unforeseen, Brendan Shanahan will remain in the president's chair of the Toronto Maple Leafs through the 2024–25 National Hockey League season after agreeing, early this week, to a six–year contract extension. We can merely imagine the twists, turns, peaks and valleys that lay ahead for the Blue and White during that time. And, we know Shanahan will be entrusted with challenging decisions along the way. Among the easiest calls he could make — if so moved — is to correct a long–standing oversight off the ice: recognizing former captain Rick Vaive for his significant contribution to the hockey club.
Evidently, there is no further space on Legends Row outside Scotiabank Arena. Inside the building, amid the steel girders, there is undoubtedly room for the Leafs to hoist a banner in Vaive's honor — alongside Syl Apps, George Armstrong, Irvine (Ace) Bailey, Bill Barilko, Johnny Bower, Turk Broda, King Clancy, Wendel Clark, Charlie Conacher, Hap Day, Doug Gilmour, Tim Horton, Red Kelly, Dave Keon, Ted Kennedy, Frank Mahovlich, Borje Salming, Darryl Sittler and Mats Sundin. Among the aforementioned, Apps, Armstrong, Bailey, Barilko, Bower, Broda, Clancy, Conacher, Day, Horton, Kelly, Keon, Kennedy and Mahovlich won Stanley Cups with the Maple Leafs. Clark, Salming, Sittler and Sundin did not. Why shouldn't Vaive be acknowledged amid the latter four? He was the first player in franchise history to score 50 goals in a season, accomplishing the feat in three consecutive years (1981–82 to 1983–84). What more, for example, did Clark attain with the Blue and White… other than skating as part of superior Leaf teams (in 1993 and 1994)?
And, why should that be held — as it apparently is — against Vaive?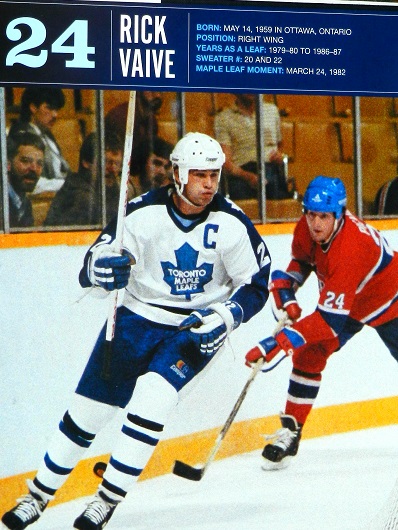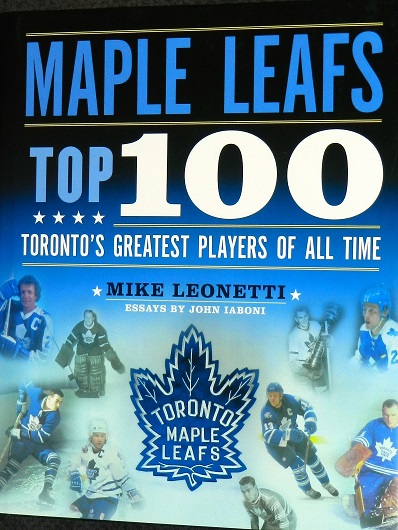 IN A POLL CONDUCTED BY THE LATE AUTHOR, MIKE LEONETTI, FOR HIS 2007 COMPILATION OF THE TOP 100 LEAFS, RICK VAIVE PLACED 24th. THE CLUB'S OWN LIST — ACCRUED IN OCTOBER 2016 — HAD VAIVE AT 20th, AHEAD OF BANNER RECIPIENTS ACE BAILEY AND BILL BARILKO.
These are questions without legitimate answers, as it pertains to on–ice performance. The righteous among us will point to Vaive incurring a Driving Under the Influence (DUI) summons on July 14, 2009 — a breathalyzer test determining his blood–alcohol level to be twice beyond the legal limit. That Vaive was found not–guilty of the charge in a Newmarket, Ont. courtroom nearly three years later (Apr. 12, 2012) seems to un–move many Leaf observers. Others may refer to the manner in which Vaive lost his captaincy: having slept through a practice at the Met Center in Bloomington MN on Feb. 22, 1986 (a Sunday). The Leafs were defeated the following night, 4–3, by the Minnesota North Stars. When the club returned home, Vaive was stripped of the 'C' by owner Harold Ballard, among the most self–righteous and pitiable figures in franchise history. Nothing that occurred under Ballard — particularly during the "lost decade" of the 80's — should be held against any player; such were the bizarre, preposterous times at Church and Carlton.
All of this came to mind, once more, when Vaive turned 60 today. Having been acquired from the Vancouver Canucks in February of his rookie NHL season (1979–80), Rick was among the few bright spots on several of the worst teams in Maple Leaf annals. The year he became the first Toronto player to reach the 50–goal mark (scoring 54 in 1981–82), the club was otherwise horrendous, finishing 19th in the 21–team NHL with a record of 20–44–16 for 56 points. Vaive led the 1984–85 Leafs with 35 goals and 68 points while that sorry outfit careened to a 20–52–8 mark for 48 points and last place in the overall standings. In both instances, it can be fairly pondered as to what more Vaive could have contributed to the club. It was through no fault of his that ownership and management failed to build a respectable team around him.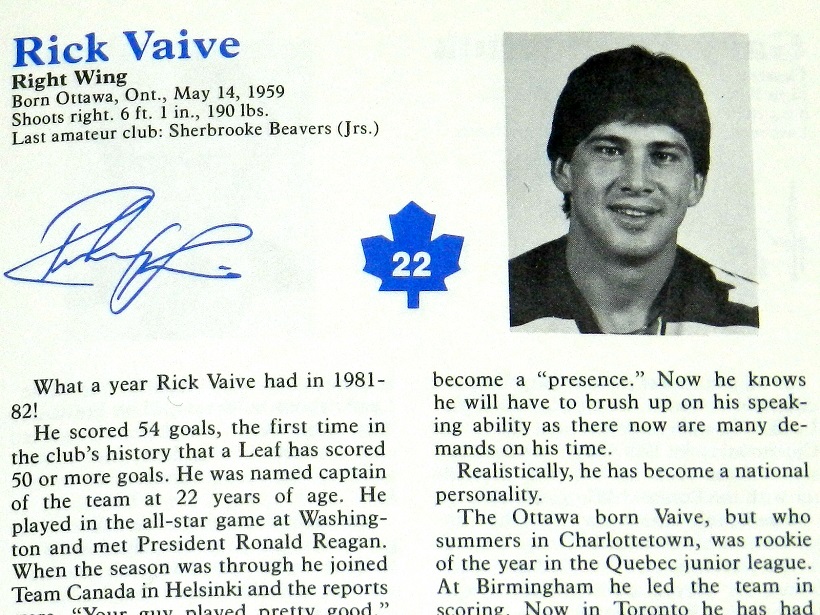 FROM THE MAPLE LEAFS 1982–83 MEDIA GUIDE.
Clark also skated with some terrible Leaf clubs in the 80's, but was fortunate to still be with the team when it briefly turned the corner under Cliff Fletcher and the late Pat Burns. As such, Wendel is fondly remembered by Leafs Nation for his role in the deep playoff runs of 1993 and '94 — specifically for his hat–trick and iconic tying goal late in regulation of Game 6 in the '93 Campbell Conference final at the Los Angeles Forum. Can we suggest with any credibility that Vaive would have failed the Leafs in those playoff runs… had he not been traded to Chicago on Sep. 4, 1987? Again, why should the club hold that twist of fate against him?
All I know is that Rick Vaive is the only Leafs player to score 50 or more goals in three consecutive seasons — a feat neither Sittler nor Clark could match (amid their other marvelous accomplishments). How that, alone, is not worthy of banner recognition by the hockey club remains a deep and abiding mystery.
The oversight is abjectly and interminably unwarranted.
EMAL: HOWARDLBERGER@GMAIL.COM