TORONTO (May 2) — The telephone rang in Darryl Sittler's midtown–Toronto home just after 11 o'clock this morning. On the other end was Patrick Kelly, son of Maple Leafs legend Red Kelly. Patrick had solemn news.
"He told me Red had died and wanted me to be the first [non–family] person to know about it," said Darryl when I spoke with him late this afternoon. "He mentioned how much respect Red had for me when I played for him with the Leafs; then in the ensuing years when we'd bump into each other at hockey events. Well, I've been fortunate to have a fair number of honors in my life. But, that phone call ranks with any of them."
Kelly was two months and one week shy of his 92nd birthday when he passed away. At the time of his death, he was the second–oldest surviving member of the Maple Leafs — to Howie Meeker, who also played for and coached the team. Meeker will be 95½ years of age on Saturday. The distinction of second–oldest now falls to George Armstrong, who captained the Leafs to their four Stanley Cup titles in the 60's. The Chief, as Armstrong is known, will be 89 on July 6. Sittler has a lengthy connection to both men. As a National Hockey League rookie in 1970–71, he played with Armstrong during the latter's final NHL season. And, Kelly coached Sittler for four seasons: 1973–74 to 1976–77. During that time, Sittler became the most–prolific skater in Leafs history; the first to record 100 points in a season. Kelly was behind the Toronto bench on Feb. 7, 1976 when Sittler erupted for six goals and four assists against Boston — his 10 points still a league record for one match. And, on Apr. 22, 1976 when Sittler scored five goals against Philadelphia in the Stanley Cup quarterfinals to tie a playoff mark that remains intact. Both games were played at Maple Leaf Gardens.

RED KELLY (LEFT) AND DARRYL SITTLER IN 1973–74, KELLY'S FIRST SEASON AS LEAFS COACH.
The latter event occurred famously after Kelly had strung a large pyramid from the ceiling of the home dressing room at the Gardens, believing it to emit powers that would allow the Leafs to avoid elimination in Game 6 of the series. Sittler placed his stick under the contraption and scored five goals on Hall–of–Fame netminder (and ex–Leafs teammate) Bernie Parent, as Toronto prevailed 8–5. For the better part of 72 hours, Pyramid Power evolved into a mania around Toronto; fans hopeful that another encounter with its mystic capacity would enable the Leafs to win Game 7 at the Philadelphia Spectrum. "It was our pyramids against Kate Smith singing God Bless America," Sittler recalled. "Unfortunately, Kate was the winner in Game 7 (a 7–3 Flyers victory). But, Pyramid Power sure made its mark around Toronto in those few days. Even now, it's hard for me to go anywhere without a fan coming up and reminding me about it. They were good times."
Kelly was also responsible for arguably the greatest forward combination in modern Leafs history. With Lanny McDonald still foundering in his third Toronto season, Kelly teamed him with Sittler and left–winger Errol Thompson. The electrifying forward unit terrorized rival goalies in the second half of the 1975–76 schedule, finishing with 121 goals and 273 points. Sittler scored 41 times and became the first Leaf to record 100 points. McDonald had 37 goals and 93 points (49 more than the previous year). And, Thompson led the unit with 43 goals. "Me and Lanny just clicked from the outset and became best friends," Sittler recalled. "When I found out Red had died, I phoned Lanny, but he was on a plane [to Toronto]. Ardell (Lanny's wife) told him of Red's passing and I spoke to Lanny when he arrived. We both loved Red very much… but maybe no one more than Lanny. He and Ardell named their first child (a daughter) Andra after Red's wife."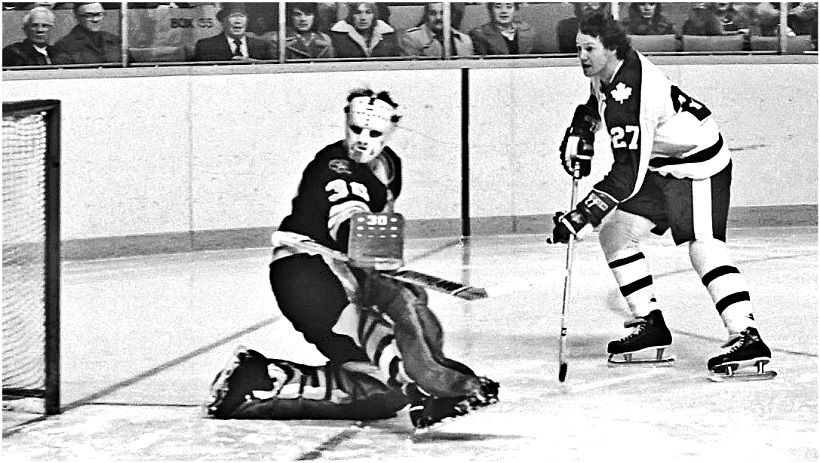 DARRYL SITTLER SCORES ONE OF SIX GOALS ON BOSTON'S DAVE REECE DURING AN 11–4 LEAFS VICTORY AT THE GARDENS ON FEB. 7, 1976. HE ADDED FOUR ASSISTS FOR A RECORD 10 POINTS.
Given his remarkable versatility, Kelly may be the best all–round player in NHL annals. As a defenseman with the Detroit Red Wings (1947–60), he won four Stanley Cups and became the first recipient of the James Norris Memorial Trophy. When he joined the Leafs for the 1960–61 season, coach Punch Imlach converted him to forward; Kelly centering a line with Frank Mahovlich and Bob Nevin. Mahovlich scored 48 goals, which stood as a Leafs record for more than two decades, until Rick Vaive struck for 54 in 1981–82. Kelly won four more Cups with the Blue and White, retiring after the 1967 championship to become coach of the expansion Los Angeles Kings. He later coached the Pittsburgh Penguins (1969–73) before re–joining the Maple Leafs.
"I was very fortunate to have John McLellan and Red Kelly as coaches early in my career," said Sittler, now 68. "Both were kind, patient men. I had great respect for Red. He treated me very well as a player and gave me lots of responsibility on the ice. My career with the Leafs really took off with him as coach. More importantly, though, I'll remember Red as a family man; a husband and a father. He is one of the truly classiest people I've ever known. We maintained a wonderful relationship right through his final years. I'll always remember being with Red and his wife in Los Angeles when the NHL announced its top 100 players of all time (January 2017). And, when we celebrated additions to Legends Row, outside [Scotiabank Arena].
"I'll forever be proud to have called him a friend. A really true friend."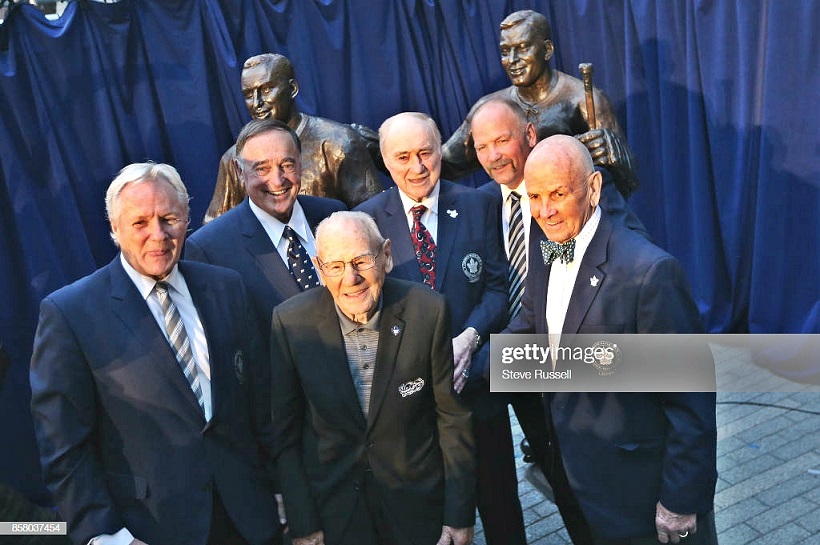 A GATHERING OF LEAF GREATS AT LEGENDS ROW OUTSIDE SCORIABANK ARENA ON OCT. 5, 2017. FRONT ROW, LEFT–TO–RIGHT: DARRYL SITTLER, JOHNNY BOWER, DAVE KEON. BACK ROW: FRANK MAHOVLICH, RED KELLY, WENDEL CLARK.
EMAIL: HOWARDLBERGER@GMAIL.COM