TORONTO (May 4) — I begin today by emphasizing that this is one man's assessment and nothing, in any way, conclusive. But, the one man is the same man who told me for a blog here last June 25 (http://bit.ly/2tuGUaI) that John Tavares was going to sign as a free agent with the Maple Leafs.
Which Tavares did… six days later.
Given the perplexity of the Leafs coaching situation — general manager Kyle Dubas hasn't yet endorsed Mike Babcock for a fifth season behind the Toronto bench — I asked my friend, a long–time National Hockey League scout, what he's heard about Babcock's future. "From the Leafs, the same as you — nothing," he replied. "From others around the league, I wouldn't be at all surprised if (Dubas) made a change. From what I can determine, there are three factors in play. The Leafs won't do anything while the Marlies are in the Calder Cup chase. Nor do they want to move until Buffalo picks a successor (to Phil Housley). It's common knowledge that Babcock nearly signed with the Sabres (in May 2015) before coming to Toronto and the Leafs would rather not have him working down the highway. However… if [Sheldon] Keefe gets the Marlies into the American Hockey League final for a second year, I think Dubas will push very hard for a change. How that dovetails with Buffalo will be interesting to watch. And, I believe — though I'm not certain — [Dubas] has the authority to fire Babcock. As always, lots of eyes will be on Toronto in the summer."

This appraisal, of course, is not out of line with media speculation, though the Buffalo angle is puzzling. If the Leafs decide Babcock is no longer suitable to coach — and Dubas is hell–bent on promoting Keefe — why worry about Babcock's impact on the Sabres… even with Buffalo as a geographic Division foe? Making a change under that pretext would be ridiculous; there should be no conflict between one circumstance and the other. If such concern is paramount, you hang onto Babcock and allow Keefe to go elsewhere. Simple as that. Conversely, if there's consent among Dubas, Brendan Shanahan and the board of Maple Leaf Sports and Entertainment that the hockey club can no–longer move forward under Babcock, you make a change — confidently — at your convenience, not anyone else's. Neither am I particularly sold on the Marlies–getting–to–the–AHL–final precondition, though a second consecutive Calder Cup would be a gobsmack on Keefe's resume. In that event, it could be Keefe that Dubas wants to prevent from going to Buffalo; not Babcock.
MLSE gave Babcock an eight–year contract because it had to; such was the market competition in 2015 when Babcock chose to leave Detroit. It is, however, nearly impossible for a coach to stay "on–message" with the same club for that amount of time. Ex–Leaf Miroslav Frycer has a book out that details, among other things, his recovery from a liver transplant. Doctors gave the now–60–year–old a minimal chance of surviving the ordeal, yet Frycer has done well. After his playing career — the Czech–born winger had 147 goals and 330 points with Quebec, Toronto, Detroit and Edmonton between 1981–82 and 1988–89 — Frycer went into coaching in Europe. He too, discovered the familiar bromide. "In my opinion, a coach shouldn't lead the same team for more than three or four years," Frycer wrote. "The novelty wears off and, after awhile, there's nothing he can do to surprise the team, and this is usually reflected in the results. There are exceptions, like Lindy Ruff (who effectively guided Buffalo for more than 14 consecutive years), but there are few of them."
Babcock spent an entire decade (2005–06 to 2014–15) behind the Detroit bench; never missed the playoffs and never won fewer than 39 games in a full schedule. His Red Wing teams were engorged with skill, poise and veteran leadership — Chris Chelios, Nicklas Lidstrom, Pavel Datsyuk and Henrik Zetterberg forming a remarkable nucleus early in Babcock's tenure, including 2007–08, when he won his only Stanley Cup. Among his goalies in Detroit were Chris Osgood, Dominik Hasek, Jimmy Howard and Petr Mrazek. Is there a comparison between the best of Babcock's Red Wing clubs and the current Maple Leafs? With respect to skill up front, undoubtedly. In goal (Frederik Andersen vs. the aforementioned foursome), perhaps, though Andersen has yet to shine in Game 7 of a playoff series. Where Detroit had a big edge was among gritty forwards. Kris Draper and Tomas Holmstrom were with Babcock throughout; Brendan Shanahan and Todd Bertuzzi part of the time. Of his Toronto forwards, only Nazem Kadri is inclined to perform aggressively. So, Detroit's roster balance contributed largely to Babcock's 10–year term behind the bench.

Babcock was widely criticized for being "stubborn" during the final two games of the Boston playoff round this spring; his apparent unwillingness to shorten the bench and lean more–heavily on his star forwards the key factor, it was written and said, in the Bruins overcoming a 3–2 series deficit. But, veteran coaches are often less–adaptable, particularly those with a fruitful resume. Requesting Babcock to change his approach may therefore be improbable; certainly most–difficult with Toronto's imbalance of skill and tenacity. Obviously, Babcock made decisions late in the Boston series he felt would allow his club to prevail. Whether those decisions backfired, or were undermined by less–than–clutch goaltending and a team–wide scoring slump (save for Auston Matthews), are grounds for opinion. As I've previously written, I favor the latter.
But, my name isn't Kyle Dubas.
And, it's the reason I contend the Leafs will probably make a change before next season — replacing Babcock with Sheldon Keefe. My scouting friend also leans in that direction. Time, of course, will tell.
Someone asked me the other day about the NHL arenas in which I've attended or covered games. I told her I'd make a list. Here it is: Maple Leaf Gardens, Air Canada Centre (Toronto); Boston Garden, TD Garden; Chicago Stadium, United Center; Detroit Olympia (interior pictured, below), Joe Louis Arena; Montreal Forum; Bell Centre; Madison Square Garden (New York); Oakland Coliseum-Arena; Los Angeles Forum, Staples Center; Metropolitan Sports Center, Excel Energy Center (Minnesota); The Spectrum, Wells Fargo Center (Philadelphia); Civic/Mellon Arena (Pittsburgh);  St. Louis Arena, Enterprise Center; Memorial Auditorium, First Niagara Place (Buffalo); Pacific Coliseum, Rogers Arena (Vancouver); Nassau Coliseum (New York Islanders); Capital Center, Capital One Arena (Washington); Northlands Coliseum (Edmonton); Hartford Civic Center; The Colisee (Quebec City); Winnipeg Arena, Bell MTS Place; The Corral, Saddledome (Calgary); Continental Airlines Arena, Prudential Center (New Jersey); Cow Palace (San Francisco), SAP Center (San Jose); Amalie Arena (Tampa); Ottawa Civic Centre, Canadian Tire Centre; Miami Arena, BB&T Center (Florida); Honda Center (Anaheim); Reunion Arena, American Airlines Center (Dallas); Pepsi Center (Colorado); America West Arena, Gila River Arena (Arizona); Greensboro Coliseum, PNC Arena (Carolina); Bridgestone Arena (Nashville); Philips Arena (Atlanta); Nationwide Arena (Columbus). I think that's it. The total: 55.
Oooops… forgot two: McNichols Arena in Denver (prior to the Pepsi Center) and Tropicana Field in St. Petersburg, Fla., where Tampa Bay played before Amalie Arena opened in 1996. So, now 57.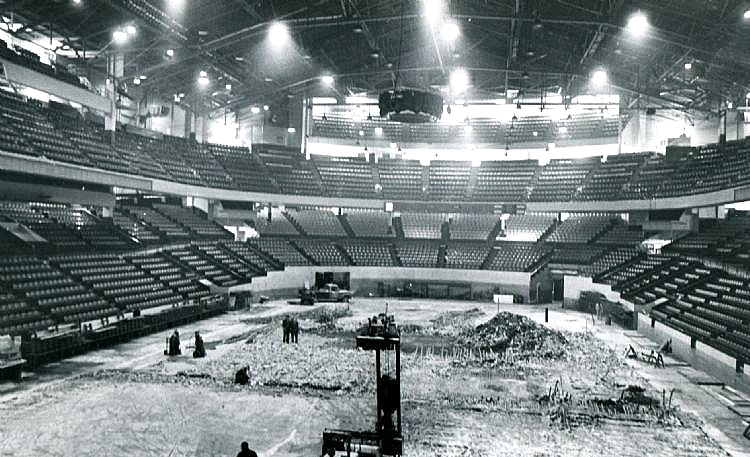 EMAIL: HOWARDLBERGER@GMAIL.COM