TORONTO (May 15) — We take you, regrettably, back to June 24, 2006. At then–called General Motors Place in Vancouver. Today, Rogers Arena. Home of the Canucks. With the 13th pick in the National Hockey League draft, the Maple Leafs chose center Jiri Tlusty from Kladno of the Czech Republic… overlooking, among others, Claude Giroux (Philadelphia 22nd), Milan Lucic (Boston, 50th) and — oy vey — Brad Marchand (Boston 71st). Far–bigger news occurred when Maple Leafs general manager John Ferguson Jr. traded goalies: swapping Finnish prodigy Tuukka Rask (selected 21st by the Leafs in the 2005 draft) to Boston for Andrew Raycroft, who had won the Calder Trophy as NHL rookie–of–the–year in 2003–04.
The trade seemed rather peculiar here in Toronto. Perhaps even alarming.
Today, it stands, potentially, as the biggest train–wreck in franchise history.
Let me begin, however, by emphasizing that it's far–too–easy to dump all over Ferguson, as have Leaf zealots for nearly 13 years. This was a much–different era in Toronto hockey. The Leafs were majority–owned by the Ontario Teachers' Pension Plan, whose lone objective (as with any–such enterprise) was to maximize profit. To hoard profit. And, what better place to seek abundant riches than the money–machine at the foot of Bay Street? In the early part of the new millennium, with the Teachers in control, the financial plan at Maple Leaf Sports and Entertainment underscored a pipe–dream — the budgeting of a minimum three playoff games at the Air Canada Centre. No component of the plan was more vital, or essential. That the Leafs of that era were thoroughly incapable of achieving such a target meant nothing to the Teachers. Ferguson's prime task was to find a way — any way — to concoct, for the Leafs, an opening–round Stanley Cup series; its grossly–inflated ticket costs to help engorge the fund for retiring educators in this province.
Neither John Jr., nor anyone else occupying his position, had even a prayer (though Fergie must be enjoying life today as executive director of player personnel for the Bruins. Can you say "ouch!").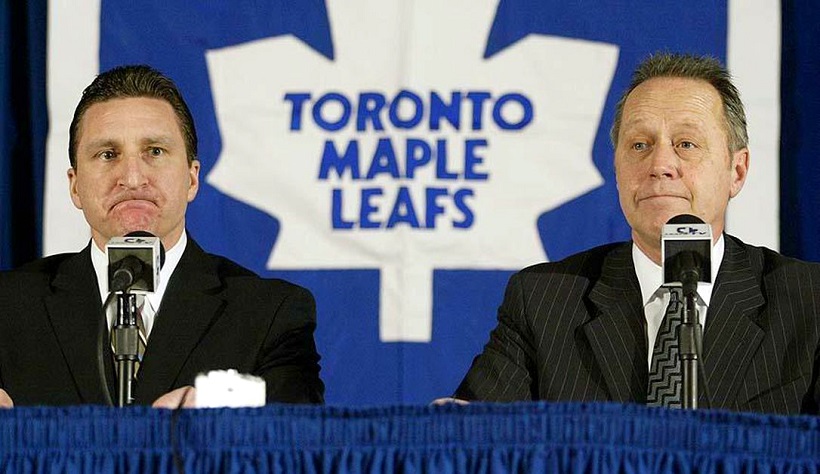 JOHN FERGUSON JR. (LEFT) AND RICHARD PEDDIE ON THE DAY (Aug. 29, 2003) THAT FERGIE BECAME THE 12th GENERAL MANAGER IN TORONTO MAPLE LEAFS HISTORY. HARDLY A DREAM JOB.
That said, deciding upon the Maple Leafs' biggest personnel error of the past half–century is akin to choosing your least–favorite worldly disaster: Tenerife? Chernobyl? Lockerbie? Sumatra? Not to make light of any–such catastrophe, there are innumerable hockey examples to select from, locally, in the post–1967 era.
Chronologically… Jim Pappin to Chicago for Pierre Pilote? Harold Ballard, the skinflint, allowing Bernie Parent to leave for the World Hockey Association? Doug Jarvis to Montreal for Greg Hubick? Errol Thompson and two first–round draft picks to Detroit for Dan Maloney? Randy Carlyle to Pittsburgh for Dave Burrows? Lanny McDonald and Joel Quenneville to Colorado for Wilf Paiement and Pat Hickey? Darryl Sittler to Philadelphia for Rich Costello, a second–round pick (Peter Ihancak) and future considerations (Ken Strong)? Rick Vaive, Steve Thomas and Bob McGill to Chicago for Ed Olczyk and Al Secord? Russ Courtnall to Montreal for John Kordic? A first–round draft choice (Scott Niedermayer) to New Jersey for Tom Kurvers? Adam Mair and a second–round draft pick (Mike Cammalleri) to Los Angeles for Aki Berg? Alex Steen and Carlo Colaiacovo to St. Louis for Lee Stempniak? Two first–round picks (Tyler Seguin, Dougie Hamilton) to Boston for Phil Kessel?
As I said… pick your poison.
Of the aforementioned, the Lanny McDonald trade destroyed the Leafs for more than a decade, until Cliff Fletcher purloined Doug Gilmour from Calgary in January 1992. Courtnall for Kordic is the most–admonished trade, though GM Gord Stellick was virtually browbeaten into the swap by Ballard and pugilistic coach John Brophy. Floyd Smith turns 84 on Thursday — a wonderful guy that has worn the Kurvers–begat–Niedermayer flip for three decades. But, no deal has haunted the Maple Leafs more than Rask for Raycroft.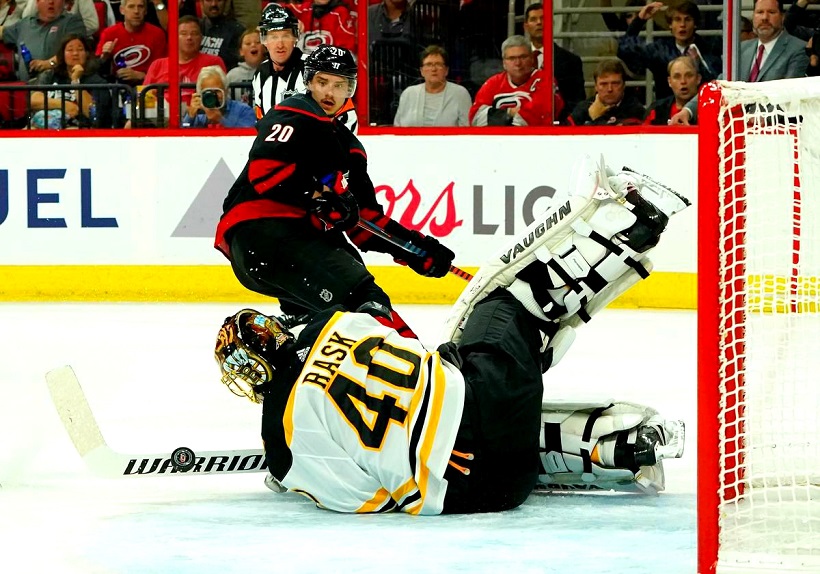 BOSTON GOALIE TUUKKA RASK, DRAFTED IN 2005 BY THE MAPLE LEAFS, HAS BEEN THE MOST VALUABLE PERFORMER IN THE 2019 STANLEY CUP PLAYOFFS. THE ASSOCIATED PRESS
The Finnish–born goalie is one victory shy of the Stanley Cup final, with Boston leading Carolina 3–0 in its best–of–seven East final. Along the way, he has twice bettered Frederik Andersen in Games 7 of an opening–round series. Barring a rout against San Jose or St. Louis in the championship round (or, of course, a total collapse against the Hurricanes), good ol' Tuukka is likely to be presented the Conn Smythe Trophy as playoff MVP. Most hurtful, from a Toronto perspective, is that the Bruins were preparing to release Raycroft outright until Fergy Jr. — under crushing strain from the Teachers — came–a–callin'. The Leafs, of course, would have been set between the pipes for more than a decade if Rask had remained their property (it is, however, fair to point out that Raycroft performed admirably in his first Leafs' season, 2006–07, with 37 wins, tying Ed Belfour's club record; eclipsed when Andersen won 38 for Toronto in 2017–18). Neither, obviously, has Freddy been frail for the Blue–and–White… until it matters. He was dispiriting at crunch time against Boston this spring and last. I'm no–longer of the opinion Toronto can with the Stanley Cup with him.
Nothing, therefore, resonates more dismally in these parts than Rask–for–Raycroft.
Heck, even Lanny might agree.
A LIFE–SAVER: No disrespect at all to Matt Devlin, who capably handles TV play–calling chores for the Toronto Raptors. But, I can barely imagine Chuck Swirsky describing Kawhi Leonard's series–winning shot at the buzzer against the Philadelphia 76ers on Sunday night. Nor am I convinced Chuck would have survived the moment; some part of his frenzied self may have given way as he bellowed "I don't believe it!!!… I don't believe it!!!" The call would likely have made every highlight–reel show in the past 72 hours. I love the Swirsk. He was a good friend and colleague during his years here in the Big Smoke. Still with the Raptors, I was saddened to learn that former GM Rob Babcock, who traded Vince Carter to New Jersey in December 2004, has died of pancreatic cancer at 66. Way too young.
EMAIL: HOWARDLBERGER@GMAIL.COM