TORONTO (June 12) — To this point, Sean Avery's "sources" here in the Big Smoke are akin to his former conduct on and off the ice — lousy. But, the National Hockey League's bad boy of the new millennium did create a stir last week when he posted, on Instagram, that the Winnipeg Jets had traded defenseman Jacob "Trood–ba" to the Maple Leafs for "Nazeeem" Kadri. Such is the power (and peril) of social media. Fact–finding efforts by those with reporting credibility, such as TSN's Bob McKenzie, debunked Avery's scoop. And, yet, the notion of Kadri–for–Trouba has some merit… from a hockey perspective.
Business–wise? Not so much. Right now, anyway.
It's simple: Until cap dominoes begin to fall, the Leafs won't be able to afford Jacob Trouba's hockey card, let alone his salary. That Trouba can become an unrestricted free agent after next season is less of a factor to the Maple Leafs than the current financial logjam. If Jake Gardiner goes elsewhere this summer and the Leafs can somehow jettison the contracts of Nikita Zaitsev and Patrick Marleau, obtaining Trouba, currently a restricted free agent, could make sense. Right–shooting defensemen with puck skill in their mid–20's don't often become available. Next year at this time, the combined $6.1 million cap hits of Connor Brown and Jake Muzzin can be eliminated (Brown's contract will likely be dealt beforehand). Losing Gardiner, Zaitsev, Marleau, Brown and Muzzin (a combined $20.9 million) would provide the Leafs the flexibility to carry Trouba. And, a solid foundation of Trouba and Morgan Rielly with which to move forward on the blue line.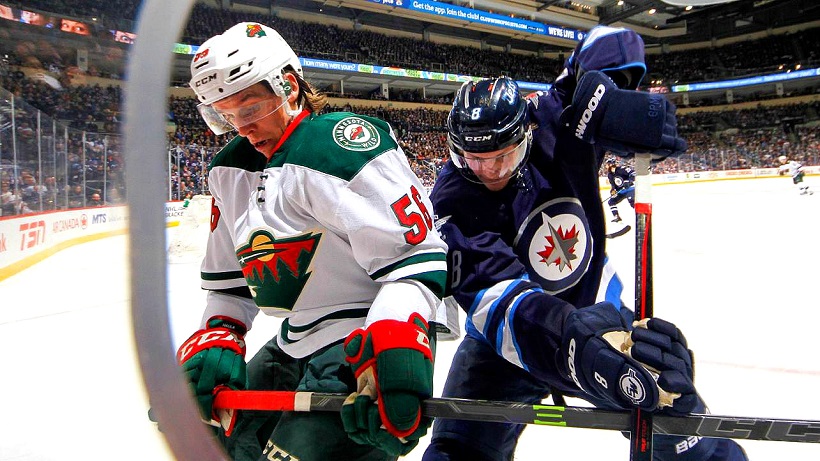 DEFENSEMAN JACOB TROUBA (RIGHT) WILL NOT LIKELY COMMIT TO THE WINNIPEG JETS AND IS THEREFORE A LEGITIMATE TRADE PROSPECT. WOULD THE LEAFS BE INTERESTED? GETTY IMAGES/NHL.COM 
Any–such roster shuffling would be largely dependent on at least two of Toronto's defense prospects proving capable of NHL deployment. A group that includes Justin Holl, Calle Rosen, Andreas Borgman, Rasmus Sandin, Tim Liljigren, Teemu Kivihalme, Eemeli Rasanen and Joseph Duszak. Up front, the cheaper additions of Russian prospects Ilya Mikheyev and Egor Korshkov would also help lighten the salary load. These players, who will give Joe Bowen pronunciation fits, must become more than "bodies" in uniform for the Maple Leafs to effectively bear the combined cap–hits of William Nylander, Mitch Marner, Auston Matthews, John Tavares… and Trouba, who will likely command $6–7 million on a long–term deal.
Trading Kadri's manageable cap–hit of $4.5 million for the next three years would also be risky, but less–so, in my view, than losing the veteran center's chutzpah. Though he's gone overboard in the playoffs the past two springs, Kadri is the only Toronto forward amid the incumbent troop willing to perform in ill humor. Without him, the Leafs were incrementally tamed by Boston in the opening round of the Stanley Cup tournament. How, then, does Kyle Dubas not only replace Kadri, but enhance the club's toughness and grit in the attacking zone? For, without doing so, the Maple Leafs will come nowhere near the Stanley Cup.
From a hockey perspective, trading a forward for a top–pairing defenseman is generally a no–brainer. And, the Leafs have enough firepower up front to compensate for Kadri's absence. I would, therefore, make this deal if it's available and keep fingers crossed that a couple or three prospects can adequately fill the void.
If the prospects are not NHL–caliber, any–such trade becomes a moot point.
YOU CAN CREDIT (OR BLAME) ME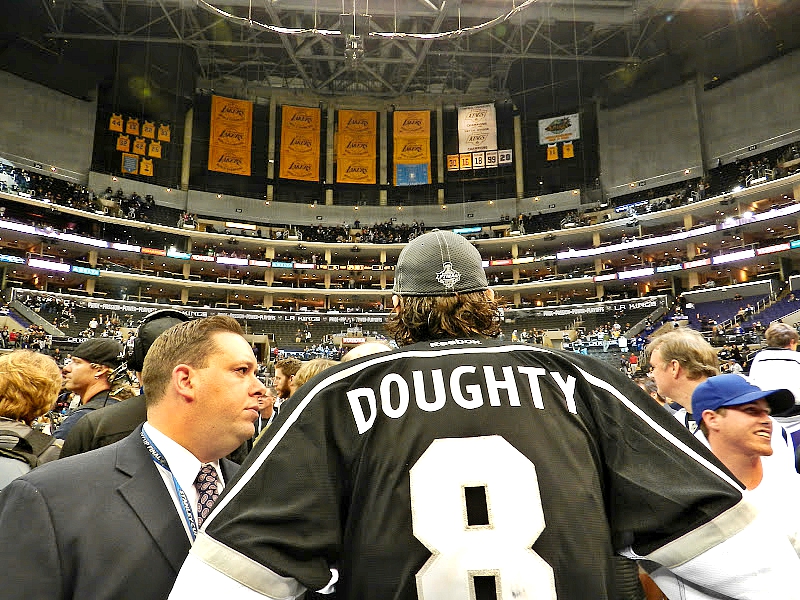 Yes, it's my fault. When you watch the post–game interviews after tonight's Stanley Cup decider in Boston, the ice at TD Garden will be littered with humanity — reporters, players, team executives, family. Until June 6, 2007, these gatherings occurred in an impossibly–cramped dressing room. At the Honda Center in Anaheim, however, there was no–such option. Not another person could be wedged into the winners' lair after the Ducks defeated Ottawa for their lone NHL title. As I stood at the gate of the home–team bench that night, grasping my microphone and recorder for The FAN–590, I could only step forward — onto the rink. The Anaheim players, by necessity, were also on the ice; neither could they exit to the change–room. I looked at Frank Brown, then the NHL's director of communications, and shrugged. "There's only one direction to go, Frank," I said. Nervously, he replied "okay… but don't fall!"  Poor Frank had ghoulish visions of a law suit. "Hey, the ice is all choppy. Good traction out here," I reported. "Send everyone this way."
And, so was born the on–ice cluster of players and media after the Stanley Cup presentation.
It will happen tonight for the 13th consecutive spring.
These photos are from my trusty NIKON on June 11, 2012 at the Staples Center in Los Angeles. After the Kings had won their first Stanley Cup, defeating New Jersey in Game 6. The last Cup final I covered.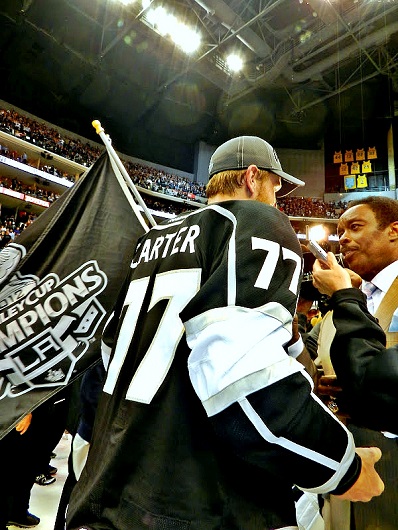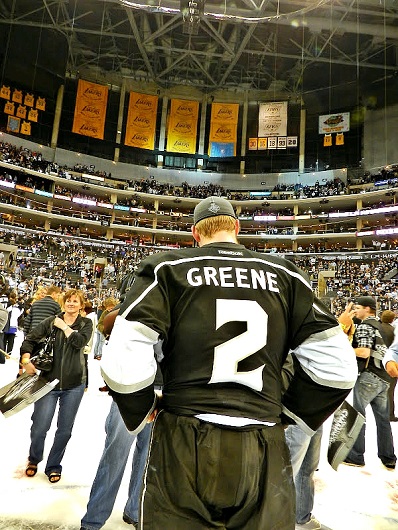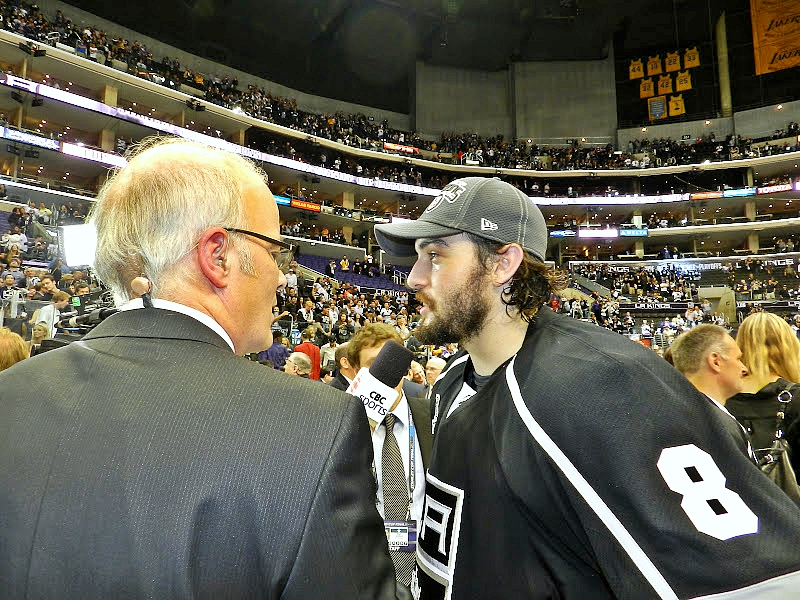 SCOTT OAKE INTERVIEWS DREW DOUGHTY ON THE ICE FOR HOCKEY NIGHT IN CANADA.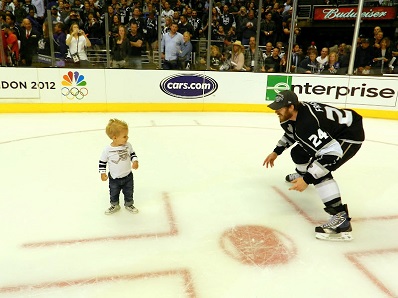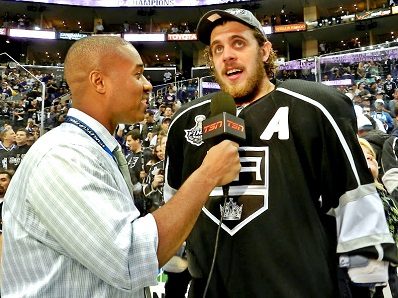 COLIN FRASER OF THE KINGS… AND SON (LEFT). CABBIE (RIGHT) INTERVIEWS ANZE KOPITAR.
EMAIL: HOWARDLBERGER@GMAIL.COM