TORONTO (June 9) — Let me begin today by going out on a limb and suggesting the Toronto Raptors will not lose three consecutive games to the Golden State Warriors. Though our city has seen its share of sporting collapses, Kawhi Leonard and Co. are a virtual lock to bring the Larry O'Brien Championship Trophy north of the border for the first time. And, whenever that happens, the Toronto Maple Leafs will move to an island.
Only our National Hockey League club will be without a sports title in the past 52 years.
All other Toronto teams — major and minor — have prevailed at least once. Here's the honor roll:
BASEBALL: Toronto Blue Jays (MLB) 1992–93.
Toronto Maple Leafs (IBL) 1972–82–85–88–95–99–2002–07.
FOOTBALL: Toronto Argonauts (CFL) 1983–91–96–97–2004–12–17.
SOCCER: Toronto Metros–Croatia (NASL) 1976 / Toronto F.C. (MLS) 2017.
HOCKEY: Toronto Marlies (AHL) 2018.
LACROSSE: Toronto Rock (NLL) 1999–2000–02–03–05–11.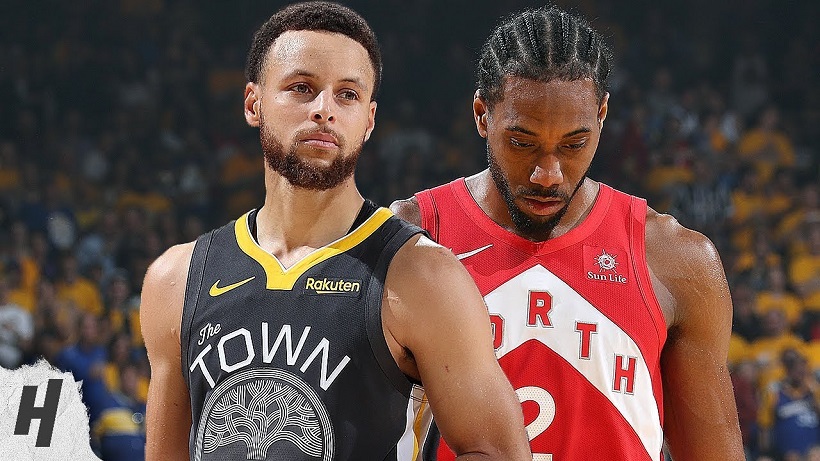 A Raptors' title would therefore be the 27th for our city since the hockey Leafs last won in 1967. Given Toronto's apathy toward the Argonauts for most of the past 30 years — and even though I consider the Grey Cup a significant trophy — the majority of fans here will look upon a National Basketball Association crown as the first major championship since the Blue Jays, in 1993, won their second consecutive World Series. How does one, in this context, describe "major"? Simple… a victory that induces city–wide bedlam and has people dancing in the streets. Followed by a parade in which 60,000 jam Bay Street from Union Station to City Hall. In other words, a celebration that could be aroused today by only the Leafs, Raptors and Blue Jays.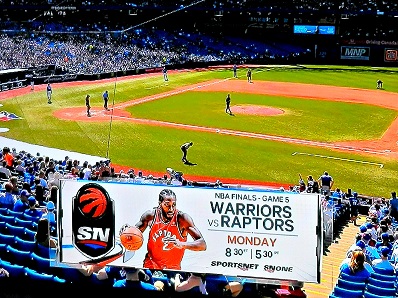 WHILE PROMOTING MONDAY'S GAME 5 OF THE NBA FINALS, SPORTSNET, ON SATURDAY, REMINDED VIEWERS OF THE LAST MAJOR, INTERNATIONAL CHAMPIONSHIP(S) WON BY A TORONTO TEAM.
Toronto fans of the current generation experienced a tinge of this euphoria when the Blue Jays advanced to the American League Championship Series (or baseball's Final Four) in 2015 and 2016. Particularly in the wake of iconic home runs by Jose Bautista (2015 A.L. Division Series) and Edwin Encarnacion (2016 A.L. Wild Card)… and the so–called "Donaldson Dash" that won the 2016 A.L. Division Series over Texas at Rogers Centre — Josh Donaldson sprinting home from second base in the bottom of the 10th inning on a wide throw to first by Rangers shortstop Rougned Odor. These were moments not experienced in Toronto since Joe Carter's legendary, walk–off home run eliminated Philadelphia in Game 6 of the 1993 World Series.
Bautista's unforgettable "bat flip" (Oct. 14, 2015) against Texas in the ALDS struck a particular chord among Toronto sports fans. The scorching, three–run homer to left — Bautista heaved his bat in the air before rounding the bases — climaxed a bizarre seventh inning and the Blue Jays became the first Major League team to win a best–of–five series after losing the first two matches at home. It was also the first playoff triumph for the Big 3 teams since the Leafs edged Ottawa in the opening round of the 2004 Stanley Cup tournament. The city hadn't lost its collective mind in more than a decade; it erupted after the "bat–flip" win.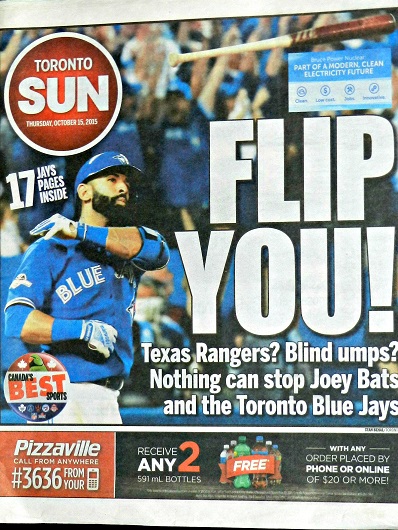 FRONT PAGES OF THE TORONTO SUN AND TORONTO STAR AFTER JOSE BAUTISTA'S "BAT FLIP" IN 2015.
There is paradox within Toronto professional sport that is fed by our city's insatiable need for recognition south of the border. Though hockey has forever been part of our fabric — and a Stanley Cup appearance by the Leafs would likely outstrip anything we've witnessed with the Blue Jays and Raptors — it is buried far beneath football (pro and college), basketball (pro and college) and baseball in nearly every American locale. Winning the Stanley Cup would turn this region upside down, yet be virtually ignored everywhere in the United States other than by the losing city. An all–Canadian Stanley Cup final (i.e. Toronto vs. Calgary) would barely register in the U.S. Conversely, the World Series and NBA Finals are major events south of the border; the Raptors knocking off Golden State would be viewed, by many, as Canada stealing an American institution. Similar to when the Blue Jays defeated the Atlanta Braves in 1992 for the first non–American baseball championship. So, really, what the Raptors are about to accomplish will resonate far–more–significantly in the U.S. than anything the Leafs could attain. Yet, nothing would be more monstrous around here than a Stanley Cup triumph. A strange dichotomy that is fueling Raptor–mania across Canada.
On Monday night, a Toronto team among the Big 4 (Argos included) will be able to win a championship at home for only the fifth time since May 2, 1967, when the Leafs last raised the Stanley Cup. The Blue Jays failed to win the 1992 World Series in Game 5 at SkyDome, hammered 7–2 by Atlanta in front of 52,268 disappointed onlookers. They, of course, made amends one year and one day later (Oct. 23, 1993) on Carter's famous walk–off homer in Game 6 against Philadelphia before 52,195 delirious fans at the 'Dome. The Argos had this town in a frenzy for the 1982 Grey Cup at old Exhibition Stadium, but got hammered, 32–16, by the dynastic Edmonton Eskimos. Among the 54,741 rain–drenched spectators that day was yours truly. Argos made good in their next chance at home — Ricky Ray and Co. blitzing the Calgary Stampeders, 35–22, in the 100th Grey Cup (at Rogers Centre) on Nov. 25, 2012. Watched by a gathering of 53,208.
But, that's it. Four times in 52–plus years. With the Raptors on deck for No. 5.
1970 NHL PLAYERS' ASSOCIATION CARDS
I have no idea when or where I obtained this unique set of rectangular hockey cards, though it was obviously sometime after 1983, as evidenced by the autograph on Bobby Hull's item. Distributed by the National Hockey League Players' Association early in the 1970–71 season, it features 5½ x 2–inch cardboard–photos of the biggest stars from that era — all adorned in the NHLPA logo. Given this was clearly an Alan Eagleson production, the players still alive may cringe when viewing these items. Yet, hopefully, they will re–kindle some youthful memories as well. If you're a hockey fan of vintage — or one that is cognizant of the game's rich history — you will recognize all 35 names and faces presented here: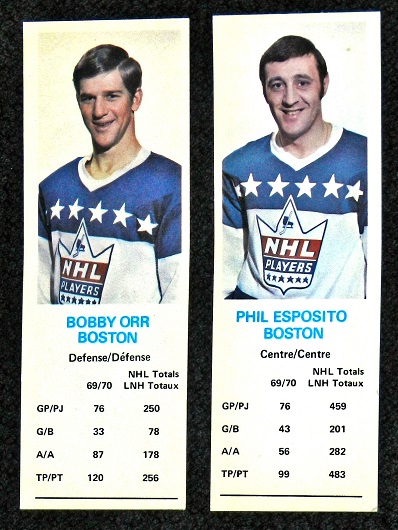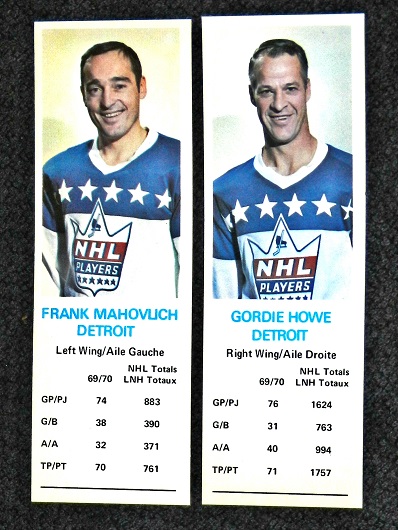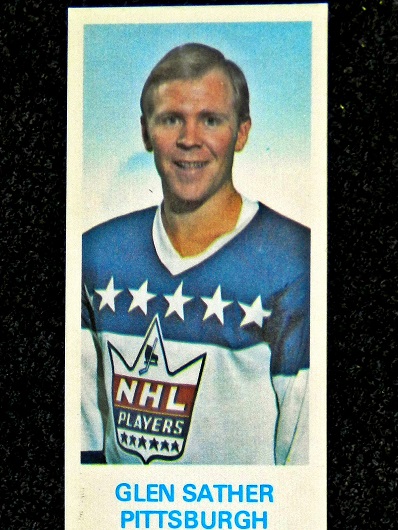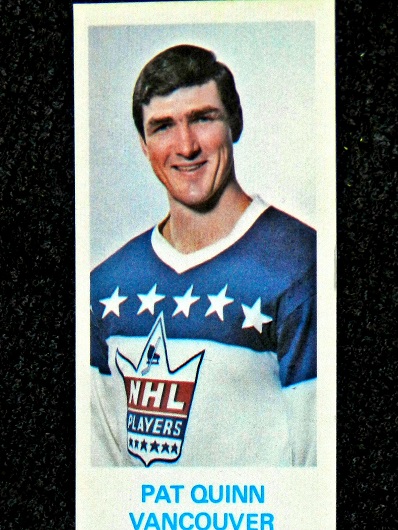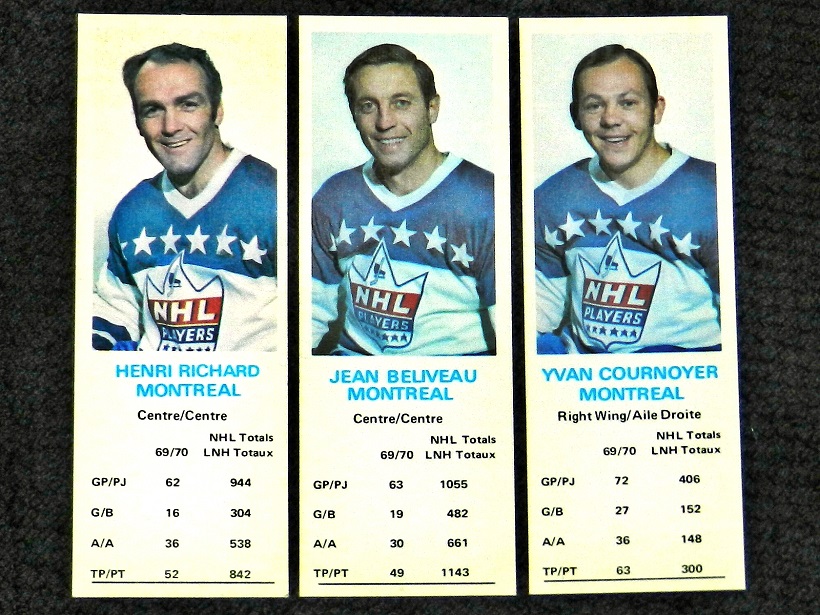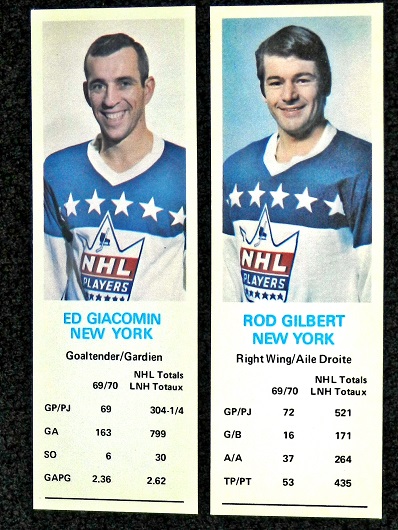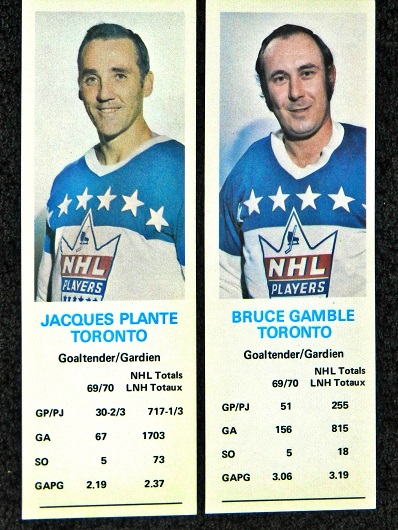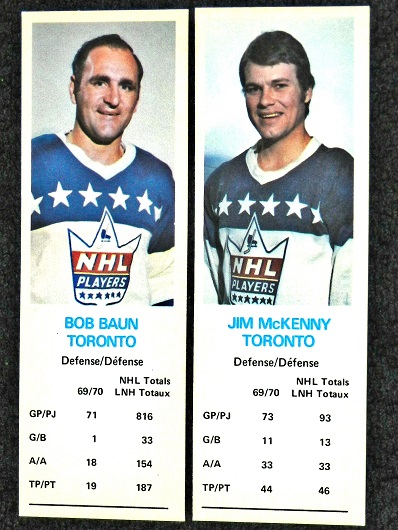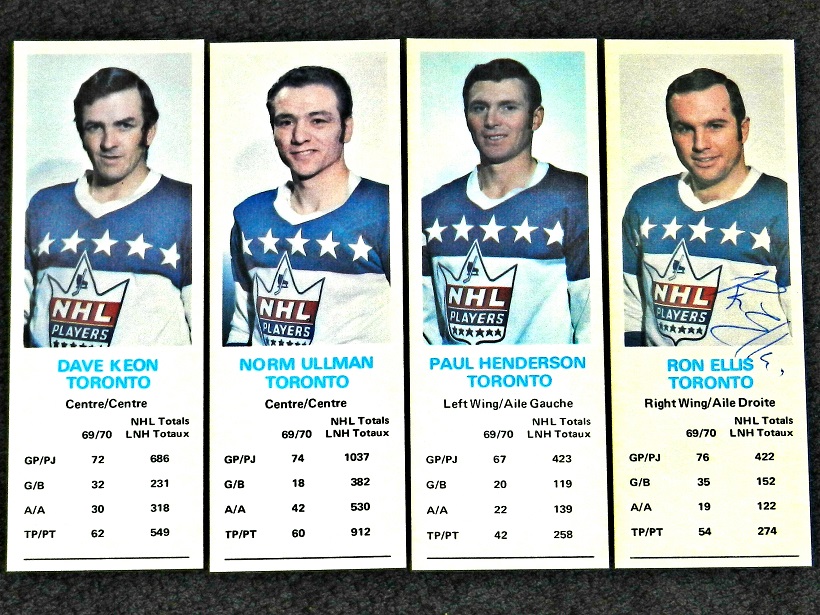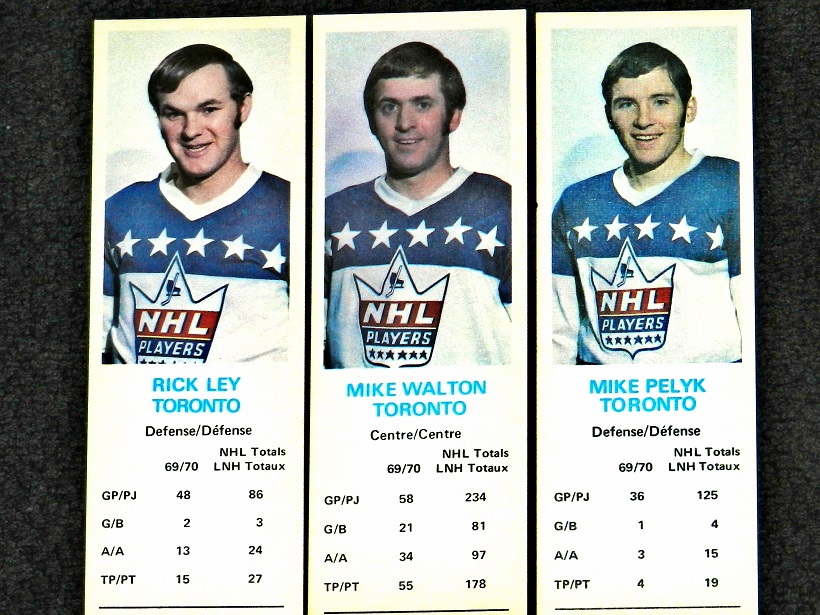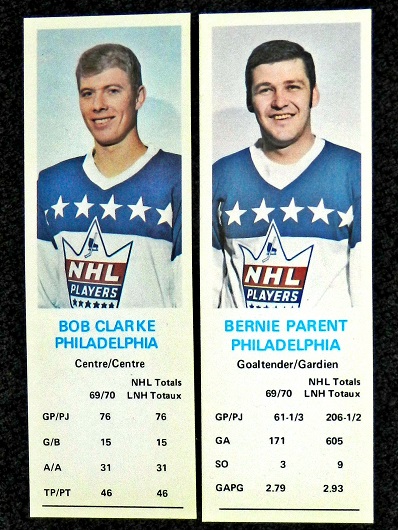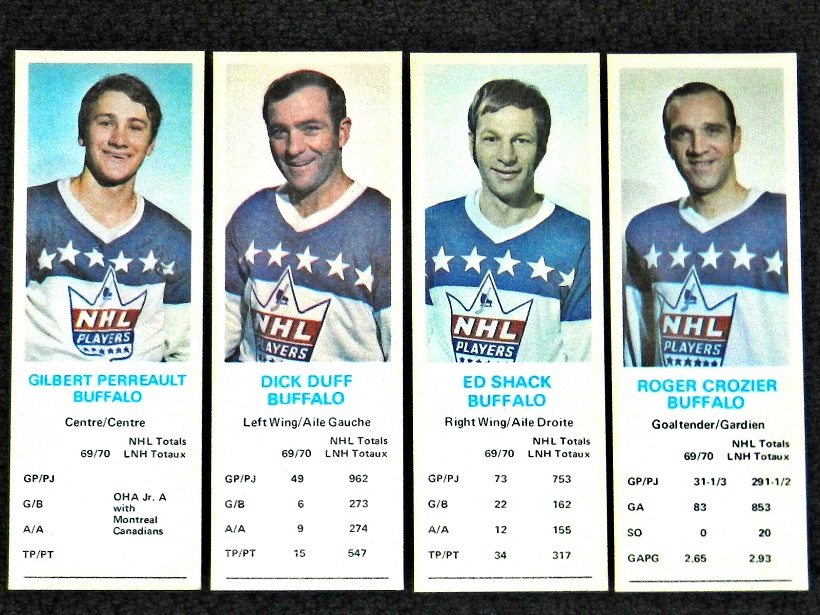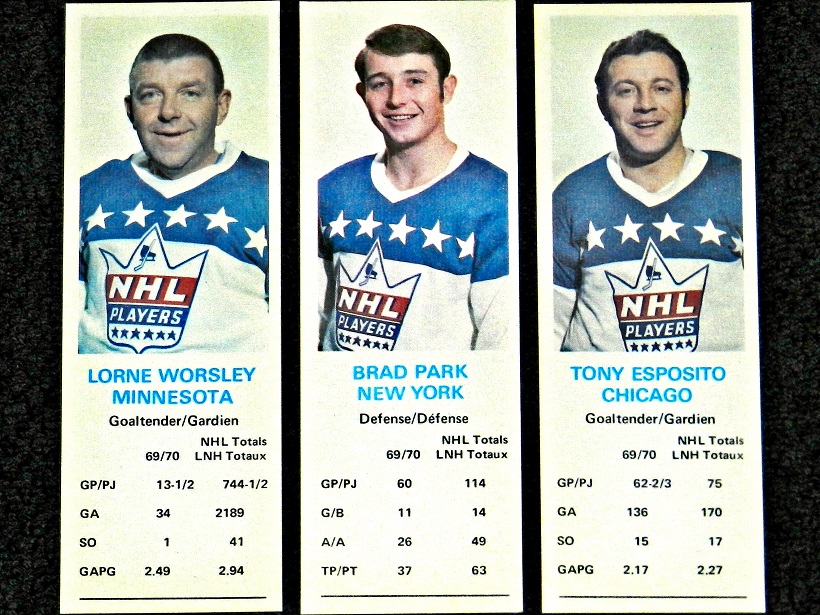 EMAIL: HOWARDLBERGER@GMAIL.COM