TORONTO (June 25) — On the 10th anniversary of John Tavares being selected first overall in the National Hockey League draft — and Nazem Kadri going seventh to the Maple Leafs — perhaps it's fitting that Toronto's most–glaring deficiency is again being overlooked. Not necessarily by the person that most matters (general manager Kyle Dubas), but in the tone of conversation among fans and media. Which is also understandable, given that Dubas has just traded Patrick Marleau and is venturing to sign Andreas Johnsson, Kasperi Kapanen and Mitch Marner. Nary a defenseman is topical in Leafs land at the moment. It's all about forwards… as it was last season with Tavares coming on board; William Nylander and Auston Matthews signing long–term deals out of entry level. Yet, we all know that none of these talented puck–chasers will guide the Maple Leafs to a Stanley Cup in the absence of quality and depth on the blue line.
Considering, therefore, his professional lot, Dubas is working rather efficiently. Unloading Marleau's $6.25–million cap–anvil on Carolina for a lottery–protected first–round draft choice was a stroke of genius. Agreeing on manageable, still–to–be–finalized contracts with Johnsson and Kapanen also demonstrated ingenuity. The Marner issue is not as governable, given that player and agent (Darren Ferris) are appropriately trying to obtain maximum term and salary on the cusp of Marner's 94–point season — the most accumulated by a Toronto skater since Mats Sundin rang up the identical sum in 1996–97. As I mentioned in this corner prior to last season (http://bit.ly/2DlBQgb), Marner is the most–indispensable of all position–skaters in Blue and White and is, hence, fully entitled to seek an arrangement in the Tavares–Matthews district. Were I agent Ferris, I wouldn't be pursuing a nickel less than the aforementioned duo… and please spare me the parochial center–vs.–winger argument. Marner possesses more elemental skill than any Maple Leaf puck–handler and should be compensated accordingly. From everything we hear, Dubas is working diligently to secure Marner and avoid a repeat of the Nylander debacle from a year ago.

But, the defense position with the Leafs is again in flux — as it's been for most years since the 1967 Stanley Cup win. As of today, that group, moving forward, consists of a Norris Trophy candidate (Morgan Rielly); a solid, at–times erratic veteran in his last contract year (Jake Muzzin); an up–and–comer in question after shoulder surgery (Travis Dermott); an overpaid, often–erratic player that wants out (Nikita Zaitsev)… then a whole bunch of guys–named–Moe: Calle Rosen, Andreas Borgman, Justin Holl, Tim Liljegren, Rasmus Sandin, Mac Hollowell, Jesper Lindgren. Prospects that haven't been able to stick, or haven't yet appeared, in the NHL. Not expected to return are unrestricted free agents Jake Gardiner, Ron Hainsey and Martin Marincin.
It therefore puzzles me when such–astute hockey observers as Damien Cox routinely incorporate "Stanley Cup" in their newspaper columns about the Maple Leafs. Cox is fully on–side with Dubas… and I, too, am largely impressed with the young GM. But, how can anyone expect the Leafs to win the NHL championship when they haven't yet advanced beyond the opening round under Mike Babcock; possess not a single forward other than Kadri with a hint of truculence — and, most–glaringly, are perhaps not even playoff–worthy on the back end? Didn't St. Louis just win the Stanley Cup with a deep, large and mobile defense core of Alex Pietrangelo, Colton Parayko, Jay Bouwmeester and Joel Edmunston? Other than Rielly, who needs to minimally duplicate the best scoring season (72 points) of any Maple Leaf rearguard in 40 years (Borje Salming), the Toronto blue line, right now, is a jumble of question–marks. At least one established, formidable defenseman must be added to the roster before any person can reasonably expect the club to improve on its playoff showing of the past three years… let alone win the whole shooting match.
Perhaps that is why Dubas made a determined pitch to Nashville before P.K. Subban became a New Jersey Devil on the weekend (though God knows how the Leafs would have carried even the bulk of Subban's $9 million cap–hit). It is also the reason that Dubas — according to whispers — has inquired with Colorado about veteran Tyson Barrie. Some believe that Carolina's Brett Pesce is available, but why on Earth would the Hurricanes unload Pesce after he and Jaccob Slavin formed arguably the top defense–pairing in the 2019 Stanley Cup tournament (Carolina lost to Boston in the Eastern Conference final)? The Tarrytown, N.Y. native is still just 24 and signed through the 2023–24 season with a manageable hit of $4.025 million on a team swimming in cap space. That he should somehow be figured expendable by GM Don Waddell makes no sense whatsoever. Pesce and Slavin are the cornerstones around which Stanley Cup teams are built.
So, yes, it was 10 years ago tonight — June 25, 2009 — that Garth Snow of the New York Islanders selected John Tavares first overall in the NHL draft at the Bell Centre in Montreal. And that Brian Burke, running the Leafs, nabbed Kadri in the No. 7 hole. Yes, the Leafs drafted, in consecutive years, Nylander, Marner and Matthews; have locked up Nylander and Matthews for the foreseeable future and are attempting to accomplish the same with Marner. Yes, the Leafs just traded Marleau to Carolina for cap space. Yes, the club chose winger Nick Robertson with its first selection at the 2019 draft in Vancouver.
Forwards… forwards… and more forwards.
Isn't anyone looking at the canyon that still exists behind the center red–line?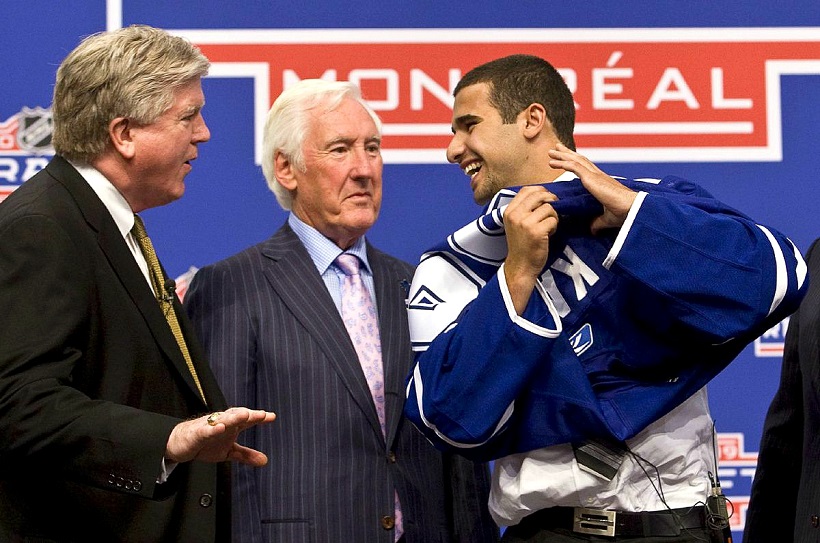 NAZEM KADRI JOKES WITH BRIAN BURKE (LEFT) AND CLIFF FLETCHER WHILE TRYING ON A LEAFS JERSEY FOR THE FIRST TIME, 10 YEARS AGO TONIGHT, AT THE 2009 NHL DRAFT. GETTY IMAGES
EMAIL: HOWARDLBERGER@GMAIL.COM