TORONTO (June 29) — Among the myriad issues that again restricted the Toronto Maple Leafs to one playoff round in April, the reliance on a single goalie ranks near the top. Which is hardly a new subject — in this corner or abroad. I have written voluminously about the peril of Mike Babcock deploying Frederik Andersen so frequently during the regular schedule. Andersen had no remaining fuel for Game 7 of the 2018 playoff series against Boston and was dismantled, 7–4. As the result of a groin–strain that coincided with the National Hockey League All–Star break this past season, his workload diminished and he wasn't nearly as fatigued. Still, Andersen allowed a pair of killer–soft goals in another Game 7 failure at Boston.
This leads to one of two conclusions: a) Andersen isn't competent enough to guide the Maple Leafs deep into the Stanley Cup tournament. Or, b) he must be utilized more diligently. As I've written — and despite how superbly the Big Dane performs over long stretches — I haven't abandoned the initial thought. There is no hard evidence, after three springs in Blue and White, that Andersen is a legitimate "playoff" goalie. That said, neither is there the slightest indication that the Maple Leafs are going to rely on someone else for the next two seasons, while Andersen remains under contract. As such, point B is the only viable option.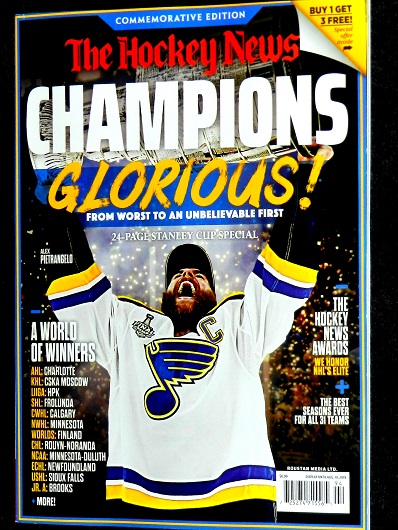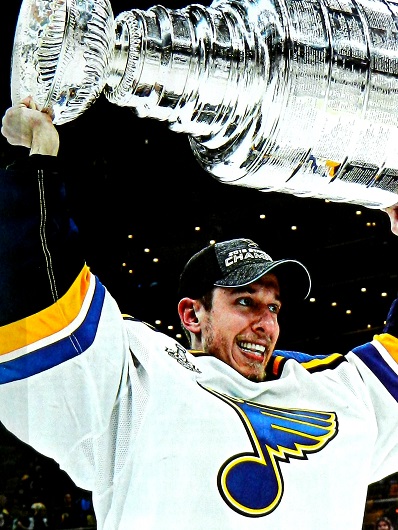 Since Andersen was acquired from Anaheim (June 20, 2016) for a first–round draft choice, Babcock has started him, almost exclusively, in all but the back end of consecutive–night games — the goalie appearing in 66, 66 and 60 matches during the 82–game schedule. If not for sustaining his groin injury prior to last Christmas, thereby performing only six times between Dec. 22 and Feb. 1, Andersen would have likely started closer to 70 games. Without question, Babcock's pattern of deployment counters that of most Stanley Cup–winning teams since 2009… as pointed out, cleverly, by Matt Larkin (bottom–right) in the current issue of The Hockey News, which commemorates the St. Louis Blues' first NHL championship: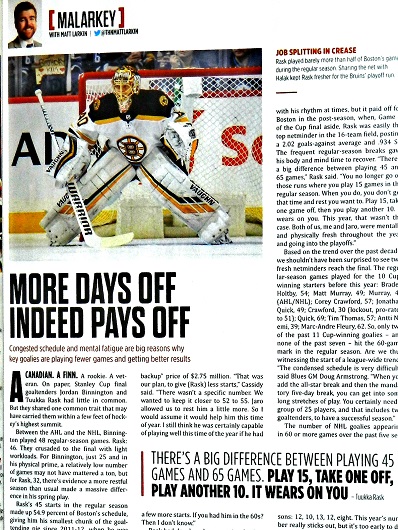 As Larkin writes, only Jonathan Quick of Los Angeles (in 2013–14) raised the Cup after appearing in more games (69) than Andersen has averaged (64) under Babcock. Even more puzzling is that Babcock, during his two best NHL seasons, applied the current–day approach. In 2007–08, when Detroit won the Stanley Cup, the workload among his two primary goalies was Chris Osgood (43 games) and Dominik Hasek (41). In 2008–09, when the Red Wings lost Game 7 of the Cup final to Pittsburgh, it was Osgood (46 games) and Ty Conklin (40). During his three seasons with Andersen here in Toronto, Babcock has utilized his No. 2 goalie as such: Curtis McElhinney 2016–17 (14 games); McElhinney 2017–18 (18 games); Garret Sparks 2018–19 (20 games). As I mentioned, the latter figure would have been closer to 15 had Andersen not injured his groin.
Does Babcock not recall the goalie rotation that nearly won consecutive Stanley Cups in MoTown? Is he stubborn beyond reason? Or, does he simply not trust the back–up netminders assigned to him by Leaf general managers Lou Lamoriello and Kyle Dubas? In my view, it's none of the first; much of the second and overwhelmingly the third. The singular choice by Dubas to pull rank and award Sparks the No. 2 job after training camp last September proved calamitous. It was an unmerited reward for the goalie that backstopped the Toronto Marlies — the team managed by Dubas before his promotion — to the Calder Cup title three months earlier. There's an enormous gap between the American Hockey League and the NHL… and there was no reason for the Leafs to replace McElhinney, the incumbent back–up. Babcock lost this argument, though he didn't exactly overuse McElhinney in his two Toronto seasons. Neither does Michael Hutchinson, acquired from Florida and re–signed on Friday, inspire much confidence from the head coach.
How, then, do the Leafs solve this dilemma? In the short term — during the final two years of Andersen's contract — discuss with Babcock whether there's a reasonable option, through trade or free agency, that would engender his trust and prompt him to share the netminding load. Veterans Semyon Varlamov (Colorado), Petr Mrazek (Carolina), Mike Smith (Calgary) and, yes, McElhinney (Carolina) are among those expected to be available on Monday when the market opens for UFA's. Can we assume that one of the aforementioned would be an improvement over Hutchinson or Sparks? Babcock had Mrazek in Detroit and used him 29 times in 2014–15. Smith is 37, but won 23 games for the Flames last season. Dubas would need to spend money he doesn't have in order to upgrade between the pipes. But, wouldn't it be worth making a counter cap–transaction if the club could provide Babcock two stoppers in which he believes?
The era of starting a No. 1 goalie in 60–plus games is fading. Quickly. As did the time for dressing fighters to provide "entertainment" once or twice a night. The Leafs adjusted to the latter — having deployed Colton Orr and Frazer McLaren at the end of the "goon" era. Can they get up to speed on the goaltending pattern?
Not likely, it says here, without making another move.
TORONTO'S NBA CHAMPIONSHIP
There was no time wasted between the Toronto Raptors defeating the Golden State Warriors (in Oakland, June 13) for their first National Basketball Association title… and the release of commemorative magazines: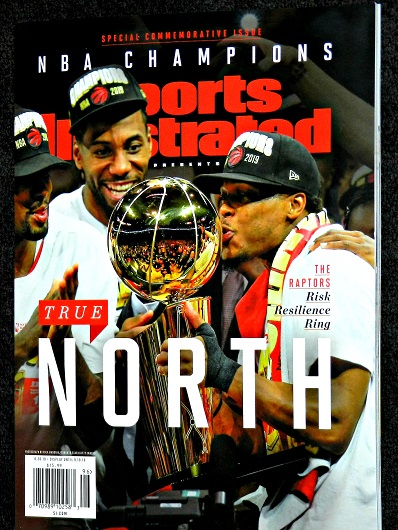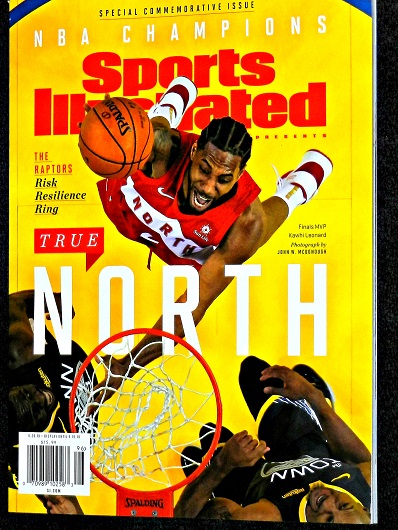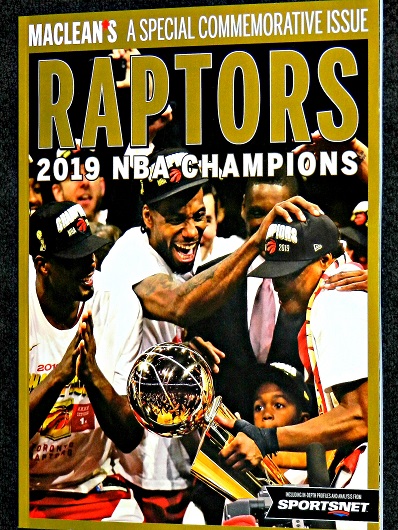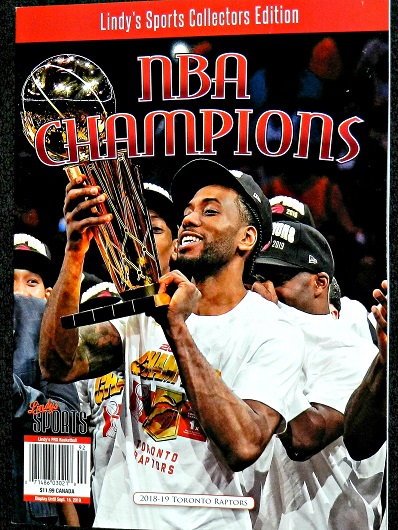 EMAIL: HOWARDLBERGER@GMAIL.COM