TORONTO (July 13) — To sign or not to sign? That is the question. With apologies to the Sweet Swan of Avon, Maple Leafs star Mitch Marner could soon be offered pen and paper by the Columbus Blue Jackets.
Aaron Portzline, who covers the Blue Jackets for The Athletic, has done some quality work. A good source of mine in Columbus confirms that general manager Jarmo Kekalainen was recently given the green light by ownership to try and negotiate an offer–sheet with Marner's agent, Darren Ferris. And, really, why not? It can be argued that no club in the National Hockey League's salary cap/free agency era has been so–decimated as the Blue Jackets. Four of the team's most–important players — goalie Sergei Bobrovsky (Florida); forwards Artemi Panarin (New York Rangers), Matt Duchene (Nashville) and Ryan Dzingel (Carolina) — have all departed since July 1. Kekalainen had acquired Duchene and Dzingel from Ottawa two days apart (Feb. 22 and 24) prior to the NHL trade deadline. The Blue Jackets astonishingly swept Tampa Bay (62 wins, 128 points) in the opening round of the playoffs before losing to Boston in Round 2. Portzline reported the Columbus/Marner possibility on Friday and it was picked up by news agencies (including TSN) on both sides of the border. But, the abounding question is: Why would Marner — even if presented the maximum salary ($12.5 million) and term (seven years) — sign an offer–sheet with a club that's been stripped of its core?

MITCH MARNER (RIGHT) CELEBRATES A GOAL WITH AUSTON MATTHEWS LAST DEC. 28 AT NATIONWIDE ARENA (THE MAPLE LEAFS DEFEATED COLUMBUS, 4–2). JASON MOWRY USA TODAY SPORTS 
The answer, ultimately, will depend on how stubborn the Marner camp remains about extracting a contract from the Maple Leafs (in salary per–season) that largely resembles tho one Auston Matthews signed on Feb. 5: five years and $58.17 million, with an average annual value (and cap–hit) of $11.63 million. To this point, Kyle Dubas and Co. have refused to meet such a demand. My opinion is that Ferris should continue to hammer–lock Dubas until he yells "uncle!" — Marner being the most–gifted and wondrous of all Toronto properties. Marvelous Mitch, in my view, is the most–indispensable Maple Leaf except for the club's No. 1 goalie… and even if I contend that Toronto will not win the Stanley Cup with Frederik Andersen. How might Dubas respond were Marner to call his bluff by signing a max–contract offer–sheet with the Blue Jackets?
Would the Leafs GM match the overture and almost–surely have to trade the contract (six years, $41.77 million) of William Nylander, signed last Dec. 1? Remember, it was Dubas who solemnly (and foolishly) vowed to never make such a move with the Swedish forward. Or, would Kyle take the bluff; lose Marner to Columbus and accept the compensation of four first–round draft picks? This scenario, for whatever it's worth, would draw the ire of Leafs Nation. But, Toronto hockey fans have held strong through more than half–a–century of angst and disappointment. Why would anything change with Marner moving elsewhere?
To this point in stalled negotiations the Leafs have not been influenced by an external force. Right now, we're back to where Dubas and Nylander resided a year ago — with the player a restricted free agent and the team having until Dec. 1 to reach an accord before the player must relinquish the entire schedule. There is some inherent pressure on the Leafs, if only to avoid being without Marner for, minimally, the first 28 games of next season (Toronto would have to sign Marner in between a home encounter with Buffalo, Nov. 30, and a road match in Philadelphia, Dec. 3). His absence for nearly three months — and the time required for Marner to get up to speed — would largely impact the hockey club. In that scenario, however, the Maple Leafs would retain Marner for the foreseeable future. Otherwise, it's bye–bye Mitch… and a whole lot of uncertainty until (or if) the first–round picks acquired for him develop into legitimate NHL assets.
I suspect Kyle Dubas is not sleeping soundly these nights.
WEEKEND THOUGHTS: The most–unlikely of media conflicts arose this week between Hockey Night In Canada icon Don Cherry and Toronto Sun columnist Steve Simmons. Cherry may not have a bigger fan (personally and professionally) than Simmons, who wrote in his notes column last Sunday: "One thing that hasn't been confirmed for the next season of Hockey Night In Canada: the return of Don Cherry and Coach's Corner. Rogers is cutting all over the place, which included the removal of Bob McCown on radio and television and Doug MacLean doing the same. Cherry is handsomely compensated for his work. Not sure if this is a place they want to go with the 85–year–old." Cherry responded by Tweeting: "I must say I am hurt and disappointed that my friend Steve Simmons would suggest in his Sunday column that Hockey Night In Canada might not want me back for next year. I was told a week after the playoffs I would be back." Given his affinity for Cherry, Simmons has wisely chosen to let the issue sleep (he is currently in New York covering the Blue Jays–Yankees weekend series). Neither did Cherry properly interpret Simmons' message. Steve didn't write that Cherry "would not" be back with HNIC. Only that Rogers continues to cheapen its enormous media wing… and if McCown can be deep–six'ed, no one is untouchable. To which Simmons is bang on. In recent years, Rogers has unloaded such good hockey personalities as Glenn Healy, Mike Johnson (now back with TSN), Paul Romanuk, Bob Cole, McCown and MacLean. The Toronto Blue Jays, owned by the media conglomerate, are an embarrassment in Major League Baseball (34–58 this season, 25.5 games behind the first–place Yankees in the American League East), three years after consecutive trips to the A.L. Championship Series. Though in possession of some excellent young prospects in the field (Vladimir Guererro Jr., Cavan Biggio, Lourdes Gurriel Jr., Bo Bichette, maybe Danny Jansen), the Blue Jays are devoid of pitching at the Major and Minor League levels. As such, any talk about a resurgence is claptrap. Rogers has proudly chopped its Blue Jays payroll by $50 million and, according to columnist Gregor Chisholm of the Toronto Star, is committed to only $35 million for next season — more than half of it ($18 million) going to former infielder Troy Tulowitzki. Only once in its proprietorship of the ball club has Rogers relaxed its frugality: when it allowed ex–GM Alex Anthopoulos to add the contracts (via trade) of Tulowitzki and David Price for the stretch–drive of the 2015 season. What resulted, you may recall, was 1½ years of delirium for Toronto baseball fans; the first–such excitement since Joe Carter's walk–off home run against Philadelphia that won the 1993 World Series. But, Blue Jay supporters (many of them of a new generation) are now paying for that brief change in company policy. Going cheap, especially in the A.L. East, is a recipe for irrelevance. And, Rogers has it down pat. Don't expect anything to change until it sells the club.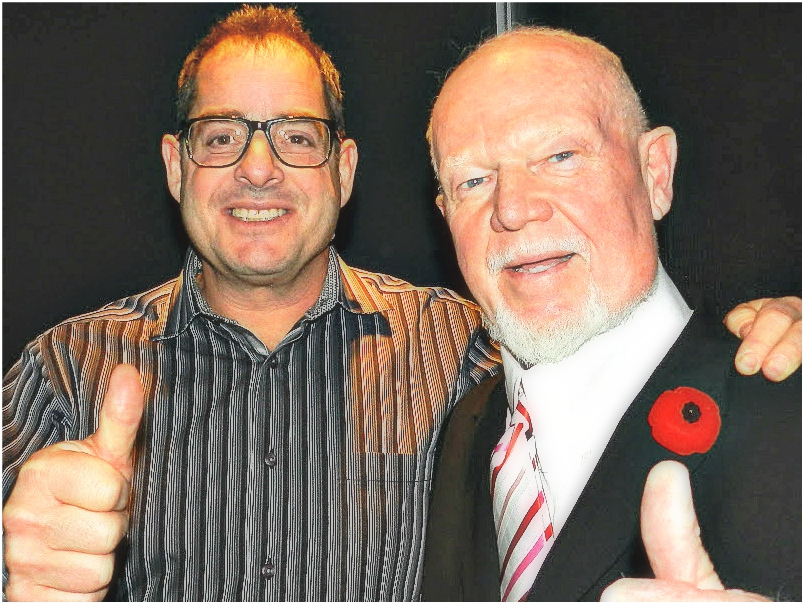 STEVE SIMMONS AND DON CHERRY. A LONG HISTORY OF MUTUAL RESPECT AND ADMIRATION.
Speaking of really bad teams, Toronto has witnessed its share. And then some. But, it's difficult to recall a situation nearly as pathetic as that which involves the 2019 Argonauts of the Canadian Football League. The club is 0–4 to start the season, having been outscored 162–59, or 40–15 per game. Included was a 64–14 destruction by the Hamilton Tiger–Cats in the schedule opener, at home, three weeks ago. This follows a humiliating 4–14 finish last year and means the Argos have lost 18 of 22 games since their surprise Grey Cup victory in 2017. Attendance at BMO Field, which was supposed to help rejuvenate the franchise, has trickled to four or five thousand per match; the crowd was so tiny for the 18–17 loss to the B.C. Lions last Saturday that the Argos refused to announce a paid figure. The current team has nothing beyond a good receiver (Derel Walker) and a promising linebacker (Micah Awe). It is particularly weak at the essential quarterback position, having given away (to Ottawa) Trevor Harris (now starring for Edmonton); to Hamilton, Zach Collaros (currently injured with Saskatchewan) and, also to Saskatchewan, last season's back–up, Cody Fajardo, who has passed for 945 yards in four games with the Roughriders. Toronto employs James Franklin (injured and ineffective) and McLeod Bethel–Thompson (a warrior, but not in the same class as Harris). Nor have the Argos possessed a professional kicker since allowing 2017 Grey Cup hero Lirim Hajrullahu to leave for Hamilton as a free agent. Coaching decisions are ridiculous — near mid–field and trailing by 21 points in the fourth quarter at Winnipeg, Friday night, head coach Corey Chamblin elected to punt. Most ominously, however, it appears the club has been abandoned by its ownership structure of Bell Canada Enterprises and Larry Tanenbaum, still evidently intoxicated by the Raptors' NBA title.
Look up "mess" in the dictionary and you might find a Toronto Argonauts logo.

EMAIL: HOWARDLBERGER@GMAIL.COM