[Kyle] Dubas — according to whispers — has inquired with Colorado about veteran Tyson Barrie. At least one established, formidable defenseman must be added to the roster before any person can reasonably expect the Leafs to improve on their playoff showing of the past three years. — Between the Posts: June 25, 2019.
TORONTO (July 1) — So, the "whispers" I heard six days ago were true. And, mission accomplished by general manager Kyle Dubas. Though Tyson Barrie will never be counted among the top defensive blue–liners in the National Hockey League, his skill–set while moving the puck is akin to Morgan Rielly, with whom he'll combine to form a splendid one–two punch on Toronto's powerplay. Barrie provides the Leafs a slight improvement over Jake Gardiner and a mandatory, first–pairing defenseman. Codi Ceci for Nikita Zaitsev is pretty much a wash and Dubas needs to fill the void created by veteran Ron Hainsey signing with Ottawa. Given the uncertainty of Travis Dermott after shoulder surgery, the Toronto blue line — right now — is roughly at the same level as last year's team. In other words, okay… though not Stanley Cup caliber.
To compensate for Gardiner's probable defection as an unrestricted free agent, Dubas had to trade Nazem Kadri's team–friendly contract (three more years at a cap–hit of $4.5 million) for the lone remaining season of Barrie's deal ($2.75 million). Toronto gains roughly 14½ months of age in the swap, as Barrie is that much younger than Kadri. And, exchanging a third–line center for a top–pairing defenseman is normally a no–brainer. Except for one factor of which every Toronto hockey fan is aware: By unloading Kadri, the Maple Leafs now have not a single forward with jam; with even the slightest inclination to get involved, physically, or to agitate opposition defenders. And, if you watched St. Louis and Boston play hammer–and–tong for seven games in the Stanley Cup final, you will comprehend the enormity of such a playoff deficit.
That said, the Leafs — in their salary–cap crunch — have understood, for many months, the challenge of improving from within… and not regressing. Given that John Tavares, Auston Matthews, William Nylander and, at some point, Mitch Marner will consume half of the club's cap–figure, the only way to move forward is for Tavares, Matthews, Nylander and Marner to keep getting better. Which is hardly beyond the realm. Far–more of a challenge for Dubas is forming the depth, persona and character of a Stanley Cup contender with roughly $40 million to spread among the other 19 roster positions. As of today, I don't think the team is close. Or, for that matter, any more capable than yesterday of prevailing in the first round of the Cup tournament. The Leafs possess undeniable, top–end talent… yet also a large gap between elite and support personnel; not a hint of truculence… or a No. 2 goalie the coach would trust to start 30–plus games. If Mike Babcock trots out Frederk Andersen 60 more times next season, it'll be "rinse–and–repeat". Guaranteed.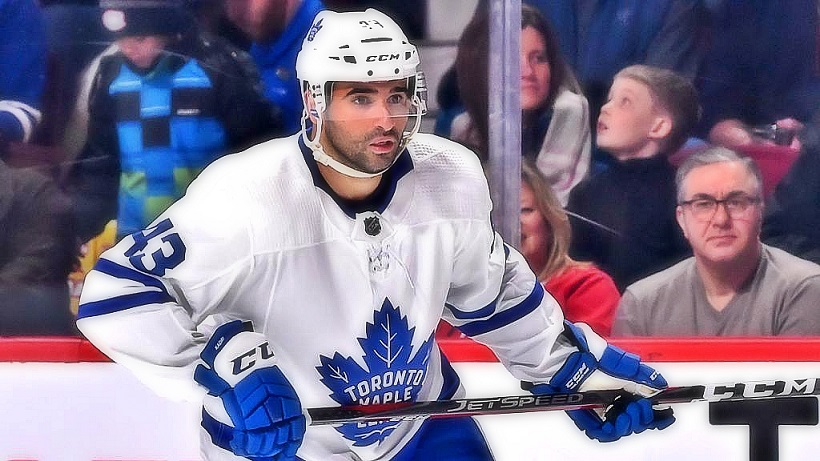 Fans of the Maple Leafs — myopic as they are eternally hopeful — have suggested tonight that Kadri wasn't helping the club while suspended the past two playoff years. Which is true. What I'm not hearing (or seeing) is how the little pepper–pot may have ultimately swung the razor–close battles against Boston in the Maple Leafs' favor. Ala Brad Marchand of the Bruins. Though the Leafs have been dismantled in Game 7 of the past two series, they did twice get to the ultimate match at TD Garden. Perhaps Toronto's 11th–hour fate would have been different — or at least a bit closer to different — with Kadri's competitive, scrappy demeanor. Not to mention his ability around the net; twice a 32–goal scorer. Of course, we'll never know. That Naz took himself out of the line–up doesn't diminish, in any way, the need for sandpaper up front during the playoffs.
Of which the Leafs, today, have absolutely none.
So, rationalize and hide behind Kadri's suspensions, if you wish. Until Dubas somehow acquires a minimum two–such forwards, his team is destined for yet another early playoff exit.
Providing, that is, the Leafs are still capable of qualifying for the post–season.
EMAIL: HOWARDLBERGER@GMAIL.COM