TORONTO (July 20) — Were he to retract his vow from last December and trade the anvil–contract of William Nylander, it would be one small step for Kyle Dubas, one giant leap for salary–cap maintenance.
Okay, how better to start than by re–phrasing the iconic words of Neil Armstrong from one–half–century ago (July 20, 1969), as he took man's first step on the moon? And, we're not referring to Neil Armstrong, now 86, the Hall–of–Fame linesman that worked in the National Hockey League from 1957–78 (and the father of St. Louis Blues general manager Doug Armstrong). Or the Neill Armstrong with two L's that coached the Edmonton Eskimos from 1964–69 and the Chicago Bears from 1978–81. It's the other Neil Armstrong — the astronaut from Wapakoneta, Ohio — who became one of the world's most famous people upon the events of 50 years ago tonight. That Neil Armstrong died at 82 on Aug. 25, 2012. So, there's your history lesson.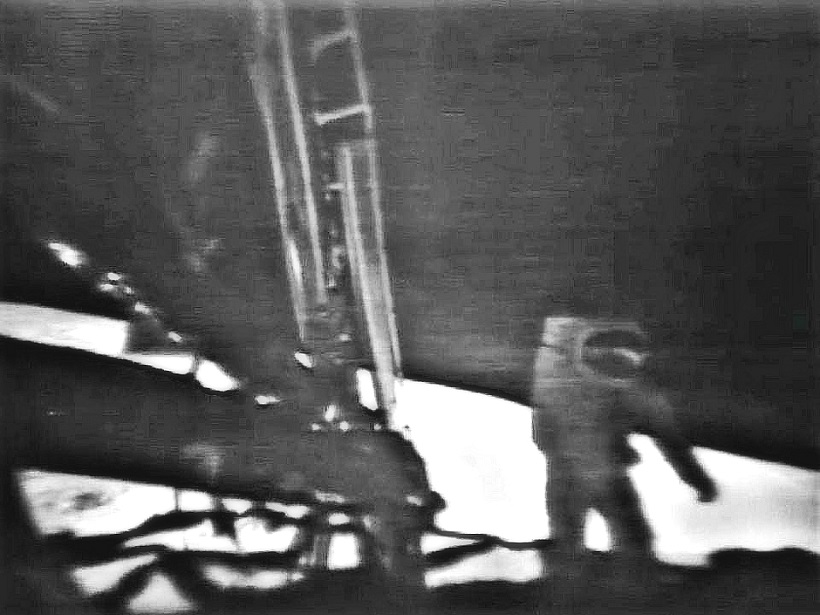 TV IMAGE OF AMERICAN NEIL ARMSTRONG, WALKING ON THE MOON, 50 YEARS AGO TONIGHT.
As for today, Dubas remains entrenched in a contract–two–step with Darren Ferris, the unyielding ARC Sports employee who represents restricted free agent Mitch Marner — he of the 94 points with the Toronto Maple Leafs last season. So far, and despite much speculation, no rival club has stepped forward with an offer–sheet for Marvelous Mitch, which leads me to think that no–such attempt is imminent. Even without pressure from another team, Dubas is under remarkable constraint to further his club's Stanley Cup aspiration. Given a boost of $5.3 million from the roster position occupied by Nathan Horton — still listed under Long Term Injury Reserve (or LITR) — Dubas has sufficient cap–space to accommodate the salary Marner will command for next season. It closes off, however, any option to balance the club with a smidgen of tenacity… or to improve on the No. 2 goaltending spot behind Frederik Andersen, currently the domain of Michael Hutchinson. To accomplish either of the aforementioned, Dubas needs to provide himself some cap relief. Which he could do by bartering Nylander's pact, signed last season, and absorbing nearly a $7 million cap–burden for each of the next five years. This option, unappealing though it may be to the young GM, is too logical and convenient for Dubas to ignore. He must ascertain interest from rival clubs in Nylander… then make the best trade available. Ideally, it would bring the Leafs a large, two–way forward that plays with ill humor. Otherwise, the docile Toronto club is doomed to an early Stanley Cup exit for yet another year.
Such a transaction, of course, can be made in due time — after Nylander, in a best–case scenario for the Leafs, proves he can rebound from the embarrassment of last season, when he arrived in early–December; refused to involve himself beyond the perimeter, and contributed a measly seven goals in 54 games. Dubas awarded Nylander the six–year, $45.1–million contract on the basis of projection; his youth (23), and consecutive NHL seasons (2016–17 and 2017–18) of 61 points. The Leafs are hoping that his precipitous decline of a year ago resulted from missing the first 27 games while involved in a contract squabble. Similar to which Marner currently finds himself. Whether or not Marner's negotiation will stretch into training camp and the regular schedule is a mystery. As with Nylander, he must sign before Dec. 1 or relinquish the entire 2019–20 season. There is still plenty of time for Marner's situation to be resolved… and to determine if last year was an anomaly with Nylander. Ultimately, however, Nylander's contract will have to come off the books — and for an impressive return — if the Leafs are to be a legitimate Stanley Cup threat by next spring.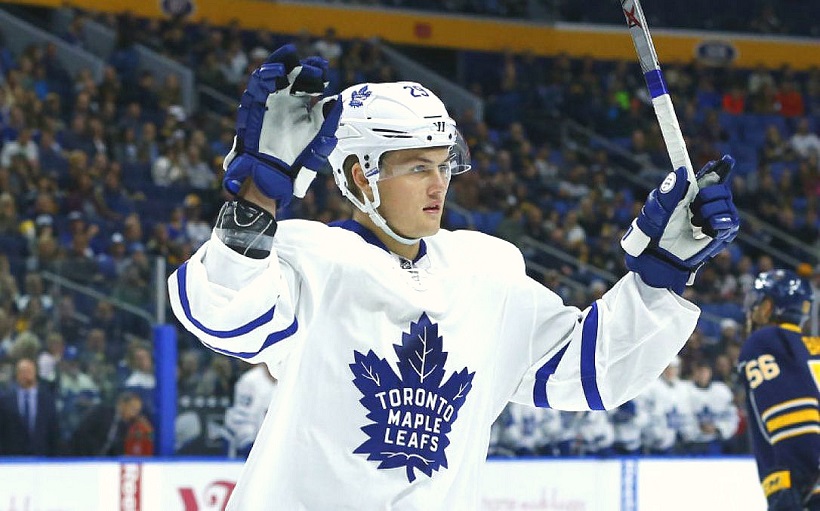 The website predlines.com, which follows Nashville's NHL team, postulates the Predators should go all in for Nylander by offering the Maple Leafs first–round picks in 2020 and 2021; next year's second–rounder (acquired from New Jersey in the P.K. Subban trade); center Calle Jarnkrok and defense–prospect Alexandre Carrier. Which could be an awful lot to give up for a guy coming off a seven–goal performance. Alternately, the Devils own Wayne Simmonds after signing the veteran forward to a one–year, $5 million contract as an unrestricted free agent. With more than $18 million in cap–space, New Jersey could easily acquire Nylander… perhaps for Simmonds and the Devils' first–round pick next summer (even if lottery–protected). It would provide Toronto some experience and muscle up front; the potential of a first–rounder and, in the short term, nearly $2 million of cap relief. Space that could ultimately be used to upgrade the No. 2 goalie position — mandatory if Mike Babcock is to offer Andersen some, ahem, "load–management".
In summation, William Nylander is a luxury the Maple Leafs cannot afford. One they must prudently exchange to help enable advancement beyond the opening round of the Stanley Cup tournament.
MEDIA CREDENTIALS — 1
It is a quiet time in the hockey off–season and a perfect opportunity to share with you, randomly, some media passes accumulated before and during my career as a reporter at The FAN–590. More to come: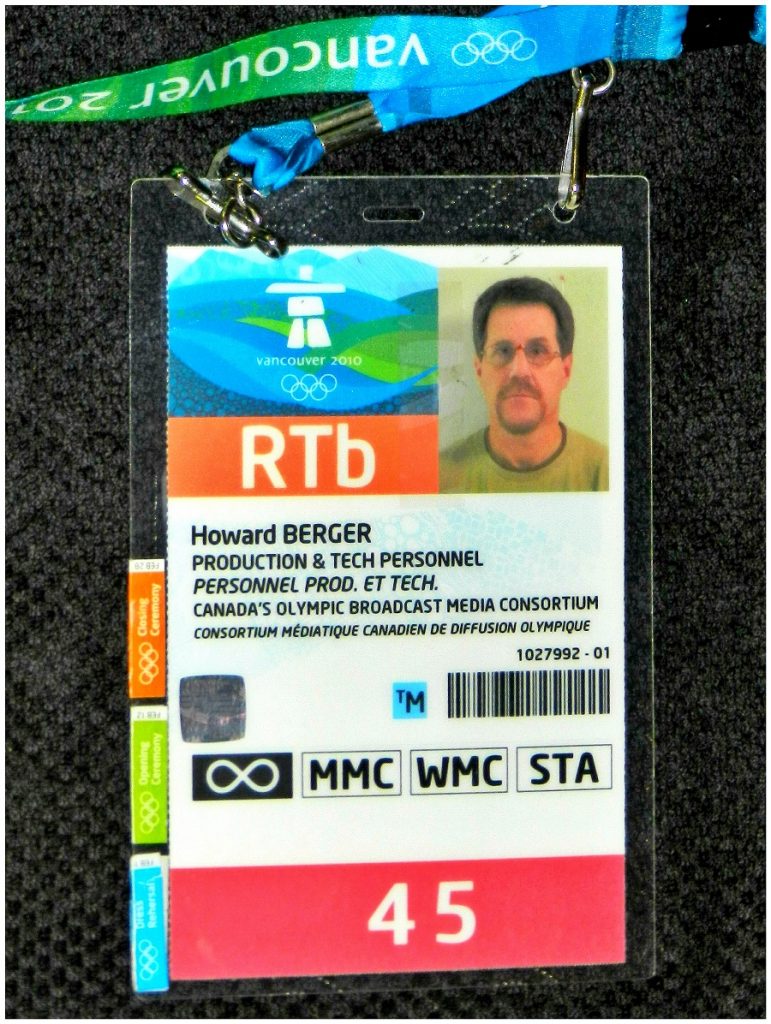 I find it difficult to believe that it's coming up on a full decade since the Winter Olympics in February 2010. With my FAN–590 colleagues — among them, Doug Farraway, Dan Dunleavy, Jason Rozon, Alex Seixeiro, Andrew Nie, Ryan Fabro — I spent more than three weeks in Vancouver and followed the Canadian men's hockey team to its overtime win against the United States on Sidney Crosby's "golden goal". Above, is my credential for the Games, which allowed me access to all areas of Canada Hockey Place (a.k.a. Rogers Arena, home of the Vancouver Canucks). Farraway, Dunleavy and I broadcast, live, the Opening and Closing Ceremonies (tickets, bottom–left). All of Team Canada's games (tickets, bottom–right, including one from the Feb. 28 gold medal match) were called by Hall–of–Fame broadcaster Peter Maher (Calgary Flames) and analyst John Garrett. Dunleavy and I handled pre and post–game shows, and intermissions. It was my last major assignment for the radio station and one I recall warmly. But, again, how can it be nearly 10 years!?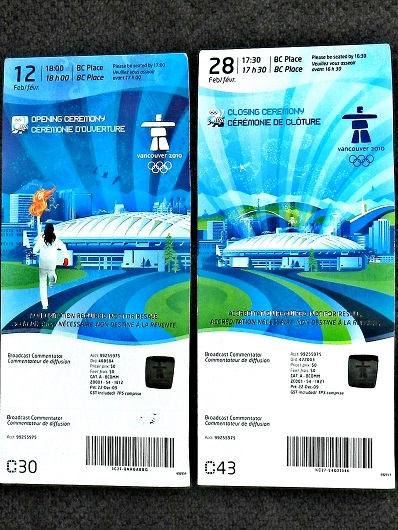 BOOK RESEARCH IN THE SPRING OF 1985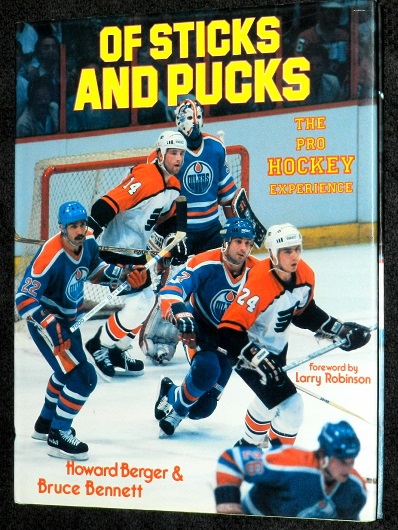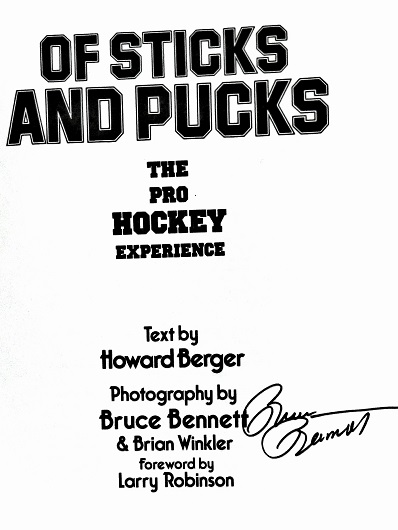 While compiling stories and anecdotes for my first book (above) — in conjunction with photographer Bruce Bennett — the publisher (Color Library Books of Guildford–Surrey, England) paid for my travel during the 1985 Stanley Cup playoffs. It was a marvelous experience, still three years before my radio career.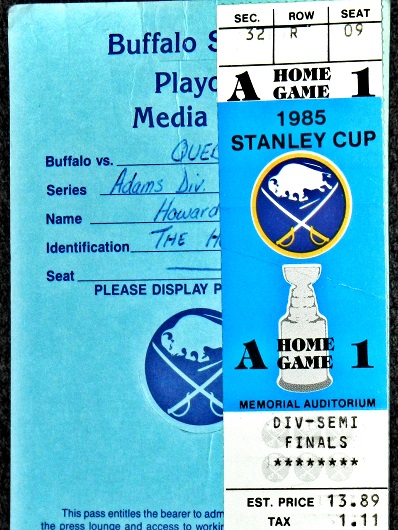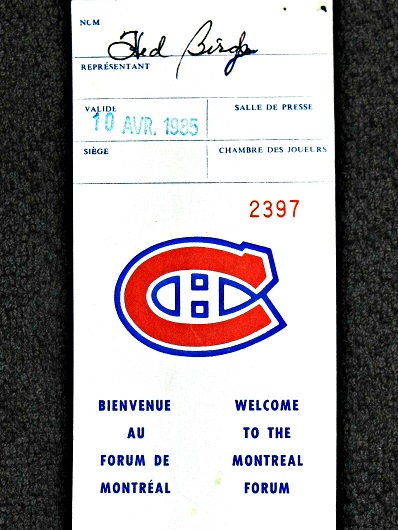 Among the series I attended were Quebec/Buffalo (top–left) at the old Memorial Auditorium; Boston/Montreal (top–right) at the fabled Montreal Forum; Edmonton/Winnipeg (bottom–left) at the old Winnipeg Arena… then my first Stanley Cup final: Philadelphia vs. Edmonton (bottom–right) at the Spectrum and Northlands Coliseum. Wayne Gretzky and the Oilers won their second NHL title.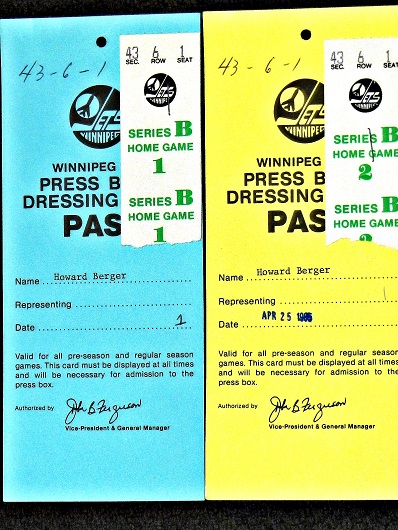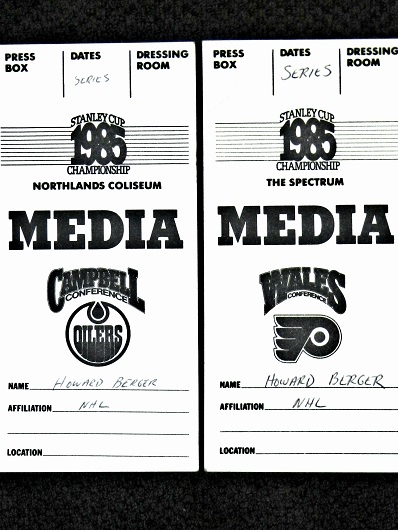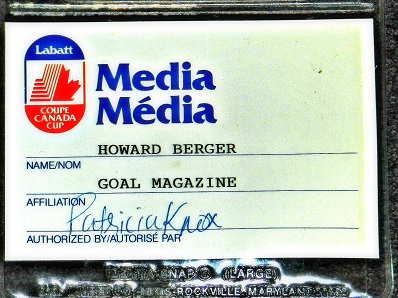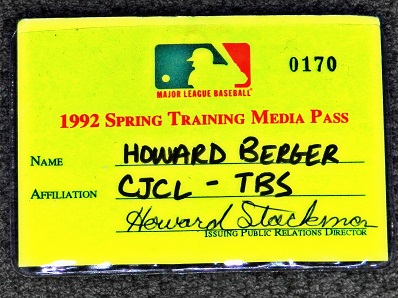 While freelancing for the NHL publication of the 1970's and 80's (GOAL Magazine), I was accredited for the 1984 Canada Cup (top–left) at the Montreal Forum. I covered spring training in Florida in March 1992 for CJCL AM–1430 (top–right), six months before we became Canada's first all–sports radio station. The Toronto Blue Jays won their first of consecutive World Series that year, defeating the Atlanta Braves.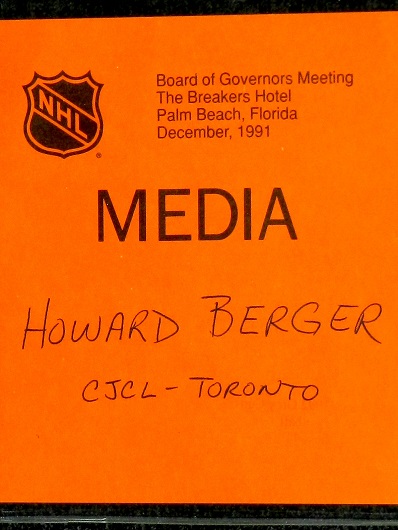 To research a football story in June 1986, I attended a Blue Bombers/Edmonton Eskimos CFL game (top–left) at old Winnipeg Stadium. While covering the 1991 Baseball Winter Meetings in Miami Beach (bottom–left), I drove up to Palm Beach for the NHL Board of Governors meeting (top–right) at the opulent Breakers Hotel. And, I still have my first season hockey pass for Maple Leaf Gardens (bottom–right) — credentialed on behalf of the company that published Leafs game–programs… and signed by owner Harold Ballard.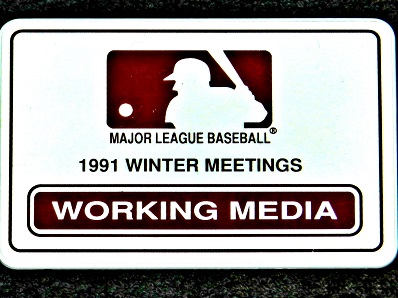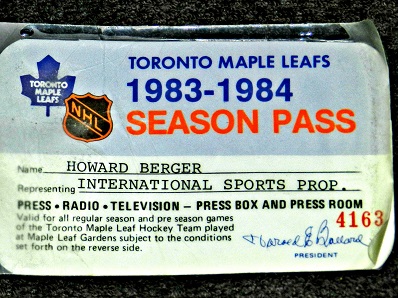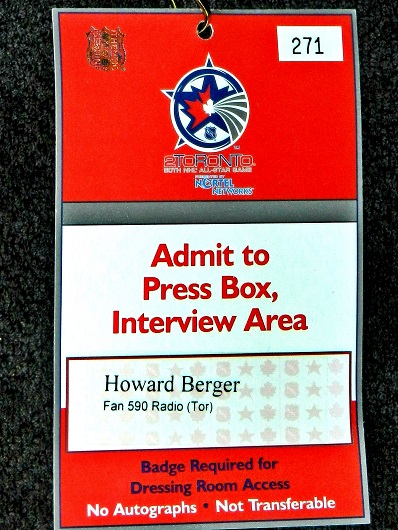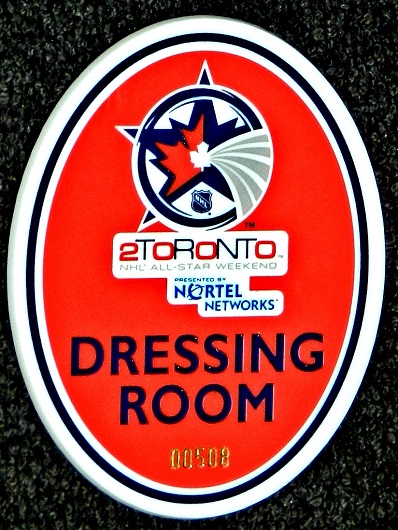 It was North America vs. the World in the first NHL All–Star Game of the new millennium: Feb. 6, 2000 at the Air Canada Centre. And, the first All–Star game played in Toronto since 1968 at Maple Leaf Gardens.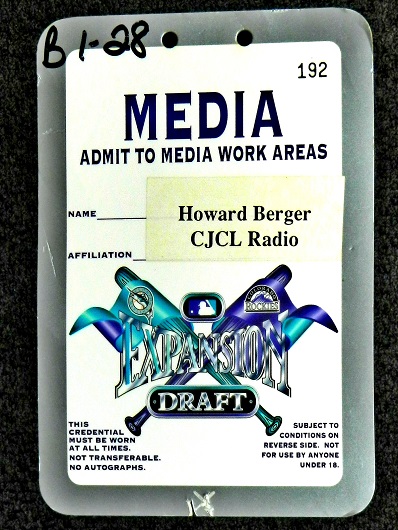 There are worse places to spend New Year's Eve than on the Gulf coast of Florida, as I did with my wife and two young children while covering the Maple Leafs and Lightning at Tampa (top–left) in 2001. I was in New York on Nov. 17, 1992 for the Major League Baseball expansion draft (top–right) as the Florida Marlins and Colorado Rockies selected their initial rosters. Pitcher David Nied went first, to Colorado, from Atlanta.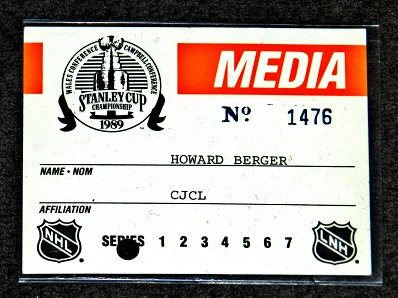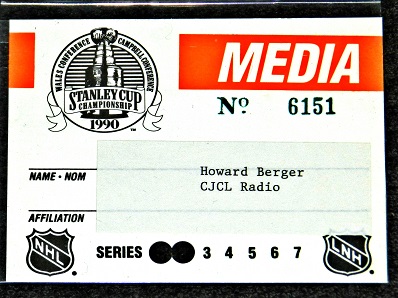 The first two Stanley Cup finals I covered for the radio station — still CJCL AM–1430: Calgary over Montreal in 1989 (left) and Edmonton, sans Gretzky, over Boston in 1990.
EMAIL: HOWARDLBERGER@GMAIL.COM