TORONTO (July 27) — If you're surprised that a rival National Hockey League team has not yet presented an offer–sheet to Maple Leafs star Mitch Marner, consider this: "July 1st isn't the right time to make such a move," a league executive told me on Friday. "Once a player becomes a restricted free agent, chances are that negotiations will stagnate — pick up for a time, then fall off. So, the best strategy for an opposing team is to come forward with a sheet just before the regular season begins, in the first week of October, when rosters [and salary–cap considerations] are essentially in place. And, when it is far–more difficult for a club to match a lucrative, multi–year offer. I'm not sure how that pertains to Marner, Patrik Laine or anyone else waiting for his first contract after entry–level. But, it sure bears watching as next season approaches."
Offer–sheets, of course, had gone the way of the dinosaur until Montreal made a laughable overture to Sebastien Aho of Carolina earlier this month… for an amount the Hurricanes would have topped with their own submission. General manager Don Waddell rolled his eyes at counterpart Marc Bergevin claiming Aho "wants to play here in Montreal" and easily matched the offer. No–such presentation had been made to a player since the summer of 2013. Nor have any followed. Whether or not such elite performers as Marner and Laine will be engaged by rival clubs near the beginning of the 2019–20 schedule remains to be seen. But, the Leafs and Winnipeg have likely considered this scenario; it was all–but–surely the prime mover in the rather–absurd transaction this week, with Vegas, that landed Toronto the Long Term Injured Reserve (LTIR) contract of David Clarkson, who hasn't played a game in the NHL since 2015–16 (with Columbus).

THOUGH HE MAY BE AMONG THE "ENEMIES" OF LEAFS NATION, AGENT DARREN FERRIS — WHILE NEGOTIATING MITCH MARNER'S FIRST NHL CONTRACT — IS LIKELY TO CLIMB FAR NORTH OF NO. 86 AMONG THE HOCKEY NEWS' TOP 100 PEOPLE OF POWER AND INFLUENCE.
In a boldface circumvention of the salary–cap, the Leafs can combine the dormant, LTIR pacts of Clarkson and Nathan Horton to begin next season, thereby adding $10.55 million of cap "space" — an amount the club has secured to accommodate the potential first year of Marner's new deal. And, as assurance in the event of a last–minute offer–sheet in October. Incumbent players Zach Hyman and Travis Dermott are also on LTIR after undergoing off–season surgery. A portion of their contracts can be "written off" and added to cap relief by Toronto until they return later in the schedule. Precisely how the Leafs would accommodate a $10.5–to–$11 million cap–hit for Marner beyond next season is a mystery — with John Tavares, Auston Matthews and William Nylander gobbling up $29.6 million; with defensemen Tyson Barrie, Jake Muzzin and Cody Ceci as potential unrestricted free agents, and with goalie Frederik Andersen needing to be re–signed after the 2020–21 campaign. So, many challenges lay ahead if Tavares, Matthews, Nylander and Marner are to consume roughly $40 million of cap space. At the moment, the Leafs appear to be playing hardball with Marner's agent, Darren Ferris, who is certain not to retreat in his quest to land Marner a deal that resembles the one Matthews signed in February (five years, $58.17 million). Nor, as I've written many times, should Ferris and Marner accept anything less. The fleet forward is Toronto's most–gifted player and its leading point–producer (94) from last season. Helping to manage the club's salary cap is not Marner's responsibility.
Obviously, it makes no sense for the Maple Leafs to waste their time low–balling Marner… unless Brendan Shanahan and Kyle Dubas are prepared to accept four first–round draft choices as compensation for the player signing elsewhere. Ferris is justifiably determined to obtain maximum value for his star client.
MEDIA CREDENTIALS — 2
More of the plastic and cardboard that allowed me entrance during and after my radio career: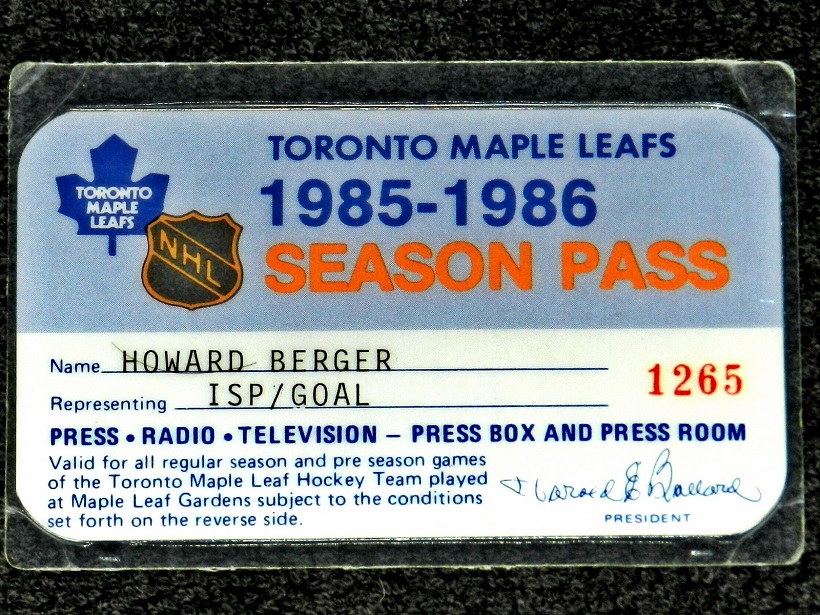 This was my third season pass for hockey at Maple Leaf Gardens — on behalf of International Sports Properties (the company that published Leafs game programs) and GOAL (the NHL's official magazine of the 70's and 80's). The Leafs had come off their worst–ever season, finishing dead–last in the overall, 21–team standings with 48 points. It landed them the No. 1 pick in the 1985 NHL draft and general manager Gerry McNamara chose defense/winger Wendel Clark of the Saskatoon Blades (WHL). Wendel responded with a team–leading 34 goals in 1985–86; took on whomever dared to challenge him, physically, and finished runner–up to Calgary defenseman Gary Suter in voting for the Calder Trophy (top rookie). The Leafs, ably coached by the late Dan Maloney, shocked the Blackhawks in the best–of–five preliminary playoff round, winning the first two games at Chicago Stadium then completing the sweep at the Gardens with a 7–3 thumping of the club that finished 29 points ahead in the old Norris Division. The Leafs then extended the Blues to seven games in the Division semifinal before bowing out by one goal at the old St. Louis Arena.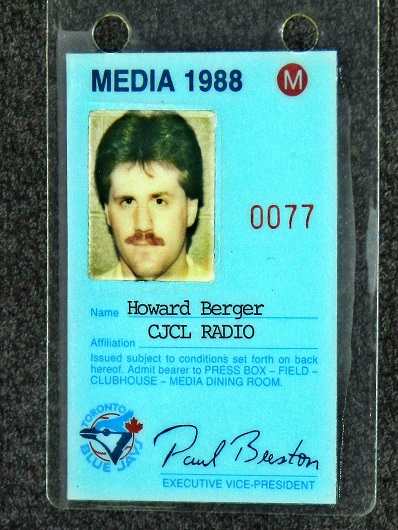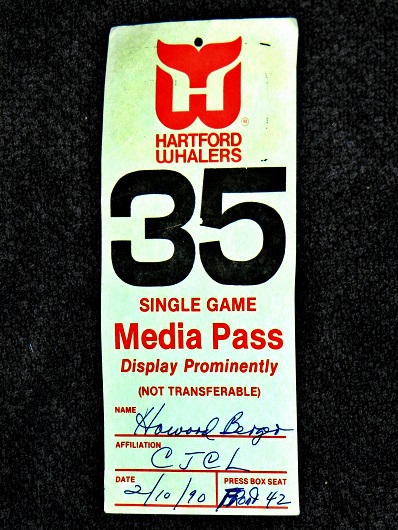 There was young Howard (top–left), still only 29, when furnished his inaugural Blue Jays pass for CJCL AM–1430 — radio voice of the ball club since its inception in 1977. And, my debut as color–commentator on Leafs radio broadcasts occurred at the Hartford Civic Center (top–right) on Feb. 10, 1990 — a Saturday night. For reasons that have long–escaped me, Bill Watters could not make that weekend trip. I worked alongside Hall–of–Fame play–caller Joe Bowen as the Leafs were thumped, 6–2, by the old Hartford Whalers (since 1997–98, the Carolina Hurricanes). I would broadcast three other games with Joe: Oct. 13, 1990 vs. Detroit at Maple Leaf Gardens; Dec. 1, 1990 vs. Wayne Gretzky and the Kings at the Los Angeles Forum and Mar. 25, 1995 vs. the Jets at the old Winnipeg Arena. Bowen was inducted into the HHOF media wing in 2018.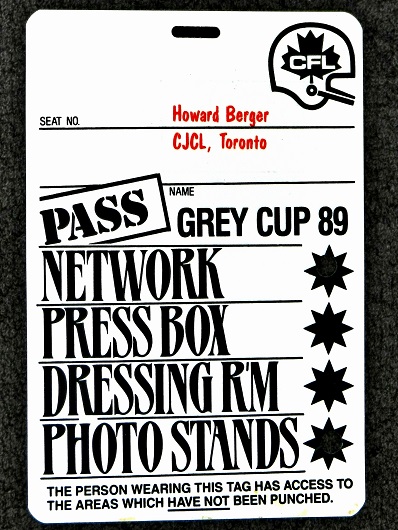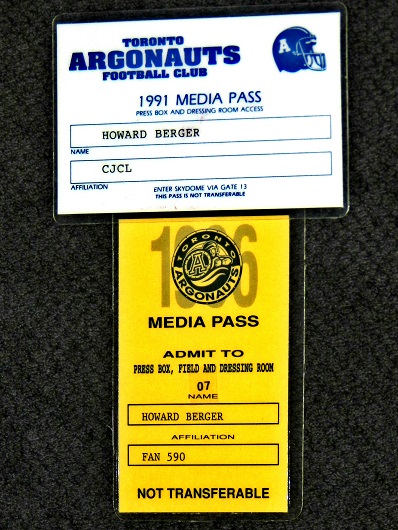 The SkyDome — now Rogers Centre — opened with abundant fanfare as the world's first retractable–roof stadium in June 1989. And, the first Grey Cup game in the new facility, nearly six months later (top–left), remains among the best of all time. The Saskatchewan Roughriders won their second CFL title (the other being in 1966) with a wild, 43–40 triumph over the Hamilton Tiger–Cats on Dave Ridgway's 35–yard field goal with three seconds left. Passes (top–right) from seasons in which the Toronto Argonauts won the Grey Cup: 1991 and 1996. The '96 team, quarterbacked by Doug Flutie, was the second–best in franchise history to the Flutie–led club of 1997, which defended its CFL championship, against Saskatchewan.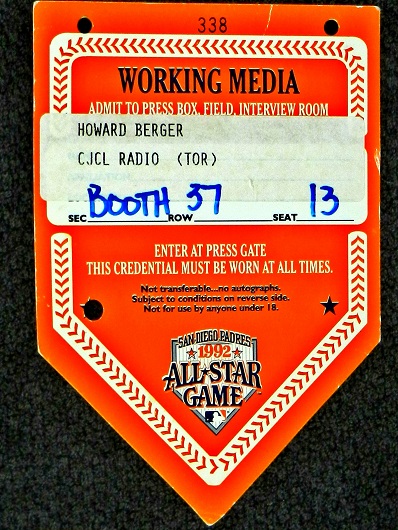 At work in California. Top–left: Covered the 1992 Major League Baseball All–Star Game at Jack Murphy (later Qualcomm; now SDCCU) Stadium in San Diego, where the Padres played from 1969 to 2003, before moving downtown to Petco Park. And, the 2010 NHL Draft at the Staples Center in Los Angeles (top–right) was the last of 17–such events I covered in my radio career. Taylor Hall of the Windsor Spitfires (OHL) went first, overall, to the Edmonton Oilers; Tyler Seguin (Plymouth OHL) second to Boston. The Leafs did not have a first–round pick. It was the first of two traded to the Bruins (in September 2009) for Phil Kessel.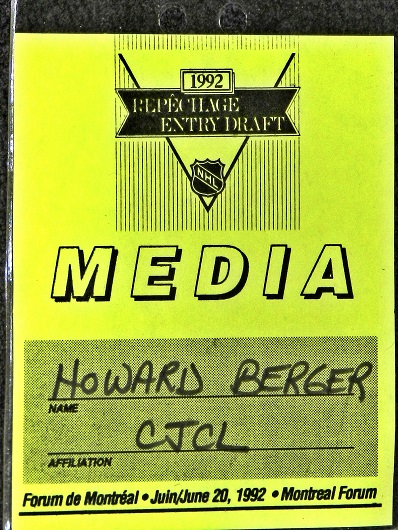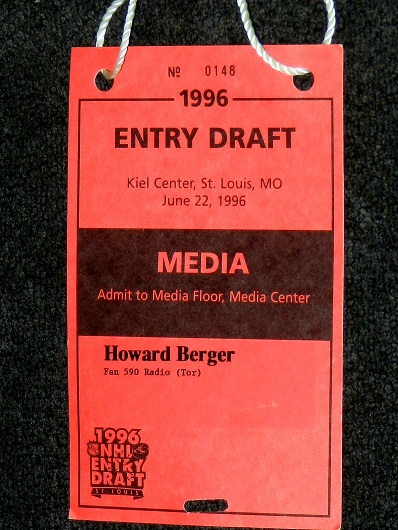 The 1992 NHL draft (top–left) at the old Montreal Forum is best–remembered for the Quebec Nordiques trading Eric Lindros to the New York Rangers and Philadelphia Flyers. A mediator had to sort out the mess; Lindros ultimately being awarded to the Flyers in a complex transaction that landed future Hall–of–Fame forward Peter Forsberg with Quebec (later Colorado). Czech defenseman Roman Hamrlik went first, overall, to Tampa Bay. In 1996, the draft (top–right) was held at the two–year–old Kiel (now Enterprise) Center in St. Louis, where the Blues had moved for the lockout–shortened 1994–95 season after 27 years in their original home (the St. Louis Arena). Defenseman Chris Philips (Prince Albert WHL) went first, to Ottawa.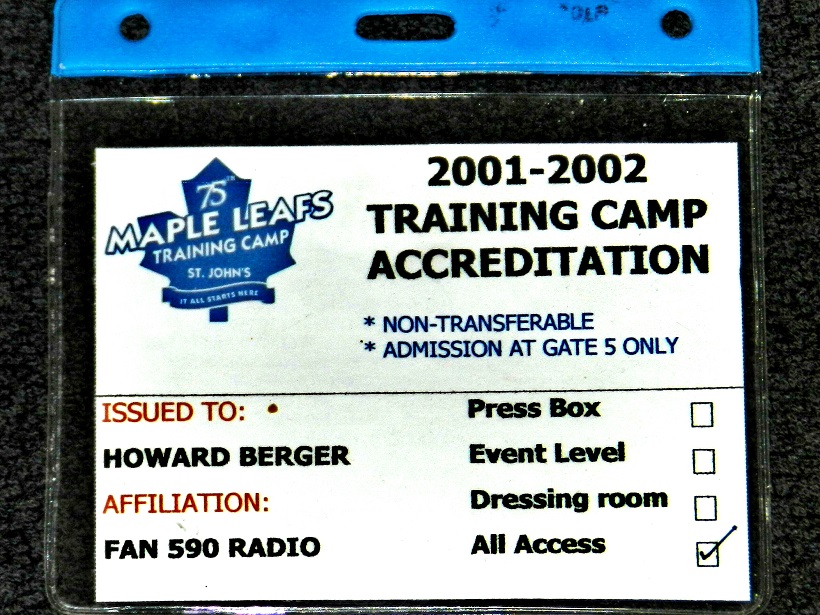 The Leafs were scheduled to conduct the first week of their 2001 training camp (above) in St. John's, Nfld., home of their American Hockey League affiliate… and in the brand–new Mile One Centre. I had been scheduled to fly from Toronto to St. John's on the afternoon of Sep. 11, 2001, only to have it become one of the darkest days in modern world history. The terrorist attacks on New York, Washington and Pennsylvania halted air traffic in the United States for more than 72 hours. Ultimately, I went to St. John's on Saturday and Sunday (Sep. 16–17) for an exhibition game between the Leafs and Montreal. Madison Square Garden in New York beefed up security after the attacks. Visiting media (bottom–left) were accorded a plastic, photo–pass for Rangers games, replacing the plain cardboard credentials (bottom–right) of years past.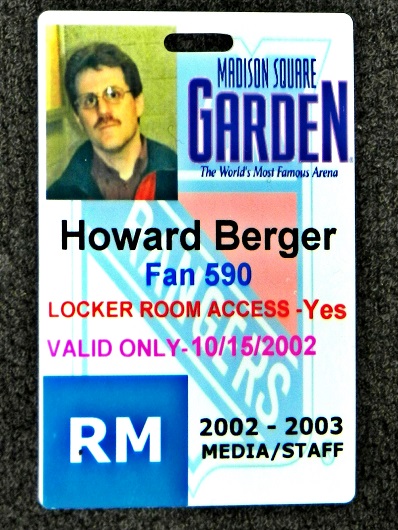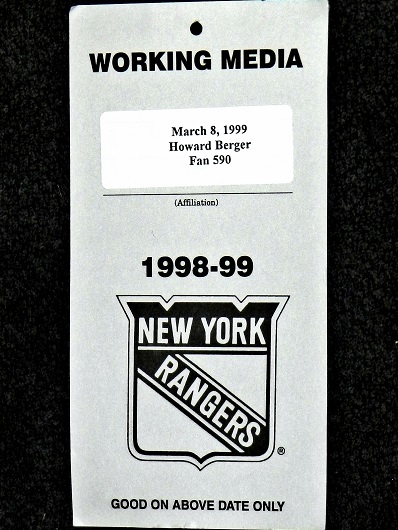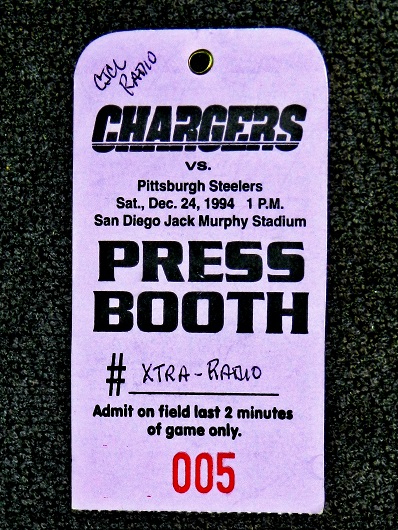 While on Christmas vacation in Los Angeles during the NHL owners' lockout of September 1994–January 1995, I drove down to San Diego and joined by pal, Lee (Hacksaw) Hamilton, in the broadcast booth (top–left) at Jack Murphy Stadium for the Chargers–Pittsburgh Steelers NFL game. Lee was radio voice of the Chargers back then. The Leafs began their annual playoff domination of Ottawa (top–right) with a six–game triumph in April 2000. Games 3, 4 and 6 were at the Corel (now Canadian Tire) Centre. Toronto eliminated Ottawa with a 4–2 road triumph on Apr. 24. The 2001 playoff set between the Ontario rivals (bottom–left) ended in a four–game sweep — the first–such result for the Leafs since the 1949 Stanley Cup final, against Detroit. Games 1 and 2 were in Ottawa. In the first NHL season after my radio career (2011–12), I traveled to a number of Leafs road matches while starting this website. Among them (bottom–right), a game at the Nassau Coliseum in Uniondale, N.Y. during the Islanders' 40th–anniversary season.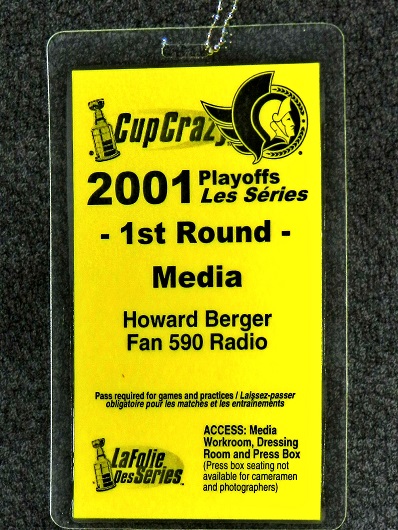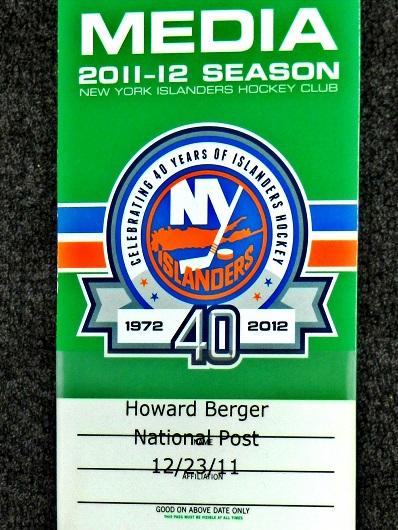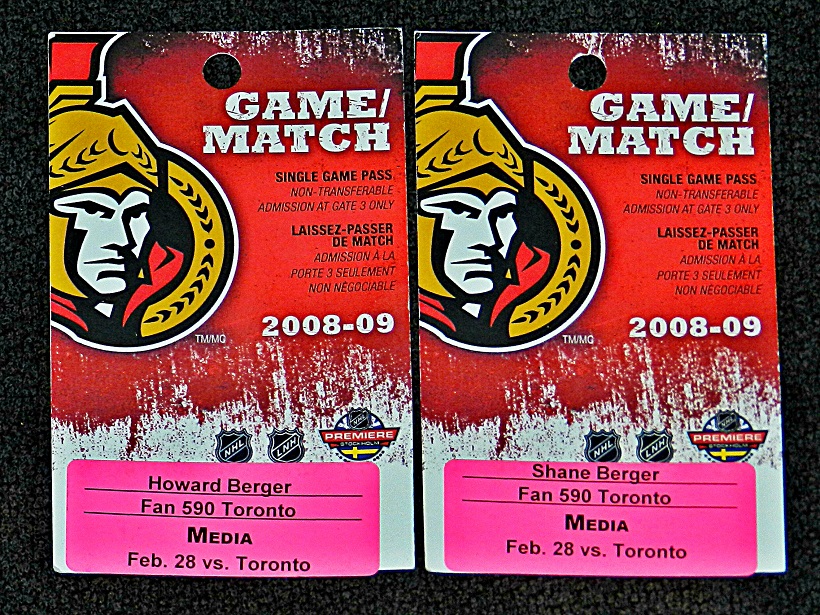 The Senators' media relations staff, including current Leafs' P.R. director, Steve Keough, treated me well. And, two or three times, accommodated my son, Shane, in the press box (above) when he traveled with me.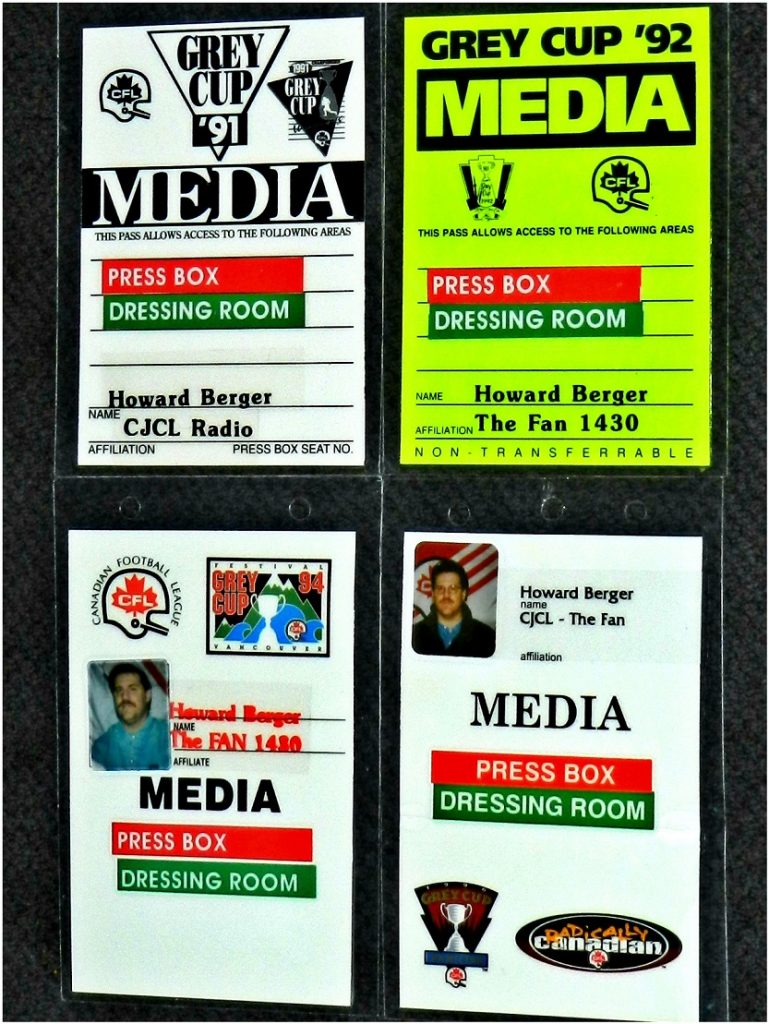 Four more Grey Cup games covered during my radio career. Top, left–to–right: 1991, at Winnipeg (Toronto over Calgary; 1992, at SkyDome (Calgary over Winnipeg). Bottom, left–to–right: 1994, at Vancouver (B.C. over Baltimore) and 1996, in the snow at Hamilton (Toronto over Edmonton).
EMAIL: HOWARDLBERGER@GMAIL.COM