TORONTO (July 8) — Perhaps never in North American history has a proud, diverse city "gone down" on a person as Toronto did Kawhi Leonard during his apparent struggle to choose between re–signing with the Raptors or fleeing to Los Angeles. This was prostitution on a scale witnessed, around here, only twice before — when our municipal reps threw themselves at the dirty feet of the International Olympic Committee while bidding for the Summer Games of 1996 and 2008. Toronto was twice defeated: by Atlanta and Beijing.
So, I ask: Was it worth, during the past couple of weeks, all the gratuitous devotion? The billboards… the websites… the freebie offers… the pledges from John Tory? In the end, do you think Kawhi even noticed? Or, did he fly here from California as a courtesy; as something to do in–between conspiratorial phone–chats with Paul George? Who knows? Maybe while that CP–24 helicopter tracked his route from Pearson Airport to Scotiabank Arena, Kawhi was on the blower to Los Angeles Clippers owner Steve Ballmer, threatening to stay in Toronto a few extra hours; to "pretend" a little harder until Ballmer and his staff agreed to the ransom–trade with Oklahoma City. If anything, the optics were mildly threatening. Otherwise, Leonard's plan was to stick around for as long as it required to fuel his outbound charter. Still, we begged… cajoled… coddled.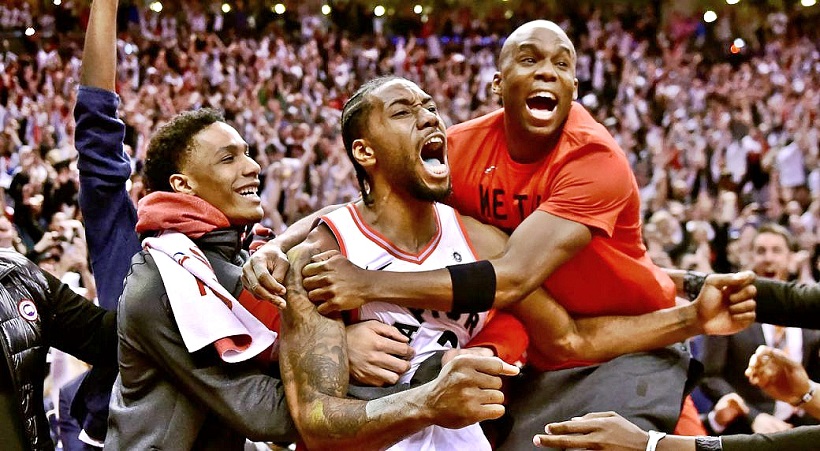 Do you think residents and political types in Boston would have done the same for Kawhi? With their football team in the Super Bowl practically every year. Their baseball team having won four World Series titles in the past 1½ decades (after zero championships in 88 seasons). Their hockey team in the Stanley Cup final three times in the past 11 years, winning once. And, even their basketball team — prevailing 10 of 11 years between 1959 and 1969 — not having raised the Larry O–B since 2008. Or, did we, here in Toronto, pamper and caress King Leonard because he enabled our once–in–a–generation blowout? Was the annexing of an international pro sports championship so utterly foreign in these parts that we lost all dignity and self–regard? Or, should we, in hindsight, have told Kawhi: "Hey, come back to a darn–good situation… but only if you truly want to. Otherwise, thanks for the memory. It was nice knowing you. Good luck in Tinseltown."
Of course, such candor isn't in the DNA of "Toronto the Good". Never has been. Likely never will be. So, we made passionate love to Kawhi, thinking that a virtual orgasm would incite him to remain a Raptor. Instead, and all the while, he was hard on (pun intended) the Clippers to acquire his running–mate, George — waving pen and paper at Ballmer. Using Bell Canada Enterprises, Rogers Communications, Larry Tanenbaum and the entire GTA as horny bystanders; as sheep–like leverage. Just in case Oklahoma City said "no thanks".
And, when his calculating scheme unfolded; when Kawhi, as long–planned, made a U–turn toward L.A. in the middle of the night, still we complied and acquiesced. We thanked him, again, for assuaging our eternal inferiority complex. If even for a few hours.
The Golden State Warriors, champions to the very end, purchased a full–page ad in the Toronto Star, congratulating the Raptors. All the Raps did for the Warriors was end their dynasty. Let's see if Leonard does the same for the people of Toronto, who bent over backward in the faint hope he would return. At least, it will answer a few questions about the man's character… off the court.
But, will we, as a city, learn from any of this? I doubt it.
EMAIL: HOWARDLBERGER@GMAIL.COM