TORONTO (Aug. 11) — If you talk to hockey people who talk to hockey people — as I try and do between working funeral services in my day job — what I'm about to write is a common assessment: Mike Babcock needs a productive start with the Maple Leafs in October and November to remain as coach of the club.
"He's got 20 games," said a well–known figure in the National Hockey League. "If the Leafs aren't playing up to par by mid–November, Babcock's gone. Count on it. There is lots of appetite for change in Toronto."
Had such a feeling been shared by Leafs president Brendan Shanahan, a switch would have likely been made soon after the Maple Leafs were bounced again by Boston in the opening round of the playoffs. But, Shanahan, who was instrumental in luring Babcock from Detroit in May 2015, didn't want to pull the trigger. Firing Babcock may have been viewed as unjust after seasons of 105 and 100 points. But, this is where priorities have changed at 60 Bay St. It is no longer about records and lofty numbers between October and April. Those above Babcock believe the club was competent enough, last season, to make a deeper playoff run. That it bowed out after Round 1 for the third consecutive spring did not reflect well on the coach.
"Everybody in hockey knows that [general manager] Kyle Dubas wanted to make a change and was overruled," insisted my source. "The stuff about management being on the same page as Babcock was a load of you–know–what. Shanahan wasn't ready to fire Babcock after the playoff defeat and he controls everything that happens with the Leafs. But, I can tell you Mike's rope isn't nearly as long as it used to be."

Babcock's future was explored in this corner (blog here: http://bit.ly/2HDb7uz) after the Leafs coughed up a 3–2 series lead to the Bruins in April and wilted, yet again, in the decisive match at TD Garden. He and Dubas began to splinter when the GM pulled rank at the end of training camp last October and anointed Garret Sparks the back–up to No. 1 goalie Frederik Andersen. Babcock wanted to keep incumbent Curtis McElhinney, but Dubas rewarded Sparks for winning the American Hockey League title the previous spring with the Toronto Marlies (Carolina claimed McElhinney on waivers). Sparks never gained the confidence of Babcock and was mediocre in 20 appearances, winning eight games with a 3.15 goals–against average. The Leafs discarded him unceremoniously at the end of the regular schedule and recalled Michael Hutchinson from the Marlies. Dubas traded Sparks to Vegas last month (July 23) for the dormant contract of David Clarkson, thereby adding $5.25 million of salary cap space for the coming season and assuring the Maple Leafs will be able to match an offer–sheet attempt by a rival club for restricted free agent Mitch Marner.
If Dubas had his way, he would have fired Babcock after the playoff loss to the Bruins and elevated Marlies coach Sheldon Keefe. With the Leafs, however, Shanahan controls all hockey decisions — a far–easier task now that veteran executives Lou Lamoriello and Mark Hunter are no longer in the organization. He clearly has the confidence of ownership at Maple Leaf Sports and Entertainment, given a six–year contract extension revealed to the public in mid–March. We can assume Shanahan also covets Keefe, who signed a two–year extension with MLSE at the end of March… and that Keefe has some indication that he'll eventually replace Babcock. Otherwise, he would have sought work as an assistant coach in the NHL rather than remaining in the minors. So, all is not wine–and–roses amid the Leafs front office heading into 2019–20.
Babcock — fairly or otherwise — is on the ropes. Were it not for the four remaining years (and $20 million) on his contract, Shanahan may have felt more comfortable justifying a change at the end of April. But, a sub–standard performance by the Leafs at the 20–game mark of the schedule will likely spell the end for Babcock. And, the prospect of a good jump from the gate will be severely hampered if Marner remains un–signed toward the Dec. 1 deadline for suiting up. Though it's generally quiet, teams continue to inquire about Marner with respect to an offer–sheet and potential trade; Vancouver has shown interest in both.
Shanahan personally chose Dubas to replace Lamoriello. At some point, he has to vindicate that decision by allowing his GM to hire the coach of his choice. It may happen sooner, rather than later.
THE RAPTORS AT CHAPTERS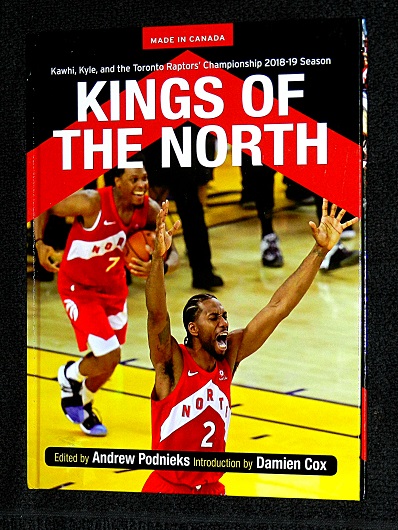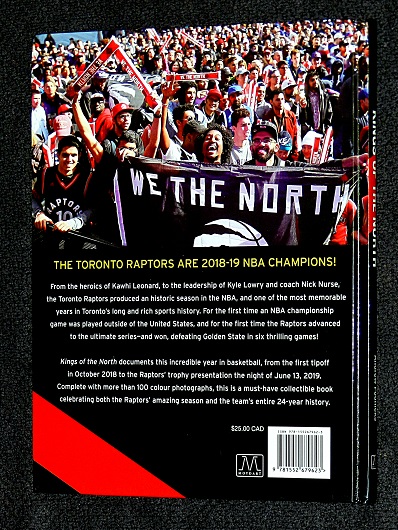 THEY'RE STILL THE CHAMPS: Yes, the bloom may be off the rose with Kawhi Leonard taking his act to Los Angeles, but the Toronto Raptors will always be the first team from outside the United States to win the National Basketball Association title. I thank my friend, Rob Del Mundo, for a copy of this handsome, 144–page commemoration (above and below). Rob contributed to KINGS OF THE NORTH, which details every Raptors game from the 2018–19 regular season, and each game from playoff victories over Orlando, Philadelphia, Milwaukee and Golden State. It can be ordered here from Chapters.ca: http://bit.ly/2YMAxN5.
MEDIA CREDENTIALS — 4
Yes, even more of the credentials and badges from my 23–year career at The FAN–590: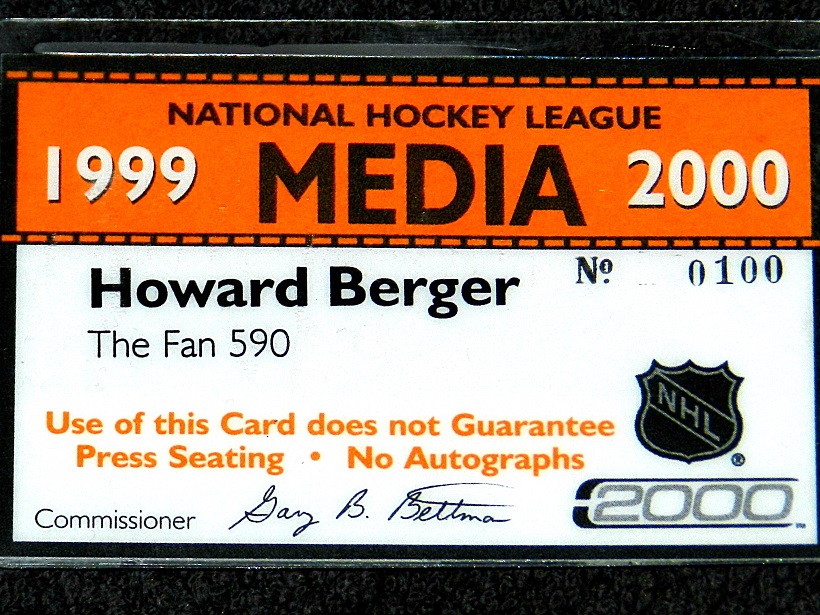 We were all gripping over something called "Y2K" when this pass was issued to me in October 1999. Apparently, our computers were going to crash because they were programmed for calendar–years beginning with the number 19. Yet, here we are, nearly two decades later, and cyberspace has survived.
1992 BASEBALL PLAYOFFS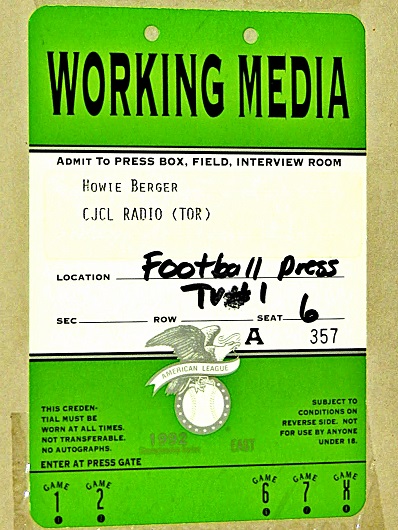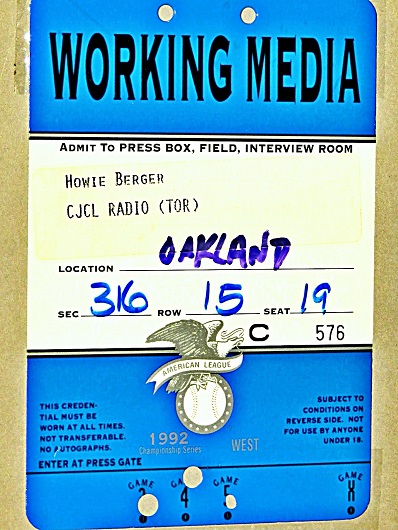 One of the truly great memories from my radio career was following the Toronto Blue Jays to their first of consecutive World Series titles — and the first for a team outside the United States. Toronto beat Oakland in the 1992 American League Championship Series. My credentials, above, for Games 1, 2 and 6 at SkyDome (left); Games 3, 4 and 5 (right) at the Oakland Coliseum. The Blue Jays then defeated the Atlanta Braves in the '92 World Series. My passes, below, for Games 1, 2 and 6 (left) at the old Fulton–County Stadium in Atlanta; Games 3, 4 and 5 (right) at SkyDome. What a remarkable, month–long experience.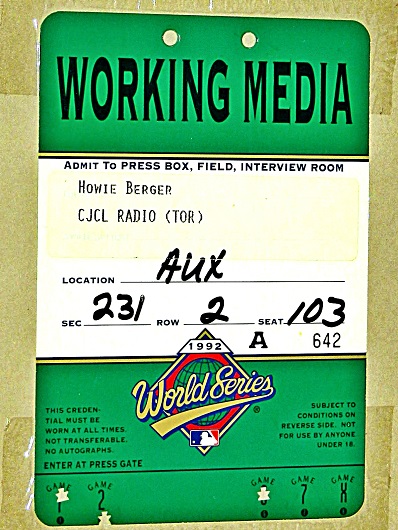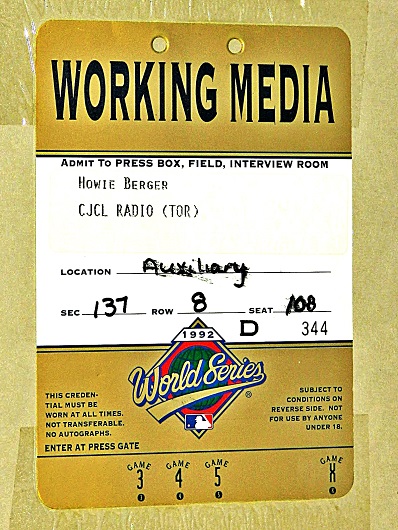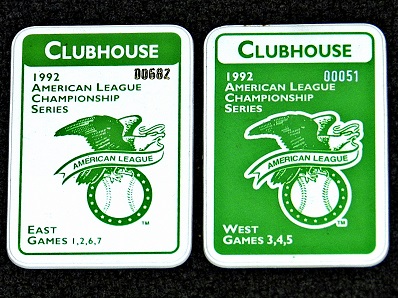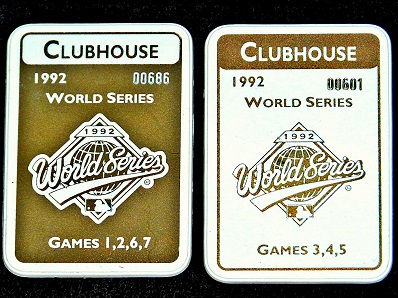 Clubhouse badges (home and away) for the 1992 ALCS (left) and the 1992 World Series (right).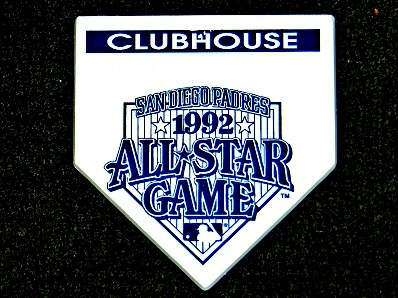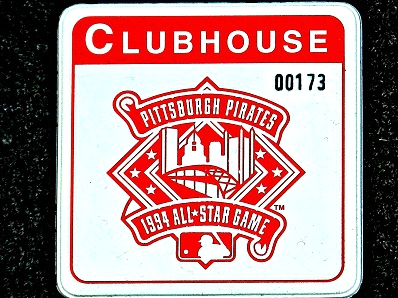 Clubhouse badges for the 1992 Major League Baseball All–Star Game at Jack Murphy Stadium in San Diego (left) and the 1994 Game at old Three Rivers Stadium in Pittsburgh (right).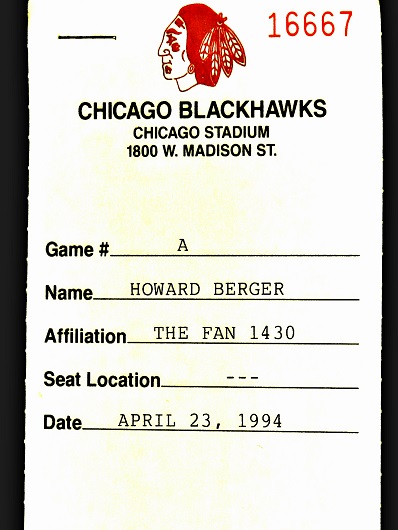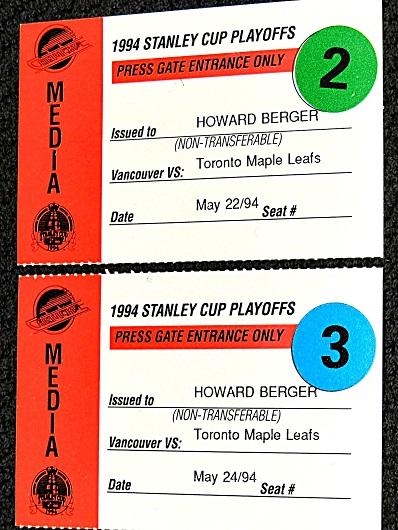 For the second consecutive spring, Pat Burns, Doug Gilmour and the Leafs (in 1994) advanced to the Stanley Cup semifinals. They defeated the Chicago Blackhawks in the opening round — pass (top–left) from Game 3 at old Chicago Stadium (5–4 Hawks). Later that week (Apr. 28), I covered the last game at the Stadium, as Toronto eliminated Chicago with a 1–0 victory. After knocking off San Jose in the Western Conference semifinal, it was on to Vancouver for the final. Media passes (top–right) from Games 4 and 5 at the old Pacific Coliseum. The Canucks moved on in the latter match with a 5–4 win — Greg Adams beating Felix Potvin early in overtime. Vancouver then lost the Stanley Cup final in seven to the New York Rangers.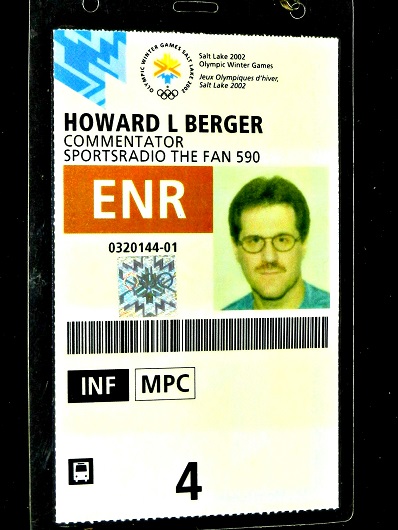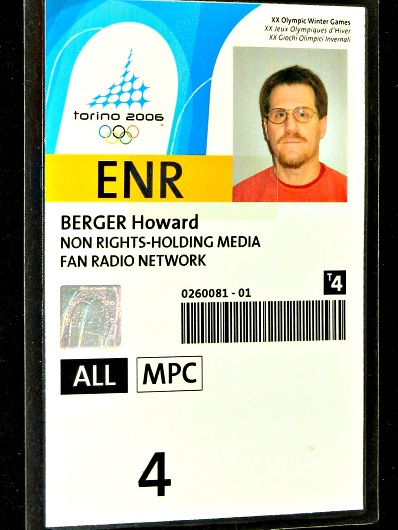 During my radio career, I covered five Olympics: the 1996 Summer Games in Atlanta, then Winter Games in 1998 (Nagano, Japan); 2002 in Salt Lake City (credential top–left); 2006 in Torino, Italy (top–right) and 2010 in Vancouver. The "ENR" on the pass stood for "Electronic Non–Rights". And, they weren't kidding. I may as well have had "Pedophile" on the credential, as I wasn't welcomed anywhere; nor could I go into an Olympic venue with my tape machine. To accumulate interviews, I often waited outside the hockey arena in snow and freezing rain. Of course, I bent and broke every Olympic media rule to service my employer as best I could and nearly had my credential revoked in Salt Lake City for approaching Pat Quinn in the media room after he'd coached Canada to its first gold medal in 50 years. "You're kicking me out after the Games have ended?" I protested with a laugh. "I'm going home tomorrow." As you can see, I flew back with my pass.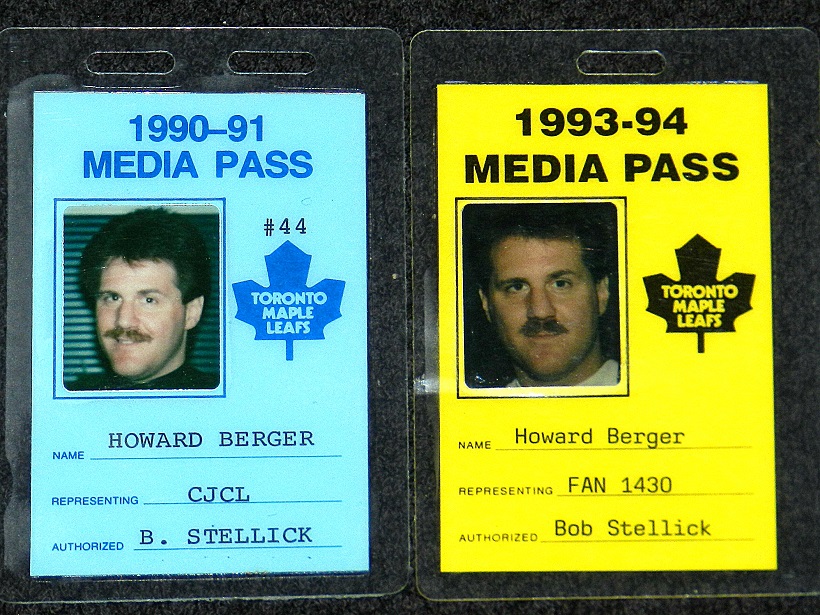 Toronto Maple Leafs (top) and Toronto Blue Jays (bottom) season passes from early in my radio career.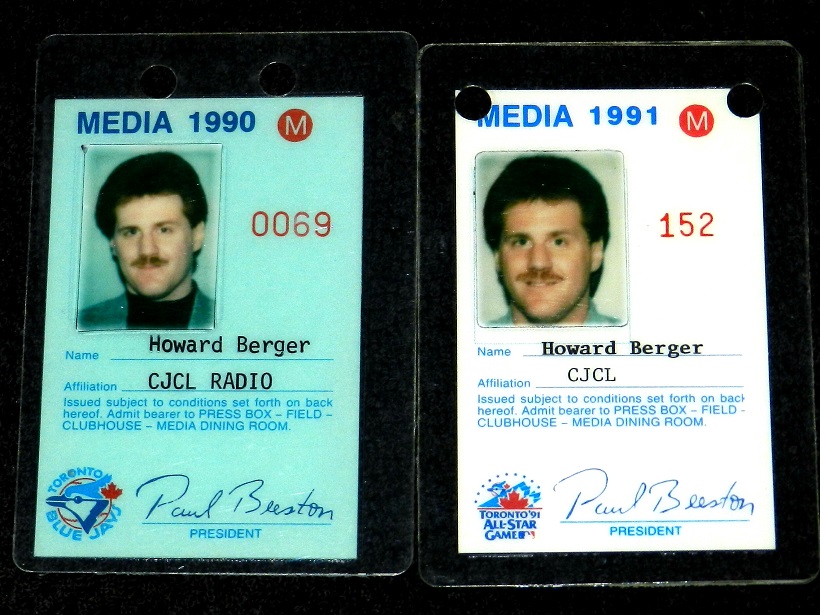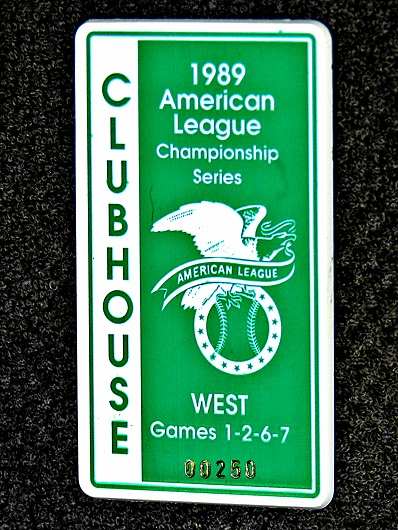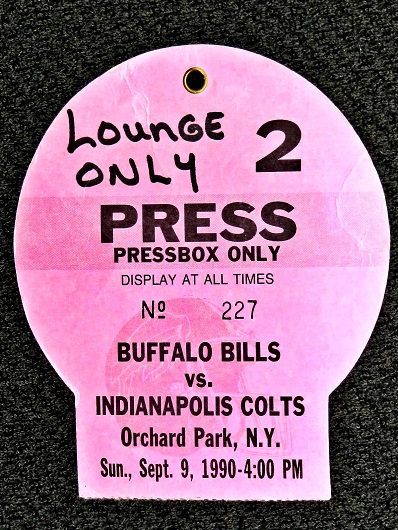 Clubhouse badge (top–left) from the Oakland Coliseum during Games 1 and 2 of the 1989 American League Championship Series. Rickey Henderson and the A's ran roughshod over the Blue Jays. Press pass (top–right) from the Buffalo Bills' 1990 season opener at Ralph Wilson Stadium. And passes (below) to AFC Championship Games in Buffalo after the 1990 and 1993 NFL seasons — the Bills defeated the Los Angeles Raiders and the Kansas City Chiefs. Then proceeded to lose Super Bowls to the New York Giants and Dallas.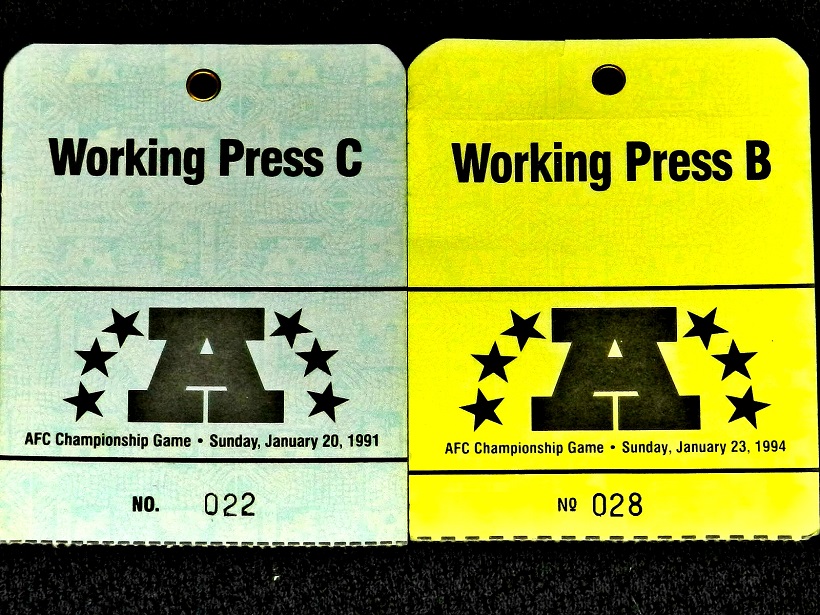 EMAIL: HOWARDLBERGER@GMAIL.COM