TORONTO (Aug. 3) — Back on May 16, 2017, amid much fanfare, Swedish defense prospects Andreas Borgman and Calle Rosen signed entry level contracts with the Toronto Maple Leafs. Given that several National Hockey League rivals were also pursuing the un–drafted pair, it was angled, locally, as a double–coup by the Blue and White. Once acclimated to North America, Borgman and Rosen would comprise significant pieces of the club's long–term future. Today — just more than three years later and after appearing in 56 games (48 by Borgman) — neither man is with the Toronto organization. Rosen went to Colorado as part of the Nazem Kadri–for–Tyson Barrie swap; Borgman to St. Louis for unheralded blue–liner Jordan Schmaltz (42 NHL games, no goals, five assists). All of the hype from 2016… for naught. Yet again.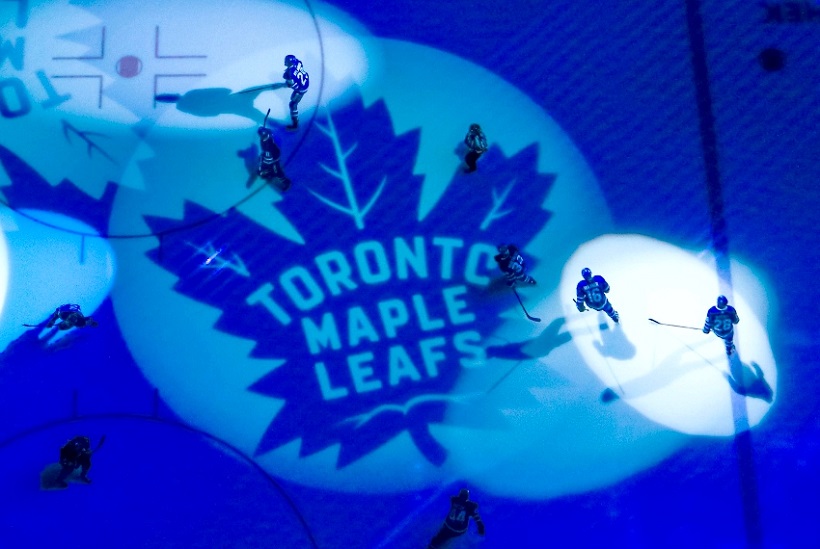 You see, this has been an unmistakable pattern with the Leafs for more than a decade. The futility of the club spanning Europe and the Canadian/American college hockey systems (drafted or un–drafted) to assemble bargain prospects requires a simple look at the past. Such players as Andy Wozniewski, Erik Westrum, John Pohl, Christian Hanson, Jonas Frogren, Tony Salmelainen, Jonas Gustavsson, Rickard Wallin (a condition to signing Gustavsson), Ben Scrivens, Jussi Rynnas, Marcel Muller, Joey Crabb, Darryl Boyce, Mike Kostka, Mike Mottau, Leo Komarov, Nikita Soshnikov, Trevor Smith, Matt Hunwick, Nikita Zaitsev, Kasimir Kaskisuo, Justin Holl, Trevor Moore, Rosen, Borgman and Igor Ozhiganov have barely filled roster positions with the Blue and White, or have been marginal performers (Holl and Moore may offer some promise to the current team). The best of the lot, by many lengths, was Tyler Bozak, signed by Brian Burke in April 2009 from the University of Denver. Bozak appeared in nearly 600 games for the Leafs and recorded 365 points. He joined St. Louis as an unrestricted free agent last July (2018) and won the Stanley Cup in his first year with the Blues. Otherwise, the process (even if low–risk) has overwhelmingly been a waste of time and money.
It therefore puzzles me why such a good hockey man (and friend) as Craig Button suggests, on TSN, that the Leafs are a "legitimate Stanley Cup contender" based, in part, on the signing of Russian free agents Egor Korshkov and Ilya Mikhayev — both of whom fall under the hit–and–almost–always–miss category outlined above; neither of whom has played a minute in the NHL. And that Craig, in making his assessment, ignored that the Leafs are perhaps the softest team in the league, without a smidgen of pugnacity among forwards (the last, and only, vestige leaving with Kadri). Or, explaining how such a team can endure four rounds of grueling, Stanley Cup toil. Now, perhaps Craig knows something about Korshkov and Mikhayev that I don't — he feels they are the "big, rangy" forwards Mike Babcock covets. And, maybe they will become the exception to the rule as it pertains to entry–level bargains. The evidence, however, would suggest that Babcock spend the summer with fingers and toes crossed. Korshkov became a Leaf as the 31st pick of the 2016 NHL draft; Mikhayev was overlooked by all teams through seven rounds and 210 selections in 2014.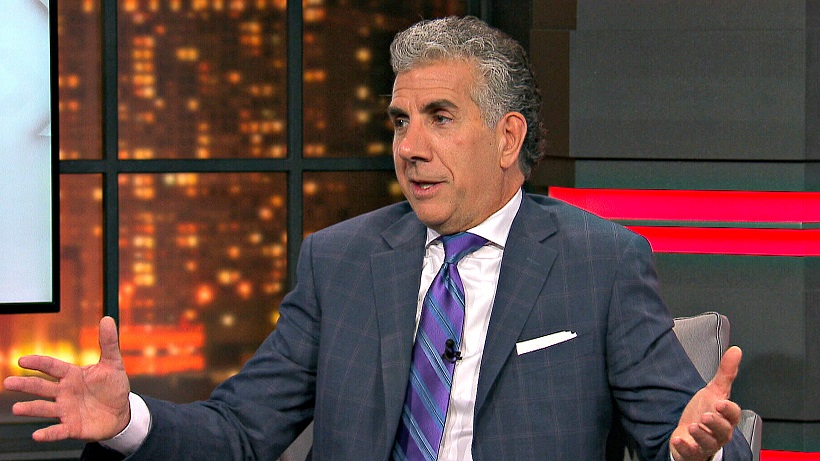 In a best–case scenario for the Maple Leafs, the two Russian rookies will evolve into latter–day "Bozak's" and contribute to the club over the span of a decade. But, history shows the peril of anticipating Stanley Cup contention… even partly as a result of such additions. Time, of course, will tell, but I'd say my ol' buddy Craig (pictured above) was being charitable with his remarks.
IS SHATTENKIRK WORTH A SHOT? As it turned out, I was terribly wrong in my contention — in 2016 and 2017 — that the Leafs should trade for St. Louis defenseman Kevin Shattenkirk. Though he was a borderline–elite player with the Blues, his career went into decline after an operation, in January 2018, to repair a torn meniscus in his left knee. By that time, he was under contract with the New York Rangers, having signed for four years and $26.65 million as an unrestricted free agent (on July 1, 2017). The Rangers, on Friday, bought out the final two seasons of Shattenkirk's deal, rendering him a UFA once again. At 30 years of age, he's a diminished asset, yet still worthy, as an experienced, right–shooting defenseman, of a short–term contract with modest financial outlay. Though the cap–choked Maple Leafs would need to perform some roster gymnastics prior to next season, Shattenkirk might well return value on a one or two–year deal for $2–$3 million a season. Were he to perform adequately, the New Rochelle, N.Y. native would join Morgan Rielly, Tyson Barrie and Jake Muzzin to provide the Leafs a excellent Top 4 on defense. Codi Ceci and Travis Dermott (when he returns from off–season shoulder surgery) would round out the Top 6, with Jordan Schmaltz in reserve. To accommodate Shattenkirk, general manager Kyle Dubas may have to trade one of Kasperi Kapanen or Andreas Johnsson, but the Maple Leafs are loaded with talented forwards… and there's never such an issue as having "too many defensemen". Neither is it uncommon for a player to rebound a couple of years after recovering from knee surgery. I think it's a move the Leafs should consider.
MEDIA CREDENTIALS — 3
Yes, even more of the plastic and cardboard that allowed me admission before and during my radio career: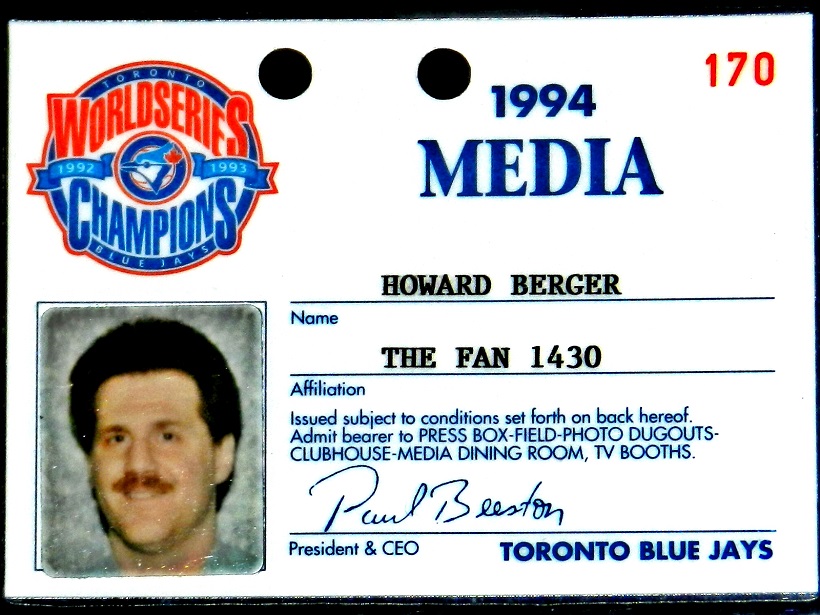 When this credential was issued in April 1994, the Blue Jays were the two–time, defending World Series champion. The '94 baseball season ended in mid–August with a players' strike, canceling the playoffs and World Series. Nor would the Blue Jays return to the post–season for 22 years, until 2015.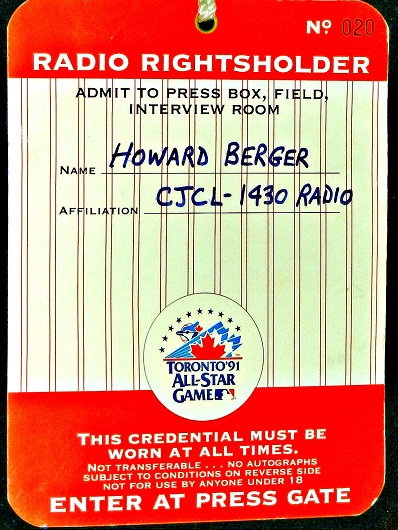 The lone Major League Baseball All–Star game to be played here in Toronto (top–left) took place in the third season of SkyDome (now Rogers Centre): July 9, 1991… and still more than a year before CJCL AM–1430 became Canada's first all–sports radio station. An elaborate party involving players and media was held the night before the game, on Toronto Island. And, Three Rivers Stadium in Pittsburgh hosted its second All–Star game (top–right) in 1994, 20 summers after the first. As mentioned, the '94 baseball season came to an abrupt (but anticipated) end one month later. The Pittsburgh Pirates played at Three Rivers Stadium from 1970 to 2000. The old cookie–cutter — also home to the NFL Steelers — was demolished on Feb. 11, 2001.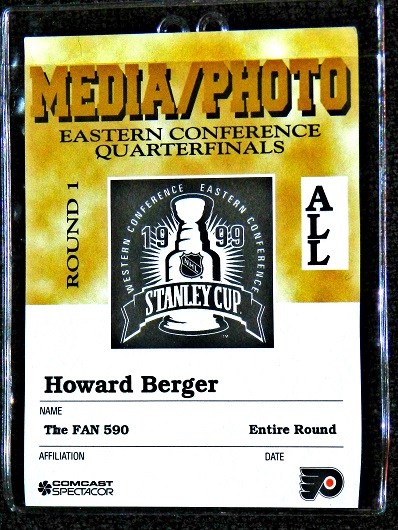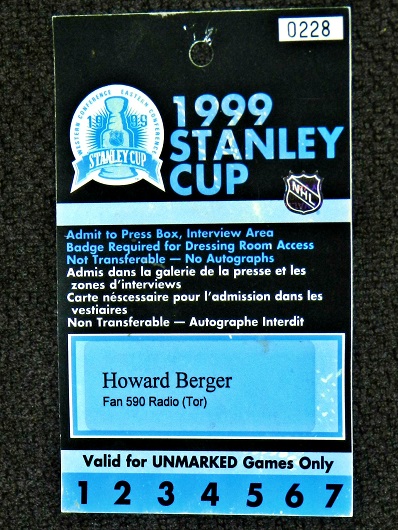 The Maple Leafs advanced to the Stanley Cup semifinals in the spring of 1999 before losing in five games to Dominik Hasek and the Buffalo Sabres. It was Pat Quinn's first season as coach of the Blue and White. Toronto knocked off Philadelphia (top–left) in the opening round when Sergei Berezin scored a powerplay goal in the final minute of Game 6 at the Wells Fargo Center. Garry Valk then scored in overtime of Game 6, at Pittsburgh, to win Round 2. The '99 Stanley Cup final (top–right) between the Sabres and Dallas ended infamously in triple–overtime of Game 6 at Buffalo on Brett Hull's "toe–in–the–crease" goal. It remains the lone NHL championship for the franchise founded, in 1967, as the Minnesota North Stars.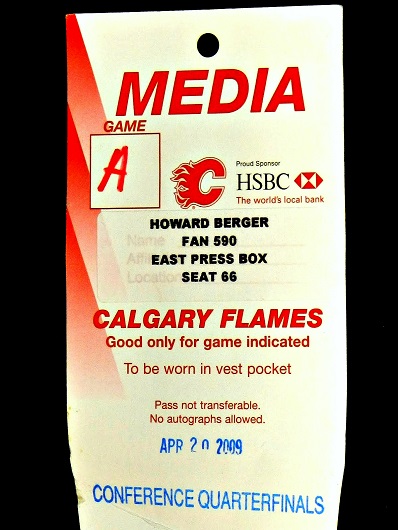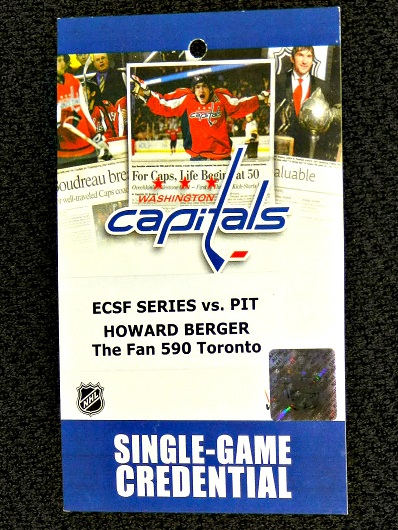 In the spring of 2009, I traveled all over the map for eight weeks to provide sponsored playoff reports for The FAN–590 — covering games in Vancouver, Calgary, New Jersey, Washington, Detroit, Boston, Chicago, Pittsburgh and Carolina. The Flames doubled the Blackhawks, 4–2 (top–left), in Game 3 of their opening–round series at the Saddledome. And, Pittsburgh hammered Washington, 6–2, in Game 7 (top–right) of their second–round series at the Verizon Center (now Capital One Arena).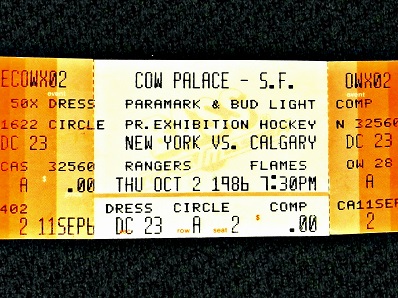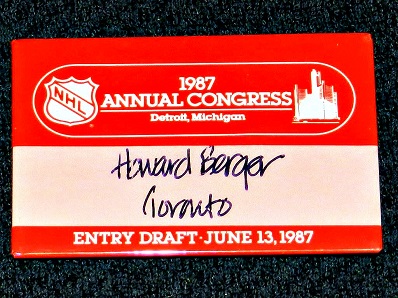 During the NHL pre–season in 1986, I traveled to California to research a magazine article. Among the games I attended was New York Rangers vs. Calgary (top–left) at the Cow Palace in San Francisco. The ancient arena would become the first home (in 1991–92 and 1992–93) of the San Jose Sharks. And, one year prior to my radio career, I attended the 1987 NHL draft (top–right) at Joe Louis Arena in Detroit. Pierre Turgeon (Buffalo) and Brendan Shanahan (New Jersey) were the top two picks. The Leafs chose defenseman Luke Richardson (Peterborough OHL) seventh overall, overlooking someone named Joe Sakic, who went 15th to the Quebec Nordiques. No disrespect to Luke, but… oy… and vey!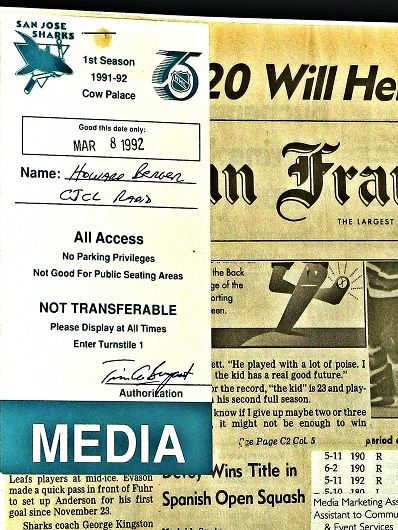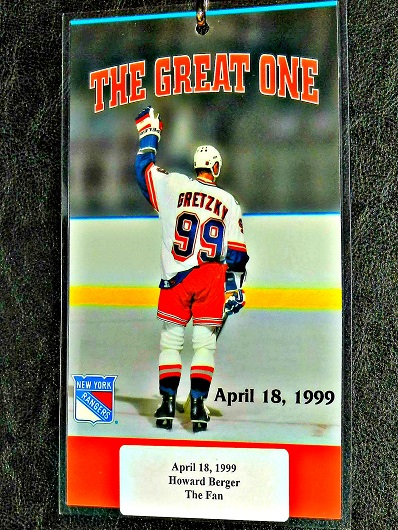 Yes, the expansion San Jose Sharks played at the Cow Palace in 1991–92, compiling a 17–58–5 record for 39 points. Among their victories was a 4–2 Sunday–afternoon decision over the Maple Leafs (top–left) on Mar. 8, 1992. And, I was privileged to cover Wayne Gretzky's last NHL game — Pittsburgh at New York Rangers (top–right) — on Apr. 18, 1999, also a Sunday afternoon. What an event that was at Madison Square Garden.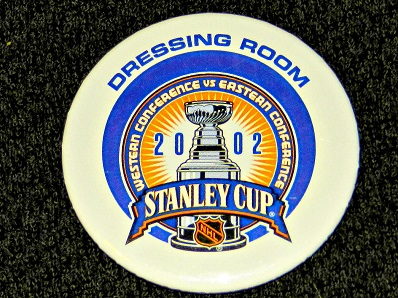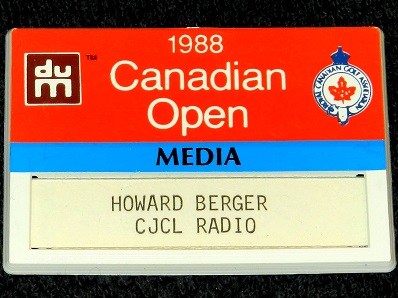 The badge (top–left) that allowed me admission to dressing rooms at Joe Louis Arena (Detroit) and the Raleigh Entertainment and Sports Arena (Carolina) during the 2002 Stanley Cup final, won in five games by the Red Wings. I covered the 1988 Canadian Open Golf Tournament at Glenn Abbey in Oakville. American Ken Green won the event at 13 under par. It was his third of five career PGA Tour victories.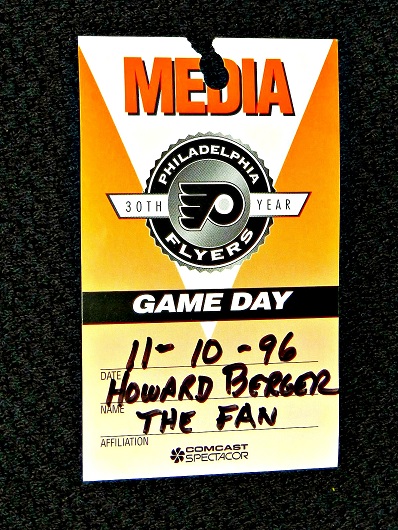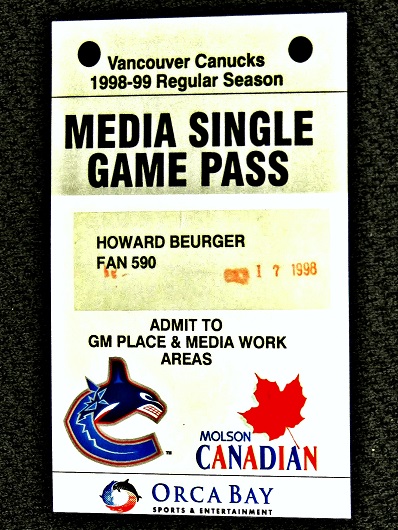 I'll not–soon forget Sunday, Nov. 10, 1996. In the afternoon, I attended the Buffalo Bills–Philadelphia Eagles NFL game at old Veterans Stadium. At night (top–left), it was the Maple Leafs' first visit to the new CoreStates (now Wells Fargo) Center — a game that ended, famously, with a brawl between goalies Felix Potvin (Toronto) and Ron Hextall (Philadelphia). The Flyers prevailed, 3–1. Under Pat Quinn, the Leafs finished a trip through western–Canada in the first week of the 1998–99 NHL season with a 4–1 loss (top–right) to the Vancouver Canucks at General Motors Place (now Rogers Arena). Evidently, the Canucks couldn't decide whether to spell my last name with an 'e' or a 'u'. So, they included both on the credential. 😛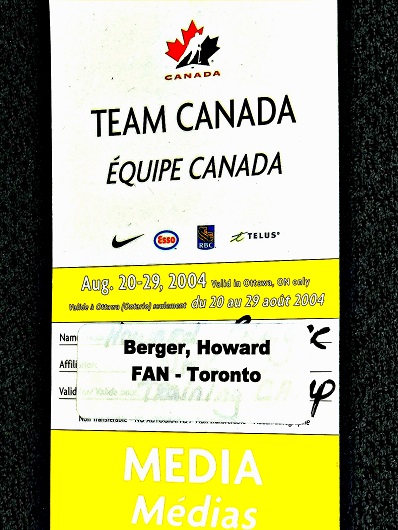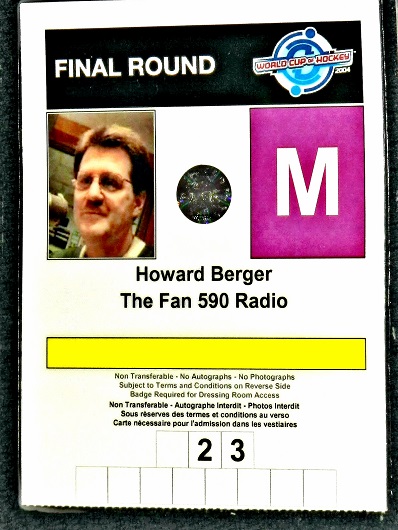 Prior to the 2004 World Cup of Hockey, I attended Team Canada's training camp (top–left) in Ottawa. I then covered the tournament for The FAN–590, including the final (top–right) won by Canada over Finland at the Air Canada Centre (dressing room badge, bottom–left). No further hockey would be played that season, as an owners' lockout canceled the entire schedule and playoffs. For only the second time, there was no Stanley Cup winner. In February of 2007, the Leafs — coached by Paul Maurice — visited Philadelphia twice in nine nights (bottom–right). Toronto swept, winning 4–2 and 5–2.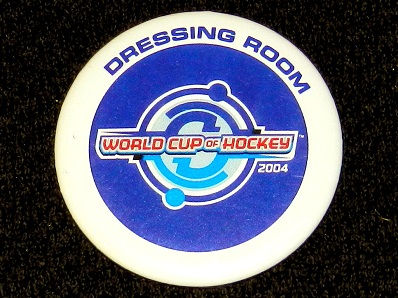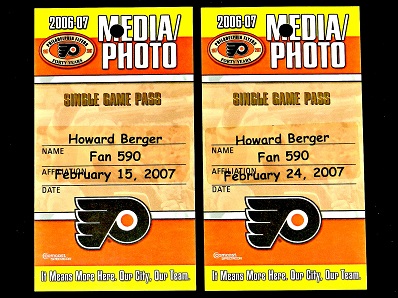 EMAIL HOWARDLBERGER@GMAIL.COM