TORONTO (Aug. 28) — While Nadir Mohamed, Keith Pelley and Scott Moore — architects of the most–damaging contract in Canadian sports–television history — look on from parts unknown, bodies continue to fall downtown at 1 Mount Pleasant Road. The latest casualty of the Rogers media empire is former Toronto Maple Leafs winger Nick Kypreos, also a member of the 1994 Stanley Cup champion New York Rangers. An employee of Sportsnet for more than two decades; a household face and name since Rogers acquired Canadian rights to the National Hockey League in 2013, Kypreos follows Bob McCown, Doug MacLean and Bob Cole out the door in the summer purge. Paul Romanuk, Glenn Healy and Mike Johnson (currently in his second term with rival TSN) had been previously discarded by the cable–TV monolith.
"The only people safe around here are those selling bundles and cable packages," said a friend of mine in the Rogers media wing still accruing a paycheck every two weeks. "You want to believe fixtures like Ron MacLean, Grapes (Don Cherry) and Friedge (Elliotte Friedman) are untouchable, but who knows anymore? The environment is absolutely poisonous. Every person I work with is looking over his or her shoulder."
Kypreos and Doug MacLean had been among the prime faces of hockey at Sportsnet in the first five seasons of a 12–year, $5.2 billion pact with the NHL (signed on Nov. 26, 2013). We can assume that Brian Burke and, perhaps, Chris Johnston will enact larger roles in their absence. Burke's famous candor is the best addition in years to Canadian sports TV while the unassuming Johnston has evolved into a trusted hockey source. Though hardly a smooth orator, Kypreos brought Sportsnet the cache of a former NHL'er and was, for several years, the "insider" compliment to Bob McKenzie at TSN. That role, however, has increasingly fallen to Friedman, who began his meteoric rise as a diligent, accurate reporter after leaving radio at The FAN–590 for Headline Sports (now The Score) in 1996. In 2003, Elliotte joined CBC Sports and began his work on Hockey Night In Canada; Rogers was prescient enough to bring him aboard after acquiring the NHL package.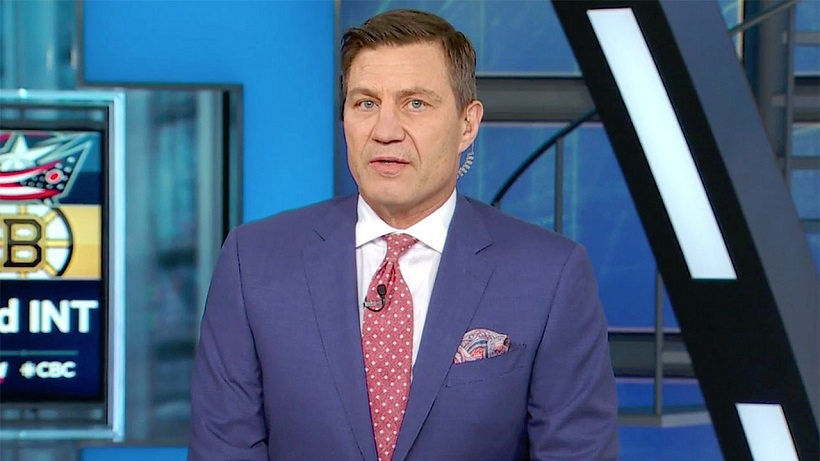 A FIXTURE ON SPORTSNET AND HOCKEY NIGHT IN CANADA, NICK KYPREOS PARTED COMPANY TODAY WITH ROGERS.
That agreement, which runs through the 2025–26 season, began with an up–front payment to the NHL of $150 million. The annual outlay is $300 million, increasing to $500 million in the final year of the contract. It averages out to $433 million per season and, somewhat predictably, has become a drain on the company.
An industry observer forecasting, a year ago at this time, the dual–demise at Rogers of McCown and Kypreos would have been fitted for a white coat. Such, however, is (to this point) the high–profile sacrifice resulting from the unwieldy NHL pact; who knows how many promising careers among unfamiliar names and faces have been (or will be) destroyed by its presence? Rogers initially tried to re–invent the hockey broadcasting wheel by shuttling Ron MacLean to the sideline in favor of George Stromboulopoulos as intermission host of Hockey Night. In so doing, the company angered its niche audience, which had grown to identify with MacLean for nearly three decades. This was no fault of Stromboulopoulos, who brought his stylish, trendy demeanor to the program, as requested. But, it didn't work with nationwide viewership and MacLean was reinstated after two seasons. An offshoot, perhaps unexpectedly, was the rise of Rogers Hometown Hockey on Sunday nights, guided by the folksy MacLean from smaller outposts around the country. Given MacLean's unrivaled capacity to connect with viewers, it has become a Sportsnet staple.

KYPREOS, AN ENFORCER, APPEARED IN 54 GAMES WITH THE MAPLE LEAFS BETWEEN 1995 AND 1998.
There was acute speculation about Cherry's future earlier this off–season when Toronto Sun columnist Steve Simmons wondered if Coach's Corner would continue in the first intermission of Hockey Night. It was hardly a question out of left field by Simmons, given the cost–cutting at Rogers Media. And though the company has yet to issue a definitive comment about Cherry, it appears the Corner will return for an unprecedented 39th season. McCown abruptly, and shockingly, parted company with Rogers on June 21, one day after a heated falling–out over finances. He had been host of the iconic Prime Time Sports on radio and TV since its inception in October 1989 and, apart from MacLean, Cherry and Brian Williams (of TSN), the most–recognizable sports–broadcasting figure in the country. At the same time, though unannounced, Rogers decided not to renew Doug MacLean's contract. The former NHL coach had a nine–month arrangement (October to July) with the company for the past 10 years. He officially announced his parting earlier today, after Kypreos was let go. This past spring, Cole was reluctantly ushered from the HNIC booth after calling games on TV since April 1969. Rogers had the decency to accord the most–famous hockey voice in our land a grandiose parting. Cole, 86, called the Toronto at Montreal regular–season finale on Apr. 6.
EMAIL: HOWARDLBERGER@GMAIL.COM