TORONTO (Sep. 10) — In lieu of an official pronouncement from Rogers Communications, we can assume that Jeff Blair has triumphantly annexed the afternoon–drive slot at Sportsnet–590 The FAN. And, if so, it's a good choice. Unless the poobahs at my one–time place of employment have been secretly auditioning another voice over the past 2½ months, Blair will continue to occupy the coveted three–hour window between 4 and 7 p.m. Eastern that was — from October 2, 1989 to June 22 of this year — the domain of Bob McCown. Again, good call. But, it would be nice to know, for certain. An email inquiry on Saturday to my former radio colleague and current Sportsnet–590 program director, Dave Cadeau, has (unsurprisingly) failed to induce a reply. So, until informed otherwise, we'll stick with Blair as McCown's successor.
As of this evening, the Sportsnet–590 website still had Jeff hosting a pair of daytime shows:
Prime Time Sports
With

Jeff Blair,

Stephen Brunt, & Richard Deitsch
Monday to Friday 4:00PM–7:00PM
The Jeff Blair Show
With

Jeff Blair
Monday to Friday 9:00AM–12:00PM
The last audio submission, however, from Blair in his morning slot is June 21 — the day it was announced McCown would be signing off after the following night's program. I take a mild issue with the 4–7 p.m. show still being called by its original name; Prime Time Sports was a program created for and executed by McCown for all but a brief time in the mid–90's, when Dan Shulman stepped in. But, the Tonight Show on NBC did not change title when Johnny Carson retired (in May 1992) after 29½ years. Nor when Jay Leno handed off to Jimmy Fallon in February 2014. The brand name of an iconic program, on TV and radio, often endures. So, Blair will evidently execute the post–McCown era of Prime Time. The new version of PTS will likely appeal to more of a hard–core sports fan than during McCown's nearly three–decades–long run. The Bobcat was a controversial, polarizing figure in his radio career; such a personality can often attract both niche and casual listener–ship. It's the reason I proposed "Burkie's Drive" in a blog here on June 22 (http://bit.ly/2L9wsPE), opining that three, late–afternoon hours co–hosted by Shulman and Brian Burke would provide steak and sizzle. Conversely, Blair — with either Stephen Brunt or Richard Deitsch as first officer — will captain lots of steak–and–potatoes for ardent, knowledgeable sports listeners. It should work.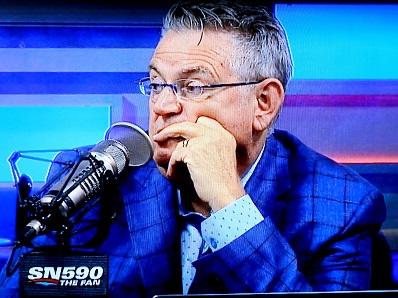 IT APPEARS THAT JEFF BLAIR HAS BEEN CHOSEN TO SUCCEED BOB McCOWN AS HOST OF PRIME TIME SPORTS.
I've known Blair since 1985, when he covered the football Blue Bombers for the Winnipeg Free Press. After a brief stint at the Calgary Herald, Jeff, a native of Kingston, Ont., moved back east in 1987 and became entrenched in baseball while covering the Expos (since 2005, the Washington Nationals) for the Montreal Gazette. In 1997, he joined the Globe and Mail as a baseball columnist before transitioning to radio in 2010.
Given that Rogers owns Sportsnet, Sportsnet–590 and the Toronto Blue Jays, Jeff is a logical fit for the company's signature brand… during its most–important hours of the day, when listeners are driving home from work. But, he shouldn't be pigeonholed into baseball; Blair can discuss hockey, football and basketball with near–equal aplomb. The radio station will lack not a shred of sports acumen with Blair alongside either Brunt or Deitsch — each of whom provides abundant knowledge and credibility. Whether Rogers can procure McCown–like ratings in the 4–7 p.m. slot with a more–conventional offering is unknown. But, upper–management should not anticipate such a windfall. McCown originated and pioneered the daily sports–magazine format in this country; his edgy, irascible demeanor lent itself to the subject matter and generated an enormous audience — first locally, here in Toronto, then nationally, once Sportsnet–360 began simulcasting Prime Time on TV in 2004. Bob's unique, inventive brand is almost–certainly irreplaceable.
Moreover, TSN–1050 (owned by Rogers rival Bell Canada Enterprises) now provides legitimate competition in the afternoon–drive period. Bryan Hayes, Jamie McLennan and Jeff O'Neill form an exceptional tandem and have slashed into McCown's once–impenetrable ratings. Blair, Brunt and Deitsch will need to slow that trend and re–establish Sportsnet–590 as the drive–home leader. It won't be a simple task.
TV GUIDE and SPORTS — Part 1
Among the most–nostalgic articles in my collection are 13 issues of TV Guide, dating from 1964–71.
First published on Apr. 3, 1953, the magazine still exists, though not as prominently as during the pre–Internet era when the 7.5 x 5–inch items came out once a week. They featured TV listings from Saturday morning to Friday overnight, which included all sporting events shown live or on tape. It was an era far–different, technologically, than today. Color TV was still in its infancy; most homes had black–and–white units with movable "rabbit ears" on top — antennae that could be shifted in any direction to improve quality of the TV image. Underground cable reception materialized in the late–60's and early–70's, improving picture–tone and marginally increasing the number of channels available in a given market (see below). In this first part of a series, I feature sports listings in four TV Guide issues between Jan. 25, 1964 and Jan. 3, 1968:    
ISSUE: JAN. 25–31, 1964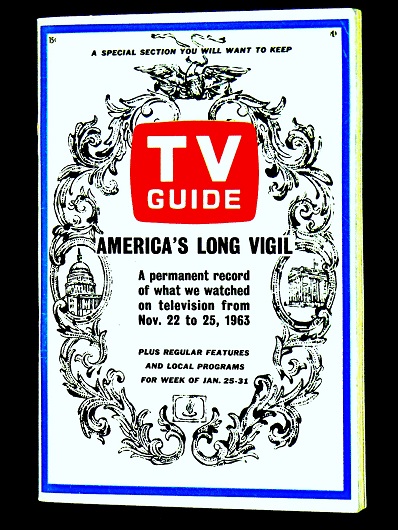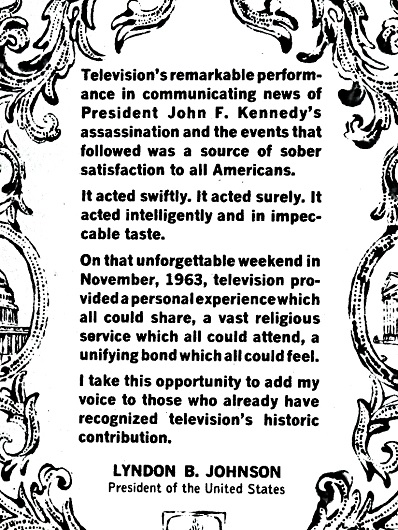 Tragically, yet undeniably, television became the go–to medium on the day (Nov. 22, 1963) that United States President John F. Kennedy was assassinated in Dallas. For the first time, the three American networks — ABC, CBS and NBC — carried live programming over three consecutive days, uninterrupted by commercials. The TV Guide issue of Jan. 25–31, 1964 (above) featured a story on that unprecedented period, leading with a praiseworthy note (top–right) from Kennedy's successor to the Oval Office, Lyndon B. Johnson.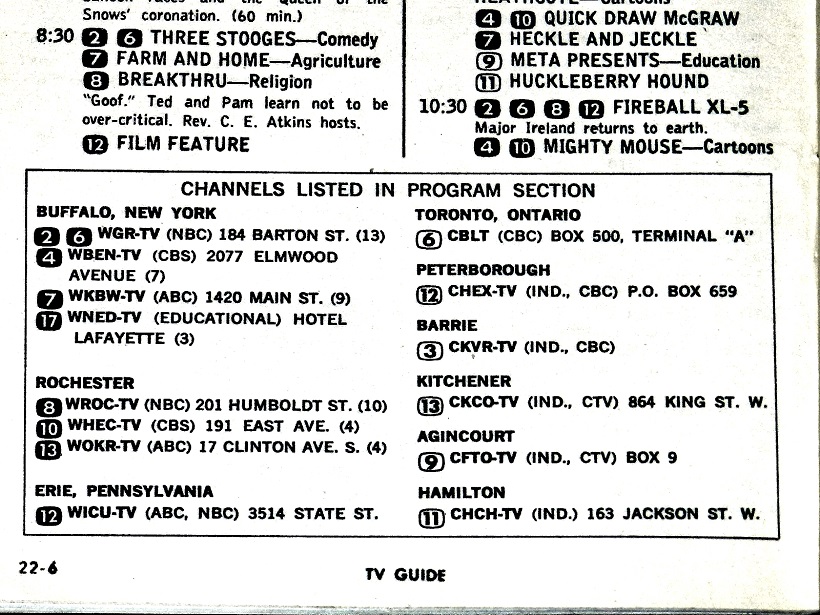 As mentioned, TV programming in the pre–underground–cable era was far–more–limited than today, as evidenced above. Here in Toronto, we could access the ghostly images from Buffalo of Channels 2, 4 and 7; local stations CBLT (Channel 6) and CFTO (Channel 9), and CHCH (Channel 11) out of Hamilton. A strong wind would occasionally bring CKVR (Barrie) and CKCO (Kitchener) into marginal focus. But, that was it.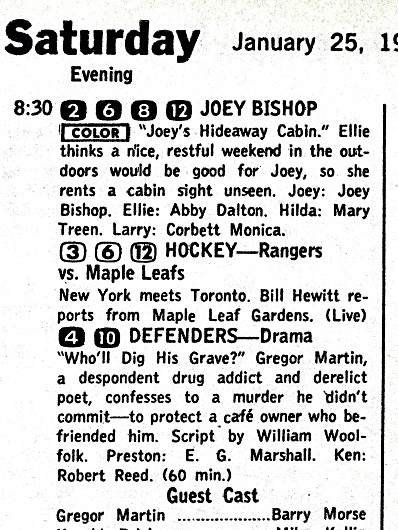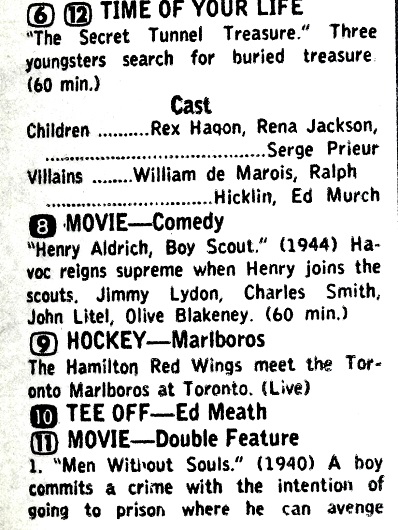 In the middle–60's, through the 1967–68 season, CBC (Channel 6) would go to air at 8:30 p.m. (top–left), one–half–hour after the start of games at Maple Leaf Gardens. Typically, one or two minutes would remain in the first period. On Jan. 25, 1964, the Leafs and New York Rangers played to a 1–1 tie. The match occurred one week after the most–humiliating hour of the Punch Imlach era — an infamous 11–0 loss at home (Jan. 18, 1964) to Boston (pre–Bobby Orr), the NHL's last–place team. Toronto was heading toward its third consecutive Stanley Cup title. CFTO (Channel 9) carried junior hockey on Sunday afternoons when the old Toronto Marlboros played home games at the Gardens. Tim Ryan (later to become a sports legend at CBS) called the action in 1964 (top–right) when the Marlboros hosted the Hamilton Red Wings. Such future Leafs as Peter Stemkowski, Mike Walton, Ron Ellis, Wayne Carleton, Rod Seiling and Jim McKenny played for that Marlboros team, which won the 1964 Memorial Cup under coach (and future Leafs GM) Jim Gregory.
ISSUE: OCT. 1–7, 1966

The old American Football League (1960–69) was in its prime on Oct. 2, 1966 when the Buffalo Bills defeated the Kansas City Chiefs 29–14 (top–right) in front of 43,885 at Kansas City Municipal Stadium (1923–72). The AFL merged with the NFL to begin the 1970 football season. Joining the established NFL — Baltimore (now Indianapolis) Colts, Cleveland Browns, Pittsburgh Steelers, Detroit Lions, New York Giants, Philadelphia Eagles, Chicago Bears, Green Bay Packers, Minnesota Vikings, St. Louis (now Arizona) Cardinals, Atlanta Falcons, New Orleans Saints, Dallas Cowboys, San Francisco 49ers, Los Angeles Rams — were the Bills, Chiefs, Cincinnati Bengals, Boston (later New England) Patriots, New York Jets, Miami Dolphins, Houston Oilers, Denver Broncos, Oakland Raiders and San Diego (now Los Angeles) Chargers.
ISSUE: OCT. 28 — NOV. 3, 1967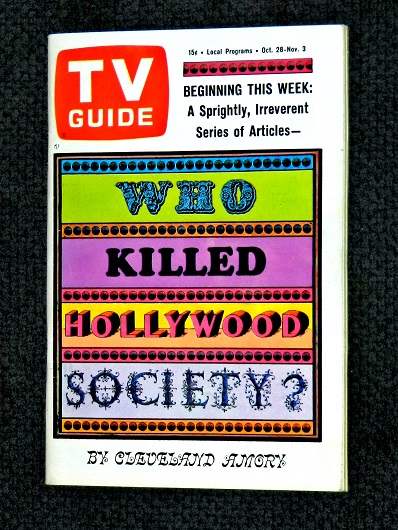 After years of struggling, the Toronto Argonauts began to turn a corner, in 1967, under rookie coach Leo Cahill. They posted a 5–8–1 record for third place in the CFL East. On the afternoon of Oct. 28, 1967 (above and below) — in a game televised nationally by CBC — the Argos were defeated 28–18 by the Ottawa Rough Riders before 21,358 fans at Lansdowne Park. I grew up idolizing so many of the Argonaut players from the Cahill era — among them Ed Learn (15), Dave Mann (16), Tom Wilkinson (19), Bobby Taylor (24), Dick Thornton (25), Marv Luster (27), Bill Symons (33), Ed Harrington (54), Mel Profit (75) and Peter Martin (77).

Later that night, also on CBC, the Leafs played (for the first time) the expansion California Seals (above and below). The NHL had doubled to 12 teams for the 1967–68 schedule, adding the Seals, Los Angeles Kings, Minnesota North Stars, Philadelphia Flyers, Pittsburgh Penguins and St. Louis Blues. Toronto easily upended California, 5–2. Former Leafs on the Seals expansion roster (below) included Gary Smith (30), Aut Erickson (4), Larry Cahan (5), Kent Douglas (19), Bob Baun (21), Billy Harris (15), Wally Boyer (6), Gerry Ehman (8) and Terry Clancy (17). The club changed its name to Oakland Seals in November 1967.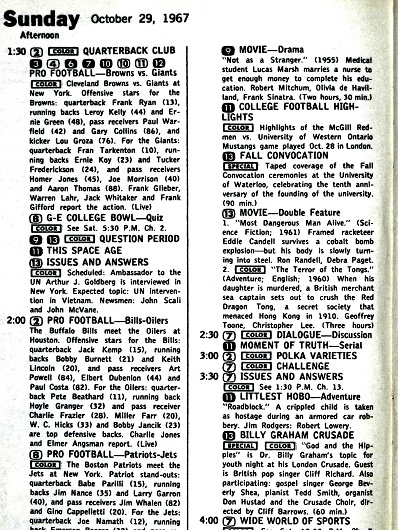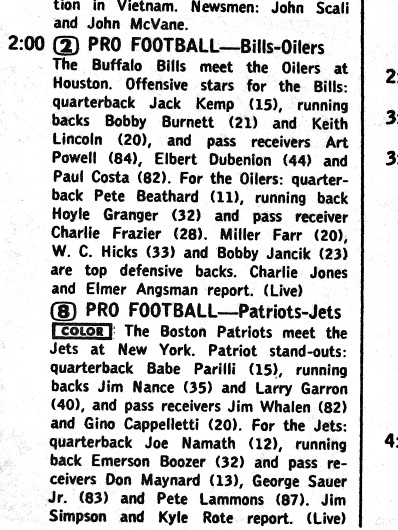 Sunday afternoon (Oct. 29) featured a pair of American Football League games (above). On Channel 2 in Buffalo (in black and white), the Bills were beaten 10–3 by the Houston Oilers in front of 30,060 at the Astrodome. Channel 8 in Rochester, N.Y. — not available in the Toronto viewing area — showed the Boston Patriots and New York Jets. Joe Namath and the Jets prevailed 30–23 before 62,784 at Shea Stadium.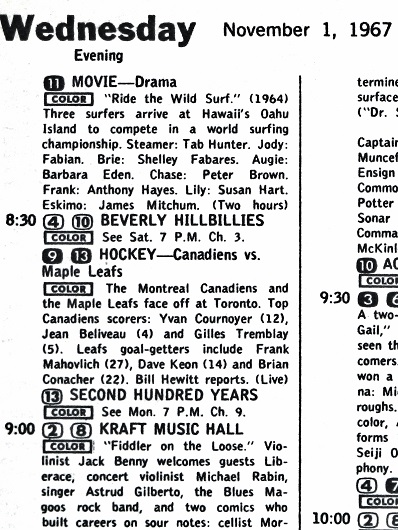 Perhaps the most–satisfying game of an otherwise mediocre season for the Leafs occurred on Nov. 1, a Wednesday night (top–left), when Johnny Bower blanked the Montreal Canadiens 5–0 at Maple Leaf Gardens. At 12:10 a.m. (top–right), CFTO showed a replay of the Montreal at Hamilton CFL game from the previous Sunday. At the time, all Tiger–Cats and Argonauts home dates were blacked out in southern–Ontario. In this match, the Ti–Cats roared over the Alouettes 26–4 before 16,127 at Hamilton Civic Stadium. 
ISSUE: DEC. 30, 1967 — JAN. 5, 1968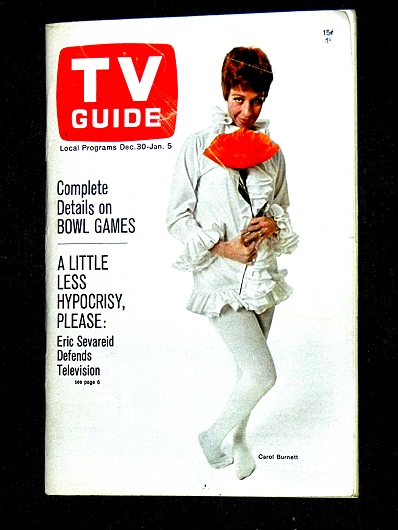 A fair amount of sports history occurred in the 48–hour period between Dec. 30, 1967 and Jan. 1, 1968 — as listed in this TV Guide issue with comedian Carol Burnett (now 86 years old) on the cover. It began (bottom–left) with ABC (Channel 7 in Buffalo) televising the first hockey game from the Los Angeles Forum as the Philadelphia Flyers blanked the L.A. Kings 2–0 in a battle of expansion teams. Later that night (bottom–right), Scotty Bowman coached for the first time in the NHL at Maple Leaf Gardens in the inaugural meeting between the Leafs and St. Louis Blues. It wasn't Scotty's night as his expansion team got slaughtered, 8–1.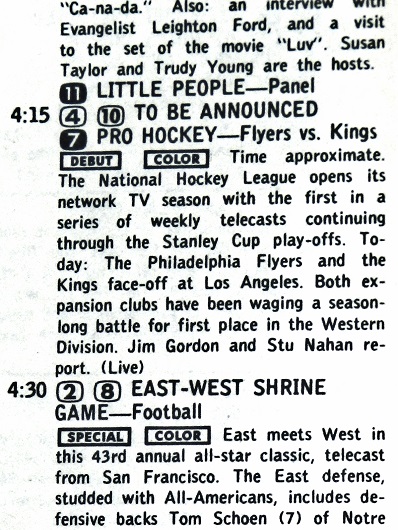 While the Blues were getting spanked in Toronto, the Oakland Seals played the Canadiens at the Montreal Forum for the second consecutive Saturday. The Habs won 2–0 in a game televised (top–left) by CKWS (Channel 11) in Kingston, Ont. and CHEX (Channel 12) in Peterborough, Ont. The NFL Championship game listed top–right and below, on Sunday afternoon (Dec. 31), became immortalized as the "Ice Bowl" — the Green Bay Packers edging the Dallas Cowboys 21–17 on a quarterback sneak from a yard out by Bart Starr in the final minute. A crowd of 50,861 at Lambeau Field endured one of the most–frigid outdoor sporting events in history. Game–time temperature was minus–15 F (minus–26 C). The wind–chill made it feel like minus–36 F (minus–38 C). CBS televised the match. Packers' broadcaster Ray Scott (1919–1998) called the first half; Jack Buck (1924–2002 and the father of current FOX Sports voice Joe Buck), the second half.  

As is custom, the college Bowl games in the United States dominated New Year's Day 1968. The Rose Bowl (top–right) was significant for being the final game of O.J. Simpson's brilliant career at the University of Southern California. Simpson scored on short runs in the first and third quarters as USC defeated Indiana 14–3 before 102,996 in Pasadena. He was selected by Buffalo as the first pick of the 1969 NFL draft and had rushing seasons of 2,003, 1,817 and 1,503 with the Bills. Today, of course, Simpson is notoriously remembered for being charged in the 1994 double–murder of ex–wife Nicole Brown and innocent bystander Ronald Goldman. A Los Angeles jury mysteriously acquitted him on Oct. 3, 1995.

The Leafs first game of 1968 was a 1–1 tie at the Montreal Forum on Jan. 3. Canadiens broadcasters Danny Gallivan and Dick Irvin (not "Irwin")  called the match.
EMAIL: HOWARDLBERGER@GMAIL.COM