Can any team survive under the cap for nearly a decade with two players (Tavares and Matthews) eating up $23.6 million in cap room? Which may rise to $40.5 million for four players if Nylander settles on $6 million and Marner equals Tavares at $11 million?
— Between The Posts Nov. 13, 2018
TORONTO (Sep. 14) — So, the salary–cap numbers are officially in.
AUSTON MATTHEWS: $11,634,000.
JOHN TAVARES: $11,000,000.
MITCHELL MARNER: $10,893,000.
WILLIAM NYLANDER: $6,962,366.
Barring a trade, the Toronto Maple Leafs will endure, until at least the end of the 2023–24 National Hockey League season, with their forward nucleus (as listed above) gobbling up $40,489,366 in annual cap space. I was off by a mere $10,634 in the prediction made (as per top line in this blog) last Nov. 13. Nor was such a forecast particularly challenging. Give kudos to second–year general manager Kyle Dubas. As part of the negotiation to lure John Tavares away from the New York Islanders 14½ months ago, he promised to retain the young players drafted near (or at) the top of the opening round for three consecutive years — Nylander (8th) in 2014; Marner (4th) in 2015; Matthews (1st) in 2016. Mission accomplished by ending the Marner contract squabble, somewhat unexpectedly, on Friday. Methinks two factors were at work: compromise and urgency. Marner and agent Darren Ferris were looking for a five–year deal (identical to Matthews) and settled for six. And, Leafs president Brendan Shanahan almost–certainly stepped in as the "closer" to prevent a repeat of the Nylander scenario, whereby the player missed nearly two months of last season before agreeing to a multi–year pact. Not to imply that Dubas was incapable of closing the Marner deal, himself. Just that Shanahan's word is the official blessing for all matters in the Toronto hockey office.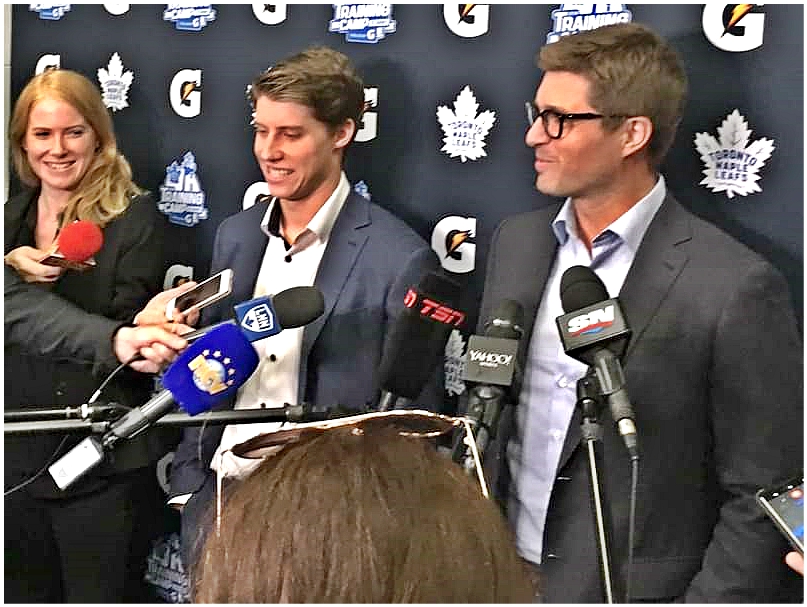 MITCH MARNER (CENTER) AND KYLE DUBAS, TODAY, AT LEAFS TRAINING CAMP IN ST. JOHN'S. MIKE ZEISBERGER NHL.COM
Here's another prediction: If Dubas is nearly as accurate in his assessment of a Stanley Cup roster as in his vow to Tavares, the Maple Leafs will end their championship drought in the next two years. That's the term remaining with Tavares still in his prime and goalie Frederik Andersen under contract to the Blue and White — largely dependent, of course, on whether Mike Babcock deploys Andersen more prudently during the regular season… and if the Big Dane is a legitimate Stanley Cup stopper. Neither has yet materialized.
Ferris did well on behalf of his client. Rather than seeking comparable players around the league, he prudently narrowed an approach based on Marner's value to the Leafs. Which is unparalleled. Some suggest Marner would be more of a financial asset at center–ice. But, the Leafs already have two front–line pivots in Tavares and Matthews. If one goes down, the other remains. If the Leafs lose Marner to injury, who replaces him? The answer is: no one. The two kids — Andreas Johnsson and Kasperi Kapanen — are good… but not Marner. He is, as I've written, the club's most–indispensable commodity. As such, Ferris had every right to seek a contract similar to the one Matthews signed last February. In the end, and smartly, he compromised. Instead of becoming an unrestricted free agent at 27, Marner will hit the open market at 28. And, his salary in the final four years ($10,893,000) will actually exceed the final three seasons of Matthews' pact ($10,470,000 then twice at $7,950,000). So, both sides accomplished objectives in this lengthy negotiation.
Should Toronto win the Cup by the spring of 2021, Dubas will show his obstinacy to be correct — that a team, in today's NHL, can prevail with a roster glutinous in speed and skill, yet devoid of feral instinct. The St. Louis Blues and Boston Bruins, relentlessly pounding on one another through seven games in the 2019 Stanley Cup final, was irrelevant to the young, Leafs GM.
Yet, I maintain a vastly different opinion.
Only time will resolve the matter.
50 YEARS AGO TODAY
Sep. 14, 1969 — Buffalo, N.Y.
Despite his notoriety attained in 1994 as an accused (and, later, acquitted) double–murderer, O.J. Simpson is still the most–stylish running back I've ever seen. Between 1973 and 1976, I traveled to Orchard Park, N.Y. on half–a–dozen occasions to watch Simpson play for the Buffalo Bills of the National Football League. He is best–remembered, in football terms, for becoming the first runner to gain more than 2,000 yards in a season — breaking Jimmy Brown's NFL rushing record, in 1973, with 2,003. A phenom at the University of Southern California, Simpson became the first pick of the 1969 NFL draft. He made his professional debut 50 years ago on this date at old War Memorial Stadium in Buffalo, as the Bills were defeated in their 1969 season opener, 33–19, by Joe Namath and the Super Bowl III–champion New York Jets.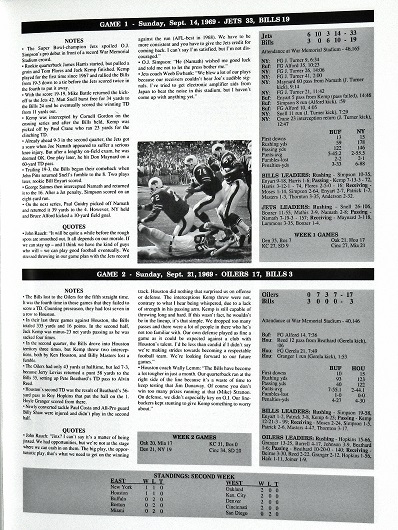 In his 1993 book that detailed every Bills game to that time, Sal Maiorana of the Rochester Democrat & Chronicle wrote about Simpson's first NFL match. The rookie gained 35 yards on 10 carries from scrimmage.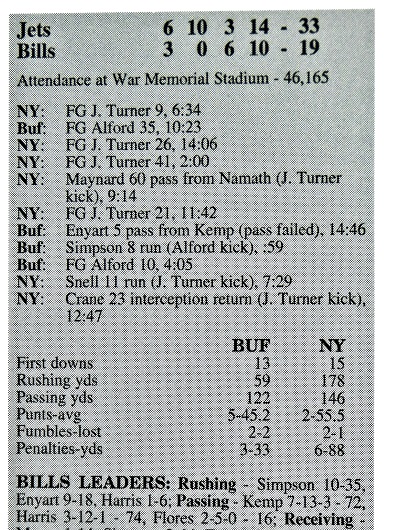 EMAIL: HOWARDLBERGER@GMAIL.COM