TORONTO (Sep. 20) — Yes, they attempted to strengthen an undervalued asset by signing veteran Michal Neuvirth to a professional tryout. Nor did the Toronto Maple Leafs have control over Neuvirth incurring "body soreness" (whatever that means) in the first days of training camp. Still, the Leafs — in my view — remain rather laissez–faire with respect to their No. 2 goaltending role. At no time in recent memory has the club possessed a 1–A–type to spell its starting netminder. Frederik Andersen has been backed up by an assortment of journeymen — Jhonas Enroth, Antoine Bibeau, Curtis McElhinney, Garret Sparks, Michael Hutchinson — none of which has prompted Mike Babcock to deploy Andersen on fewer than 60 occasions.
Neither will the coach feel comfortable doing so again this season.
But, times are changing in the National Hockey League. Progressive teams accept the requirement for more than just a "stand–in" as No. 2 goalie. The era of Martin Brodeur playing 75 games for the New Jersey Devils is long in the past. As per the graphic (below), presented earlier this week by TSN, only one Stanley Cup–winning stopper in the past 10 years (Jonathan Quick, 2012) has appeared in more than 57 games.

Jordan Binnington came out of nowhere last January and led St. Louis to its first NHL title. Having played in only 45 games, he was fresh throughout all four rounds of the Stanley Cup tournament. The Blues have an established goalie to support Binnington: Jake Allen (265 NHL games, 2.54 goals–against average). Coach Craig Berube should therefore not feel the need to over–extend Binnington during the regular schedule. Same with the 2018–champion Washington Capitals. Young Phoenix Copely was called upon 24 times last year to spell Braden Holtby, winning 16 of his starts. Both numbers should increase in 2019–20. Boston won the Eastern Conference championship last spring with veterans Tuukka Rask (45 games) and Jaroslav Halak (37 games) having nearly divided the puck–stopping chores. As general manager of the Maple Leafs, Kyle Dubas needs to provide Babcock a No. 2 goalie capable of starting at least 30 games at an advanced level.
Neuvirth, should he recover from his soreness, has done so on four occasions since 2010–11. Current No. 2, Hutchinson, has accomplished the feat once — winning 21 of 36 starts (2.38 GAA) with Winnipeg in 2014–15. But, not since. His follow–up GAA numbers were mediocre: 2.84 in 2015–16 and 2.92 in 2016–17. As mentioned, Babcock is undoubtedly nervous contemplating a 30–game load for Hutchinson this season.
There is little indication, to this point, that Andersen is a Stanley Cup–caliber goalie; his misadventures in Game 7 the past two years at Boston speaking else–wise. But, neither has the big Dane been handled adroitly by Babcock, who marched him out 66 times in 2017–18 and 2018–19, a total that may have increased last season had Andersen not missed eight starts (Dec. 23 to Jan. 12) with a groin injury. His log, nonetheless, was 60 games… and he faded again in the first–round playoff decider at TD Garden. What we don't know — and had best find out — is how Andersen might fare with a regular–season workload of 48–52 games. You can be sure Babcock has been requested to incorporate such a plan, yet there's no way the coach will utilize a second goalie he doesn't trust. Which brings us back to Neuvirth. Or, to Dubas.
With the Leafs operating at the cap limit, they cannot spend much more than the $700,000 allocated for Hutchinson this season. By comparison, Halak makes $2.75 million alongside Rask. Binnington ($4.4 million) and Allen ($4.35 million) pull in nearly identical dollars with the defending champs. If, therefore, the old saying "you get what you pay for" applies to the Maple Leafs this season, there's every chance of another quick playoff exit. Dubas absolutely must upgrade the club's No. 2 goaltending position. And, fairly soon.
50 YEARS AGO TONIGHT
Sep. 20, 1969 — CNE Stadium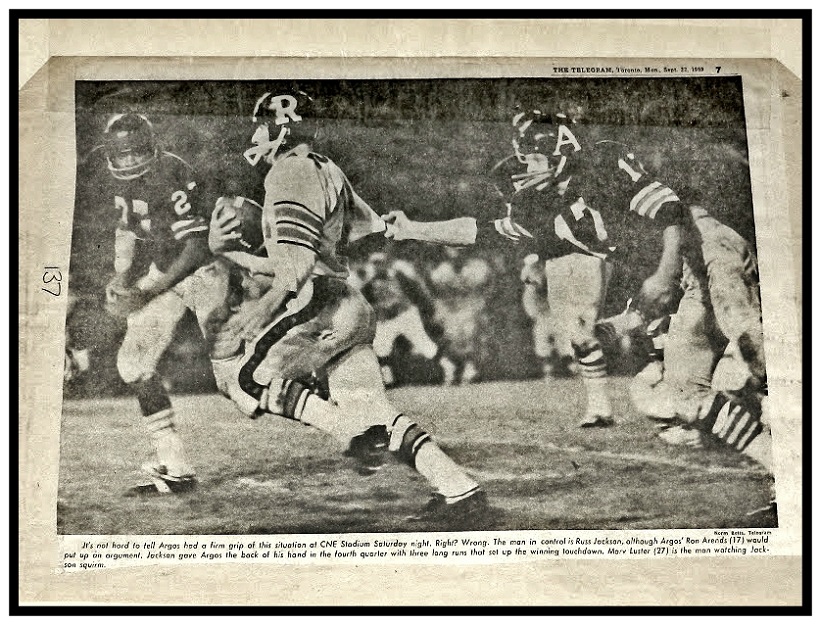 It was on this night, 50 years ago (Saturday, Sep. 20, 1969), that I attended my first Canadian Football League game: Ottawa Rough Riders vs. Toronto Argonauts (logos below). The above photo is from the old Toronto Telegram. It shows Argos defensive back Ron Arends (17) grabbing quarterback Russ Jackson's jersey, with safety Marv Luster (27) in pursuit. Dad took me to the game. We sat way at the top of Sec. 'A' in the old CNE Stadium grandstand, toward the back of the west end zone. Football tickets were at a premium in 1969 at the 33,135–seat facility. Ottawa defeated Toronto, 34–27. I became a CFL fan for life.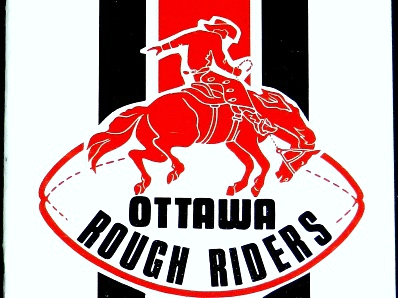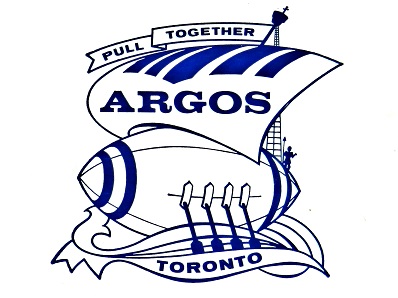 EMAIL: HOWARDLBERGER@GMAIL.COM