TORONTO (Sep. 26) — So, nearly one month into the critical Autumn ratings period, the tall foreheads at 1 Mount Pleasant Rd. have given the green light for yet another programming overhaul at Sportsnet–590.
I'll say one thing for Rogers: the company is  breathtakingly consistent. Since 2010, its financial geniuses — most of whom wouldn't know a radio from a bullhorn — have been completely in charge. As such, Canada's first all–sports station has introduced a new Morning Show (to replace the old "new" Morning Show and the "new" one before that) and has revamped two of the most–important hours in the afternoon–drive slot… all without costing a nickle. It's quite a trick, if you can get away with it. And, Rogers is convinced it can get away with anything — even spending $5.2 billion for National Hockey League rights (in 2013) to artificially vault past TSN and keep the promise from executive Scott Moore of "becoming the No. 1 sports TV network in Canada." That we couldn't find Moore, today, with a GPS is hardly a shock. Every decision made for TV and radio in the past two years has trickled down from the absurd hockey deal; the company refers to it, internally, as "the onerous NHL contract" when dismissing yet another host or analyst in order to cut costs.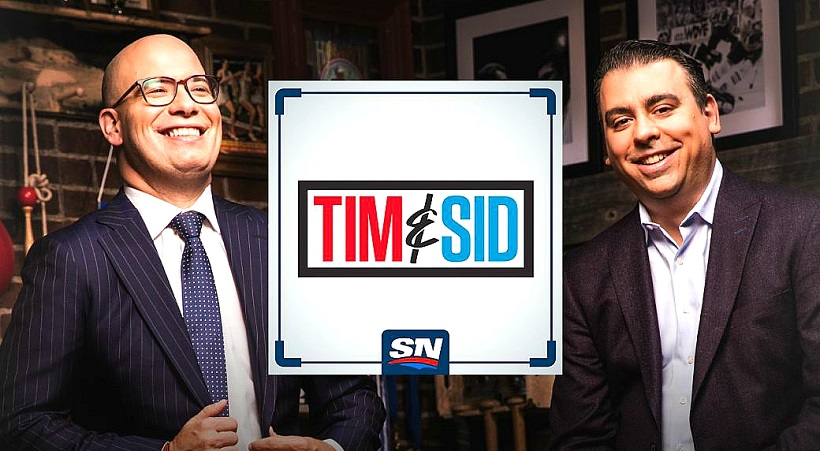 Please understand — and I stress — that nothing about this blog is intended to be remotely critical of the talent moving forward at Sportsnet–590. Among those in new radio slots are Scott MacArthur, Jeff Blair, Stephen Brunt, Tim Micallef and Sid Seixeiro; all people that I know and admire. I wish them roaring success.
I also wish they worked for a company that cared more about the proper balance of entertainment, information and credibility than merely — and solely — the bottom line. As I've written in previous blogs, and dating to my final years (2008–11) as a hockey reporter at The FAN–590, decisions have been all about money. And, nothing else. As such, Rogers can fire Bob McCown and his $1 million–plus salary; shift Blair, Brunt and Richard Deitsch from 4–7 p.m. to 2–5 p.m. and simulcast, on radio, the TV production of Micallef and Seixeiro from 5–7 p.m. By ousting McCown and shuffling the deck–chairs, the company saves a bundle.
Same with the Morning Show, where Greg Brady has now twice been rinsed; likely earning a salary too rich for the number–crunchers in the ivory tower. A second personnel shuffle results in MacArthur, former NHLer Mike Zigomanis and Ashley Docking (hired last February for the a.m. hours) as the morning trio, with Hugh Burrill (another good man) relegated to a half–hour "lead–in" show (5:30–6 a.m.), providing scores and updates from the previous night. MacArthur, in virtually no time, has gone from Blue Jays reporter at TSN Radio to afternoon host at TSN Radio to the Blue Jays radio crew at Sportsnet–590 and, now, that station's morning trio. His head must be spinning. But, I'm a big Scotty Mac fan and I wish him continued success.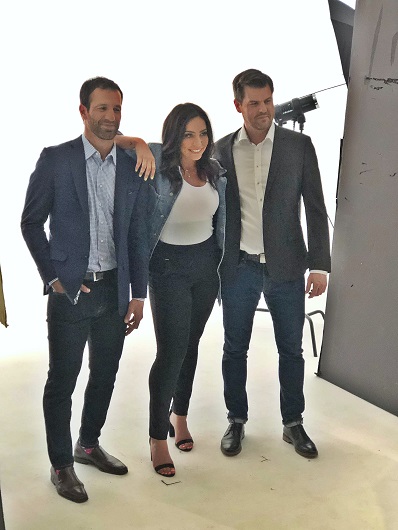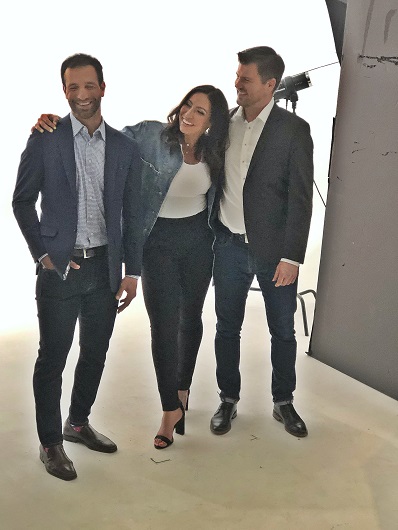 THE NEW SPORTSNET–590 MORNING SHOW TRIO IN A PUBLICITY PHOTO–SHOOT. LEFT–TO–RIGHT: MIKE ZIGOMANIS, ASHLEY DOCKING, SCOTT MacARTHUR.
The Good Show, with my ol' pal, Ben Ennis, moves from 1 p.m. to 9 a.m. I became friends with Ben's father, Michael Ennis, in my early years covering the Leafs for The FAN–590. Michael was a captain at Air Canada. In the days before Sep. 11, 2001, passengers could visit the flight deck of commercial aircraft and I spent time with Michael, in 1995, on a lengthy trip from San Francisco to Toronto. Not long after, Michael brought young Benjamin (as he calls him) to our studio on Holly St. while I was hosting a show. I suppose it made an impression on the kid, who joined the radio station in 2005 and became ten times the broadcaster I ever was. Ben has crafted an exceptional career, also appearing on TV with Sportsnet. I'm eternally proud of him.
The constant shuffle of personnel at Rogers and the recent dismissals (McCown, Nick Kypreos, Doug MacLean, John Shannon, Scott Morrison) — again, all prompted by cost–cutting in the wake of the "onerous" NHL pact — makes me chuckle. Not at the fate of those now unemployed; beyond money, there was no justifying these decisions. But, I remember when Ted Rogers died in 2008 and the financial wizards marched in (led by Paul Ski) to skim the product and add to their bank accounts with "performance" bonuses for ruining careers. Don Kollins came aboard from Kitchener to replace Nelson Millman as program director of The FAN–590. Though I liked Don, he once made a disparaging comment to me about how the radio station had been operated under Millman, suggesting my long–time boss "couldn't keep a budget". I reminded Kollins of the "stability" we'd maintained for the better part of a decade and how The FAN–590 — during several of those years — was the highest–billing sports–radio station in North America. He was unmoved.
But, the facts don't lie. From 1994 to 2010, The FAN–590 morning show featured only four broadcasters — first John Derringer and Pat Marsden; then, when Derringer moved back to Q–107, Marsden and Don Landry. When Pat retired in 2004, Gord Stellick joined Landry in the morning and that duo remained intact until being dismissed (by Ski and Kollins) in June 2010. McCown, of course, was a fixture in the afternoon–drive slot with Prime Time Sports. Stellick, for many years prior to joining Landry, hosted The Big Show leading into Prime Time. Mid–mornings were primarily the domain of Mike Hogan while the wee hours belonged to the "Late Night Vampire", Stormin' Norman Rumack (preceded by Spider Jones, whose producer was a then–unknown named George Stromboulopoulos). As for our sports teams, I covered the Leafs; Scott Ferguson (until 2000) then Mike Wilner, the Blue Jays; Barry Davis, the Raptors. This group stayed together for more than 10 years. Listeners to The FAN–590 knew where — and when — to hear their favorite shows.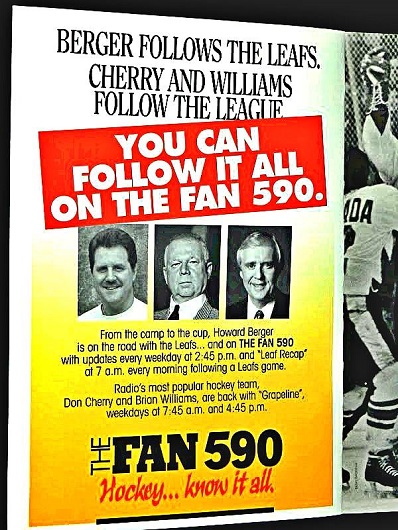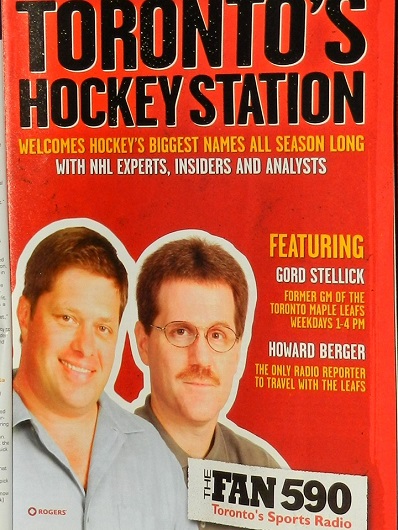 BACK IN THE DAY: FAN–590 RADIO ADS FROM 1995 (LEFT) AND 2003.
Once the financial geniuses took control — and continuing to this day — there ensued a dizzying pattern of hirings, firings and defections in the key morning slot (including Andrew Krystal, Jim Lang, Dean Blundell, Elliott Price, Andrew Walker and Brady). The afternoon–drive remained intact, though heads would spin when trying to keep track of McCown's co–hosts (Damien Cox and Brunt twice; Deitsch, Shannon, Joey Vendetta, the late Jim Kelley). And, now, another revamping of personnel in all hours of the day.
So, yeah, call me old–fashioned, but I'll take the decade of stability in my years at The FAN–590 — when actual "programming" decisions were made — over the "all–about–money" shuffling, re–shuffling and un–merited dismissals of today. Sports–radio, I can guarantee, was a lot more fun back then.
EMAIL: HOWARDLBERGER@GMAIL.COM