TORONTO (Oct. 6) — He may no longer be on the television set in your livingroom or den each Saturday night, but no person in our country can speak more eloquently about the tumultuous sports media business than Glenn Healy — man of a thousand hats; all of which form–fit to a 'T'. From National Hockey League goalie (1986–2001)… to hockey analyst/color commentator at CBC and TSN… to Director of Player Affairs for the NHL Players' Association… to between–the–benches analyst for Hockey Night In Canada… to his current role: Executive Director of NHL Alumni, Healy has transitioned quickly and seamlessly; always with something positive in tow from one venture to the next. He came close once, and would still be, an excellent general manager in the NHL. Few people more–thoroughly understand the game and its myriad nuances.
So, who better to ring on the first weekend of the new hockey season?
I got to know Glenn, now 57, during my 17–year career (1994–2011) covering the Toronto Maple Leafs as a radio reporter for The FAN–590. He was back–up goalie to Felix Potvin and Curtis Joseph for four seasons: 1997–98 to 2000–01. I often remember wishing he was the No. 1 goalie, for no player in a dressing room full of good talkers (Mats Sundin, Gary Roberts, Darcy Tucker, Tie Domi, Steve Thomas) could bring it like Heals — coming through for the media even on the one occasion I remember him being devastated and nearly inconsolable: the night of Oct. 11, 1999, against Nashville, at the Air Canada Centre. Jonas Hoglund scored for the Leafs at 17:31 of the third period to tie the match and set up overtime… only to have David Legwand (18:57) and Rob Valicevic (19:15) beat Healy in the final 63 seconds to give the Predators, in their second NHL season, a 4–2 win. Glenn was catatonic afterward, but still managed to offer up some effective syllables.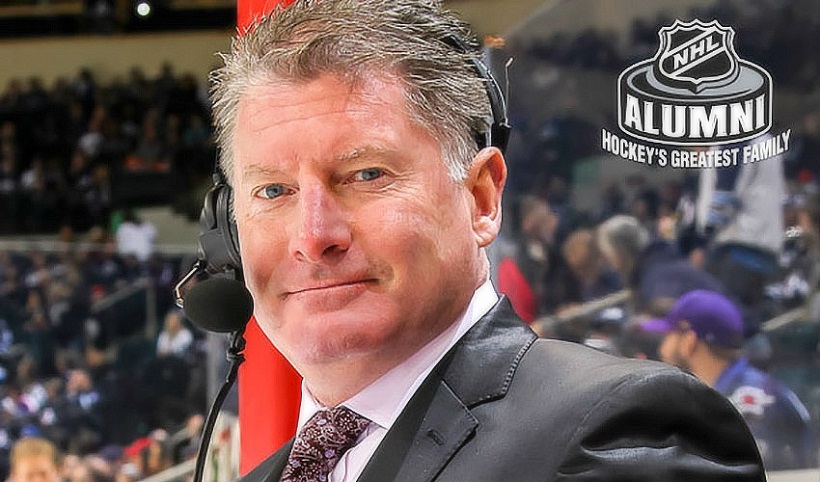 Healy appeared in 437 regular–season games during his NHL career with Los Angeles, the New York Islanders, New York Rangers and Maple Leafs. Among his teammates were several of the greatest all–time players: Wayne Gretzky, Luc Robitaille, Larry Robinson, Bryan Trottier, Pat LaFontaine, Mark Messier, Brian Leetch, Glenn Anderson, Jari Kurri and Sundin. He backstopped the Islanders to one of the biggest upsets in playoff history — a seven–game triumph, in 1993, over Mario Lemieux, Jaromir Jagr and the two–time defending–champion Pittsburgh Penguins, 32 points superior to New York. He then played 29 games with the 1993–94 Rangers, backing up Mike Richter, and winning the lone Stanley Cup of his career.
As a TV analyst, Glenn became one of the first high–profile casualties of the oppressive $5.2–billion contract signed by Rogers Communications in 2013 for national rights to the NHL. He was fired without cause in June 2016; his apparent sins a lucrative contract and the willingness to opine from between the benches on the No. 1 HNIC crew with Jim Hughson and Craig Simpson. In his absence, the Hockey Night telecast, though thoroughly professional, has been stodgy and mundane — clearly what Rogers wants from its men in the booth. Attitude and entertainment are frowned upon until intermission, where Don Cherry and Brian Burke provide some balance. Healy was superb in his role on the telecast but, ultimately, too "hot" and expensive.
Others, more recently, have tumbled like dominoes from the Rogers media/hockey empire: Mike Johnson, Daren Millard, George Stromboulopoulos, Paul Romanuk, Bob Cole, Bob McCown, Nick Kypreos, Doug MacLean, John Shannon, Scott Morrison. More will assuredly follow in the wake of the laborious NHL deal.
Healy was a regular guest with McCown on Prime Time Sports. "I heard about Bob being let go the same day [June 21] as everyone else," said Glenn. "He never went to hockey games but he had more insight and inside–information than [media] people who went to all the games. What I liked best about McCown is that he could go down any road with me while on the air. We once spent 15 minutes talking about Haggis (defined, by Wikipedia, as "a savory pudding containing sheep's pluck — heart, liver, and lungs — minced with onion, oatmeal, suet, spices, and salt, mixed with stock, and cooked while traditionally encased in the animal's stomach"). Bob was extremely talented; the best in the country in his role. But, every household operates on a budget, mine included. If you spend a ton of money on a vacation, you won't be taking another for quite awhile. Rogers spent money on a hockey contract that is suffocating. It has to answer to shareholders. Unfortunately, there have been many victims of the deal… myself and Bob among them."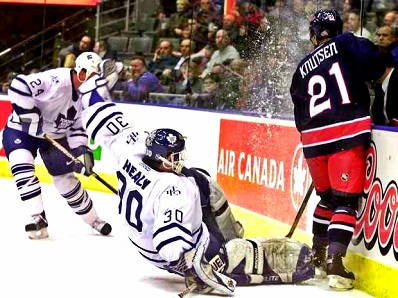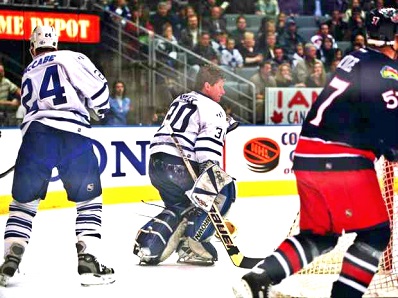 IN ONE OF HIS FINAL NHL STARTS (FEB. 14, 2001), GLENN GOES INTO THE CORNER AGAINST THE EXPANSION COLUMBUS BLUE JACKETS AT AIR CANADA CENTRE AND LOSES HIS MASK. THE LEAFS AND JACKETS PLAYED TO A 2–2 OVERTIME DRAW.
About the 12–year, $5.2–billion NHL pact, Glenn said "it was the first time Hockey Night In Canada's rights were up for bidding and Rogers paid what it had to in a competition with TSN, which actually bid higher. But, Rogers and CBC entered into a Value–In–Kind agreement in which staffers, on and off the air, could be lent between companies. I remember that first meeting we had at the CBC studios downtown. It was an All–Star group of announcers, producers, machine operators… all in one room. As for the financial implications of the deal, no one paid any attention. Do you think that came to mind while I was working games between the benches? Not a chance. I was just happy to be part of the No. 1 sports network in the country and the No. 1 hockey show of all time. I don't think any of us understood the money implications at the time."
Nor did Healy anticipate his sudden demise in June 2016. "I had zero inclination," he said. "It was a Sunday afternoon and I got a phone call from [Sportsnet president] Scott Moore telling me I was being terminated. Scott was very gracious, honest and reflective. I thanked him for the opportunity to work with the best in the broadcasting business. Yes, it was a total surprise but I was okay with [the decision]. Hockey players think a bit differently. Most of our careers are spent wondering about the future from week–to–week and year–to–year. So, I understood when Scott had to make that call. I didn't like it, but neither was it foreign to me."
As an example, Healy remembered the way his playing career ended in 2001. "The buyout deadline was June 30 and a courier truck pulled up unannounced to my house that day. A courier truck in the middle of summer? Had never happened [to me] before and hasn't happened since. I was handed an envelope. It contained a letter and a check. There was a Swedish goalie [Mikael Tellqvist] the Maple Leafs wanted to look at but he wasn't coming over here if the team already had a back–up. So, Pat Quinn said 'alright, let's get rid of Healy.' That was it. I was a former goalie. And, the Tellqvist kid? How many awards did he win?"
For the record, Mikael Tellqvist, now 40, was drafted 70th by the Leafs in 2000. He appeared in 40 games with the club from 2003 to 2006, compiling a 3.01 goals–against average and two shutouts. His Toronto career unraveled over the span of 48 hours late in the 2005–06 season. Teams played doubleheaders back then and Tellqvist started back–to–back games in Montreal (Mar. 23 and 25, 2006), getting throttled, 5–1 and 6–2, by the Canadiens. The Maple Leafs dealt him to Phoenix (now Arizona) the following November.
Glenn still laughs when recalling his first game as a broadcaster (Phoenix at Edmonton: Oct. 6, 2001), working on CBC with the late Winnipeg play–caller, Don Wittman. The Oilers were retiring the No. 17 jersey of Wayne Gretzky's prolific winger, Jari Kurri. "I began talking just before the opening face–off. Don looked at me; pushed his mute button, and said 'hey, stupid, put your cans [headphones with microphone] on.' Great start huh? A few minutes later, they superimposed the [forward] lines up on the screen for about three seconds. I said 'well, that was a waste of time. For all you speed–readers out there, wait til the next whistle and we'll show them again.' Yeah, I was a bit wise. But, it was the start of a wonderful, 15–year career on TV.
"Imagine the honor of working alongside people like 'Wit' and Bob Cole."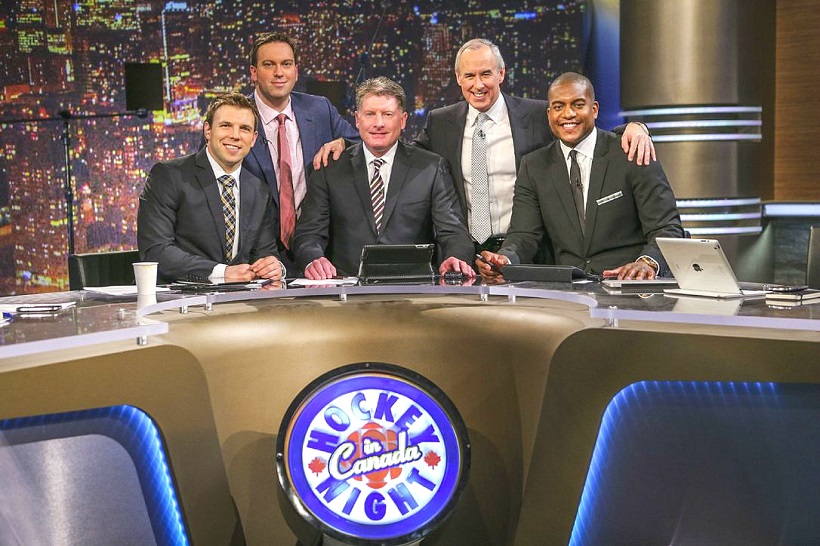 BEFORE THE ROGERS DEAL: HOCKEY NIGHT IN CANADA STUDIO CREW IN 2013, PRIOR TO THE LANDMARK CONTRACT SIGNED LATER THAT YEAR BETWEEN THE NHL AND ROGERS COMMUNICATIONS. LEFT–TO–RIGHT: P.J. STOCK, ELLIOTTE FRIEDMAN, GLENN HEALY, RON MacLEAN, KEVIN WEEKES. MacLEAN AND FRIEDMAN HAVE SURVIVED.
So, yeah, Healy knows what it's like to be discarded — unceremoniously — as a player and a broadcaster. He therefore feels for his ex–colleagues, particularly Kypreos, his teammate on the '94 Stanley Cup champions in New York. "When you leave the game of hockey as a player, it is extremely tough," said Glenn. "Since you are four years old, skating on ponds in the dead of winter, it's your dream to one day make the NHL. When that gets taken away, it's a particularly hard transition. They say hockey players want to be rock stars and rock stars want to be hockey players. But, rock stars can sing into their 70's. For someone like Nick to retire from the NHL (necessarily, after a brutal concussion incurred while fighting, as a Leaf, in a September 1997 pre–season game) and then craft a successful second career as a TV analyst, well, it's impressive. Kyper wound up on the best hockey show in the world; he wasn't doing traffic updates for 680 News. And, he also had that career taken away. But, I have tons of faith in the guys (McCown, Kypreos, Doug MacLean, Shannon, Morrison) that were let go by Rogers. I guarantee they aren't sitting around feeling sorry for themselves.
"Resilient people, with skill, will bounce back," continued Healy. "All of these guys will eventually hit the ground, running — as I did — and find another purpose in life. Where they can again make a difference. Lots of excellent broadcasters were dismissed by Rogers for no reason other than money. Which happens all the time in business. They are intelligent and were very good at the job. There were no pity parties when I got sent packing and neither will there be any for them."
EMAIL: HOWARDLBERGER@GMAIL.COM