TORONTO (Oct. 31) — There is both irony and coincidence, bathed in Toronto hockey legend, that Jim Gregory would die yesterday at 83 years of age. It was during this week, in 1976, that Gregory made arguably the most–strategic telephone call of his decade–long term as Maple Leafs general manager. With a young, promising team staggering at 1–5–2 after eight games of the 1976–77 schedule, Gregory dialed goalie Mike Palmateer in Dallas, home of the Leafs' Central Hockey League affiliate. Told him to catch the first morning flight to Detroit… and be ready to face the Red Wings that Thursday night at Olympia Stadium. Palmateer's reply remains firmly entrenched in Leafs lore: "Mr. Gregory, your goaltending troubles are over."
A 3–1 victory in MoTown altered the course of that season with an 11–4–3 response in the ensuing 18 matches and led to the finest moment of Gregory's managerial career. Eighteen months later, nearly to the day (Apr. 29, 1978), Palmateer backstopped the Leafs to a quarterfinal–playoff upset of the New York Islanders, sealed by Lanny McDonald's overtime goal in Game 7 at the Nassau Coliseum. For the first time since the now–mythical championship of 1967, the Maple Leafs were in the Stanley Cup semifinals — their lone–such advancement of the decade under Gregory and meddlesome owner Harold Ballard. That Montreal quickly dispatched Toronto in the penultimate series is a mere footnote, given that no club would derail the Canadiens of the late–70's… and that the core of the 1977–78 Leafs had been assembled by Gregory, who drafted Darryl Sittler (1970); McDonald and Ian Turnbull (1973); Palmateer and Dave (Tiger) Williams (1974) and had signed, as a free agent, Swedish defenseman Borje Salming. For as long as hockey observers recount Gregory's term as Toronto GM, so too will they remember the aforementioned names.
Gregory, Sittler, McDonald, Salming (and, oddly, Ballard) are honored members of the Hockey Hall of Fame.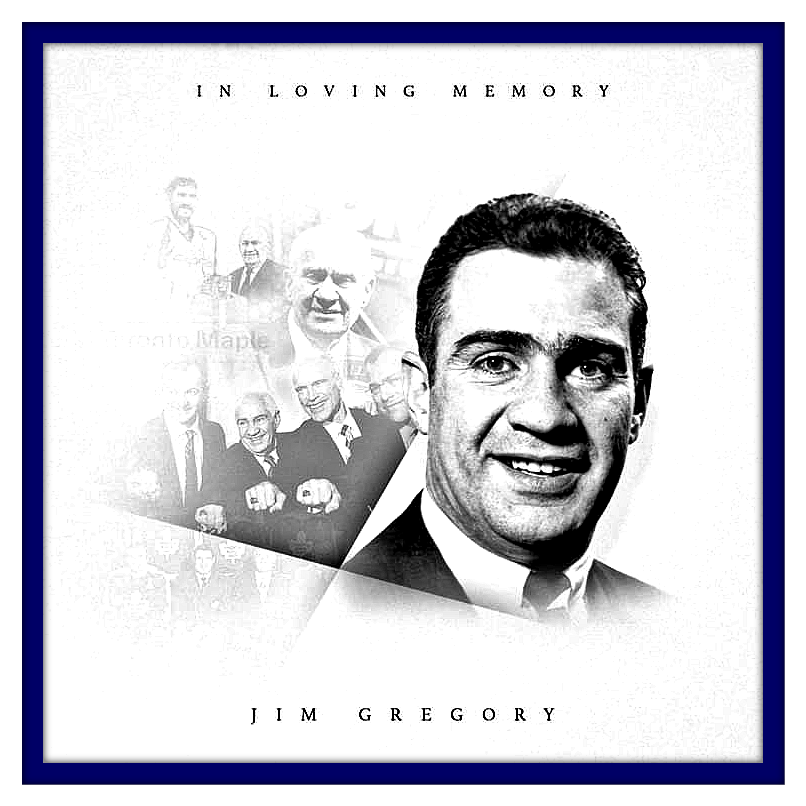 Were there a wing in the Hockey Hall for gentlemen and most–admired individuals, Gregory would stand at the forefront. Not since the death of Canadiens' legend Jean Beliveau (Dec. 2, 2014) has there been such an outpouring of reverence and respect. "It is impossible to express the extent to which the National Hockey League family adored Jim Gregory and the loss we feel as a result of his passing," said NHL Commissioner Gary Bettman, for whom Gregory worked since 1993. When his Leafs career ended in April 1979, Gregory was immediately hired (by NHL executive, Brian O'Neill, now 90) as Director of Central Scouting. Seven years later, he became Executive Director of Hockey Operations. In 1998, Jim added the chairmanship of the Hall of Fame Selection Committee, a position he held at the time of his death.
Principally, and apart from his hockey accomplishments, Gregory proved there is nothing untoward about being kind and considerate, even in the often–cut–throat world of professional sport. "Jimmy always found good in people; he was the conscience of the game," NHL senior vice–president Colin Campbell told Ken Campbell of The Hockey News. "He was a good man, an honest man, and always did the right things."
Having led the junior Toronto Marlboros to Memorial Cup titles in 1964 and 1967 (first as coach; then GM), Gregory replaced Punch Imlach as manager of the Leafs for the 1969–70 season. He spent the bulk of his Toronto term working for Ballard — a notorious skinflint who provided the hockey department skeletal resources — and many have long–wondered how such an astute administrator as Gregory might have fared with, primarily, a deeper scouting staff. Typically, and though offered many–a–chance through the years, Jim never uttered a negative word about Ballard. The closest facsimile to an admonition came in the summer of 1977 when the Maple Leafs hired Roger Neilson as coach. "Expect a crisis every day," he warned Neilson, who stood behind the visitors' bench — nine months later — when McDonald eliminated the Islanders in overtime. Ballard's buffoonery climaxed with Gregory's demise. In late–April 1979, the GM took a phone call from O'Neill at NHL headquarters, offering him the position with Central Scouting. "But, I already have a job," Gregory replied, not knowing that Ballard had informed others in the league of his dismissal.
From a personal perspective, I got to know Jim during his term in the NHL office, which coincided with my 23 years in radio at The FAN–590 — the final 17 spent covering the Maple Leafs (home and away); the Stanley Cup final; the NHL draft and the NHL All–Star Game. When word arrived, moments before the 2003 draft at Bridgestone Arena in Nashville, that Neilson had died of cancer, Gregory took it upon himself to visit my broadcast location and speak about the late coach. Whenever I came across Jim, he would offer, in his unique, gravelly voice, "hello Howie… how are you today?" I remember the way my heart sank while sitting on a media bus in Minneapolis the day before the 2011 NHL draft. Gregory, in what appeared to be a losing battle with blood cancer, climbed aboard looking wan and haggard; dark bruises spotting his face and hands. I thought it might be the last time I'd see him. But, thankfully, he rallied and went into remission.
When Jim showed up for a monthly gathering of NHL alumni at a north–Toronto restaurant in early–2016, I asked if I could say a few words. The former NHL referee, Ron Wicks, had died of cancer a few days earlier and I spoke about visiting Ron in hospital that week with fellow officials Bruce Hood and Ron Asselstine (Hood, in November 2017, would also succumb to cancer). I spotted Gregory looking at me, intently. "As an aside, though no–less importantly, I'm so happy to see Jim Gregory here today," I said. "Jim, I doubt that I've ever adequately expressed to you how much your kindness and cooperation meant to me during my years in radio. I'm privileged to have that opportunity, in front of your hockey friends, today."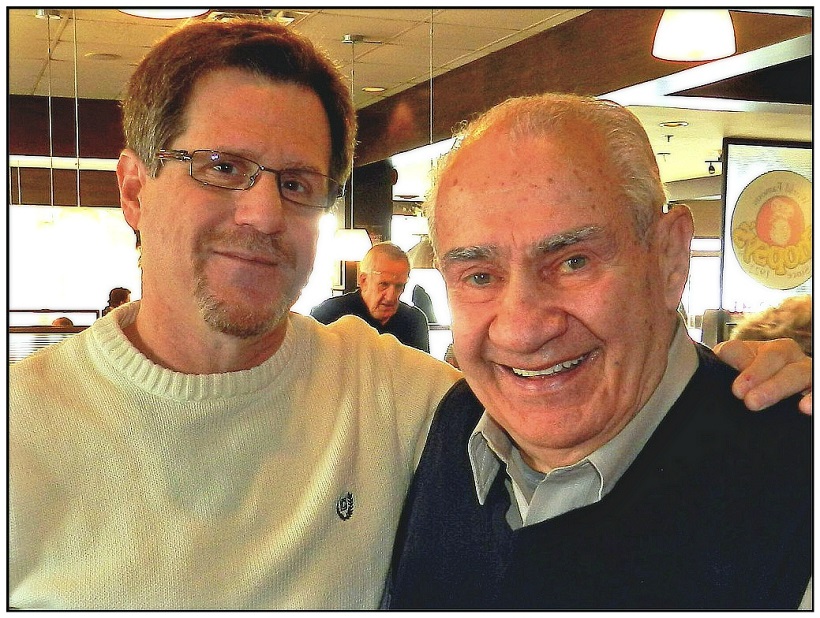 POSING WITH JIM GREGORY AT A LUNCH–MEETING OF NHL ALUMNI IN APRIL 2016.
Nor will I forget the last time I saw Jim — in the dimly–lit parking lot of an Italian restaurant, Dante's, on north–Dufferin St. here in town. It was moments prior to Super Bowl LI between New England and Atlanta (Feb. 5, 2017) and we were both picking up pizza orders. I extended my arm toward Jim. "What's this hand–shaking stuff?" he smiled before wrapping me in a bear hug. I held onto him an instant longer, feeling the warmth that Jim so–naturally exuded.
I am honored to have known a man who showed — unequivocally — that nice guys do not finish last.
EMAIL: HOWARDLBERGER@GMAIL.COM