TORONTO (Oct. 23) — For the increasing multitudes convinced that a change of coach will jump–start the apathetic Toronto Maple Leafs, allow me to present the following names, chronologically:
Punch Imlach… John McLellan… Red Kelly… Roger Neilson… Floyd Smith… Joe Crozier… Mike Nykoluk… Dan Maloney… John Brophy… George Armstrong… Doug Carpenter… Tom Watt… Pat Burns… Mike Murphy… Pat Quinn… Paul Maurice… Ron Wilson… Randy Carlyle… Peter Horachek. Nineteen men that have stood behind the Maple Leafs bench since the 1967 Stanley Cup victory. All of them dethroned without a subsequent appearance in the championship round. Yes, No. 20 was supposed to be different. When Mike Babcock came aboard from MoTown on May 21, 2015 as the highest–paid coach in National Hockey League history, he was considered, in baseball vernacular, the "closer". The man who would finally end the longest current drought among NHL teams. That it may still happen isn't beyond the realm. There's a Stanley Cup on his resume (Detroit 2008) and a pair of Olympic gold medals (2010 Vancouver, 2014 Sochi) with Team Canada. While prone to stubbornness, Babcock understands the game and its many subtleties.
Now, he's got to find a way, if at all possible, to fire an energy–bolt into his lethargic hockey club, as the 2019–20 Leafs have plainly checked their work–boots at the door through the first 11 games of the schedule.
Auston Matthews gets a free ride in this city — from fans and media — because of his 2016 draft status (No. 1 overall) and his natural ability to score goals. Matthews came to the NHL with the reputation of a "200–foot" player, which means he performs as aggressively while back–checking as in the offensive zone. To this point of the schedule, nothing is farther from the truth. Matthews could score 100 goals and still hurt the club with his laziness behind center ice. A microcosm of the early–Leafs season occurred at 14:08 of the first period during Monday night's 4–3 overtime loss to Columbus at Scotiabank Arena. Matthews, expending neither energy nor effort, allowed Pierre–Luc Dubois to barge past him from the right–wing corner with embarrassing ease and stuff the puck past Frederik Anderson for a 2–0 Blue Jackets lead. The Maple Leafs forward merely extended his stick and watched as Dubois cut to the goal without even a slight challenge.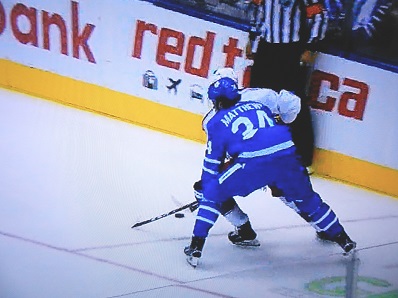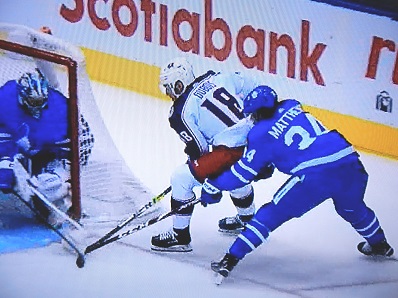 TELEVISION SEQUENCE (ABOVE AND BELOW) ON MONDAY NIGHT AT SCOTIABANK ARENA IN WHICH PIERRE–LUC DUBOIS OF COLUMBUS BREEZED PAST AUSTON MATTHEWS IN THE CORNER TO BEAT FREDERIK ANDERSEN WITH A GOAL THAT GAVE THE VISITORS A 2–0 FIRST–PERIOD LEAD. NEITHER DID LEAFS DEFENSEMAN MARTIN MARINCIN HAVE A CLUE ON THE PLAY. ROGERS/SPORTSNET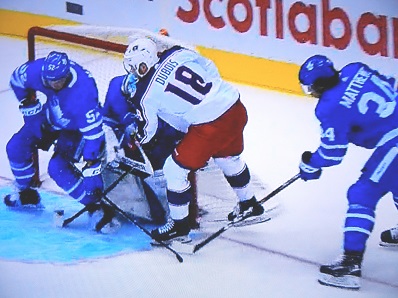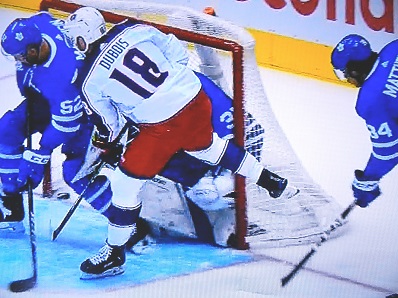 Not surprisingly, the lack of effort from No. 34 received minimal attention in the two local newspapers. Mark Zwolinski, covering the match for the Toronto Star, overlooked it completely. Next to a sub–heading "Mr. October", Zwolinski wrote: "Auston Matthews goal, his eighth of the season, gives him 33 in 42 career games in October. In all other months combined, he has 86." In the Toronto Sun, Lance Hornby did make note of the Dubois fly–by: "Babcock's vacillating on whether to play [Mitch] Marner and Matthews together quickly ended when the two were out again for Columbus' second goal. Matthews gave little resistance to Pierre–Luc Dubois driving to the net, while Martin Marincin got in the way of Andersen." Matthews, as many recall, erupted onto the NHL scene in 2016–17 with 40 goals and diligence at both ends of the ice, earning the Calder Trophy as rookie–of–the–year. But, a shoulder injury and two concussions appears to have blunted Auston's zest for exertion anywhere but within scoring range. Once there, his unparalleled shot — quick and laser–accurate — has him on early pace for a Maple Leafs–record 60 goals. He must, however, become far–more–persistent without the puck to help the club when it truly matters: beyond the first week of April.
Should Babcock assume liability when his $11–million star mails in a defensive assignment? I think not. Or, for the occasional night in which Marner has the yips — as on Monday, when a blatant gaffe in the defensive zone led directly to the Blue Jackets' first goal; a hook in overtime to the penalty–shot winner by Columbus? Not at all. Is Babcock culpable for the Leafs again yielding 35–40 shots per game? Given he's been provided a run–and–gun roster, that would also be a stretch. What about shoddy, indecisive work in the defensive zone? If you're going to blame Babcock for that, you may as well throw in every Leafs coach since Roger Neilson 40 years ago. Doesn't it seem ordained by a higher power that the Maple Leafs fumble and stagger with the puck behind their own blue line? No matter who manages, coaches or plays for the team? Year after year? Decade after decade? It's uncanny how this franchise is enmeshed in a dismal defensive posture.
Unfortunately for Babcock, the hockey environment in Toronto is decidedly against him. His general manager has an itchy finger and the myopic fan–base — every three or four years — calls for (and usually gets) a coaching change. At the moment, however, what ails the Leafs falls solely on the players for their indifference out of the gate. The team is lazy. Plain and simple. There have been moments of commendable application, but not nearly enough, especially from those with the gleaming, new contracts. Matthews, in particular, should be spotlighted. He's a veritable God in this city… untouchable in the media and fawned over by the multitudes. Unquestionably, however, he needs to surrender the nonchalance that has plagued him in the early going. It isn't enough for him to score goals if he's going to lollygag without the puck. Auston is more than sturdy enough to not allow such shameless submission as against Dubois on Monday.
Right now, Ilya Mikheyev and Alex Kerfoot are the Leafs most–industrious workers. 'Nuff said.
FARTHER BACK IN TIME
Dec. 2, 1967 — Maple Leaf Gardens
Oakland Seals at Toronto Maple Leafs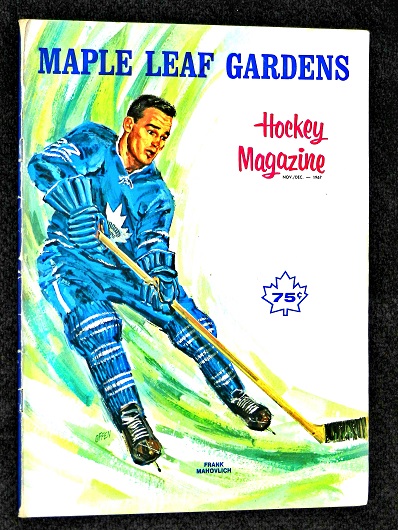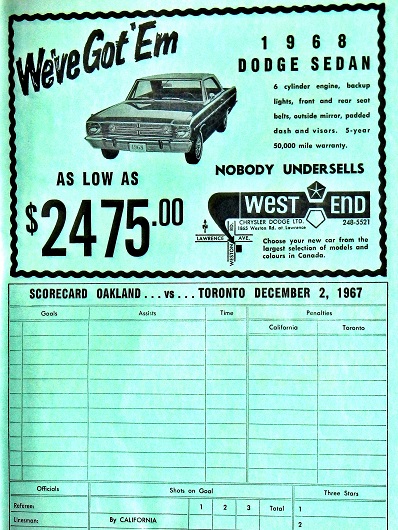 Going back, in my collection, more than half–a–century to the 1967–68 season… the year of the Great Expansion when the National Hockey League doubled in size by adding the Oakland Seals, Los Angeles Kings, Minnesota North Stars, Philadelphia Flyers, Pittsburgh Penguins and St. Louis Blues. On this night, Oakland made its second visit to Maple Leaf Gardens. Ron Ellis scored twice and Johnny Bower recorded a shutout in a 3–0 Toronto victory. The Leafs improved to 13–7–3 after 23 games; the Seals fell to 5–14–5 in 24 matches. A water–color of Frank Mahovlich (top–left) graced the front–cover of the Gardens' program.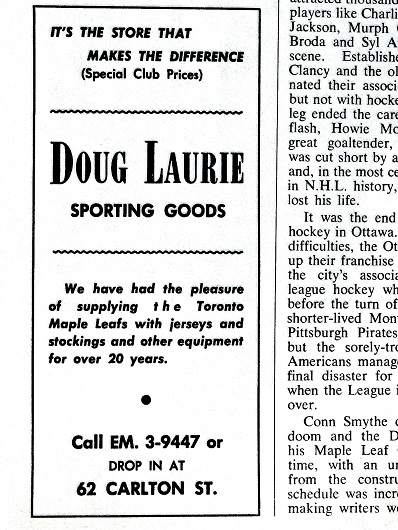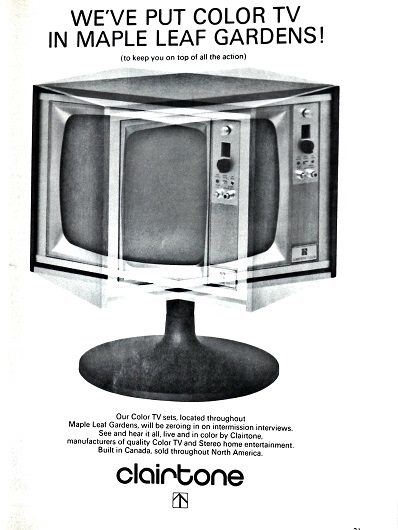 Eight members of the expansion Seals (bottom–left) had played, at one time or another, for the Maple Leafs: Gary Smith, Aut Erickson, Larry Cahan, Wally Boyer, Billy Harris, Gerry Ehman, Kent Douglas and Bob Baun.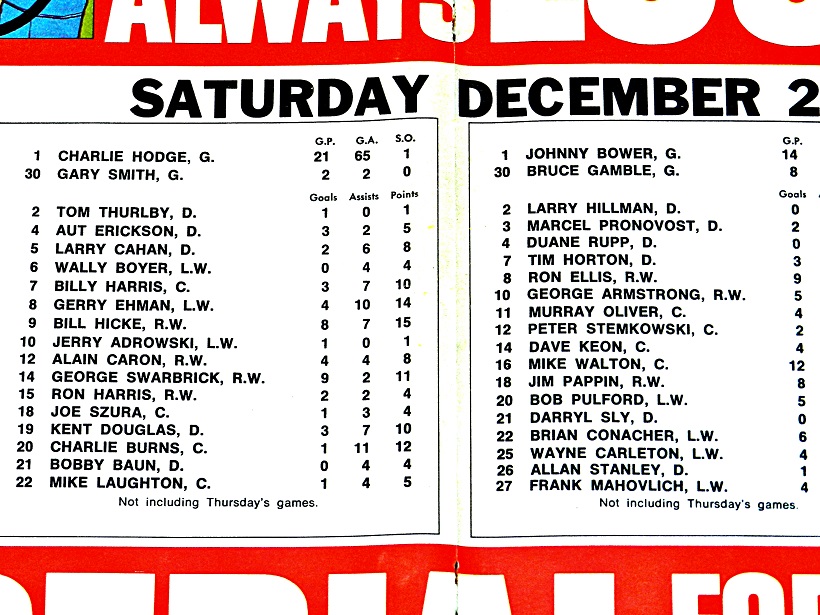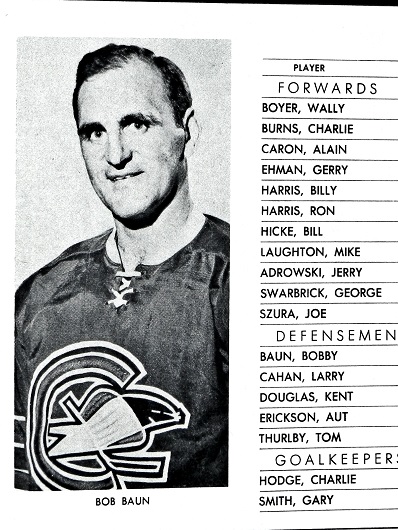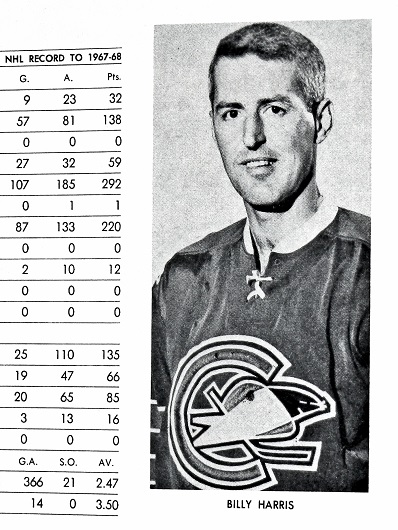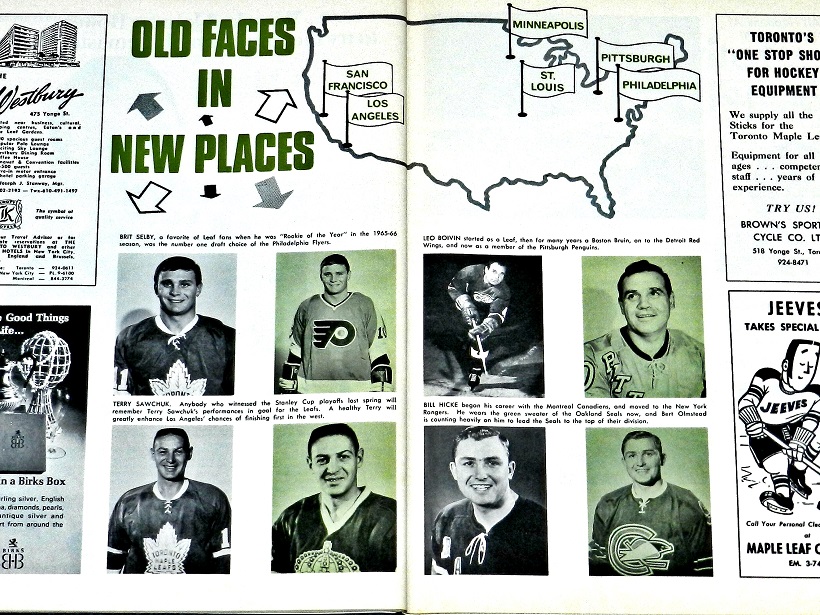 A regular feature (above) in the 1967–68 Gardens program showed players from the established NHL teams as they appeared in their expansion jerseys. Terry Sawchuk (bottom–left) helped the Leafs win the '67 Stanley Cup and was chosen by Los Angeles in the expansion draft.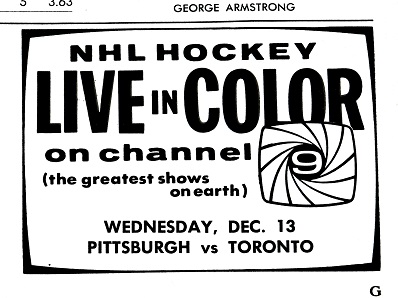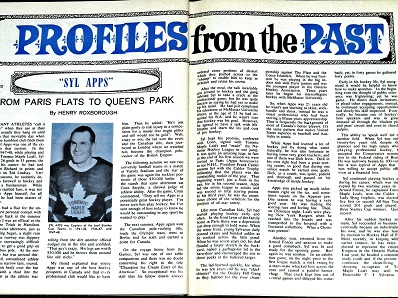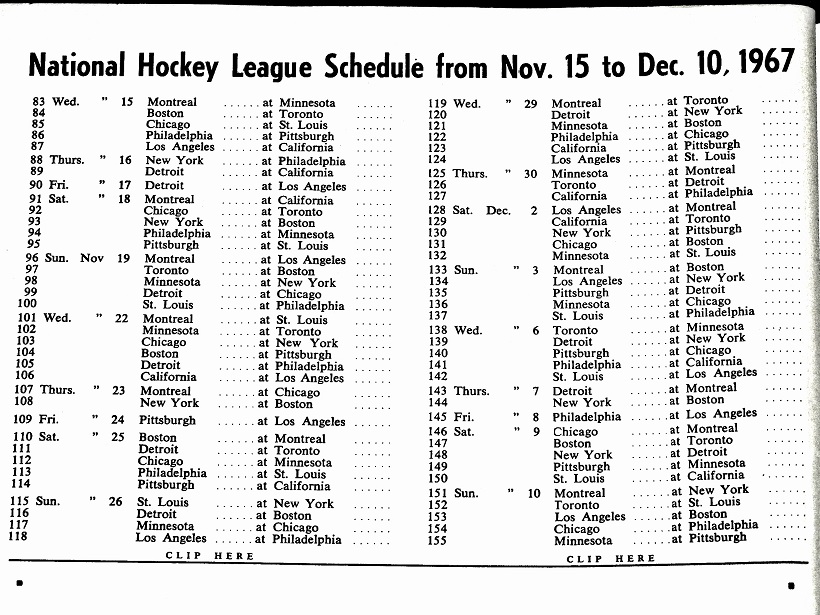 EMAIL: HOWARDLBERGER@GMAIL.COM