TORONTO (Oct. 22) — "Hate" is a very strong word; one that people use rather flippantly when describing an aversion, no matter how innocuous. It is, in fact, less banal than practically any term in the English language, reserved for those with deep and irrational enmity toward a tribal or ethnic group. As such, I often encourage my family and friends to adopt a synonym, particularly when it applies to a fellow human.
I doubt I would have any–such luck, however, with former National Hockey League defenseman Mike Commodore as it pertains to current Maple Leafs coach Mike Babcock. Commodore, once known for allowing his reddish hair to grow absurdly (with Calgary and Carolina) in the Stanley Cup playoffs — later sheared and donated for cancer — has since made a cottage–industry of lambasting his one–time bench boss with the Detroit Red Wings. So indignant is Commodore toward Babcock over that 17–game span (and $1 million salary) in 2011–12 that he continues to tee off on the coach, unfiltered, nearly eight years later.
"When I think of Mike Babcock, the first thing that comes to mind is a piece of sh–", Commodore told the Las Vegas–based Sin Bin Podcast, repeating an oft–used (and contemptible) analogy. "I"m not going to name names — they can talk for themselves, if they want — but everyone I know that had the misfortune of playing for Mike Babcock; being with him or dealing with him at Joe Louis Arena back in the day, hates his guts. The guy is a piece of sh– that treats people terribly. I haven't met him since he signed that deal in Toronto so I can't even imagine how big his fu–ing ego is now. I was only in Detroit for 17 fu–ing games and I've played for coaches that were hard on me; it has nothing to do with that. I hate [Babcock] because he's full of sh–. He's a fu–ing liar and selfish… his arrogance is off the chart. He's a fu–ing scumbag who thinks everything is about him. I'm sure the best part of his day now is during press conferences in Toronto when he can be 'the man'. If he doesn't think you can do something for him, he will treat you like a piece of sh–."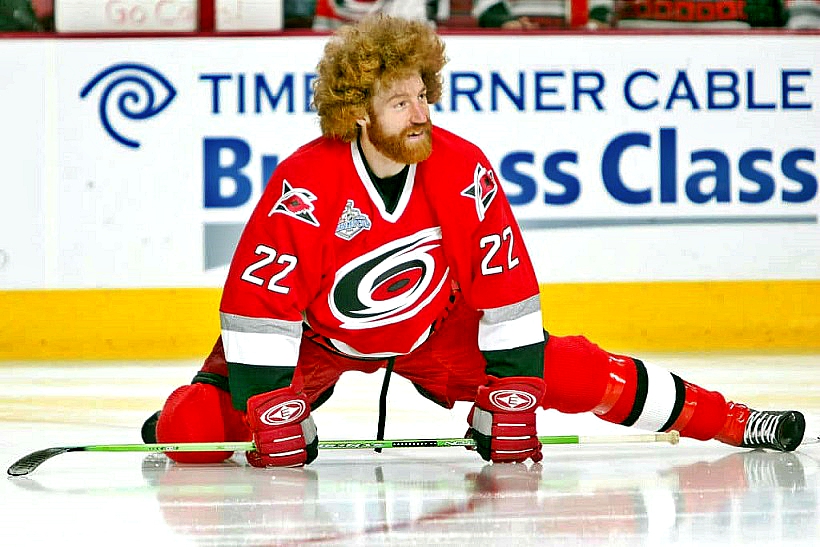 Commodore's revulsion for Babcock dates to the 2002–03 season, after he'd been traded by New Jersey to Anaheim. Babcock was in his first season as coach of the Mighty Ducks. He sent Commodore to Cincinnati of the AHL after training camp and, according to Commodore, "carved me in the papers for not being in shape and not caring, even though I fought everyone at camp." The Ducks called him up for a Nov. 14 game in Columbus and performed a fat–caliper test, which resulted in a gluttonous 22% reading.
"I'm playing three games in three nights all the time in Cincinnati; I'm in great shape and, suddenly, I have 22% body–fat?" recalled Commodore. "I said to the guy 'this isn't possible'. But, he hands in the test and Babcock gives it to me in front of the entire Anaheim team; I don't know any of these guys. I said to him 'go fu– yourself. Your test is fu–ed. I'm not 22% body–fat. Let's do a real test with more than three [pinch]–points. Fu– you.' That was it for me in Anaheim. I got traded to Calgary." It was during the long, 2004 playoff run with the Flames that Commodore famously grew out his hair for cancer benefit, drawing admiration on both sides of the border as Calgary lost a seven–game Stanley Cup final to Tampa Bay. He would accrue similar attention in 2006, with Carolina, when the Hurricanes won their first NHL title over Edmonton.
Why, then, after stops in Ottawa and Columbus, would Commodore sign as a free agent (in 2011) with Detroit — the team coached by Babcock? "Great question… one of the biggest regrets of my career."
The Red Wings had no right-shooting defensemen and Babcock led on, during a phone–chat, that he needed Commodore. "I wanted to play in Detroit — a great hockey town — and, especially, with Nick Lidstrom, but I knew this guy was going to fu– me," said the former blue–liner. "Needless to say, and despite his promise of a good opportunity, I was a scratch… game after game. It was a complete disaster. He wanted me out there just so he could end my playing days. I think he enjoys fu–ing people over. When Mike Modano went to Detroit (in 2010–11), he needed one game for 1,500 in his career. And, Babcock scratched him in the final games of the season. He wound up with 1,499. Modano told me that story at a golf tournament four or five years ago. I said, 'dude, are you kidding me? Get on a podcast or the radio and carve that mother–fu–er.' It was Mike Modano, a future Hall–of–Famer, not some run–of–the–mill defenseman like me."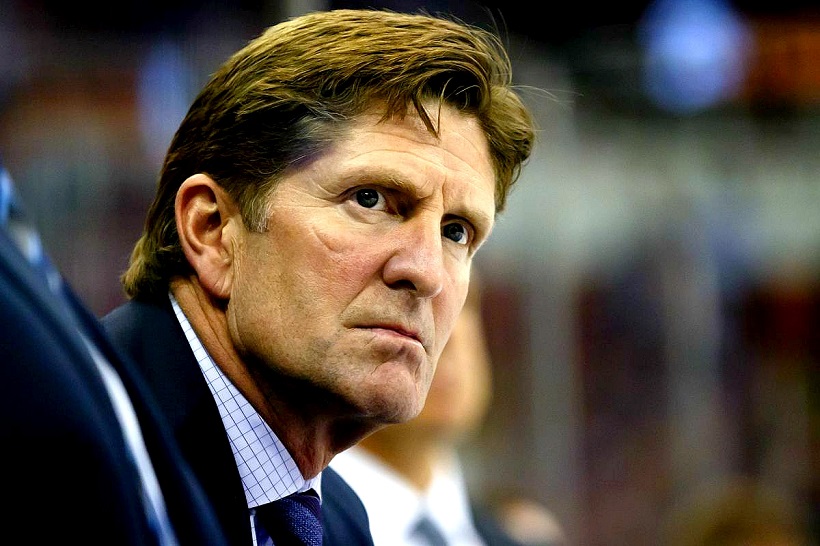 Today, while living in Calgary, Commodore is still haunted by his one–time coaching nemesis. "Even out here, you can't get away from that fu–ing guy; he's on TV as coach of the Leafs. So, every day, I've got to see this piece of sh–. I can't even watch his team play. It's not because of the Leafs, it's because of him. Every time I looked at my phone during Game 7 (of the playoffs) last spring, the Leafs either scored or were still in the game. I went over to James Neal's house afterward and he told me the Bruins had won. There were lots of other guys around so I didn't get too sexually excited. But, it felt damned good."
To wrap up the podcast, Commodore said, "I hope I never see [Babcock] again in my life. I hope people that I like never have to deal with him. He's a scumbag. If I ran into him at a golf tournament or charity event, I'd have a tough time keeping it together. Because of his ego, he would say something to me and I would fly off the fu–ing handle; have absolutely no control. I'm not the toughest guy in the world but I'd kick the sh– out of him. If he said hello, it would be a solid 'fu– you' or 'go fu– yourself' coming right back. Immediately. And, keep my golf bag away from me because I'd probably grab a club and try to take his head off. If I could legitimately hurt him and get away with it, I'd consider doing it. But, he's not worth jail time."
50 YEARS AGO TONIGHT
Wednesday, Oct. 22, 1969 Maple Leaf Gardens
PHILADELPHIA 4 TORONTO 3
It's a date, and occasion, that has remained with me for half–a–century. Oct. 22, 1969. As I walked home from Grade School through Wilmington Park at 3:30 p.m. on a sunny and crisp Autumn afternoon — happy to have tickets for that night's Toronto–Philadelphia hockey game at Maple Leaf Gardens — I turned to my best pal, Jeffrey Spiegelman, and wondered if Dad might allow the two of us to attended the match. Beginning Dec. 3, 1966 (when Detroit beat the Leafs, 5–2), my father had accompanied me to hockey games at the Gardens. Now, closing in on 11 years of age, I thought perhaps I was old enough to go with a friend. "Really try and persuade him," Jeff said as we approached my boyhood home on Kennard Ave. Honestly, I felt the chances were slim given Dad's protective nature. All it required, however, was a simple request and he said okay… provided he drove us to the Gardens and picked us up afterward. Which was akin to offering an ice cream sundae on the condition we also accept chocolate sauce and whipped cream.
To this day, I remember how excited me and Jeff were at that moment.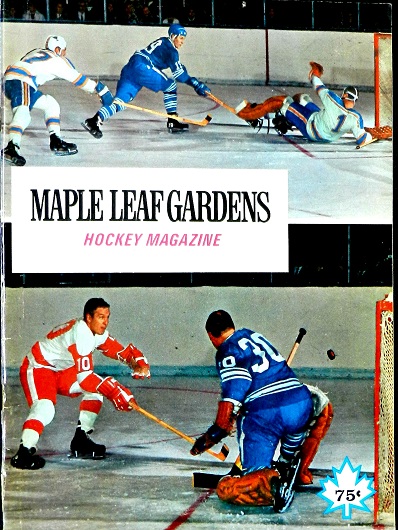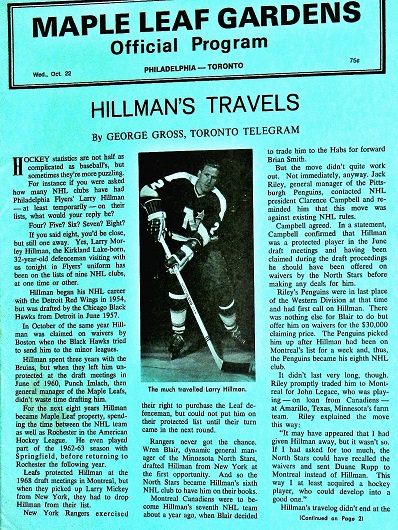 COVER OF THE MAPLE LEAF GARDENS' MAGAZINE AND PROGRAM–INSERT 50 YEARS AGO TONIGHT.
Little did we anticipate watching Flyers' rookie Bobby Clarke record the first of his 1,210 career points — assisting (along with Reg Fleming) on teammate Lew Morrison's first of 19 career goals. Jeff and I had the tickets owned by my father's accounting firm: Sec. 46 of the Blues (to become Reds in 1974–75), Row M, Seats 11 and 12. On the west side of the arena, between the south goal and blue line. The star of the game was center Andre Lacroix, who scored the other three Philadelphia goals. Lacroix would accrue 70 goals in three–plus years with the Flyers and, later, become the leading scorer in the history of the World Hockey Association (1972–73 to 1978–79), amassing 798 points in 551 games with Philadelphia, Jersey, San Diego, Houston and New England. The two goalies that night at the Gardens — Bernie Parent of the Flyers and Bruce Gamble of the Maple Leafs — would be traded for one another just more than 15 months later.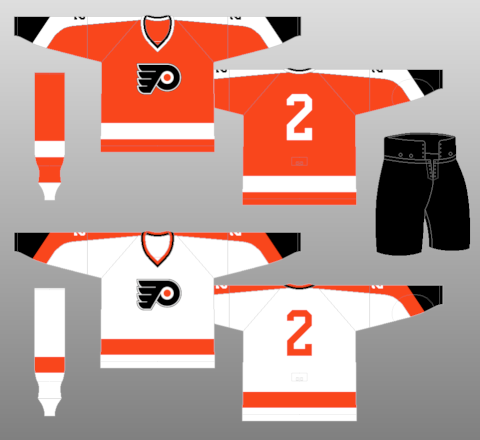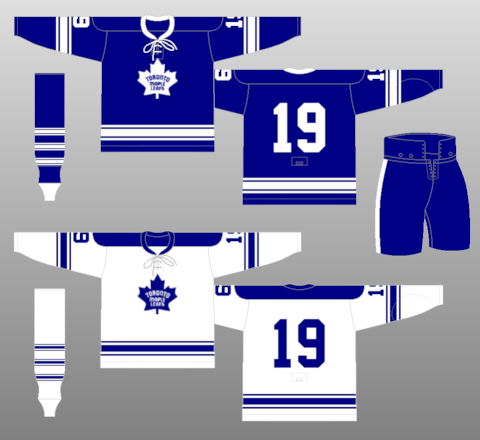 THE NHL JERSEYS WORN AT MAPLE LEAF GARDENS 50 YEARS AGO TONIGHT: PHILADELPHIA'S ROAD/WHITE (BOTTOM–LEFT) AND TORONTO'S HOME/BLUE (TOP–RIGHT). NHLUNIFORMS.COM
SCORING SUMMARY
First Period —
1. Philadelphia, Lacroix 1 (Gendron) 2:03.
2. Toronto, Oliver 2 (Keon, Smith) 5:46.
Second Period —
3. Philadelphia, Lacroix 2 (Van Impe) 2:50.
Third Period —
4. Toronto, McKenny (Ullman) 2:13.
5. Philadelphia, Morrison 1 (Clarke, Fleming) 6:01.
6. Philadelphia, Lacroix 3 (Sarrazin, Gendron) 7:39.
7. Toronto, Ellis 3 (Ullman, Ley) 19:46.
Shots On Goal —
Philadelphia 15  8  8  31.
Toronto       13 14 8  35.
Goalies — Parent Philadelphia; Gamble Toronto.
Referee — Bruce Hood. Linesmen — Claude Bechard, Pat Shetler.
Attendance — 16,321.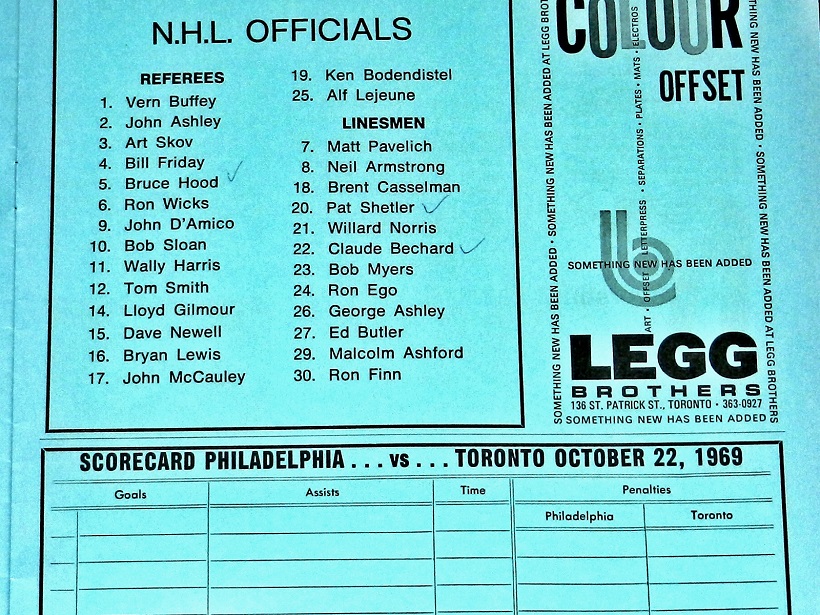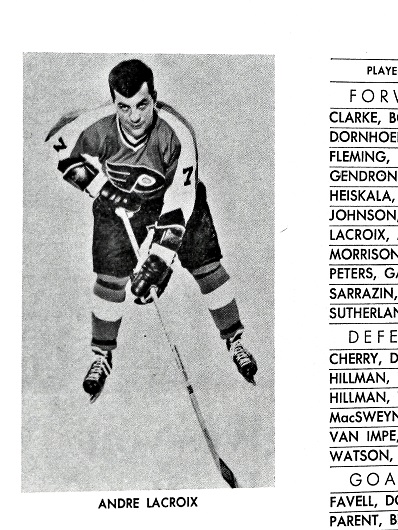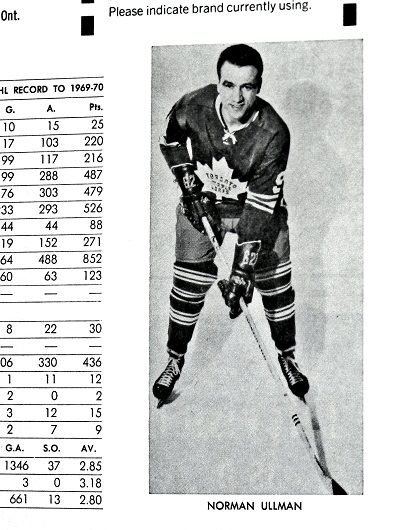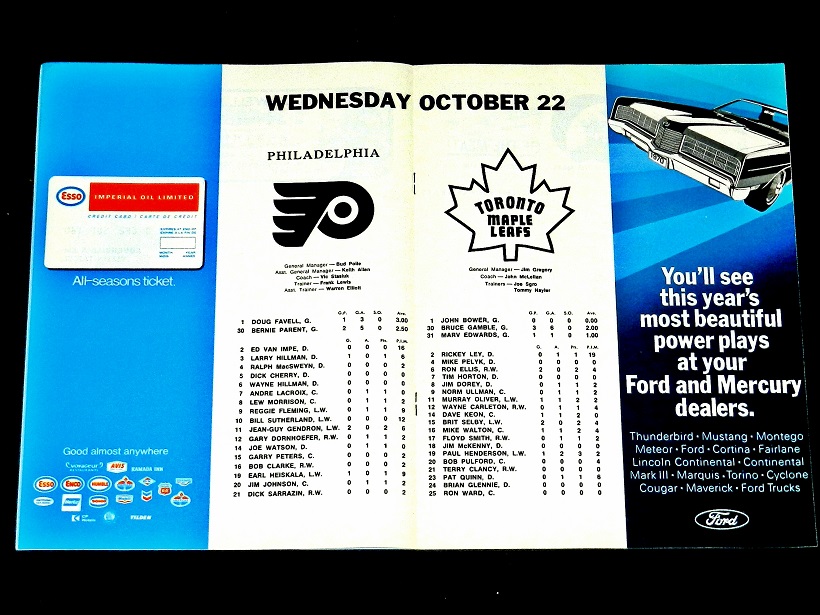 The Flyers were in their third NHL season. Among the players dressed (below) for the game of Oct. 22, 1969, only five — Bernie Parent, Ed Van Impe, Gary Dornhoefer, Bobby Clarke and Joe Watson — would still be with the club when it became, in 1973–74, the first of the expansion teams to win the Stanley Cup. Flyers defenseman Dick Cherry (No. 5) is the younger brother of Don Cherry. Don will be 86 on Feb. 5; Dick, 83 on Feb. 28. Philly blue–liner Larry Hillman (No. 3) was a member of the Maple Leafs 1967 Stanley Cup squad.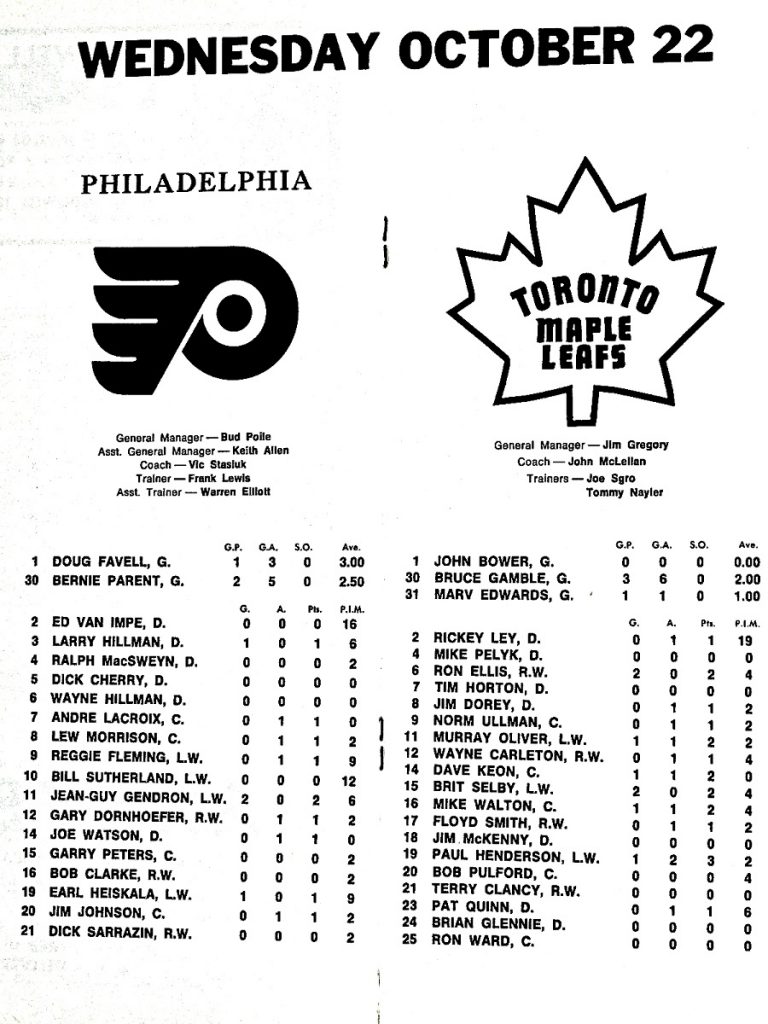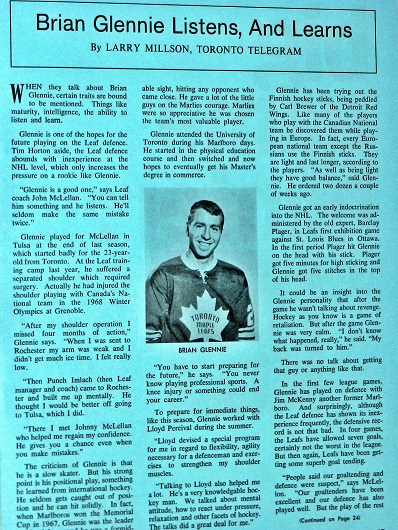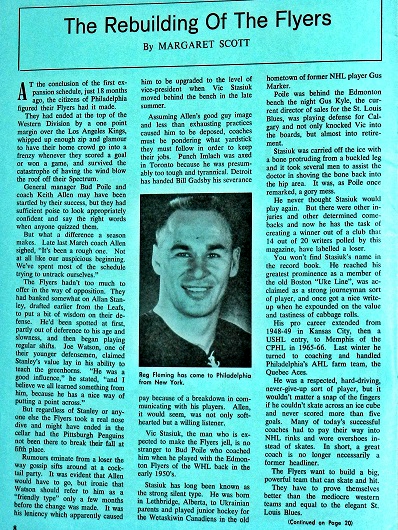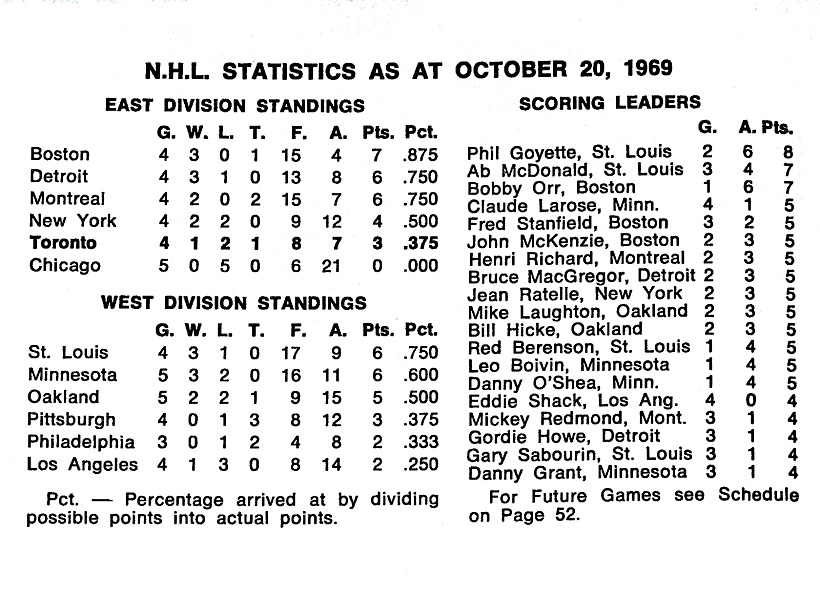 Boston superstar Bobby Orr would easily outdistance Phil Goyette and Ab McDonald of St. Louis (top–right) for the Art Ross Trophy as NHL points leader in 1969–70. The Stanley Cup finalists — Bruins and Blues — occupied five of the top six scoring slots early in the schedule. And, Toronto Star writer Frank Orr provided a preview of Ontario Hockey Association junior teams (below), which included a number of future NHL players. Among them, future Leafs captain Darryl Sittler of the London Knights.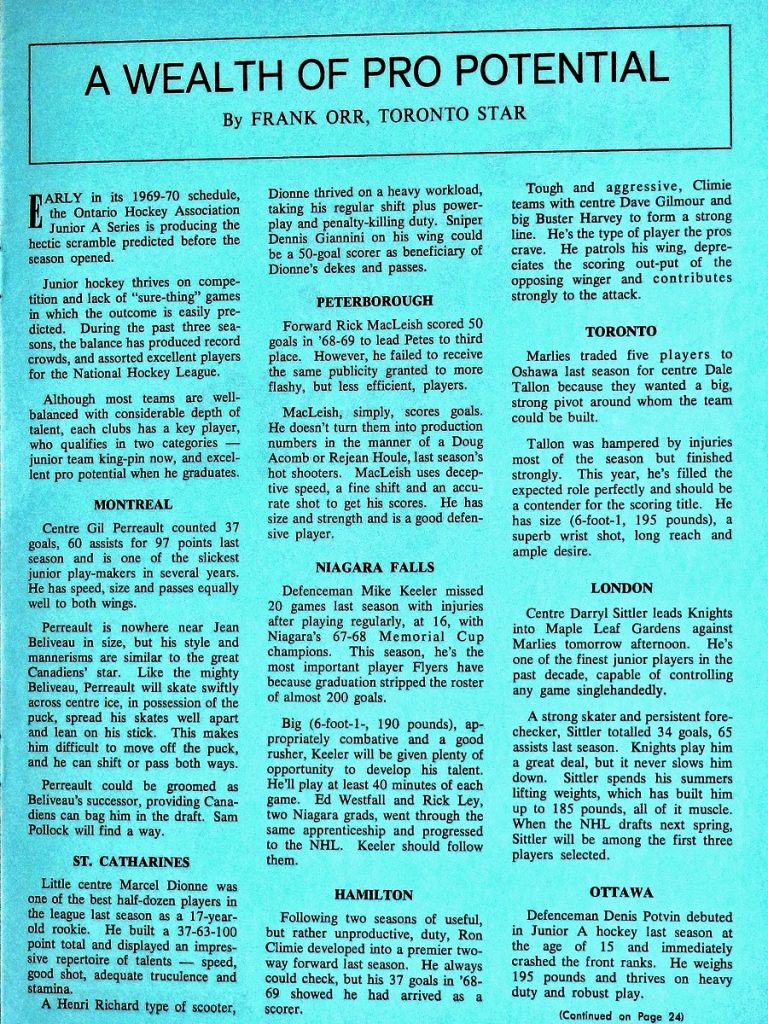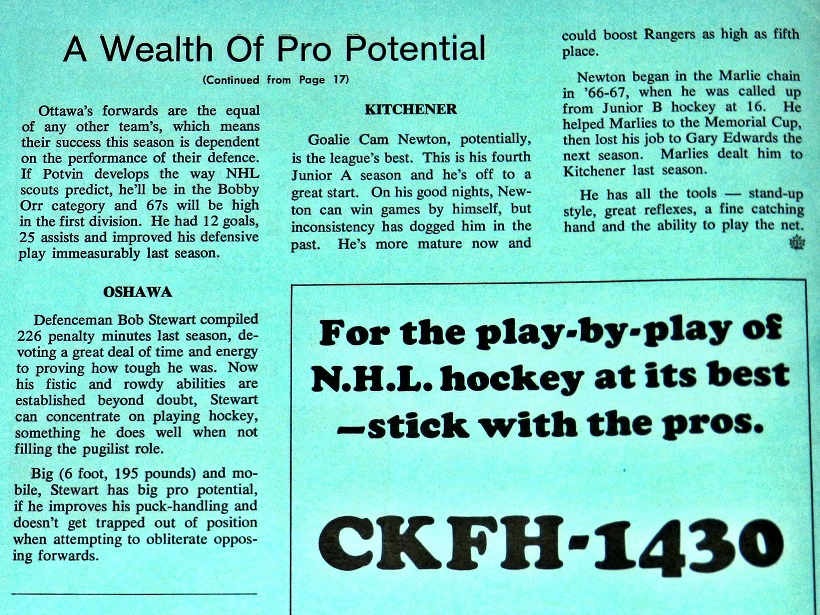 EMAIL: HOWARDLBERGER@GMAIL.COM