TORONTO (Oct. 17) — It's refreshing to observe how Leafs Nation is so–coolly reacting to an unremarkable 4–3–1 record after eight games of the National Hockey League season. No premature indications of panic or anxiety. Rather, a coherent, logical assessment with 74 matches remaining on the schedule.
Consider these balanced remarks from the chat forum H–F Boards:
[Mike] Babcock's leash better be short. Lose to Boston on Saturday and the chopping block is for real.
We've changed our defense and our third and fourth lines. So, either we get rid of Babcock to see if that changes anything or we start trading one or more of our big guys. I can't imagine trading one player would make any difference, so we'd probably be looking at multiple trades. Do we want to try a new coach first or start trading Auston Matthews, Mitch Marner, John Tavares and/or William Nylander?
The only silver lining is seeing this moron get fired by American Thanksgiving if we aren't in a playoff spot. He has no tactics; is unable to adjust; pigheaded… and every time he opens his mouth, nonsense comes out. Or, he says "I don't know what the issue is". Newsflash, idiot, it's your job to know and to fix it. I know it's not all on Babcock because some of our core players are lazy and entitled. But, Babs has gotta go.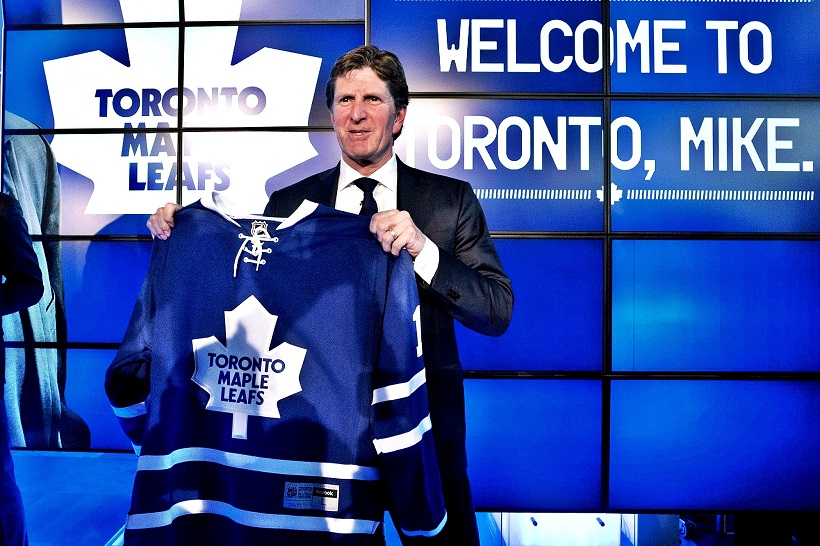 Though I don't endorse overreaction after a loss in mid–October, I also believe the highest paid coach, who just happens to be a stubborn narcissist, should be open to criticism. Carry on.
If the Leafs don't make it out of the first round this season, Brendan Shanahan, Kyle Dubas and Mike Babcock should all be fired. Shanahan has been here five years. Five years without a division title or series win should lead to termination.
Honestly, I've really been thinking lately about how a team like this would look like under a coach like John Tortorella. Someone who isn't going to let the players off the hook for low–effort nights.
I'm hoping "Gabby" (Bruce Boudreau) is our next coach.
[Kyle] Dubas owns some of the responsibility as our defense is still an issue and our backup goaltender is pretty awful. Why? He couldn't negotiate with our star players. If the team is still having issues, just move on from Dubas. We only have these star players under contract for so long and I would rather not piss it away.
The Leafs did have a very good back–up. Our delusional, egomaniac of a GM cut him last season in favor of a guy who isn't even an AHL starter. Dubas has no business being an NHL GM.
As mentioned, calm… analytical… enlightened… with abiding perspective. Exactly what we'd anticipate from the NHL's most–knowledgeable fans after less than one–tenth of the season. Rather than calling for heads to roll, Leafs Nation understands that a team largely re–modeled (beneath the expensive core) in the summer might require a bit of time to accrue coherency. No one is even implying that Mike Babcock expedite the process. There are four years remaining on his contract. Plenty of time, fans agree, for one of hockey's most–coveted mentors to pull it all together. Perhaps repeatedly. Why suggest replacing him with Bruce Boudreau or John Tortorella… even if they coach, undeniably, the two best teams in the league.
As the fans point out, there is absolutely no evidence that Babcock is under surveillance or culpability from Dubas. So what if the GM wanted to fire him after the playoff defeat against Boston last April in favor of Toronto Marlies coach Sheldon Keefe; extending Keefe's contract by two years over the summer. That was then and this is now. Babcock, we remember, was thrilled when Shanahan waved goodbye to Lou Lamoriello 15 months ago and promoted Dubas. Why, there isn't a Stanley Cup and Olympics gold–medal–winning coach anywhere on Earth that wouldn't dream about working for a rookie boss 29 years his junior. Almost never has an executive tandem of the Leafs been so–thoroughly copacetic, with unspoken harmony as it pertains to roster decisions and deployment. Especially between the pipes. Heck, Dubas traded Garret Sparks merely to prevent his admiring bench boss from resting Frederik Andersen too frequently.
"Truth be known, Mike pleaded with me to keep Garret," said Dubas. "But, he realized the trade (with Vegas) was in our best interests. It was a minor disagreement; the only one I can recall us having."
Added Babcock: "Yeah, Kyle's right. He reminded me how thoroughly we agreed about putting Curtis McElhinney on waivers last year. I settled right down. My plan was to use Freddy in no more than 45 games this year. By trading Garret, Kyle persuaded me to up that total. I figure 68 to 70 starts should do."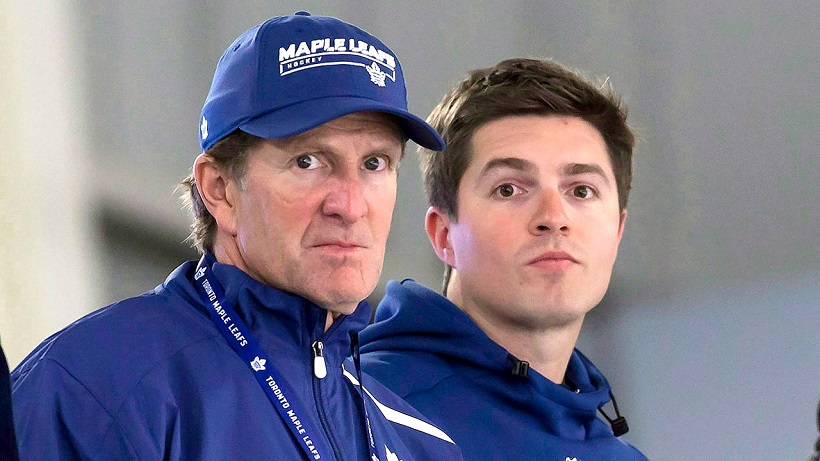 BEST OF BUDS: THE SYMBIOTIC RELATIONSHIP BETWEEN MIKE BABCOCK AND KYLE DUBAS IS WRITTEN ALL OVER THE COACH'S FACE. THEIR COZY ALLIANCE HAS INFILTRATED FANS OF THE HOCKEY CLUB.
As for the Leafs next game — at home to Boston on Saturday — there is almost no apprehension. Fans around here understand the Bruins have been nothing more than a petty annoyance since the 2013 playoffs. Games 7 last spring, and the one prior, could have gone either way were it not for a goaltender running on fumes, absurd deployment of personnel and the enormous gap between skill and tenacity. Minor details. All of which were addressed over the summer to the coach's comfort. Losing to Boston on Saturday is immaterial. Toronto fans would barely react, knowing that more–significant challenges are on the horizon before mid–November — against Columbus, Philadelphia, Los Angeles and Chicago.
Listen closely enough and you can hear the soothing ripples of contentment in Leafs Land.
EMAIL: HOWARDLBERGER@GMAIL.COM