TORONTO (Oct. 12) — It has been a difficult second week of the National Hockey League season in the land of the blue Maple Leaf, inciting many  — predictably — to draw conclusions. There is the small matter of 77 games left to play on the schedule which, after ten nights, appears to favor a Buffalo–Edmonton clash for the Stanley Cup. That, alone, should provide enough evidence for Maple Leaf zealots to take a deep breath, even in the wake of Thursday night's 7–3 drubbing by Tampa Bay at Scotiabank Arena. This corner would be invoking similar advice were the Leafs 5–and–0 or 0–and–5 at this infant stage of the season.
As every year, inevitably, media pundits are commenting on the Leafs' "start" — calling it "hot" after two games and "bumbling" after five. Talking excitedly about Auston Matthews' blazing "start", having scored twice in the season–opening win over Ottawa. And, yes, it's every year at this time that I remind such pundits (unsuccessfully) about Ron Wilson's repetitive credo. As coach of the Maple Leafs from 2008–11, Wilson scoffed at the notion of a "start" in the first 10 nights of the schedule. To Ron, the key hadn't yet been inserted in the ignition. "A 'start' in the NHL season is 16–18 games," he said. "Or, sometime around the U.S. Thanksgiving. Drawing conclusions in mid–October about a team's 'start' is nonsense. It's like judging a football team after its first game. Ridiculous." Ol' Ronny was bang on in his assessment. Time after time.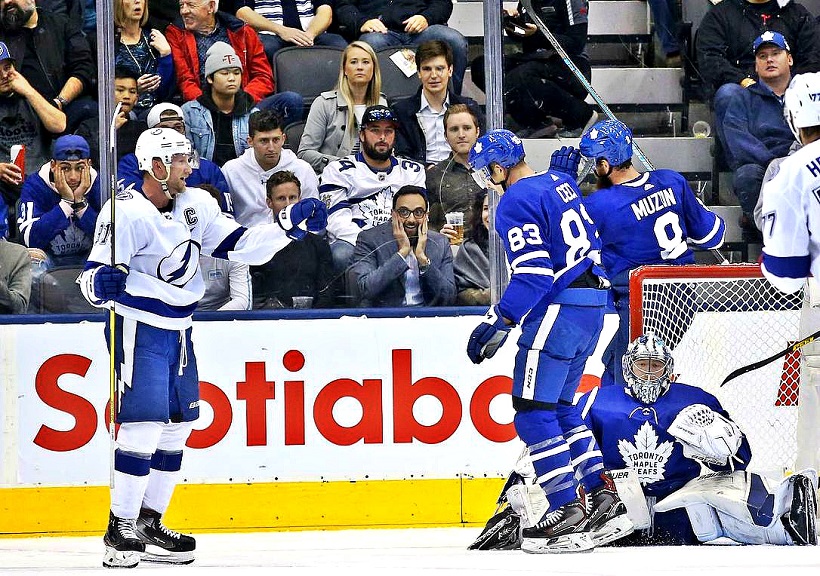 EXPRESSIONS OF FANS BEHIND THE GLASS TELL THE STORY AS THE MAPLE LEAFS WERE NO MATCH FOR STEVEN STAMKOS (LEFT) AND TAMPA BAY ON THURSDAY NIGHT. TORONTO STAR PHOTO
With the Leafs, however, there is a compelling exception to the early–appraisal issue. Mike Babcock entered his fifth season behind the Toronto bench amid swirling mistrust from a large faction of Leaf supporters — none–the–least general manager Kyle Dubas, whose preference toward a coaching change after the playoff defeat against Boston last April was overruled by president Brendan Shanahan. A good source in a blog here (http://bit.ly/2MVDJDM) on Aug. 11 said about Babcock, "he's got 20 games. If the Leafs aren't playing up to par by mid–November, he's gone. Count on it. There is lots of appetite for change in Toronto." The clear inference, right now, being that Babcock's next 15 games had better rise well above two of the past three (the Leafs blowing a 4–1 third–period lead against Montreal and losing in a shootout, then getting whipped by the Lightning). Next up is a clash with the Detroit Red Wings, tonight (7:00, CBC), at Little Caesars Arena.
Dubas wanted to fire Babcock and replace him with Toronto Marlies coach Sheldon Keefe in the wake of Toronto's third consecutive elimination from the opening round of the playoffs. Though Babcock did a masterful job in Game 5 — coercing his team to a thorough 2–1 victory at TD Garden — the Leafs coughed up their 3–2 series lead and were embarrassed, again, at Boston in the decisive match. The so–called Shanaplan evolved from bottoming out for a couple of years and procuring elite draft picks… to ensuring that all three–such prospects (William Nylander, Mitch Marner, Matthews) were signed to lucrative, long–term deals. Add in free agent John Tavares and Toronto's top–heavy, cap–munching line–up is built to win during the six–month regular season. The playoffs, in my unflinching view, are a different story, as the Maple Leafs are nearly bereft of grit, size and tenacity. Babcock, however, must show he can prevail with the current roster… and rather expeditiously. Whether it's 20 games (ending Nov. 13, on the road, against the New York Islanders) or longer — and fairly or otherwise — Babcock knows that Dubas has itchy fingers.
The Toronto GM didn't provide Keefe a two–year contract extension to remain in the American Hockey League. Keefe could have sought work in the NHL after last season, so a pledge of some variation — likely with Shanahan's approval — had to be made before he consented to re–up with the Marlies.
By all appearances, Babcock hasn't changed his rigid approach.
He showed Dubas the proverbial finger by choosing to sit Mississauga native Jason Spezza on home ice for the season opener against Spezza's former team, Ottawa. This had nothing to do with performance (or lack thereof); it was a shot across the bow to emphasize, again, who is boss on game nights (Babcock was hardly enamored with the addition of the 36–year–old center as an unrestricted free agent). The coach can barely wait for his favorite winger, Zach Hyman, to return from off–season knee surgery. Hyman will instantly reclaim his spot on the left flank with Tavares and Marner, relegating Kasperi Kapanen to another unit. And ol' Mike — through no fault of his own — must surely be contemplating another 60–plus starts for Frederik Andersen, given that Dubas has failed to acquire an established No. 2 goalie. Such deployment, of course, will again fry Andersen and ensure the Leafs do not advance deep into the Stanley Cup tournament.
The burden of achieving success should not fall entirely on the coach. And, at some point — perhaps very soon — the mega–skilled Leafs will embark on a torrid streak, winning eight or nine games out of ten. If, however, such a prolonged run does not occur in the next month, the Babcock era could end. Abruptly.
It's his job to win. For that, there's no–such time as "early".
THE LEAFS IN MOVIE THEATERS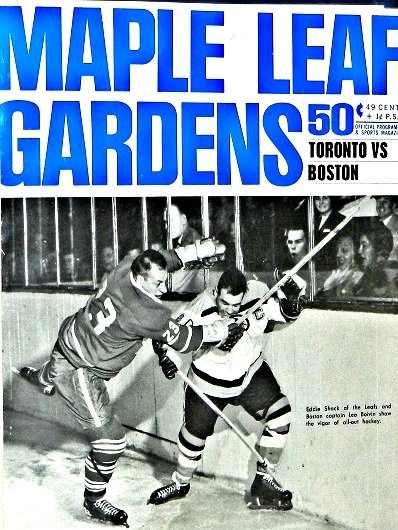 Living in an era, today, during which every NHL game is on TV, it is difficult to fathom a time when road games of the Toronto Maple Leafs were available only on radio. Until the 1977–78 season, when CHCH–TV (Channel 11) in Hamilton began televising Wednesday night encounters from Maple Leaf Gardens and abroad (schedule below), it was extremely rare, in this market, to see the Blue and White play anywhere but the Gardens and Montreal Forum (from which Hockey Night In Canada telecasts would originate during the regular season). Two or three times a year, CBS or NBC would carry a Leafs game on Sunday afternoon in the U.S. — available, here, via the American affiliates in Buffalo, N.Y. Only in the playoffs would all Leaf matches be televised. Going back in time, more than half–a–century, Toronto road games were screened in movie theaters. As per this ad in the Gardens program (above), the Leafs entire 1964–65 road schedule (below) was shown in seven movie houses, via the technology of a projection device called Eidophor.
The CHCH–TV Leafs broadcast schedule in 1977–78 featured all Wednesday night games, home and away.
Road games, previously the domain of radio and quite the TV novelty, were as follows:
NOV. 2 — Toronto at Vancouver /  NOV. 9 — Toronto at Atlanta* / NOV. 23 — Toronto at St. Louis / NOV. 30 — Toronto at Cleveland* / DEC. 28 — Toronto at Chicago / JAN. 11 — Toronto at Minnesota* / JAN. 25 — Toronto at New York Rangers / MAR. 15 — Toronto at Washington / MAR. 29 — Toronto at Atlanta*.
*The Atlanta Flames, Cleveland Barons and Minnesota North Stars were part of the NHL in 1977–78.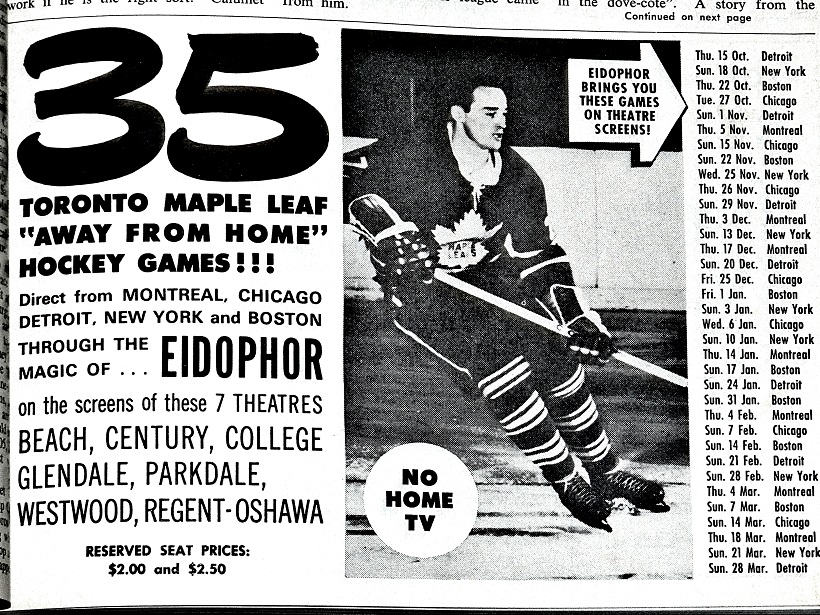 How much fun it must have been to watch live hockey games at…
THE BEACH THEATER: 1651 Queen Street E., east of Coxwell Ave.
THE CENTURY THEATER (now the Danforth Music Hall): 174 Danforth Avenue, east of Broadview Ave.
THE COLLEGE THEATER: 20 Carlton Street, two blocks west of Maple Leaf Gardens.
THE GLENDALE THEATER: 1661 Avenue Road, six blocks north of Lawrence Ave.
THE PARKDALE THEATER: 1605 Queen Street W., at Triller Ave. (near Roncesvalles Ave.).
THE WESTWOOD THEATER: 3741 Bloor Street, intersecting with Kipling Ave. and Dundas St.
THE REGENT–OSHAWA THEATER: 50 King Street, E. in Oshawa, 77.9 kilometers east of downtown Toronto.
The last time a Leafs road match was shown in a movie–type setting was Apr. 8, 1975 when more than 4,500 people attended a closed–circuit TV telecast at Maple Leaf Gardens from Los Angeles. It was Game 1 of a best–of–three preliminary playoff round between the Leafs and Kings at the Los Angeles Forum (11 p.m. Eastern). CBC (Hockey Night In Canada) could not show the match, as it conflicted with the telecast of the Academy Awards, also from Los Angeles (best picture: The Godfather II). Ron Ellis tied the game late in regulation only to have future Leafs coach Mike Murphy score in overtime for the Kings. But, Toronto would win the next two games and prevail in a playoff series for the first time since winning the 1967 Stanley Cup.
The Leafs were then swept four straight in the quarterfinals by Philadelphia.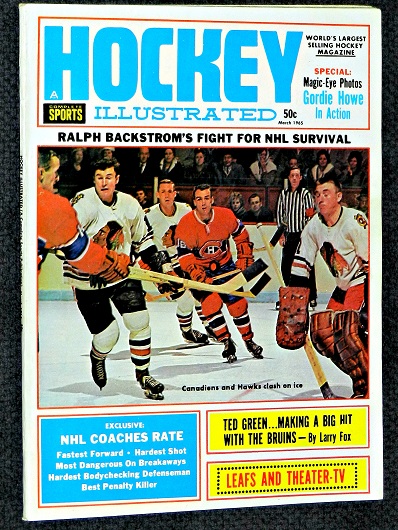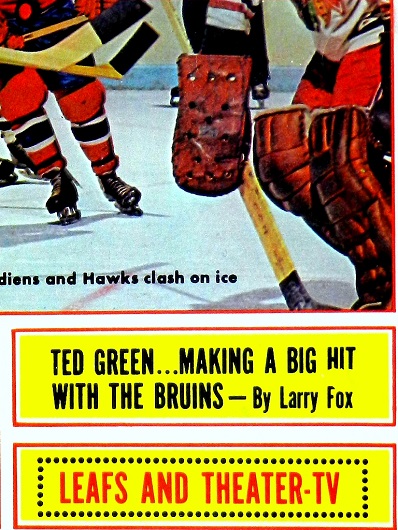 In my collection, I have the March 1965 issue (above) of HOCKEY ILLUSTRATED Magazine, in which there was a story (below) on the Leafs road games shown in movie theaters.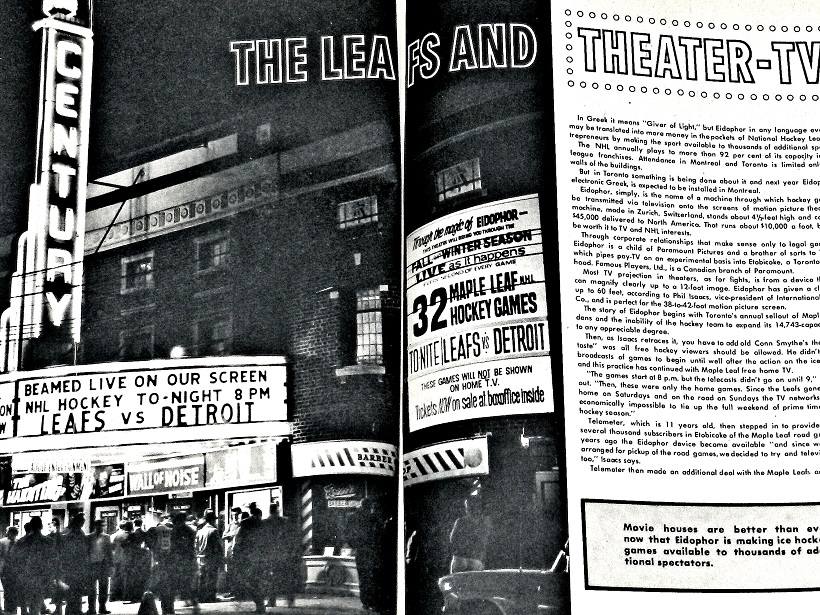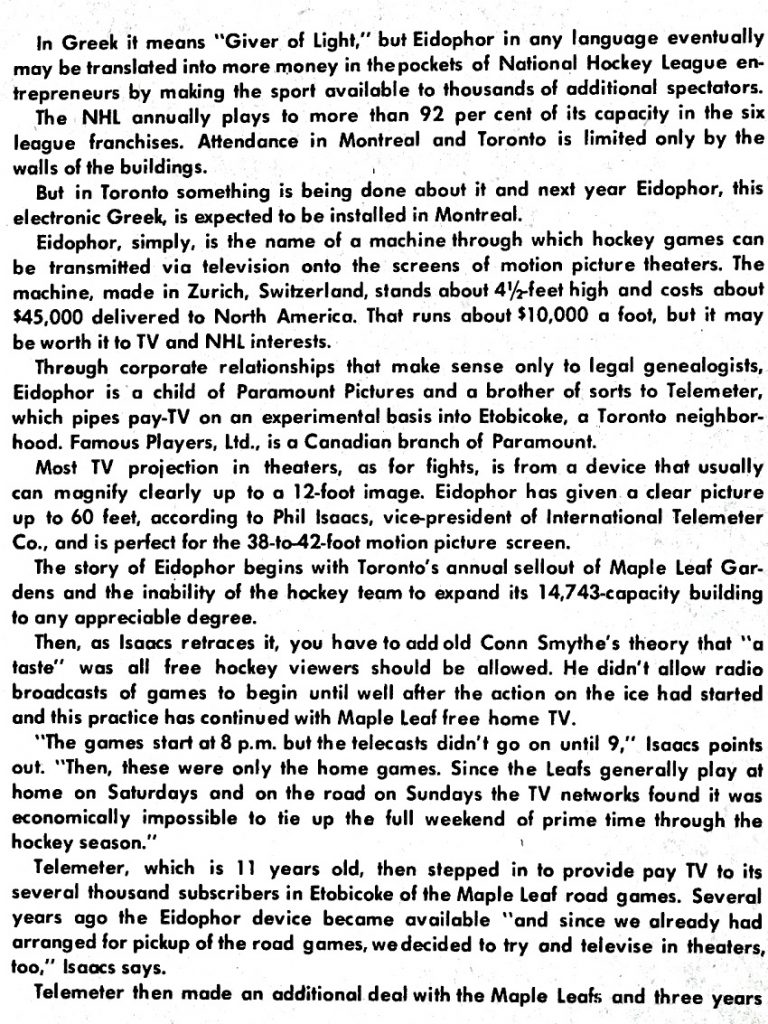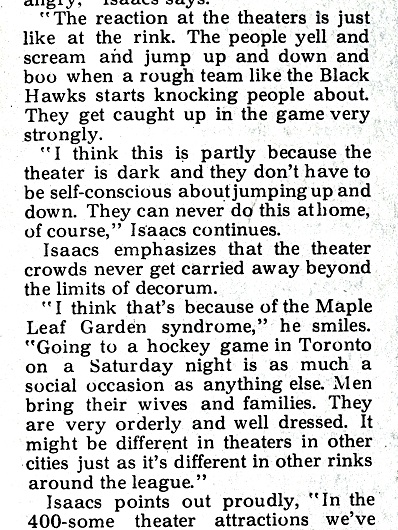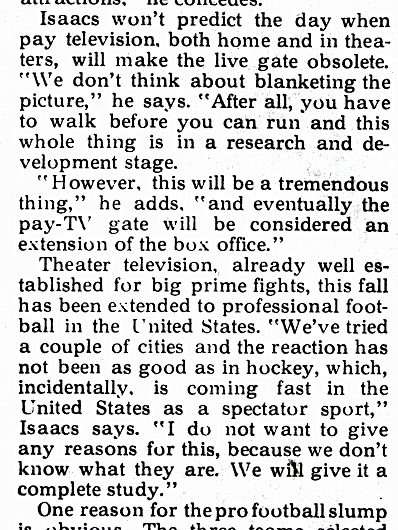 AND, EVEN EARLIER…
In the December 1962 issue of HOCKEY ILLUSTRATED (below) appeared a story on the novel concept of watching hockey at home on a pay–per–view basis (using a coin–box). This, of course, exists today with the NHL Center Ice package, sold by cable companies in Canada and the United States, providing live coverage of virtually every game during the regular season. Most recently, LEAFS–TV (now Leafs Nation Network) provided exclusive coverage of 17 games during the 2013–14 season, before the 12–year, $5.2 billion agreement between Rogers Communications and the NHL kicked in the following year.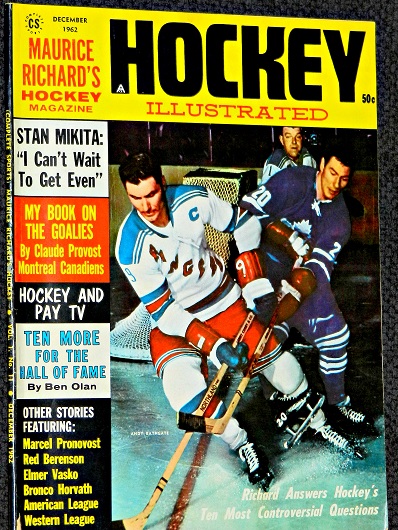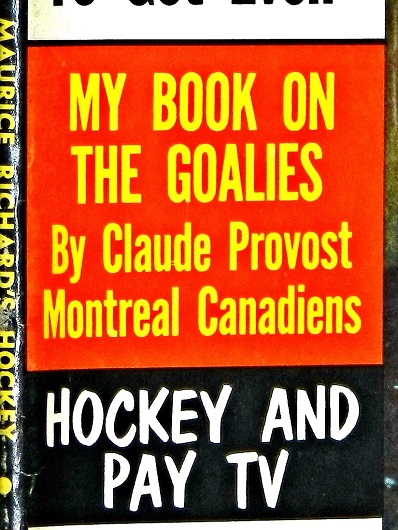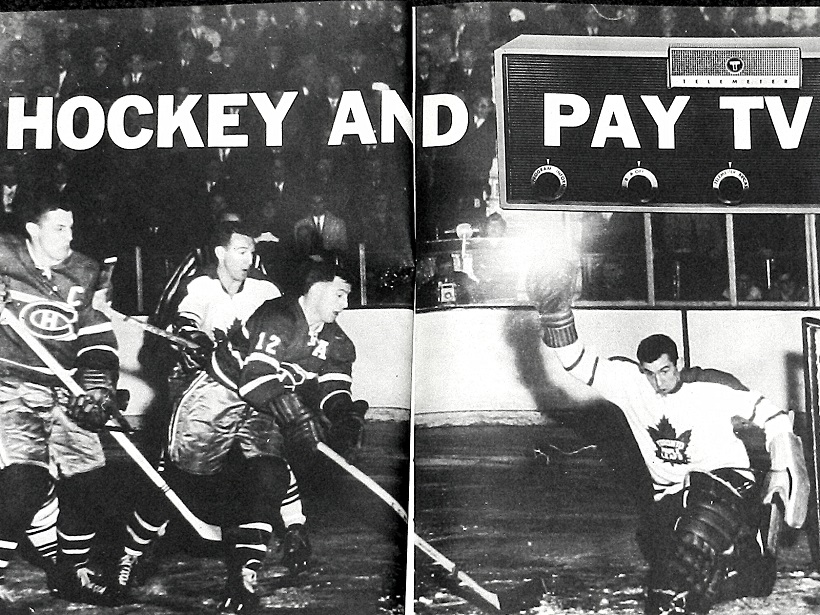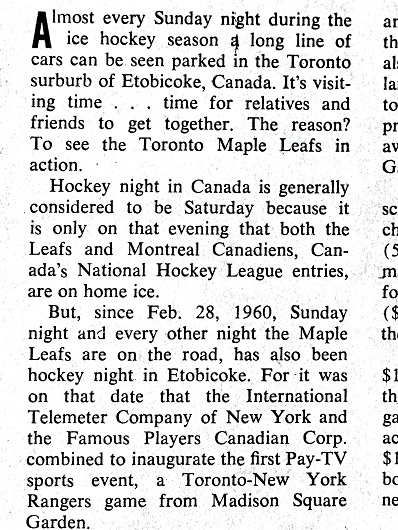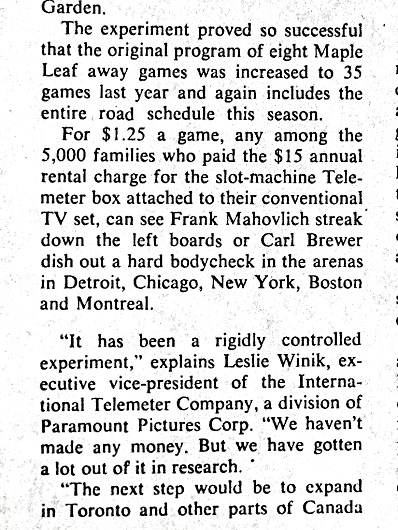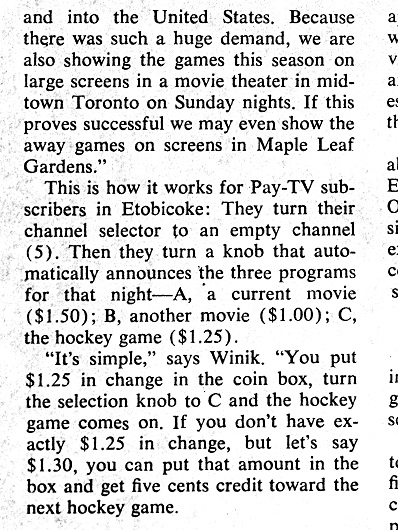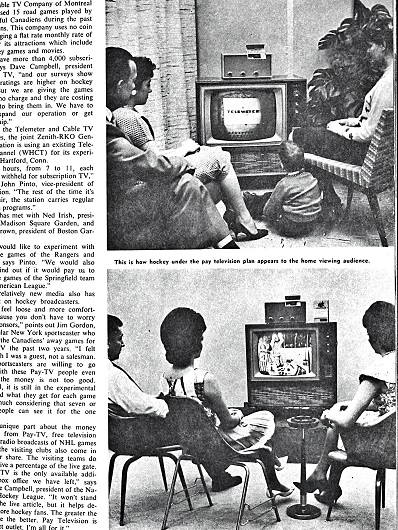 EMAIL: HOWARDLBERGER@GMAIL.COM