TORONTO (Oct. 15) — I remember sitting at a popular hamburger joint here in town a few years ago (Golden Star, on north Yonge Street), gabbing with Dan Shulman. Each of us had brought our sons for dinner. It was a Thursday and Dan was still calling the ESPN Sunday Night Baseball package (from which he stepped down after the 2017 season). Three nights later, he would be at Fenway Park in Boston for the Red Sox and Yankees. "Why don't they just buy a condominium there and in New York?" I asked Dan, half–jokingly, about his employer, given that it seemed the Yankees and Red Sox were the Sunday Night match-up every couple of weeks. My old FAN–590 colleague took a bite, smiled and responded with one word: "Ratings".
That conversation came to mind a few days ago when I read Jack Todd's rebuke of Hockey Night In Canada in the Montreal Gazette. I like big Jack. He was an invariable presence along media row during my years (1994–2011) covering the Toronto Maple Leafs — at the old Montreal Forum and the current Bell Centre. As an American (born in Nebraska) who escaped to Vancouver in 1969 to avoid the Vietnam War, neither is he hesitant to take a stance. I was hardly surprised, therefore, when Jack called out Rogers Communications and CBC in a column last week for the eternal occupancy of the Toronto Maple Leafs in prime time each Saturday of the National Hockey League season. "This Leafs–centric system has distorted the entire system of broadcasting and coverage of NHL hockey in Canada," wrote Todd. "The long-term effects, I would argue, seriously undermine the NHL's image in this country — as though NBC were to treat the New York Rangers as the only team in the U.S. and their opponents as a bunch of interchangeable generic teams."

JACK TODD, 73, SPORTS COLUMNIST AT THE MONTREAL GAZETTE SINCE 1986.
A Gazette reader pointed out to Jack that the Montreal Canadiens will be shown nationally on HNIC only six times during the schedule, which includes four matches with the Leafs. "No other Canadian team is featured (on CBC) against Montreal — not even when the Habs are in Edmonton for a Dec. 21, 7 p.m., Saturday game with (Connor) McDavid and the Oilers," noted the reader, Paul Wilkinson, of Dorval, Que. "Canada's 'national' broadcaster will carry the Leafs against Detroit. Our tax dollars at work. It leaves a very bad taste."
Not surprisingly, Todd found himself under direct missile–attack from the fringes of Leafs Nation — those that spend a meager existence bellyaching anonymously on Internet chat forums about every slight, perceived or otherwise, against their favorite team. It mattered not that the veteran Montreal columnist had a legitimate grievance, even if he knew the genesis of the unbalanced Hockey Night arrangement. It is, as mentioned off the top, a product of television ratings. For decades, whether the Leafs are a contender or a laughingstock, games involving the Blue and White have drawn the most viewers from St. John's to Victoria, particularly close by, in the so–called Golden Horseshoe — the most–populous region of the country (7.82 million, according to the 2016 Census) — which includes Toronto, Oshawa, Hamilton, St. Catharines and Niagara Falls. Eyeballs are of profound importance today more than ever, given the suffocating, $5.2 billion contract with the National Hockey League that Rogers signed, for 12 seasons, in 2013. There is also, unavoidably, the most–abject conflict of interest in the annals of Canadian media: the cross–pollination of team ownership and national sports–TV networks. Rogers (Sportsnet) controls 37.5 percent of Maple Leaf Sports and Entertainment. Showing its NHL team to as many people from coast–to–coast is "branding".

TO THE CHAGRIN OF JACK TODD, THE TORONTO MAPLE LEAFS ARE ALMOST ALWAYS IN THE PRIME TIME (or 7 p.m.) NATIONAL SLOT ON HOCKEY NIGHT IN CANADA, EVEN WHILE PLAYING IN THE PACIFIC TIME ZONE (RIGHT). TO ACCOMMODATE A 7 p.m. EASTERN START, THIS LEAFS GAME IN GLENDALE, ARIZ. FACED OFF AT 4 p.m. LOCALLY. 
"We got a nasty glimpse of just how far HNIC will go to pump the tires of Leaf stars during Toronto's season opener against the Ottawa Senators," wrote Todd, "when veteran play–by–play man Jim Hughson offered a jaw–dropping commentary exonerating Auston Matthews of any wrongdoing in the harassment of a female Arizona security guard. After Matthews scored, Hughson referred to the 'alleged indiscretion' Matthews and his buddies committed in July. 'When I thought about that,' Hughson went on, 'I looked back to 2012 and thought about how Patrick Kane, a 24-year-old for the Chicago Blackhawks, got into a little trouble with too many cameras around in Wisconsin that summer, and what did he do? He came back and was the Conn Smythe Trophy winner and won the Stanley Cup (in 2013). That's how you put a little problem behind you.'
"There is no connection between the charge filed against Matthews and his play on the ice," continued Todd. "None. Scoring a goal doesn't absolve him any more than a 10–game scoring drought means he is guilty. The deeper issue here, of course, is our English–language sports networks and their relationship to the Leafs. Did Hughson simply gap out and say something he shouldn't have said, or is it part and parcel of a corporate policy that [involves] flogging the Maple Leafs, 24/7, at the expense of common sense? [Maybe] Hughson got the message from corporate HQ when Doug MacLean and Nick Kypreos (who occasionally dared to express opinions that didn't sufficiently exalt the almighty Leafs) were let go by Sportsnet."
Honestly, there is no counterpoint to Todd's argument. Everything he wrote is tinged in truth and accuracy. If anything, his column was futile — akin to beefing about high government taxes. There's an old cliche that "you can't fight City Hall". With respect to the allotment of national telecasts by Hockey Night In Canada, the Mayor and all local Councillors reside in Toronto. It's the world we live it. Like it or not.
50 YEARS AGO
Maple Leaf Gardens: 1969–70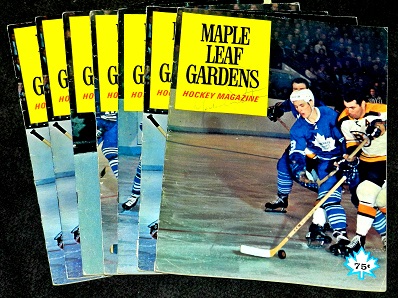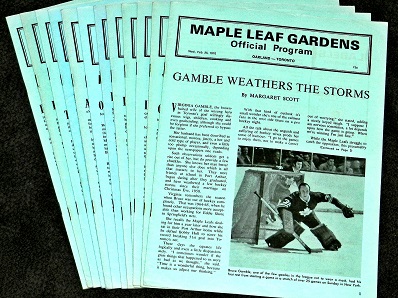 With the Leafs nicely into a new season, it's hard to believe a half–century has passed since I assembled these programs from hockey games at Maple Leaf Gardens. I was 10 years old and allowed to watch the Leafs live for the first time with my friends — even if Dad would drive us to the Gardens, then pick us up afterward. For 50 years, I have kept programs from 15 games I attended during the 1969–70 NHL season: the Maple Leaf Gardens Hockey Magazine (top–left) and the turquoise–color Official Program inserts (top–right) that included line–ups. I will feature these items, here, throughout the current season. They are from…
WED. OCT. 15, 1969 vs. Montreal  /  SAT OCT. 18, 1969 vs. Chicago
WED. OCT. 22, 1969 vs. Philadelphia  /  SAT NOV. 22, 1969 vs. Detroit
WED. NOV. 26, 1969 vs. Montreal  /  SAT. DEC. 06, 1969 vs. Pittsburgh
SAT. DEC. 20, 1969 vs. New York  /  WED. DEC. 24, 1969 vs. Los Angeles
WED. JAN. 14, 1970 vs. New York  /  SAT. JAN. 17, 1970 vs. Pittsburgh
WED. FEB. 04, 1970 vs. St. Louis  /  WED. FEB. 25, 1970 vs. Oakland
SAT. FEB. 28, 1970 vs. Los Angeles  /  WED. MAR. 11, 1970 vs. Detroit
SUN. MAR. 15, 1970 vs. Montreal
I was fortunate to see all teams except the Boston Bruins and Minnesota North Stars.
_______________________
50 YEARS AGO TONIGHT: The Home Opener
Montreal 2 at Toronto 2
Montreal goals: Mickey Redmond, Ralph Backstrom / Toronto goals: Brit Selby, Paul Henderson.
From the MLG program–insert of Oct. 15, 1969: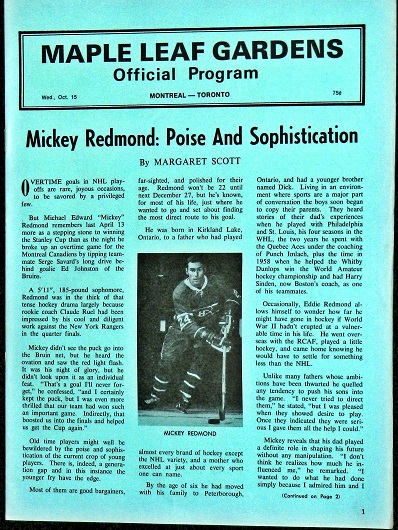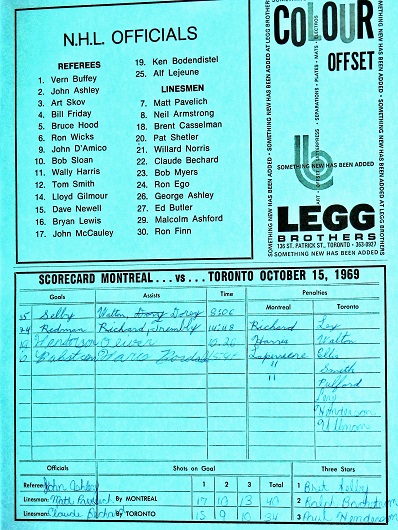 Mickey Redmond, profiled by Margaret Scott, graced the cover of the first program–insert from 1969–70 and scored one of Montreal's goals in the 2–2 draw with the Leafs. Redmond would make his NHL mark with Detroit, after being traded (Jan. 13, 1971) for Frank Mahovlich. Beginning in 1971–72, he had seasons of 42, 52 and 51 goals, earning a spot on the legendary Team Canada 1972 for the series against the Russians (playing one game). Now 71, Mickey is the veteran analyst (with Toronto native Ken Daniels) on TV broadcasts of Red Wings games. His brother, Dick Redmond, also had a good NHL career on defense with Minnesota, California, Chicago, St. Louis, Boston and Atlanta from 1970–81. The late Vern Buffey (d. Sep. 11, 1990) was the NHL's senior–most referee (top–right); Matt Pavelich (now 85) and Neil Armstrong (86) the top linesmen. Neil's son, Doug Armstrong, is GM of the Stanley Cup–champion St. Louis Blues.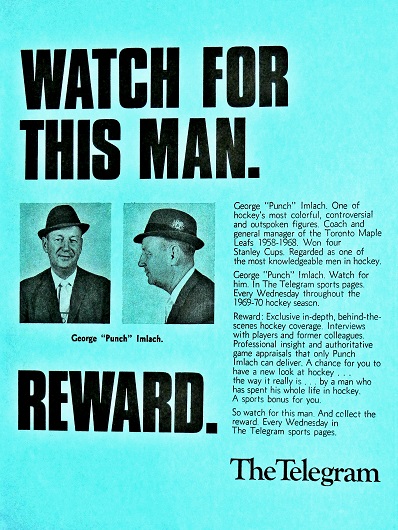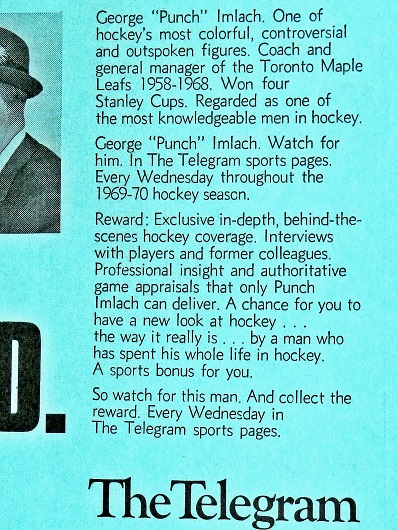 Having been fired by the Maple Leafs after a humiliating playoff sweep by Boston in April 1969, former GM and coach George (Punch) Imlach was back as a weekly columnist for the old Toronto Telegram — hired by his close friend, George Gross, sports editor of the broadsheet newspaper that folded on Oct. 30, 1971.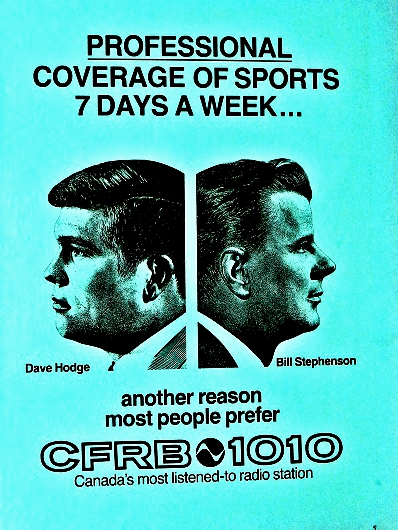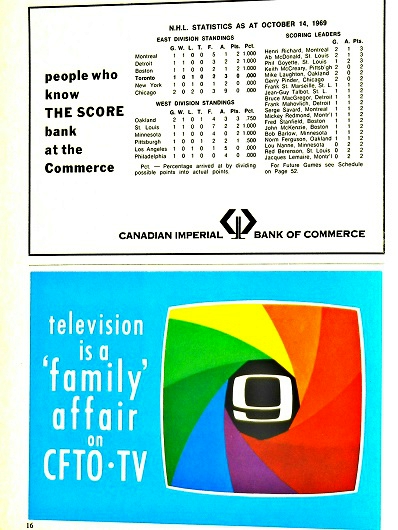 Dave Hodge was 24 when cast alongside radio colleague Bill Stephenson (then 40) in this ad (top–left) for CFRB (currently Newstalk–1010) in Toronto. Two seasons later, in October 1971, Hodge replaced Ward Cornell as intermission host of Hockey Night In Canada (for Leafs games), remaining in that role until Ron MacLean took over in 1986. Stephenson died of cancer in July 2014. And, CFTO–TV, Channel 9 (owned by then–Maple Leafs senior executive John Bassett), co–sponsored (with CIBC) the standings and statistics page (top–right) in the program–insert. Toronto affiliate of the national CTV network, CFTO televised the Hockey Night In Canada midweek package (on Wednesdays), which ended after the 1976–77 NHL season.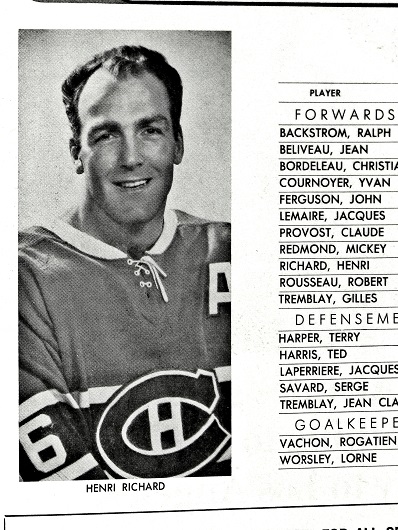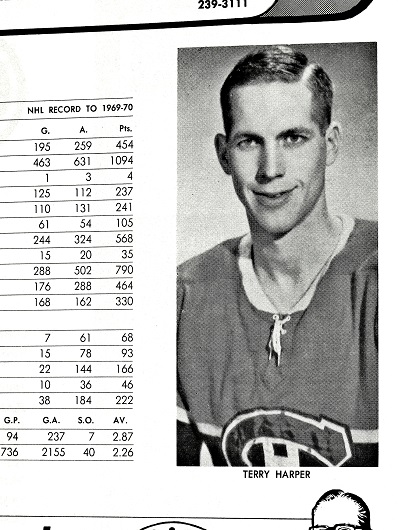 Two veteran Canadiens for the Leafs 1969–70 home opener. Henri Richard is now 83; Terry Harper, 79.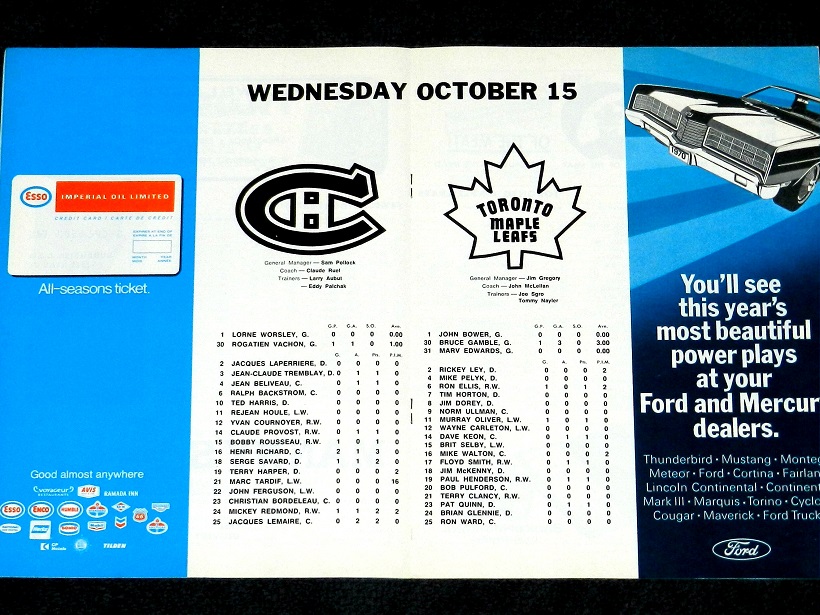 Line–up center–spread above (close–up, below) for Habs at Leafs — Oct. 15, 1969. The clubs had played their season openers four nights earlier (Sat. Oct. 11): the Canadiens defeating Los Angeles 5–1 at the Montreal Forum (on Hockey Night In Canada); the Leafs losing 3–2 to the Red Wings at the Detroit Olympia.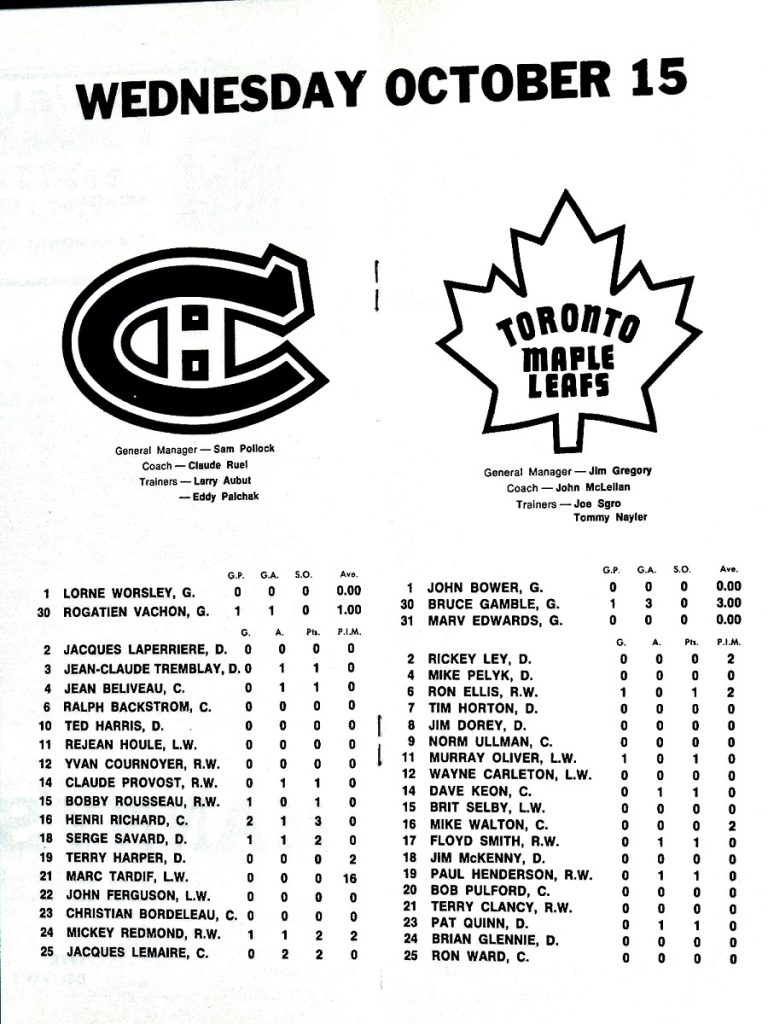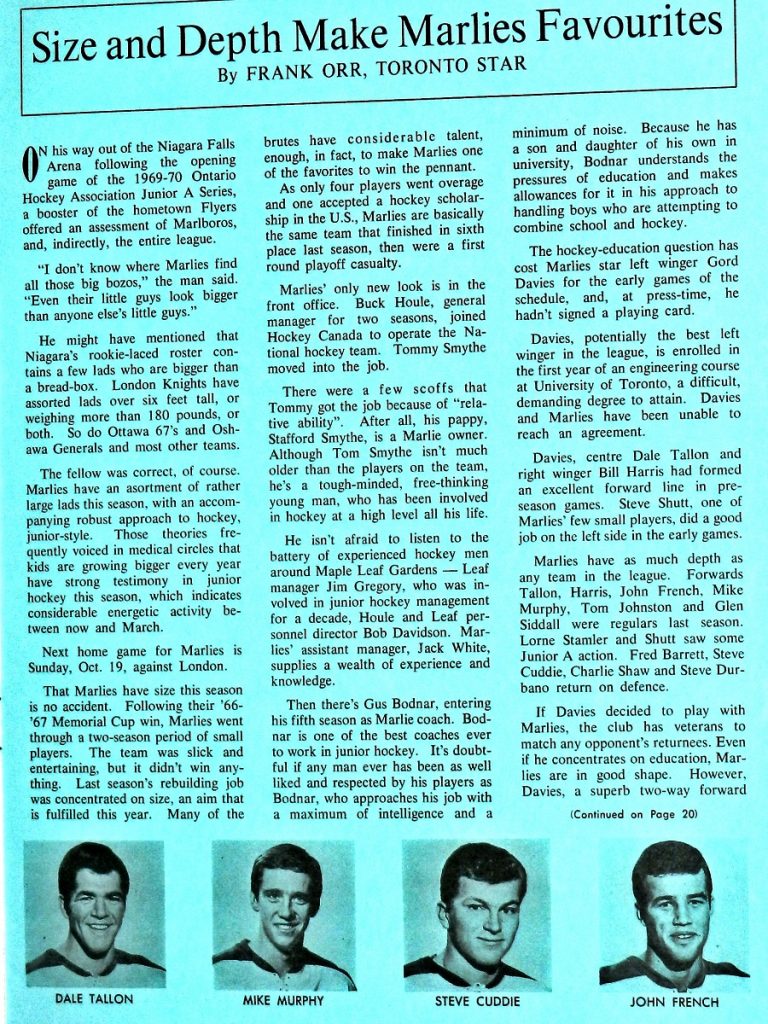 Frank Orr of the Toronto Star covered the Junior Toronto Marlboros back in the 1970's and provided a story for each Gardens' program. Dale Tallon (pictured above) would be selected No. 2 overall by Vancouver in the NHL's first universal draft (1970) after Gilbert Perreault (Buffalo). The Canucks and Sabres were expansion teams in 1970–71. Mike Murphy (next to Tallon) would coach the Leafs in 1996–97 and 1997–98.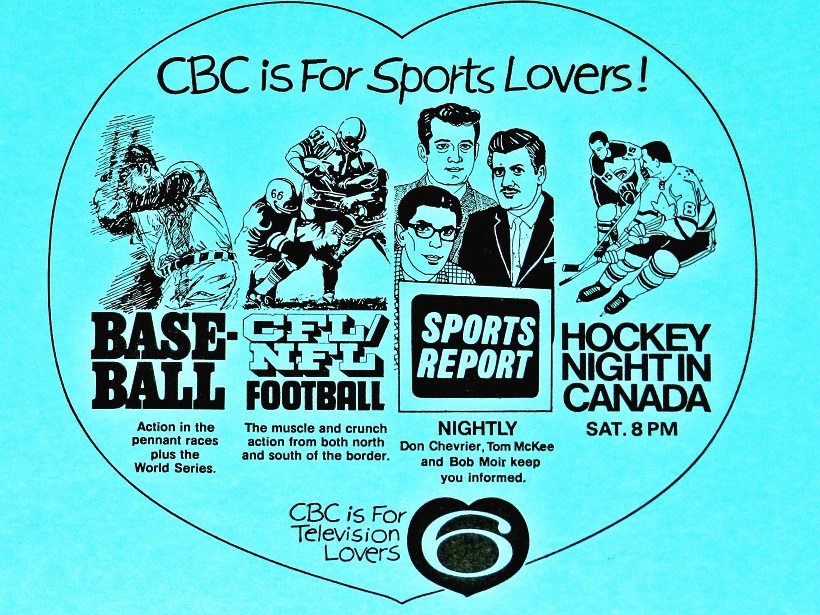 Program–insert ad for the CBC affiliate in Toronto — CBLT–TV, Channel 6.
EMAIL: HOWARDLBERGER@GMAIL.COM