TORONTO (Nov. 17) — It remains the most parochial, knee–jerk reaction in sport: "Fire the coach!" And, the parochial/knee–jerk among fans and media that follow the Toronto Maple Leafs are out in full force.
Want to craft a newspaper column or blog without having to think? Do a "fire the coach" piece. It's so easy; akin to writing about forward lines at practice. You'll be finished your work in no time, without utilizing a shred of imagination, analysis or creativity. A highly–touted team scuffling in a November funk? Rinse the coach. And, don't worry about an argument from the multitudes with comparable myopia.
As it pertains to the Maple Leafs, under what charade do the prima donnas wearing blue and white deserve to choose who they play for? These young, multi–millionaires that have dragged their asses throughout the first quarter of the National Hockey League schedule… they should enjoy the luxury of their general manager looking elsewhere for the malaise? Like hell. I don't remember a Leafs team as disgraceful as the current group. And, there are plenty to choose from in the post–1967 era. Given the youth and skill assembled over the past four years, it is nothing shy of contemptible. The apathy; the indifference, the inattention to any detail without the puck. There are no excuses, whatsoever, for such glaring dispassion.
It's a team–wide issue, but I'll start with Auston Matthews, given that so many consider him the face of the franchise. Yes, he's scoring goals; Matthews could do that in his sleep. But, he's also pulling down $141,878.05 per game. John Tavares is making $134,146.34 per match. Mitch Marner: $132,841.46. William Nylander: $84,906.90. That's a combined $493,772.76 for the four "leaders" of this team. Nearly half–a–million dollars. Every night. And they need someone to mo–ti–vate them? It's enough to make you puke.
Obviously, Mike Babcock — if the Leafs keep going through the motions — will not last much longer. There's no better way to get a coach fired than mailing in points, night after night — be it Babcock; the Leafs, or a coach with a team in any sport. If you regularly visit this corner, you'll know I was told last Aug. 11, by a very good NHL source (blog here: http://bit.ly/2MVDJDM), that Babcock "has 20 games" for the Leafs to be on target. It's 22, now, and this gutless crew is deteriorating. General manager Kyle Dubas wanted to make a change behind the bench after the playoff loss to the Bruins last spring, sensing, I'm certain, that Sheldon Keefe would lift the club to a different level. Now that he's watched the frightening indifference of his star players — and his predictably unbalanced roster — Dubas should think twice about pulling the trigger (providing, of course, he has the authority to make a move; Brendan Shanahan wouldn't allow it in April). At the moment, Dubas has a buffer. Once Babcock is removed, it's the GM's neck on the line. As it should be.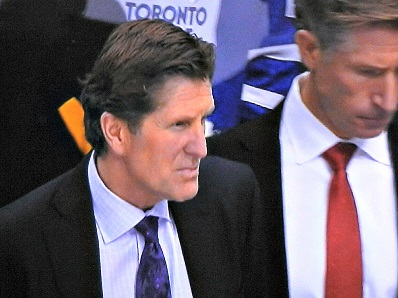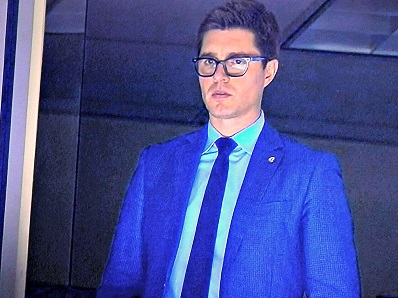 AFTER THE HORN: THE LOOKS FROM MIKE BABCOCK (TOP–LEFT) AND KYLE DUBAS (RIGHT) TELL HE STORY AFTER ANOTHER TORONTO NO–SHOW SATURDAY NIGHT IN PITTSBURGH. THE PENGUINS, SANS SIDNEY CROSBY, CLOBBERED THE LEAFS, 6–1, IN THE NHL DEBUT OF BACK–UP GOALIE KASIMIR KASKISUO. ROGERS/CBC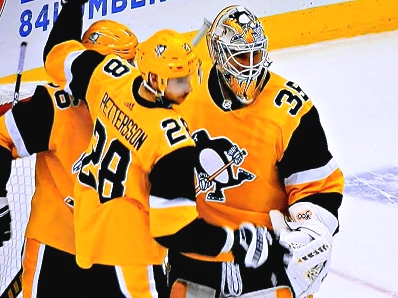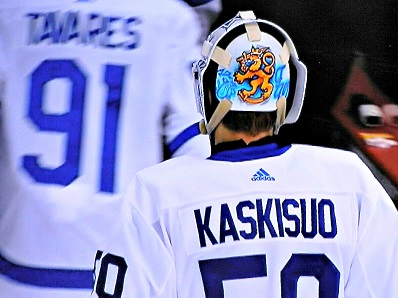 If you want to make a Caesar Salad, you'd better have croutons. Otherwise, it's something else. If you want to build a Stanley Cup team, you'd better have a modicum of belligerence… and a reliable No. 2 goalie. Otherwise, it's something else. And, the Leafs are everything but a championship contender at the moment.
Dubas, stubbornly and contrary to convention, felt he could sign his three draft gems (to go with Tavares); choke off any further salary–cap room, and "skill" his way to the NHL title. It wasn't going to happen then and it ain't gonna happen now. Not with a minor–leaguer backing up a No. 1 netminder that has, demonstrably, faded down the stretch the past two seasons. From an unwavering lack of support. What should Babcock do now? Start Kasimir Kaskisuo 25 times the rest of the way in order to suitably pace Frederik Andersen? On whose list of top prospects is the suddenly–elevated goalie from the American Hockey League Marlies? This was a skimping, cost–effective move borne out of cap constraint… and a GM that, evidently, values nothing beyond skill and puck–movement. Babcock's only alternative, with the Maple Leafs plummeting, is to trot out Andersen night after night. As before. If Andersen's teammates decide to expend some energy, his presence might help accrue enough points to sneak into the playoffs. At which time ol' Freddy will again be out of gas.
Such is the peril of ignoring the back–up goaltending slot — habitual, so far, with Dubas.
As to why lethargy has been so pronounced with this club from the first puck–drop in October… well, it's difficult to comprehend. Or explain. These aren't a bunch of teetering veterans on their last legs. If you remember how excited Matthews, Marner and Nylander were after Tavares joined the club in free agency, 16½ months ago, it's unfathomable that the Maple Leafs are this blase and spiritless. What's the matter with Tyson Barrie? He wasn't the Bobby Orr clone some considered him to be after the trade with Colorado. But, neither did he perform, in Denver, so drowsily. Babcock never had trouble with his good defensemen in Detroit. Why here in Toronto? Perhaps the players can sense the futility of another 100–point season; then embarking on the Stanley Cup trail with a spent goalie. And, without a smidgen of tenacity. The New York Islanders rag–dolled the Leafs on Wednesday night at the Nassau Coliseum. It's been ages since a Toronto side got belted around so haplessly as during the first period in Uniondale. Can you imagine the gutsy and gallant teams from the Pat Quinn era knuckling under in that fashion? Guys like Gary Roberts, Shayne Corson, Darcy Tucker, Dmitri Yushkevich, Tie Domi? A war would have resulted from such abuse of the team's best players. The only answer these Maple Leafs have is with their legs. Or, their brains.
Neither of which the players have called upon so far this season.
So, yeah, you can fire the coach and hope it works better than the 18 previous–such moves the Maple Leafs have made in the past 52 years. Cross your fingers that another person can jump–start the divas and coerce them into giving a damn. Or, you can examine, more closely, how this lop–sided team was built. And whether it had a legitimate chance from the outset. Since Dec. 28 of last season, the Leafs are 29–27–10 in 66 games. Given the club's top–end skill, a middling mark of two lengths over .500 would seem to indicate more than just a coaching issue. Don't you agree? Or, is that too complicated?
EMAIL: HOWARDLBERGER@GMAIL.COM