TORONTO (Nov. 30) — There is only one contingency for the Maple Leafs in their back–up goaltending conundrum… and it comes with no guarantee: general manager Kyle Dubas has to unload a contract. Maybe not a William Nylander contract, but one that allows him the cap flexibility to seek an appropriate substitute for Frederik Andersen. Continued juggling of Michael Hutchinson and Kasimir Kaskisuo will lead to a playoff absence for the first time since 2016. Already facing long odds to overcome middling performance in nearly one–third of the schedule, the Leafs cannot afford to automatically yield points — as they do with Andersen on the bench. It's a mess created by Dubas, who has no alternative but to clean it up. And, quickly.
This is, by many lengths, the largest misstep in his infant managerial career. Kyle has done some very good work: offing the final season of Patrick Marleau's no–movement contract ($6.25 million); the inflated stipend of defenseman Nikita Zaitsev ($4.5 million) and acquiring much–needed cap space ($5.25 million) with the dormant contract of David Clarkson These were master–strokes, even if surrendering a conditional 2020 first–round draft choice to Carolina in the Marleau deal. But, all have been blunted, to this point, by the lack of a proficient No. 2 goalie. Dubas either underrated the need for such a commodity or overrated his choices for the role: Garret Sparks and Hutchinson. Perhaps both. How the Leafs are going to compensate for the 11 of 12 points relinquished in games, so far, without Andersen is anyone's guess. Multiplying the big Dane's workload is clearly not the answer. Nor can Sheldon Keefe confidently turn to either of Hutchinson or Kaskisuo. It's the general manager's obligation to remedy the issue he created. Without much–further delay.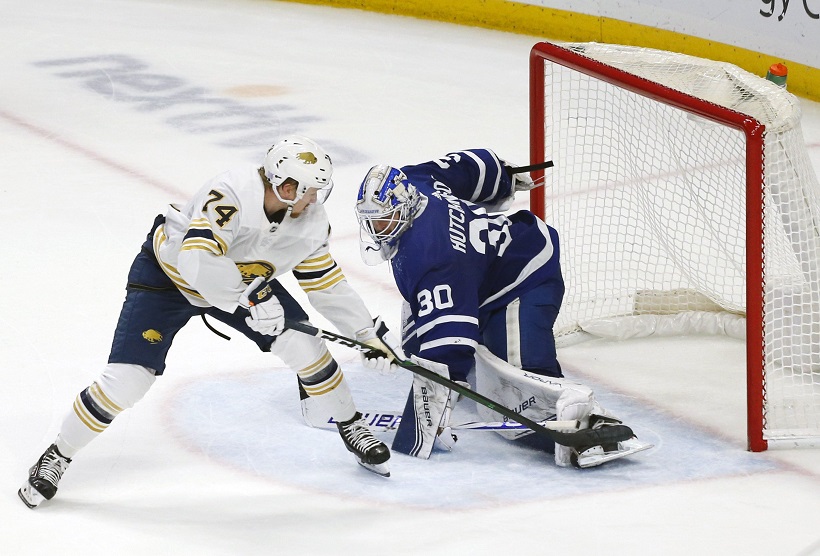 MICHAEL HUTCHINSON ALLOWED FOUR SECOND–PERIOD GOALS IN BUFFALO ON FRIDAY, AS SHELDON KEEFE SUFFERED HIS FIRST LOSS AS LEAFS COACH, 6–4. JEFFREY T. BARNES THE ASSOCIATED PRESS
To give himself a chance, Kyle needs to trade one of Nylander (cap hit: $6,922,366) Andreas Johnsson ($3,400,000) or Kasperi Kapanen ($3,200,000). Either straight–up for a goalie… or a mid–range draft pick; cap–space then used to acquire a stopper. Neither can Dubas take another stab–in–the–dark. He must appropriate all of his NHL resources to make an informed decision about which available netminder will complement Andersen. And, provide Keefe the necessary outlet. It doesn't have to be a long–term solution, just one that can buffet the Leafs in their remaining 55 games. Otherwise, this becomes a wasted season.
Dubas can look at teams that are long shots to make the playoffs. Veterans Ryan Miller, 39 (Anaheim — $1,125,000 cap hit, UFA next summer) and Devan Dubnyk, 33 (Minnesota — $4,333,333 through 2020–21) would shore up the No. 2 spot. (though Dubnyk's wife, Jennifer, is currently ill and unable to leave the Twin Cities). Jack Campbell, 27, of Los Angeles ($675,000 this season; $1,650,000 for two more years) appeared in 31 games last season and registered a 2.30 GAA on a bad team.
Pittsburgh appears to have depth in goal and could use some offense with Sidney Crosby sidelined; possibly looking at sports–hernia surgery. Given that youngsters Tristan Jarry and Casey DeSmith are in the fold, might Jim Rutherford consider moving Matt Murray, 25, a restricted free agent after this season? The two–time Stanley Cup winner would provide Toronto an exceptional tandem. If not Murray, then perhaps Jarry, 24? He, too, is restricted after the current season and has shown promise in nine starts (2.27 GAA).
After striking out with Sparks and Hutchinson, these are options Dubas should be considering. Goalies (established or trending upward) that can effectively handle more than one–third of the schedule. At the moment, an injury to Andersen would cripple the Leafs; destroy any hope of a playoff appearance and consign the club to the draft lottery for next summer. By comparison, Boston has two well–established goalies (Tuukka Rask, Jaroslav Halak) and would likely not fall from playoff contention if one were sidelined. St. Louis has terrific depth with Jordan Binnington and Jake Allen; Tampa Bay with Andrei Vasilevskiy and (ahem) Curtis McElhinney; the Islanders with Thomas Greiss and Semyon Varlamov.
The Leafs, a purported Stanley Cup threat, have nothing behind their starter in goal. And, no hope of competing for the NHL title until that changes. Dubas has to trade a medium–to–big contract. Very soon.
AUTOGRAPHS ON A PROGRAM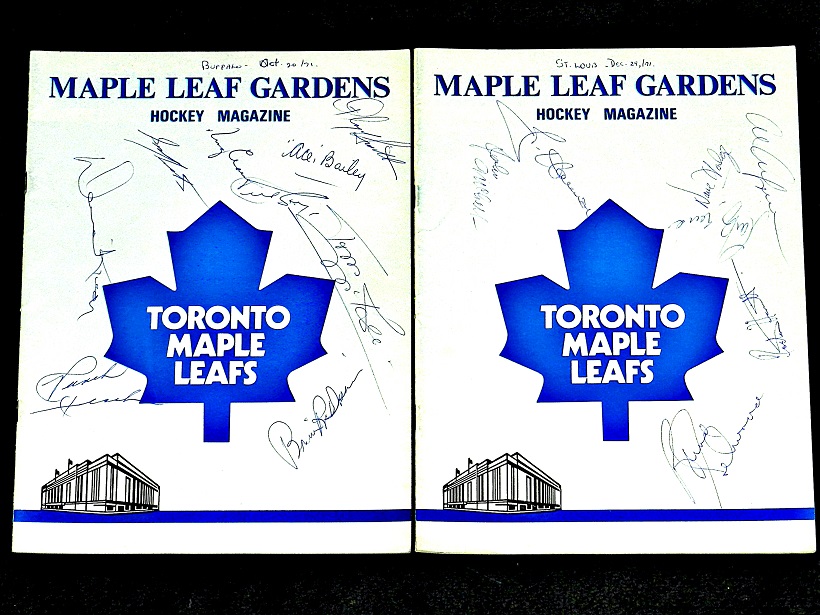 While rummaging through my collection the other day, I came across a pile of Maple Leaf Gardens program–inserts from the 1971–72 NHL season. These had been stapled inside colorful albums for all 14 teams. On several of them were autographs I'd obtained while attending the matches. I was astonished at the sheer fame and stature of these signatures. The inserts were from the following games: Buffalo 7, Toronto 2 — Oct. 20, 1971. Minnesota 1, Toronto 1 — Oct. 30, 1971. St. Louis 6, Toronto 3 — Dec. 29, 1971 and Philadelphia 2, Toronto 2 — Jan. 8, 1972. I photographed and magnified the autographs for this display.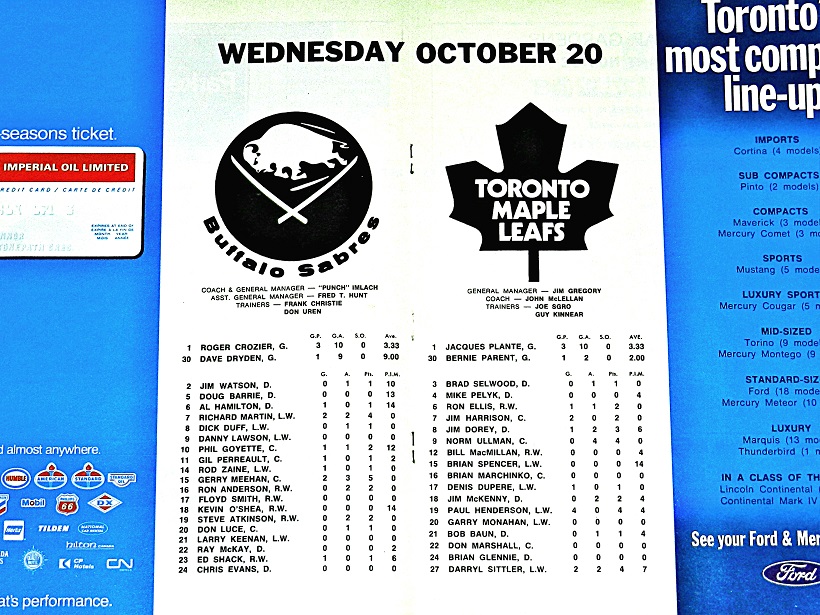 LINE–UPS FROM THE SABRES/LEAFS GAME OF OCT. 20, 1971.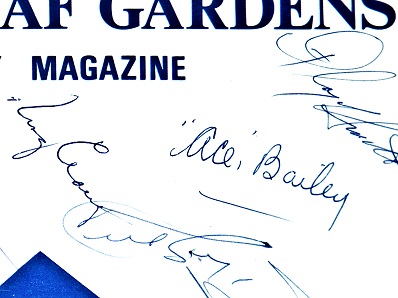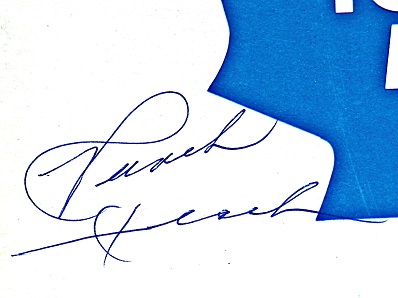 TOP–LEFT: AUTOGRAPHS FROM KING CLANCY (Feb. 25, 1902–Nov. 10, 1986); IRVINE "ACE" BAILEY (July 3, 1903–Apr. 7, 1992) AND FLOYD SMITH (b. May 16, 1935). CLANCY WAS THE LEGENDARY LEAFS PLAYER (1930–37); COACH (1953–56) AND EXECUTIVE IN THE 60's, 70's AND 80's UNDER STAFFORD SMYTHE, PUNCH IMLACH AND HAROLD BALLARD. HE AND THE LATE JOHNNY BOWER ARE CONSIDERED THE MOST–BELOVED FIGURES IN FRANCHISE HISTORY. BAILEY WAS THE TORONTO DEFENSEMAN THAT NEARLY DIED OF A BRAIN INJURY AFTER BEING SLAMMED TO THE ICE BY BRUINS DEFENSEMAN EDDIE SHORE AT THE BOSTON GARDEN ON DEC. 12, 1933. HE WORKED AS PENALTY TIMEKEEPER AT THE GARDENS FROM 1938 TO 1984. SMITH PLAYED FOR THE LEAFS (1968–70); COACHED THE TEAM (1979–80) AND WAS THE CLUB'S GM (1989–91). ON THIS NIGHT, HE WAS PLAYING RIGHT WING FOR THE SABRES. TOP–RIGHT: IMLACH (Mar. 15, 1918–Dec. 1, 1987) COACHED AND MANAGED THE LEAFS (1959–69) TO FOUR STANLEY CUPS AND HELD THE SAME DUAL–ROLE (1970–78) WITH BUFFALO.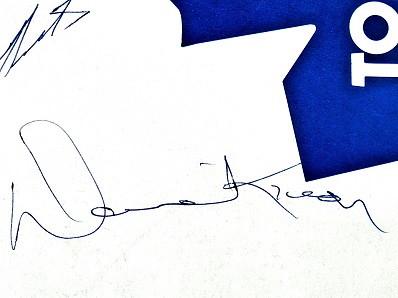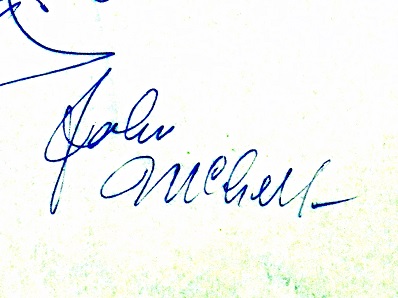 TOP–LEFT: DAVE KEON (b. Mar. 22, 1940) STARRED AT CENTER FOR THE LEAFS (1960–75) AND WAS NAMED, IN 2016, THE GREATEST PLAYER IN FRANCHISE HISTORY. TOP–RIGHT: JOHN McLELLAN (Aug. 6, 1928–Oct. 27, 1979) FOLLOWED IMLACH AS COACH OF THE MAPLE LEAFS FOR FOUR SEASONS — 1969–70 TO 1972–73.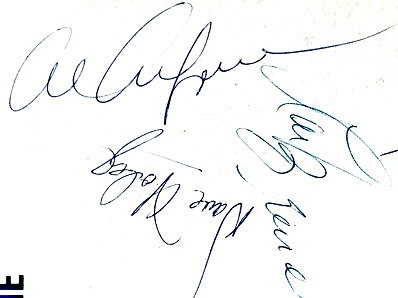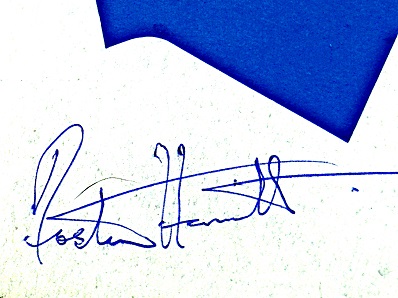 TOP–LEFT: AUTOGRAPHS FROM AL ARBOUR (Nov. 1, 1932–Aug. 28, 2015); CARL BREWER (Oct. 21, 1938–Aug. 25, 2001) AND DAVE HODGE (b. Jan. 8, 1945). THESE ARE FROM THE ST. LOUIS/TORONTO PROGRAM OF DEC. 29, 1971. ARBOUR WAS COACHING THE BLUES THAT NIGHT. HE WOULD BECOME A HALL–OF–FAMER WHILE GUIDING THE NEW YORK ISLANDERS (1973–94) TO FOUR CONSECUTIVE STANLEY CUP TITLES, BEGINNING IN 1980. BREWER PLAYED DEFENSE FOR THE LEAFS (1959–65) AND RAISED THE CUP THREE CONSECUTIVE YEARS, BEGINNING IN 1962. HE WAS PLAYING FOR THE BLUES ON THIS NIGHT. HODGE FOLLOWED WARD CORNELL AS INTERMISSION HOST OF HOCKEY NIGHT IN CANADA FROM 1971–72 TO 1985–86. LITTLE–KNOWN FACT — HODGE AND RON ELLIS (MAPLE LEAFS WINGER 1964–75 / 1977–81) WERE BORN THE SAME DAY. TOP–RIGHT: FOSTER HEWITT (Nov. 21, 1902–Apr. 21, 1985) INVENTED HOCKEY BROADCASTING AND CALLED GAMES FROM HIS FAMOUS GONDOLA ON RADIO (FOR THE TORONTO ST. PATS AND MAPLE LEAFS) FROM 1923 TO 1976. HI SON, BILL HEWITT, WAS PLAY–BY–PLAY VOICE FOR LEAF GAMES ON TELEVISION IN THE 60's AND 70's.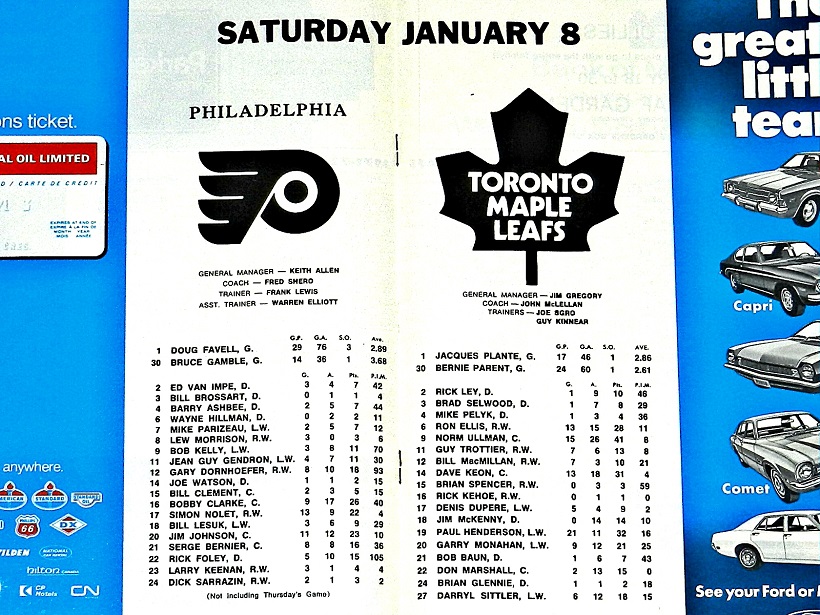 LINE–UPS FROM THE FLYERS/LEAFS GAME OF JAN. 8, 1972.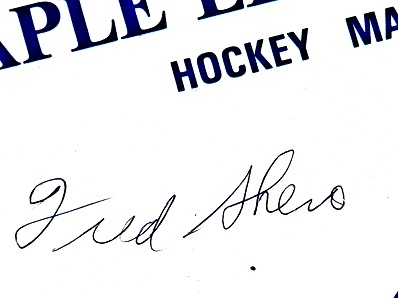 TOP–LEFT: FORWARD DEAN PRENTICE (Oct. 5, 1932–Nov. 2, 2019) MAY BE THE MOST–PROLIFIC PLAYER TO NOT BE IN THE HOCKEY HALL OF FAME. HE HAD 390 GOALS AND 860 POINTS FROM 1952–74. HE PLAYED FOR MINNESOTA (OCT. 30, 1971) WHEN I OBTAINED THIS AUTOGRAPH. DEAN PASSED AWAY EARLY THIS MONTH. TOP–RIGHT: FRED SHERO (Oct. 23, 1925–Nov. 24, 1990) WILL ALWAYS BE REMEMBERED FOR COACHING PHILADELPHIA TO STANLEY CUP TITLES IN 1974 AND 1975 — THE FLYERS BECOMING THE FIRST OF THE 1967 EXPANSION TEAMS TO WIN THE NHL CHAMPIONSHIP. HIS SON, RAY SHERO, IS CURRENTLY GM OF THE NEW JERSEY DEVILS.
EMAIL: HOWARDLBERGER@GMAIL.COM