TORONTO (Nov. 24) — A viewer to Hockey Night In Canada would need to be in his (or her) early–40's to remember blandness in the first intermission. There was an explosion of color, literally and figuratively, during Don Cherry's unequaled term on Coach's Corner, which began (with Dave Hodge) in 1983 and ended (with Ron MacLean) after an unfortunate harangue, two weeks ago, considered, by Rogers Communications, "offensive" to Canadian immigrants. Predictably, Rogers, in a haste to fire Cherry and re–direct capital toward its oppressive contract with the National Hockey League, did not have a succession plan.
The company lucked out in its first two Saturdays, post Cherry. An enormous audience tuned in last week to hear MacLean talk about Coach's Corner being "no more" — which he did, solo, during an emotional, five–minute monologue. This week, Hockey Night benefited from a colossal story involving its bread and butter, the Toronto Maple Leafs, and the firing of head coach Mike Babcock. Another large audience likely hung around to hear MacLean interview Leafs general manager Kyle Dubas, in Denver with the hockey club. MacLean asked the right questions and Dubas came across genuinely and professionally — other than claiming the notion to dismiss Babcock, and replace him with Sheldon Keefe, surfaced in the past couple of weeks. In fact, Dubas wanted to make a coaching change after the Leafs were eliminated in the opening round of the playoffs last April (by Boston), but was then–overruled by team president Brendan Shanahan.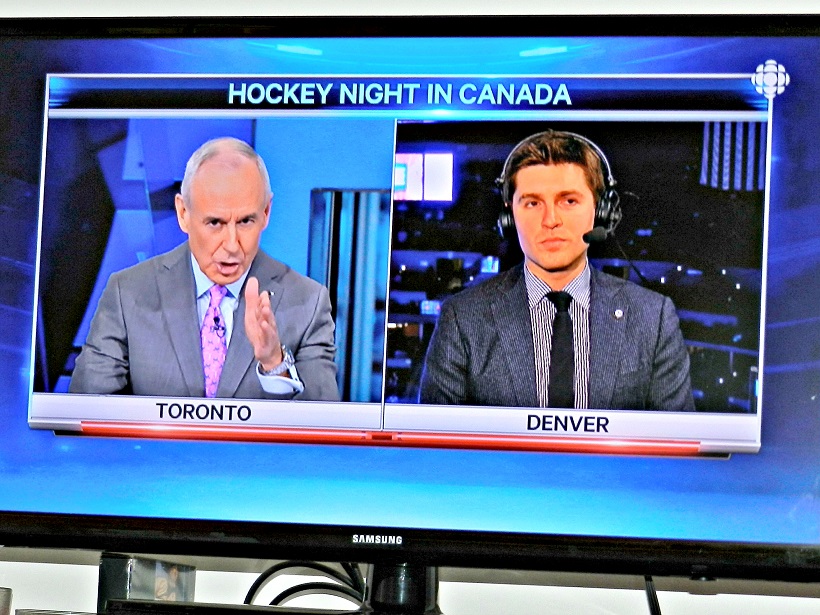 RON MacLEAN INTERVIEWS LEAFS GM KYLE DUBAS IN THE FIRST INTERMISSION ON SATURDAY NIGHT.
It stands to reason that Hockey Night will not be able to fall back on itself, or the all–embracing Leafs, for a monster issue each Saturday. Ratings for the first intermission will inevitably plummet amid a series of interviews, even if timely and interesting. In the era of social media, viewers need a hook; they need quintessence… something in which to embroil. Like him or not, Cherry provided such a platform every week. He, alone, was a discussion topic; often one that spilled over to water coolers and coffee lounges on Monday. Faint chit–chats with a GM or coach won't get it done. They are too easy and almost always banal. Numbers will unmistakably show that Hockey Night viewers find a distraction in that five or six–minute window after the first period. To text friends; browse the Internet or make a sandwich. Perhaps all three.
And, heaven knows, Rogers cannot afford fewer eyeballs at any juncture of its Saturday showcase… not with annual payments of $300 million, escalating to $500 million, for its 12–year, $5.2 billion agreement with the NHL. The communications behemoth has terminated, in the past six months, a cast of notable on–air personalities, including Cherry, Bob McCown, Nick Kypreos, Doug MacLean and John Shannon. They followed Mike Johnson, Glenn Healy, Daren Millard, Paul Romanuk, George Stromboulopoulos and Bob Cole out the door. Virtually all to defray expenditure for the unwieldy NHL pact. Fortunately for Rogers, it made a brilliant acquisition, last year, in Brian Burke, the most–combative and outspoken NHL executive of the modern era. In the absence of Cherry, Burke could be an elixir for the company as the lone available hockey voice that can polarize. He'd get people talking again about the telecast. And, more importantly, watching.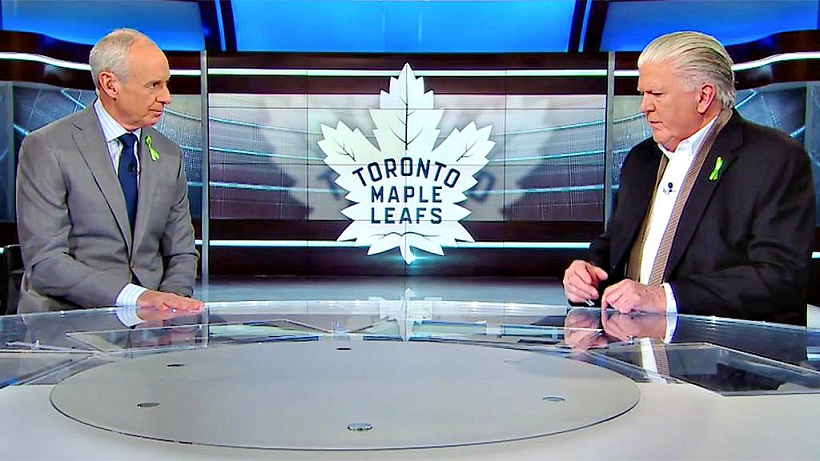 RON MacLEAN AND BRIAN BURKE WOULD PROVIDE A SPARK IN THE FORMER COACH'S CORNER SLOT.
If assigning mundane, bromidic interviews is too easy for Hockey Night — and hardly a solution — providing Burke a weekly pulpit is even simpler. He's right there… knowledgeable; experienced in all executive levels of the NHL, and inherently candid. Burke and MacLean would present a formidable tandem; different than MacLean and Cherry, but still effective. Imitation is the highest form of flattery and Hockey Night needs something to imitate Coach's Corner. Viewership numbers carry the day in our offbeat society; if not, we wouldn't be subjected to the avalanche of inane "reality" shows in prime time. TV watchers need guts and marrow. Not fluff and monotony. It's no different with hockey viewers on Saturday night. Give 'em something they can expect and plan for, as they did Coach's Corner over the span of three decades.
"Sportsnet and Hockey Night haven't decided what the segment will be and until they decide, there's nothing to discuss," Burke told columnist Ed Willes of the Vancouver Province. "Don's my friend and I'm sick about what happened. Ron is my friend, too. I'll leave it at that."
All of this becomes moot, of course, if the Rogers/NHL partnership has decreed, privately, that branding is more important than content. If being "nice" to the audience is preferable to debate and sporadic effrontery. How such insipidness would serve Rogers in its ratings quest is a mystery. But, only time will tell if the demise of Coach's Corner actually turned a corner for hockey's most–famous and influential program.
OL' MAN DAMON
Argos 27, B.C. Lions 19
Nov. 21, 2004 — Frank Clair Stadium, Ottawa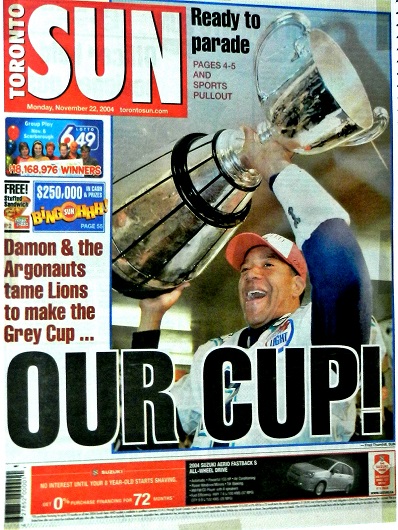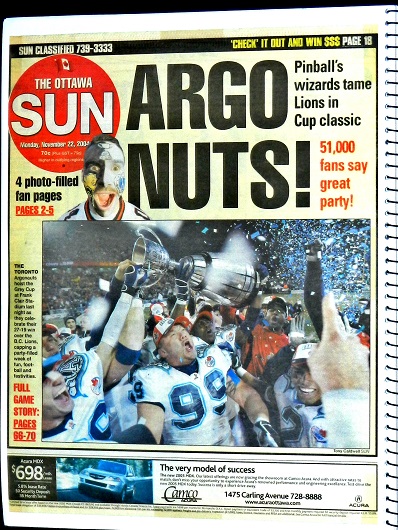 Hard for me to fathom — on this Grey Cup Sunday — that it's been 15 years since I covered my last of seven Canadian Football League championships for The FAN–590. I also attended the Grey Cup for the radio station in 1988 (Ottawa), 1989 (Toronto), 1991 (Winnipeg), 1992 (Toronto), 1994 (Vancouver) and 1996 (Hamilton). On this day, in 2004 (above and below), veteran quarterback Damon Allen, 41, led the Toronto Argonauts to a victory over the B.C. Lions in Ottawa. The winning coach was Toronto football legend Mike (Pinball) Clemons, who had raised the Cup, as an Argonauts slot–back, in 1991, '96 and '97.
The Argos would again triumph at Ottawa — over Calgary — in 2017.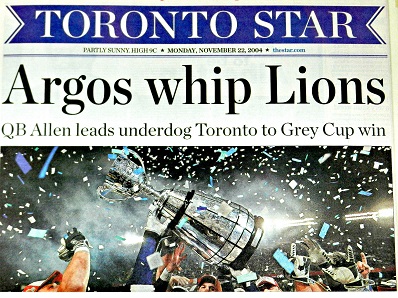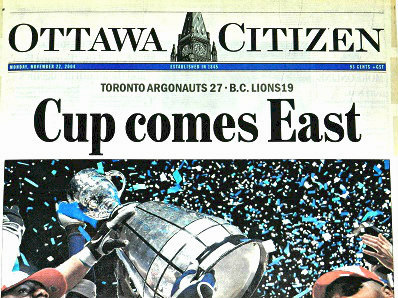 EMAIL: HOWARDLBERGER@GMAIL.COM