TORONTO (Nov. 18) — It wasn't often, in his public life, that Don Cherry had to summon enthusiasm. Whatever you felt about the icon that commanded nationwide attention for 38 years on Hockey Night In Canada, he had gusto streaming from every pore in his body. Such was not the case during a 10–minute phone chat I had with Donald S. tonight. "I'm tired," he admitted, on the cusp on an exhaustive, nine–day interval in which he lost his weekly pulpit — fired by Rogers Communications for making "offensive" comments about people having immigrated to Canada, and their apparent aversion to wearing poppies in the weeks leading to Remembrance Day. As Don admitted last Tuesday, had he used the word "everybody" rather than the phrase "you people", the entire episode wouldn't have materialized. But, he didn't. And it did.
"I'm sad — I'd be lying to you if I said anything else," Cherry confessed, his voice trailing off several times during our conversation. "I knew it would hit me this week, when all the other stuff died down. You do something you love every Saturday night of the hockey season for nearly four decades and then it's gone? How could I not be sad. A guy came up to me awhile ago, about 45 years old. He said 'Don, I've been watching you since I was a little kid.' And, I figured 'yeah, right.' But, then I thought about it and, y'know, he was a little kid when I started doing Coach's Corner (in 1982). So, yeah, it's sad. For me and a lot of people."
Though he refused to become melancholy, Don is experiencing, right now, what people endure after the death of a loved one. This is not to make a direct correlation between the end of a television show and that of a person's life. But, loss is still loss. And, most of us encounter the same emotions. In some religion, after a death, there are visitations and wakes prior to a funeral. In others — Judaism, for example — there's an immediate burial followed by a one–week period of reflection, known as "shiva", during which the bereaved are surrounded by friends and family. Once that period (and its distraction) ends, the gripping reality sets in.
Don Cherry's "shiva" occurred in the four days after his dismissal. He spoke to reporters in Canada and the United States and made TV appearances on national networks in both countries. His face, and his exclusive fashion, were front–and–center in all forms of media. Much of the commotion, however, has now ceased. The people in his life have returned to their everyday activities and concerns. And, Don is feeling the pain.
Parenthetically, there is no larger issue in this story than Cherry's relationship with Ron MacLean — his Coach's Corner sidekick; travel companion and best friend in the business for more than 33 years (Don began the first intermission show with Dave Hodge, who was fired by CBC after flipping a pencil in disgust, on the air, over a programming issue in the spring of 1986). As I mentioned in a previous blog this week, it was nearly impossible to notice Cherry and MacLean, separately, during their years traveling on weekends — normally to where the Toronto Maple Leafs were playing — and throughout the two–month Stanley Cup marathon. Invariably, I would share airplanes, hotels and arenas with Don and Ron during my 17 seasons (1994–2010) covering the Leafs for The FAN–590. Theirs was more of an ancestral bond than a friendship.
But, neither has there been communication between the men since MacLean's heartfelt apology to viewers off the top of the Hometown Hockey telecast (from Welland, Ont.) last Sunday, less than 24 hours after the "you people" diatribe on what became the final edition of Coach's Corner. "No, I haven't talked to Ron," said Cherry, unmistakable sadness in his voice. "I didn't know he was going to do that [the apology]; he didn't tell me beforehand. I'm so disappointed. And hurt. I watched what he said about me on Saturday, but the feelings are still there. We'll see. I don't know what's gonna happen. We were so close for so long."
This past Saturday, during a solo, five–minute monologue in the first intermission of the Toronto at Pittsburgh game on CBC, MacLean confessed how he "collapsed" with grief several times after Cherry's dismissal. How his emotions were so–terribly conflicted. And, repeatedly, how much he loved his long–time partner. "Coach's Corner is no more," Ron confirmed, his sorrow laid bare in front of another nationwide audience. It was classic MacLean — unrehearsed and from the heart. It hasn't yet touched Cherry's heart.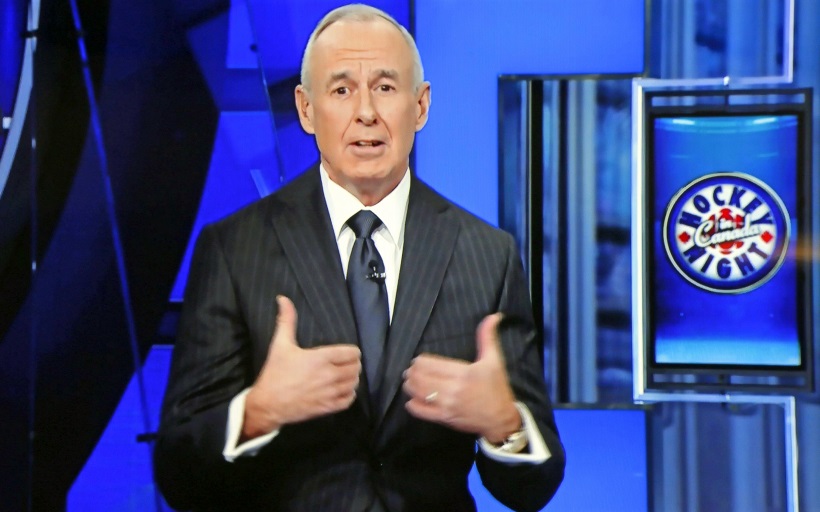 RON MacLEAN, EMOTIONAL, AND FLYING SOLO ON HOCKEY NIGHT FOR THE FIRST TIME IN 33 YEARS.
From my perspective, there is no horse in this race. I love and respect both men, as I've let them know during their difficult, whirlwind week. Ron is exactly the person you see every time he appears on television — friendly, engaging and unpretentious. Don's TV persona is not entirely commensurate. Often, hardly at all. Around others, he is quite similar to MacLean: affable and generous with his time. During our brief phone conversation tonight, I reminded him of a Saturday afternoon in Montreal many years ago. The Leafs were in town to play the Canadiens and the hotel central to all hockey activity at the time — the Marriott Chateau Champlain, across from the Bell Centre — was teeming with humanity after the morning skates. I walked back from the arena with Don and Ron. Cherry was immediately swarmed upon for autographs and pictures. I went for lunch with a couple of media colleagues. When we arrived back at the hotel, 90 minutes later, Don was still scribbling his name and smiling for cameras. That's the type of person he was. And, is.
If I therefore have one wish in this entire episode, it's that Don heals from his enmity toward MacLean… and the long–inseparable buddies can resume their kinship. Everything else, to me, is secondary.
EMAIL HOWARDLBERGER@GMAIL.COM