TORONTO (Nov. 14) — I haven't a shred of information about this and I could be barking up a California Redwood. But, neither would I be shocked if Don Cherry returns to his familiar spot in the first intermission of Hockey Night In Canada. Don's son, Tim Cherry, seems to think it's over. And, maybe he's right. I sense, however, the turmoil from last weekend has chilled; that people on all sides of the matter are regaining perspective and understanding it shouldn't end this way. Not for the national icon that has held the position (alongside Dave Hodge and Ron MacLean) since 1982; the networks (CBC, Sportsnet) that have aired Coach's Corner longer than any TV segment in Canadian history, or the audiences, from Victoria to St. John's, that have driven viewership (and sponsorship revenue) into the stratosphere.
Perhaps more than anything — and more importantly than anyone — Donald S. is finding contrition. In follow–up interviews, yesterday and today, he's acknowledged that "you people" was a lamentable phrase while referencing Canadian immigrants. "I wish I had used different words," Cherry told Global News, though standing by his argument that all people living in Canada wear poppies leading up to Remembrance Day. "I should have said 'everybody', not 'you people'. If I could do it over again, I would have said 'everybody.'"
Cherry also claims that he planned on admitting culpability, only to pull back when Rogers fired him. "I was ready to apologize," he said. "I was gonna put out a Tweet, or whatever they do, saying I was wrong and I think it could have smoothed over." That's the equivalent of O.J. Simpson finally admitting "I did it."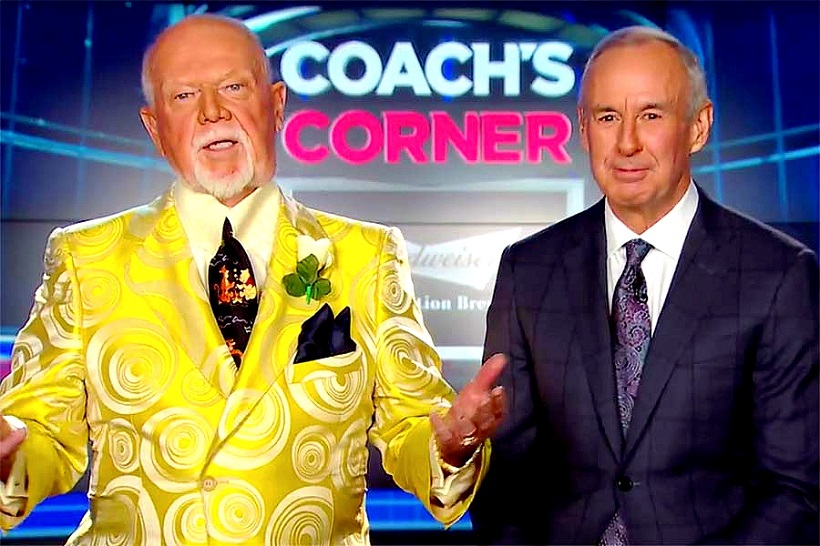 There's no way Rogers, immigrants to Canada, or anyone else would have been tendered a mea culpa in the immediate aftermath of Saturday night's intermission diatribe, or Sunday's remorseful appearance by MacLean off the top of the Hometown Hockey telecast. Nerves were too frayed at the time and Cherry was under attack from all sides. In that circumstance, it is human nature to bury one's heels even further. But, neither is there a substitute for introspection. For looking in the mirror and coming to recognize impropriety. Which, it appears, Cherry certainly has. In my view, he and MacLean — if given the opportunity — could resolve the matter to everyone's satisfaction. And, rather quickly. No two individuals, in the history of Canadian sports media, have been more–closely allied on the air, or amid personal friendship. Routinely, while covering the Toronto Maple Leafs and the Stanley Cup playoffs for The FAN–590 (from 1993 to 2010), I traveled with Cherry and MacLean. Flew on the same aircraft; stayed in the same hotels and covered the same morning workouts in all rinks of the National Hockey League. They were, to put it mildly, inseparable.
Presuming Cherry wants to come back; that Budweiser is prepared to resume sponsorship of Coach's Corner, and that Rogers can find another way to infuse $2 million in its albatross commitment to the NHL, hockey's most–symbolic TV segment can continue. Many others, famed and anonymous, have been fired in a huff, only to be re–instated. If you're an old codger like me, and though circumstances were different, who can forget Harold Ballard falling back on Roger Neilson as coach of the Maple Leafs (in March 1979), less than 48 hours after telling reporter Dick Beddoes, live on CHCH TV (Channel 11), that Neilson had been canned? Ballard made the remark seconds after a heart–wrenching loss at the Montreal Forum. That he wasn't able to unearth a willing replacement for a home date against Philadelphia, two nights later, played a rather significant role in Neilson's revival. But, it did occur (even after Neilson famously refused Ballard's order to wear a paper–bag over his head when returning to the bench). Sh** happens. It can be cleaned up.
I learned my own lessons, especially in the frustrating years prior to landing my radio gig (in May 1988). With a press box credential at Maple Leaf Gardens, provided by the company (International Sports Properties) that published the Leaf programs, I stupidly chose to ask questions while in post–game media scrums. To the obvious dismay of newspaper reporters tight on deadline. After enough understandable complaints, Bob Stellick, then the Leafs' director of publicity, told me to stay away from the Gardens on game nights. Which made perfect sense. I could easily accrue material for program articles by attending practice; I went to the games as a social activity and should have kept my lip buttoned during the follow–up media interviews. On the night, however (in early–November 1986), that Stellick tossed me out of the arena, I was livid. Still angry, I went to see Bob the next day in his office and wound up throwing the credential at him across his desk. I left the Gardens wanting to kill someone… and remained in a huff for a day or so afterward.
But, then it dawned on me: Of course I was out of line. Why wouldn't the newspaper scribes grumble to Bob about the unemployed shmoe threatening their tight deadlines? Having come to my senses, I wrote a profusely apologetic letter to Scott Morrison of the Toronto Sun… and to Stellick. Only their good nature allowed me to reclaim my credential later that season. I did something wrong. And atoned for it.
Don Cherry did something wrong on Saturday. And, he's atoning.
Bobby Orr, the greatest player in hockey history, today spoke out on the issue. "I know Grapes better than anybody. He's not a bigot and he's not a racist," Orr told Boston radio station WEEI. "This is the most generous caring guy that I know. What they've done to him up there is disgraceful, it really is."
MacLean has spent much of this week discussing his future, and the first intermission slot, with Rogers executives. I think we all know what Ron would like to happen. Even if some feelings were hurt.
So, why not start over again with Coach's Corner?
Rogers, quite frankly, is in the same position that Ballard was when trying to replace Neilson 40 years ago. The owner couldn't find anyone like the deposed coach. Neither will Rogers unearth a replacement for Cherry. The company has a very capable "substitute" in Brian Burke, and I think the former Leafs general manager would also command huge audiences were he entrusted with the first intermission of Hockey Night. But, that can happen somewhere down the road. Donald S. is still alive and kicking at nearly 86 years of age. If cooler heads have prevailed — and why shouldn't they? — Coach's Corner can return. Very soon.
HANG IN THERE, J.B. The point–man for this blog, John Brown of Insiteful Solutions in Markham, Ont., is at Princess Margaret Hospital in Toronto, awaiting surgery. John had a growth removed from his leg a couple of years ago. He was doing nicely until a test revealed the cancer had metastasized in his lung. Not a good place. So, now John is in for another battle. You won't meet a nicer, more cheerful person. A young man with a family. It's so unfair. I'm praying for my friend. And, I'll say it again: Goddamn that friggin' disease!
EMAIL: HOWARDLBERGER@GMAIL.COM