TORONTO (Nov. 9) — The Maple Leafs play their 18th game of the season tonight and no one is entirely sure what to make of the hockey team. Some, such as Damien Cox — writing, today, in the Toronto Star — claim the Leafs are compatible with their 9–5–3 record. Others, myself included, see the club as apathetic and uninspired; winning games as it has during the past three unsuccessful playoff years, with shoddy defensive work that fathers a disproportionate reliance on Frederik Andersen… and timely goals from the elite nucleus. This pattern has led to Andersen burning out late in the schedule and, ultimately, the decisive game in Round 1 of the playoffs. If anything about the club is truly different so far this season, it escapes me.
Neither should there be boundless gratification over squeezing out two points in the standings while performing lackadaisically. "Hey, a win's a win," was the dressing room reaction after sluggish conquests, this week, of Los Angeles and Vegas. In the past three years, the Maple Leafs have routinely piled up wins and points during the regular schedule, only to flame out in the playoffs. Yes, more than 90 points are required to qualify for the Stanley Cup tournament and the skilled Leafs will likely accrue such a total once again. But, numbers are otherwise meaningless once April rolls around. As Scotty Bowman said about a prospect many years ago — quoted in Ken Dryden's biography of the famed coach — "watch this guy… he won't help you much in the playoffs because he doesn't know how to play without the puck." No observation could better describe what continues to impede the Blue and White. It's an old, tired narrative, yet one that persists.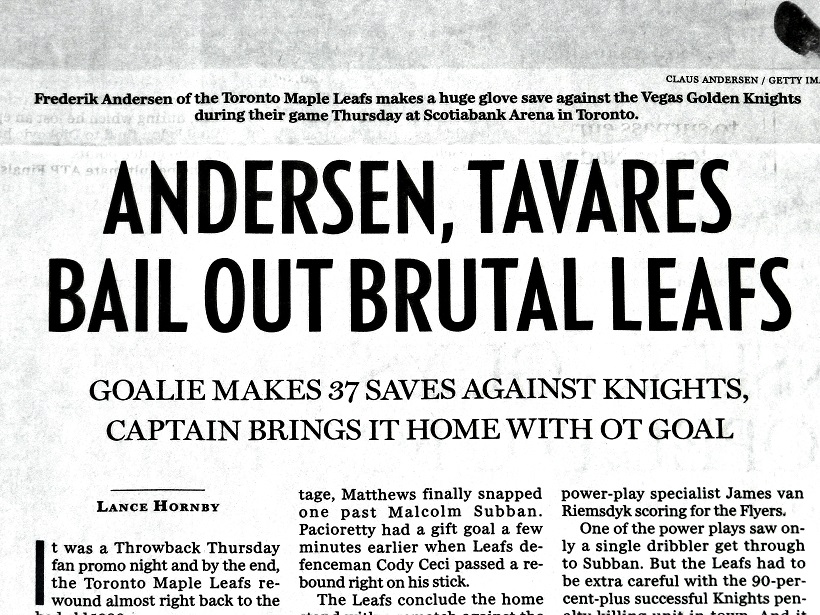 HEADLINE IN THE NATIONAL POST AFTER THURSDAY'S UNIMPRESSIVE WIN OVER THE VEGAS GOLDEN KNIGHTS AT SCOTIABANK ARENA. IT SUCCINCTLY REPRESENTS THE FIRST QUARTER OF THE SEASON.
The focus for the hockey club and its fans should begin to swerve well–beyond relief over lifeless regular–season victories. Of far–greater importance is some indication of progress toward a playoff–worthy blueprint that differs from the past three years. To this point in the schedule, there is no–such evidence. Again, Mike Babcock is calling upon Andersen for all but the back end of consecutive–night games. This is partially the result, once more, of not trusting the No. 2 netminder provided him by general manager Kyle Dubas… and of obstinacy by the head coach. The old definition of "insanity" applies here: doing the same thing over and over while expecting a different result. Andersen's regular–season workload needs to be cut by 10 to 15 games. That he was playing at home against arguably the worst team in the National Hockey League Tuesday night (Los Angeles) suggests that "insanity" is fueling the Maple Leafs yet again.
Above all, there is a profound disconnect between the way this club is built… and coached. Dubas is convinced a smallish, fleet roster, devoid of tenacity, can win the Stanley Cup with a sizable edge in tempo and puck–possession. Babcock also covets skill, but feels (correctly, in my view) it must be combined with playing "heavy" on the puck. At the moment, however, the Maple Leafs either cannot, or will not, apply the latter. And without it, there is virtually no chance of prevailing through four rounds of Stanley Cup toil.
The imminent return of winger Zach Hyman will warm Babcock's heart, but will not transform the team (as the coach occasionally implies). Hyman, though determined and courageous — he somehow persevered through Game 7 at Boston last April with a torn Anterior Cruciate Ligament — has been part of each playoff failure since 2017. His willingness to block shots and battle for the puck distinguishes Hyman from teammates… both a blessing and curse for the hockey club. But, the Leafs need more.
As we gradually progress toward the Feb. 24 NHL trade deadline, Dubas should maintain surveillance on the dispute involving the Winnipeg Jets and Dustin Byfuglien. Though 34, Byfuglien, if healthy and appropriately aroused, would be a precise addition to the Maple Leafs. At 6–foot–5, 260 pounds — with a mean streak and a Stanley Cup title (Chicago 2010) — he offers an enticing package. To repair ankle problems, Byfuglien recently underwent surgery that was neither proposed nor approved by the Jets' medical staff. The timing of his recovery, and whether he still desires to play, is unknown, but should become clearer in the 3½ months before the NHL trade cutoff. With a cap–hit of $7.6 million next season (in the final year of his contract), Byfuglien would necessitate some roster maneuvering by the Leafs. He could, however, fill one of the spots potentially created by unrestricted free agency, as fellow defensemen Tyson Barrie, Jake Muzzin and Coci Ceci must be re–signed or replaced prior to next October. Byfuglien, of course, can also play right wing.

In the meantime, someone has to determine why the Leafs appear so achingly–familiar in the first quarter of this season… and what might be needed to provide the lethargic club a boost of energy. Nothing about the team, right now, suggests an end to the longest current Stanley Cup drought.
HOCKEY BOOKS — CHRISTMAS 1969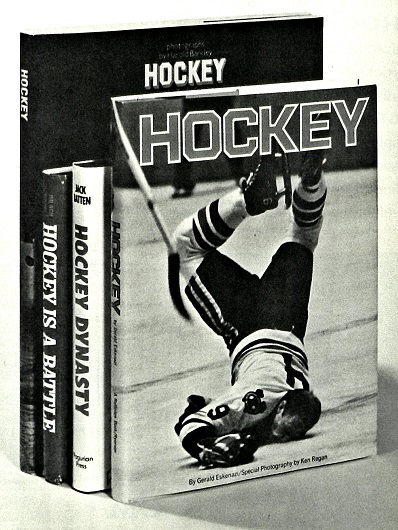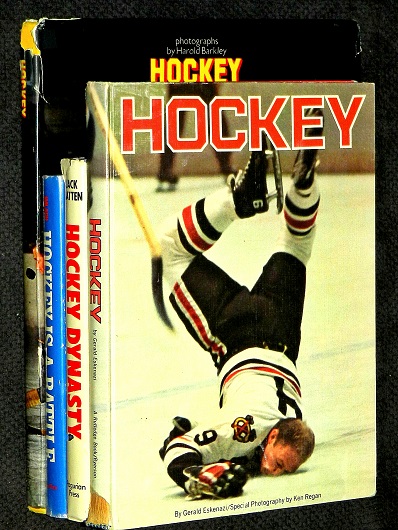 Whereas a dozen books on hockey are typically released for the Christmas shopping season today, only four hit the shelves 50 years ago. They were previewed in the Maple Leaf Gardens program — new and original copies photographed (top–left) for the article. I then re–created the image (as best I can, top–right) with my four copies, that are now half–a–century old. All items had the word "HOCKEY" on the front; two of them had no other word. Here's looking at the comparatively minimal choice for Christmas shoppers in 1969: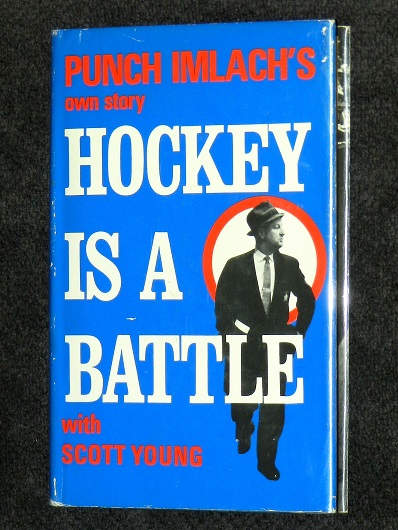 For the grand sum of $5.95, you could have purchased the cloth (or hard–cover) edition of Punch Imlach's life story, as told to his good friend, Toronto Telegram sports columnist Scott Young (also known, until his death in 2005, as the father of Canadian musician Neil Young). HOCKEY IS A BATTLE (9 x 6 inches), today, would have sold for roughly $26.95, the inflated price for any hard–cover book. It was 200 pages of first–person, autobiographical content, detailing the Toronto Maple Leafs' Stanley Cup dynasty of the 1960's and ending with Imlach being fired by Leaf president Stafford Smythe after a humiliating, four–game playoff sweep by Bobby Orr, Phil Esposito and the Boston Bruins in April '69.

Among the photographs in HOCKEY IS A BATTLE was this dandy after the Leafs most–recent Stanley Cup title, in 1967. Posing with the silver mug at Maple Leaf Gardens were (bottom row) goalies Johnny Bower (left) and Terry Sawchuk. Standing in back (left–to–right) were Imlach, Marcel Pronovost, captain George Armstrong, Red Kelly and Allan Stanley. Only Armstrong, now 89, is still alive.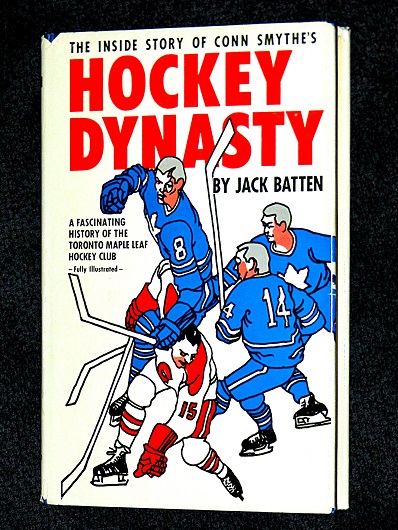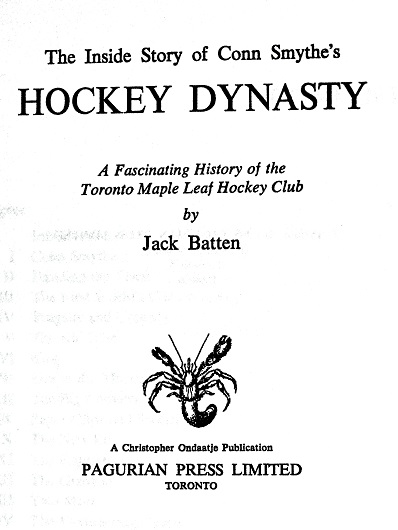 Also on the shelves, 50 years ago, was the 190–page biography of the man that hired Imlach a decade earlier, Leafs founder Conn Smythe. HOCKEY DYNASTY (9.5 x 6.5 inches), written by University of Toronto Law School graduate Jack Batten (now 86), also sold for $5.95. It chronicled the first 43 years of the Leafs franchise and, of course, the construction of Maple Leaf Gardens (in 1931), for which Smythe will be eternally remembered. It also detailed Smythe's heavy involvement in horse racing. Caledon Beau (in 1958) and  Jammed Lovely (1967) were Smythe–owned horses that won Canada's premier event, the Queen's Plate.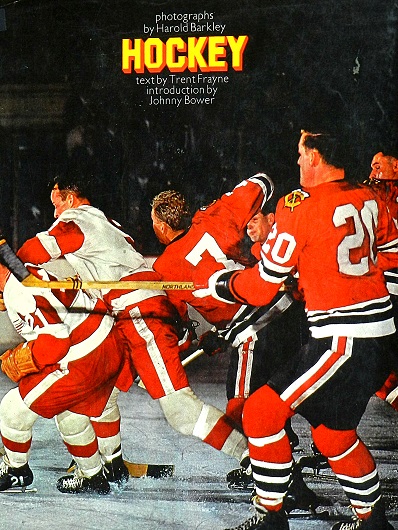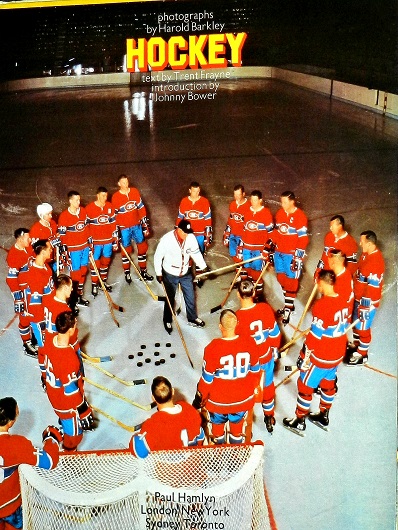 When released, in October 1969, this book was the most–unique hockey publication of all time — the first "coffee table"–sized item (13 x 10.5 inches) and the first to feature all color images. Covering 96 pages, HOCKEY (text by Trent Frayne) contained 140 selections from the camera of Toronto Star photographer Harold Barkley (d. Mar. 22, 2003), who introduced flash–lighting to the sport in the mid–1960's. Large bulbs, often mounted on the end glass, brilliantly illuminated Barkley's subjects while leaving the background mostly dark. This book, too, sold for $6.95. A similar publication, today, would cost in excess of $50. The cover–photo (top–left) showed Bobby Hull still wearing No. 7 for the Chicago Black Hawks leaning on Gordie Howe of Detroit. The inside–cover photo (top–right) was of Montreal coach Toe Blake surrounded by his players at practice in 1965, including goalies Charlie Hodge (1) and Gump Worsley (30).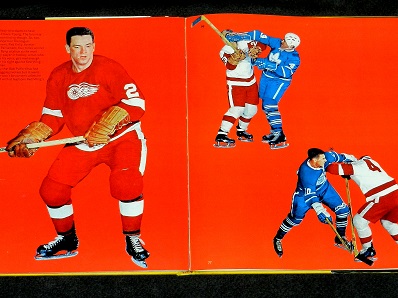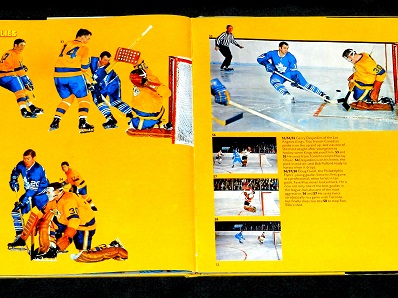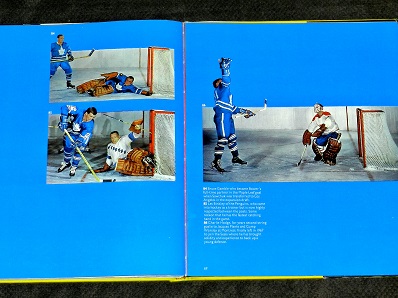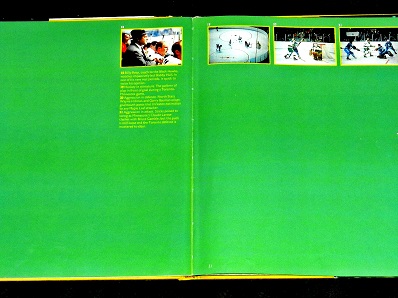 The layout of the book was somewhat bizarre, though consistent with the time. Photos were arranged sparingly and haphazardly — many on bright–color backgrounds (as above). It was early in the NHL's expansion era and color images of the six new teams (in their third seasons) were quite novel.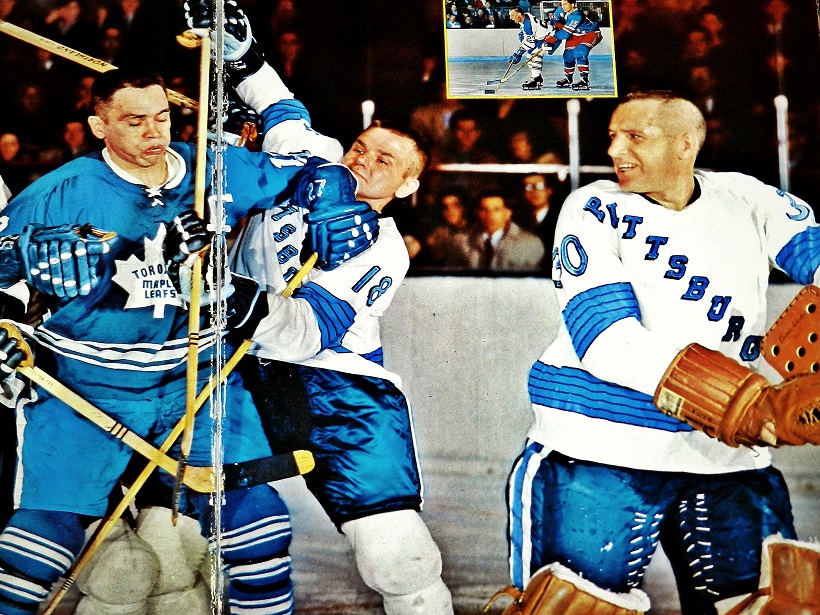 Among Barkley's photographs was an action shot (above) from the first–ever game between the Leafs and Pittsburgh Penguins: Dec. 13, 1967 at Maple Leaf Gardens. Toronto captain George Armstrong grimaced while being checked by George Konik (18) as goalie Les Binkley looked on. These were uniforms Pittsburgh wore only in its inaugural season. Year 2 (1968–69) would see the club's Penguin logo debut on the front of the jersey. Binkley sewed extra foam into the inner–thigh of his pants, thus the white stitching.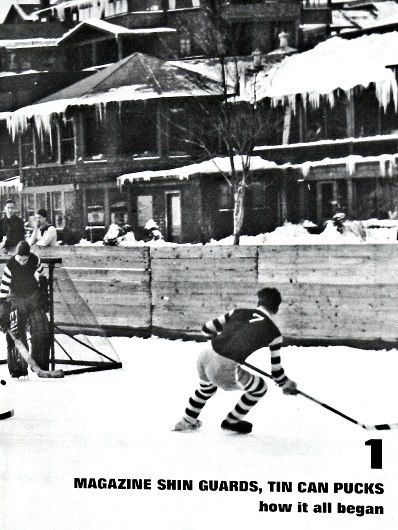 The other book entitled HOCKEY was also of "coffee–table" dimension (11 x 9 inches) and featured the cover image (top–left) of Bobby Hull taking a header at Madison Square Garden in 1968. This volume (224 pages) sold for $13.95 and detailed the history of the sport, from its modest outdoor beginning (top–right). There were sections on all 12 NHL teams, including (below) the Toronto Maple Leafs and Oakland Seals.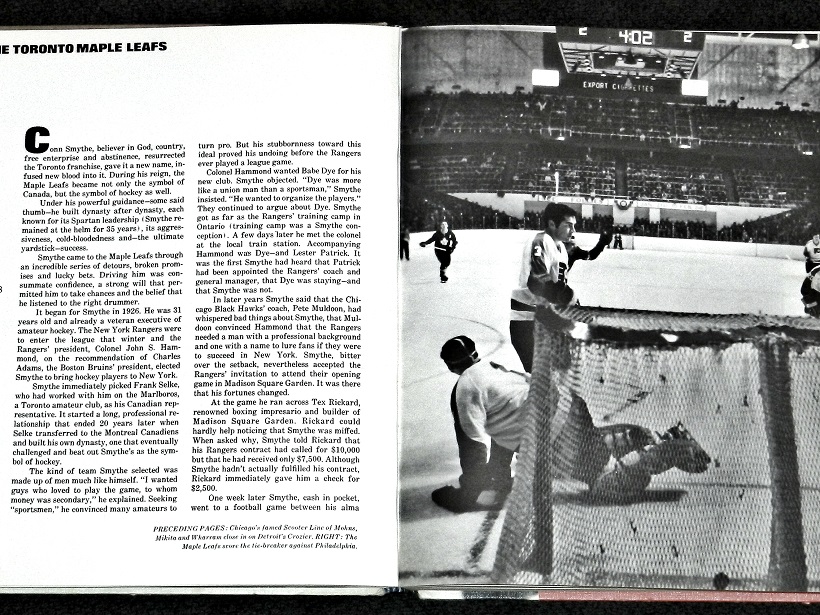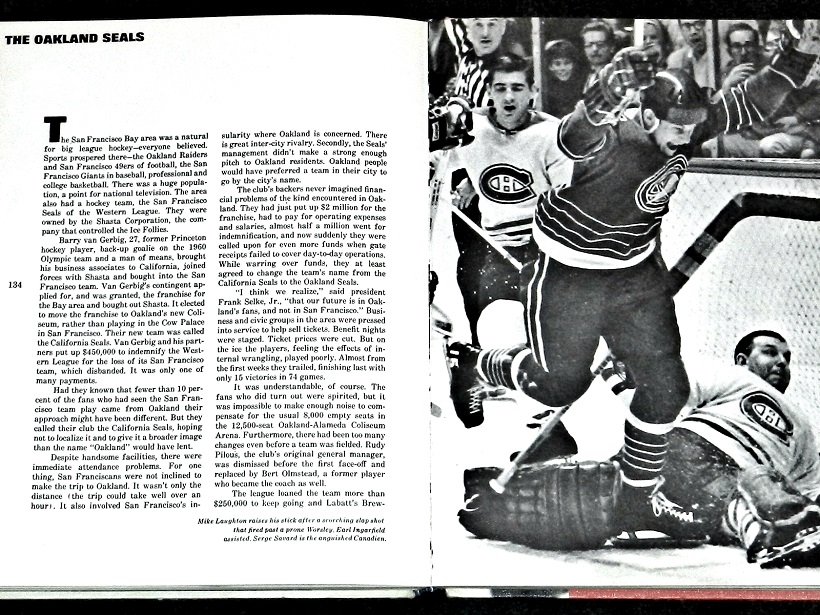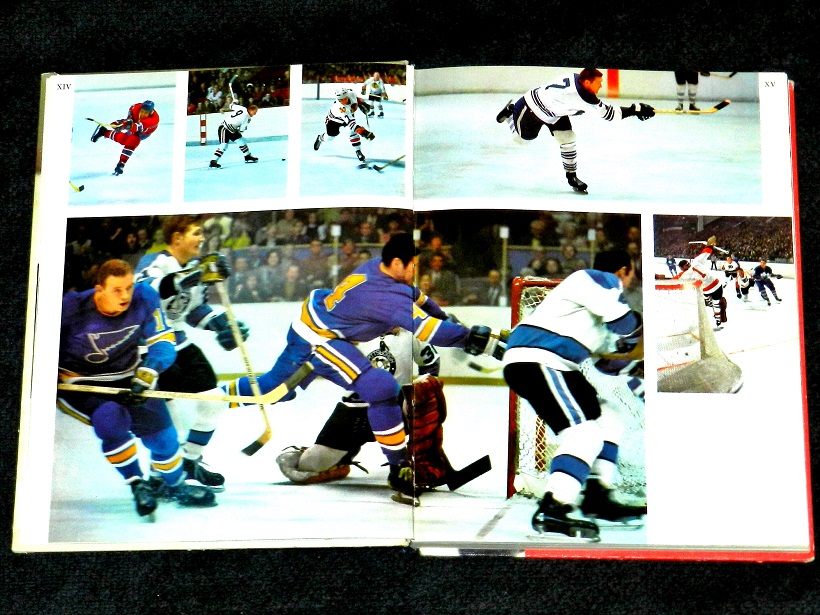 Though published in Canada, this book was a New York Times collaboration — text provided by hockey writer Gerald Eskenazi; the first 16 pages of color images (above and below) by photographer Ken Regan.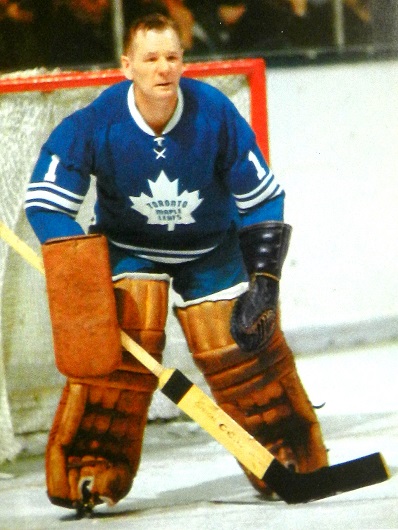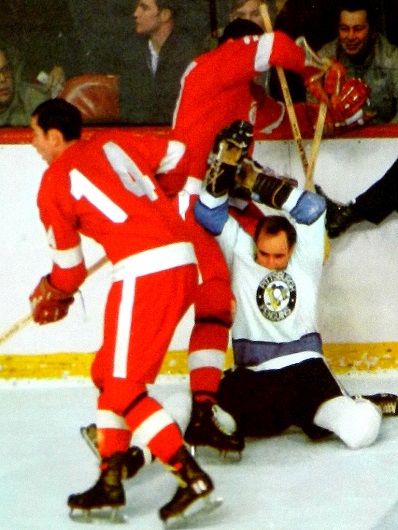 EMAIL: HOWARDLBERGER@GMAIL.COM