"Fame" [feym] — the state of being known or talked about by many people, especially on account of notable achievements.
— Cambridge English Dictionary
TORONTO (Nov. 10) — Yes, it is Hockey Hall of Fame Week here in town. On Friday afternoon, in the ornate building at Yonge and Front St. (opened as a Bank of Montreal branch in 1885), the Class of 2019 will be formally introduced to the media. They include former National Hockey League players Guy Carbonneau, Vaclav Nedomansky, Jim Rutherford and Sergei Zubov; Boston College coach Jerry York, and the most–notable figure in Canadian womens' hockey, Haley Wickenheiser. Rutherford (three Stanley Cup victories as general manager in Carolina and Pittsburgh) and York (1,067 NCAA wins) will enter in the Builders' Category.
The official induction ceremony (televised by TSN–2 and The NHL Network) is next Monday night, Nov. 18.
Absent once again from the annual celebration will be the two most–recognizable hockey figures from the country in which the sport originated. That Don Cherry and Ron MacLean have not yet been inducted into the Hall, though hardly an abiding mystery, is an egregious blunder. For more than 33 years, longer than any duo in television history, Don and Ron have appeared on Coach's Corner in the first intermission of Hockey Night In Canada. If "fame" (as defined at the top of this blog) is truly "the state of being known or talked about by many people", there is absolutely no justification for Cherry and MacLean to be excluded from the Hall. Cherry is, almost–surely, the most–recognizable person north of the border while MacLean stands alongside Brian Williams as the most–revered host of sports programming in Canadian TV annals. Don and Ron should be elected to the Hall together — ideally as Builders; minimally as recipients of the Foster Hewitt Memorial Award for broadcasting achievement — with no further delay. Meaning next year: 2020.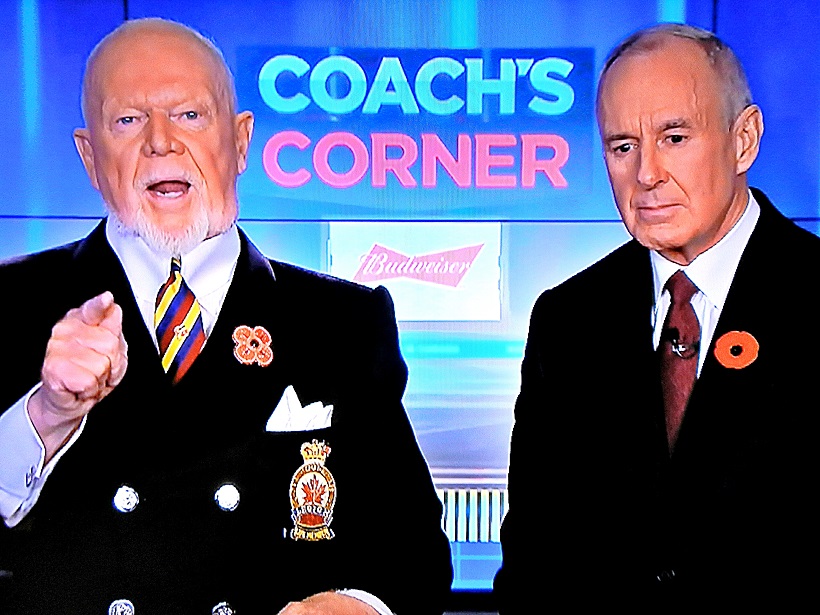 DON CHERRY AND RON MacLEAN (ABOVE) DURING COACH'S CORNER IN THE FIRST INTERMISSION OF SATURDAY NIGHT'S TORONTO–PHILADELPHIA GAME. AND, BELOW, WHEN THEY STARTED OUT TOGETHER, IN 1986. ROGERS/CBC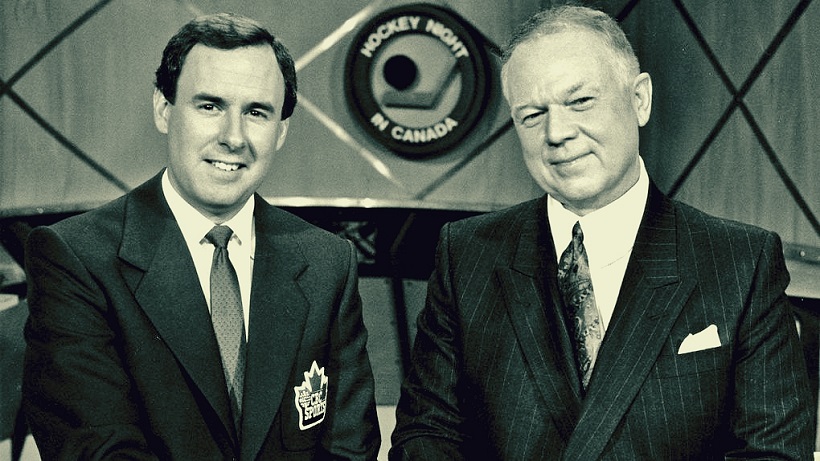 Of course, it really isn't the Hockey Hall of FAME. In the second decade of the 21st century, it is the Hockey Hall of POLITICAL CORRECTNESS or the Hockey Hall of NEVER CHALLENGING THE ESTABLISHMENT. As such, Cherry (and a host of other deserving candidates) are on the outside. Along with MacLean… Cherry's foil.
Sadly, given precedent, the Hall's Selection Committee will probably, at some point, foul up. Twice. First, it will elect MacLean as a Builder without Cherry. Then Cherry will follow… once he's dead. Former NHL coaches Pat Burns and Pat Quinn had to expire before being recognized. So, too, will Donald S., who turns 86 in February. This isn't done maliciously. The chairman of the Selection Committee, until his death less than two weeks ago, was Jim Gregory, one of the game's most–respected figures. New York Rangers president John Davidson filled the role. Replacing Quinn, (posthumously, in late–2014) as Hall Chairman was another widely revered person, Lanny McDonald, himself an honored member in the Players category. Selection Committee members include such instantly–recognizable hockey names as Brian Burke, Colin Campbell, Bobby Clarke, Ron Francis, Mike Gartner, Anders Hedberg, Jari Kurri, Pierre McGuire and Bob McKenzie (notable for their absence are the game's two greatest players: Bobby Orr and Wayne Gretzky).
These men are custodians of the sport and, most assuredly, perform their duties with integrity and pride.
The problem, in my view, lies with the NHL's unmistakable influence on the Hall. The building and its occupants do not comprise the "NHL" Hall of Fame. It is — and always has been — the "HOCKEY" Hall. Otherwise, such women inductees as Wickenheiser, Cammi Granato, Angela James, Geraldine Heaney, Angela Ruggiero and Daniel Goyette would not have garnered consideration. Still, the NHL is seen as running the facility… and the NHL is the "Establishment." Cherry has forever spoken candidly and confronted the Establishment as part of Coach's Corner. His unparalleled "fame" has been trampled by an unwillingness to conform. There are no "bad guys" here; nor is there likely an active conspiracy. It's quite simple, however, to view the NHL as being onside with any movement to preclude Cherry from entering the Hockey Hall.
Complicating matters are such craven figures as Sportsnet president Bart Yabsley, whose broadcasting achievements aren't likely to be highlighted in Forbes Magazine. Rather than supporting Cherry's right to freedom of speech — or, better yet, saying nothing — Yabsley jumped on the political bandwagon in the wake of Cherry's comments, Saturday night, that he hasn't noticed immigrants to Canada wearing poppies in support of Remembrance Day. Cherry didn't say that immigrants aren't wearing poppies… just that he hasn't seen it. Which was entirely his prerogative. Somehow believing that anyone was interested in his opinion, Yabsley, whose career is bound by the NHL (given Rogers' $5.2 billion contract with the league for national TV rights in Canada), offered a righteous, fainthearted response — as shown by Toronto station CP–24: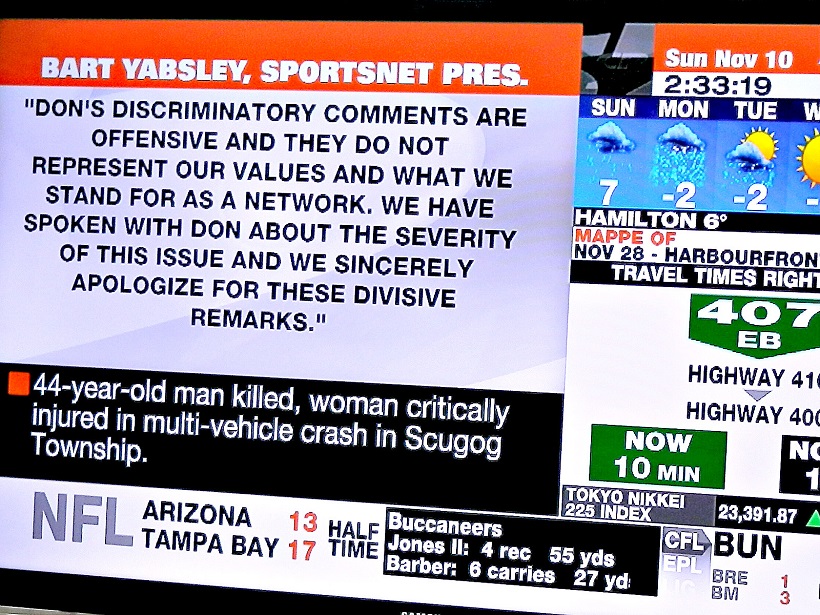 Yabsley knows all about "offensive" given the role he's played in helping to destroy the eminent media careers of such people as Bob McCown, Nick Kypreos, Doug MacLean and John Shannon — solely to defray the preposterous NHL deal. He's likely received a monetary reward for each banishment. I'm sure Cherry was convulsing when Yabsley "spoke" to him about the "severity of the issue." Is there anything more comical and ludicrous than an obscure television executive laying down the law for political correctness?
Showing again that he's a true Hall of Famer, MacLean, always cordial and principled, felt badly enough about the uproar to offer a sincere apology (as seen, below) off the top of the Hometown Hockey telecast, Sunday night, from Welland, Ont. "We were both wrong — Don for suggesting it and me for letting it pass," he said about the immigrant remarks. His contrition was far–more credible than the political "statements" offered, in writing, by others, including Yabsley; Mississauga, Ont. mayor Bonnie Crombie and Toronto mayor John Tory. All of whom had nothing to do with, and should have stood clear of, the matter.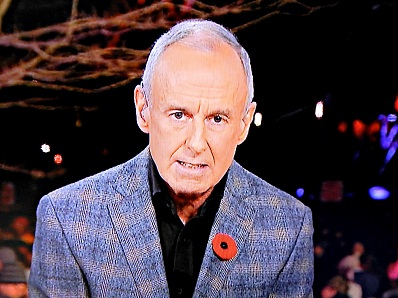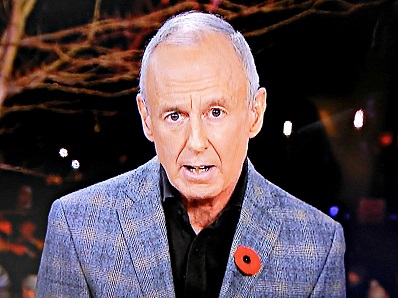 Though hard feelings appear to have subsided, Gary Bettman wanted no part of Hockey Night In Canada for a few years, after the NHL commissioner felt he'd been excoriated during MacLean's annual state–of–the–union interview. Some believe the broken accord led to George Stromboulopoulos being hired by Rogers as intermission host to begin the 12–year arrangement with the NHL. What the league clearly underestimated was MacLean's staggering popularity throughout Canada. Owing to a contract squabble, you may recall that MacLean was infamously deposed by CBC just prior to the 2002–03 NHL season, spawning a national outcry. Within three days, the public broadcaster signed him to a lengthy extension. Neither could the best effort by Stromboulopoulos prevent MacLean, after two seasons, from reclaiming his intermission gig. Hockey viewers are decorous and traditional. Ol' Ron has long provided them a weekly comfort zone.
The latest kerfuffle over immigrants and poppies, though exaggerated, will further distance the Coach's Corner duo from the Hockey Hall. It's clear that controversy has precluded "fame" in any–such argument.
EMAIL: HOWARDLBERGER@GMAIL.COM