TORONTO (Nov. 21) — Predictably, the text arrived within minutes. "I was off by three games. Sue me."
Oh, how I wish I could introduce to you the National Hockey League employee that told me, Aug. 11 (blog here — http://bit.ly/2MVDJDM): "He's got 20 games. If the Leafs aren't playing up to par by mid–November, [Mike] Babcock's gone. Count on it. There is lots of appetite for change in Toronto." But, I'd be strangled by that person. So, he'll have to be known, here, as the "Whistle Blower" (original, huh?). Yes, it was after Game 23 that the Leafs fired Babcock — nearly 4½ years to the day of his celebrated arrival from Detroit. That was May 21, 2015 amid signs, all over town, that read "WELCOME MIKE". But, hey, can anyone remember the last time a coaching change bore significant results for the Blue and White? There are such people around today — all of them at least 70 years of age. Nobody younger would likely recall Nov. 28, 1958, when Punch Imlach fired Billy Reay and stepped behind the bench with the Leafs on an eight–game winless streak (0–5–3).
Heck, I surely don't — being a bump in my mother's belly at the time; arriving just more than two months later (Feb. 3, 1959). Not since the Reay–to–Imlach transition has Toronto won the Stanley Cup; Imlach accomplishing the feat four times in six years: 1962, 1963, 1964 and 1967. Brendan Shanahan and the executives at Maple Leaf Sports and Entertainment were rather confident the Peter Horachek–to–Babcock transition would end the longest current drought in the NHL. As it happened, they weren't even close.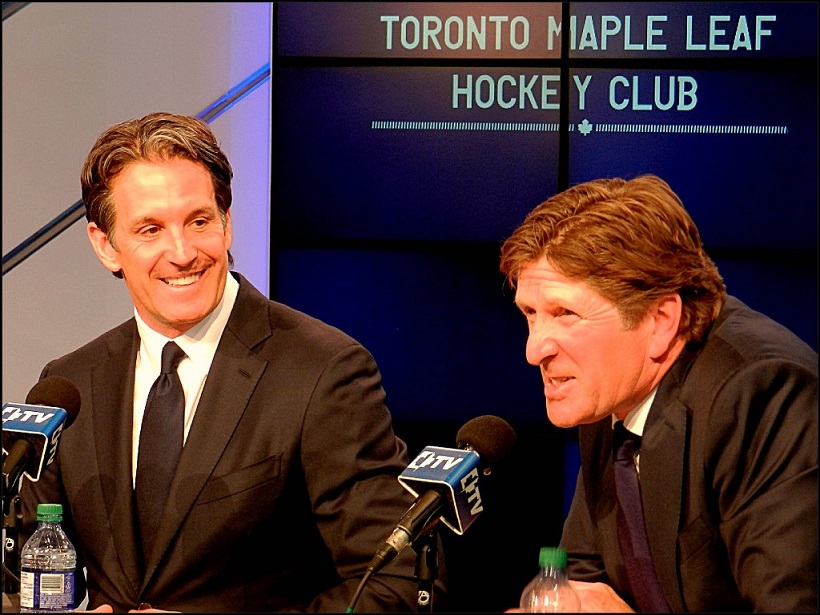 MAY 21, 2015: MY PHOTO OF A SMILING BRENDAN SHANAHAN; A SNEERING MIKE BABCOCK.
Babcock departed without recording a playoff–series triumph, let alone a championship. The "pain" he famously referred to at his introductory news conference didn't turn up until the fifth year of his eight–season contract as the highest–paid coach in NHL annals. The question is: Why? It's not as if the Leafs hired Babcock in 1978. Has hockey changed to such an extent since 2015 that the game should pass him by? Or, did the Leafs — in hindsight — make a mistake by doing the "Hogtown" thing… finding the glitziest and most–lucrative item on the market? Though it sounds a bit crass, we can pose the same question about John Tavares. Given their front–line skill at forward, was he truly the type of player the Leafs needed two summers ago on a cap–choking deal for seven years? Or, might the club have been better off stashing away a few dollars to balance the roster with size and defensive acumen? It's almost as if MLSE makes colossal moves just to show everyone it can. Some are suggesting, today, the Leafs weren't suitably constructed for Babcock; that he couldn't adapt to the approach sought by general manager Kyle Dubas. Why, then, did they hire him for eight years? Tangibly, the answer is obvious: Babcock would have gone to Buffalo in 2015 if offered a shorter term. But, eight years is roughly two lifetimes for a coach in the NHL; four lifetimes for a Leafs coach in the post–1967 era. MLSE, therefore, tripped all over itself by luring Babcock from MoTown.
Here's another question for Shanahan: If suspecting, as did many, that Dubas and Babcock may not work harmoniously, why did the Leafs' president elevate Dubas to replace Lou Lamoriello with five years still remaining on the coach's pact? The Kyle–and–Mike show was pretty much a disaster from Day 1. Not only were they on different pages about the hockey club, they weren't even in the same library. Shanahan had to know that Babcock — strict, stubborn and conservative — wouldn't easily meld with a brash, cocksure rookie 23 years his junior. When Dubas pulled rank after his first NHL camp and foisted upon Babcock his Calder Cup–winning goalie, the prospects for peace deteriorated. As we know, Babcock wanted to retain Curtis McElhinney as back–up to Frederik Andersen. Instead, Dubas promoted Garret Sparks from the AHL Marlies and exposed McElhinney to waivers, whereupon he was claimed by Carolina. Sparks was so ineffective that Dubas had to swallow hard and remove him from the NHL roster on the eve of the Stanley Cup playoffs.

THE LOCAL NEWSPAPER HEADLINES ON MAY 22, 2015.
Shanahan swallowed just as brutally yesterday. It was he that overruled a coaching change last April, when the Leafs coughed up a 3–2 series lead against Boston in the opening playoff round. Dubas wanted his man, Sheldon Keefe, right then and made certain to extend Keefe's contract with MLSE by two years… surely with a vow of promotion to the NHL within that juncture. As it turned out, the move required less than two months. Babcock was hardly blameless in his conflict with Dubas — offering, a number of less–than–cryptic appraisals about the lack of roster depth. When Babcock petulantly scratched veteran Jason Spezza from the opening–night line–up against Spezza's former team (Ottawa) — Dubas inked the Mississauga, Ont. native to a bargain free agent contract against Babcock's wishes — the feud went to another level. It was absurd to hear either man claim they were cordial and integrated as it pertained to the hockey club.
So, the Leafs, yesterday, took the easy way… the only way to effect change in the salary–cap universe.
Shanahan, honorably, flew to Phoenix and did the deed in person. One can merely imagine his reflection during the 4½–hour trek — the chief Leaf so proud and hopeful; smiling so broadly at the Air Canada Centre after introducing Babcock to the city on that sunny, spring afternoon in 2015. Now, having to tell the same person it was over; that the whole damned thing had been a mistake. Yet another colossal (and inordinately lavish) miscalculation by those at the helm of the Blue and White. The deposed coach, unsurprisingly, took the high road — perhaps his nature; most–certainly a by–product of knowing the next six generations of little Babcocks are looked after, financially. Many of us would be thrilled to obtain a fraction of the sum sacrificed by the hockey wing at MLSE in the past few years on unfulfilled contracts (Babcock) and Long Term Injury Reserve investments (Stephane Robidas, Joffrey Lupul, Nathan Horton, David Clarkson, et al). If you ever truly wondered about the coinage this company can burn, you need not wonder anymore.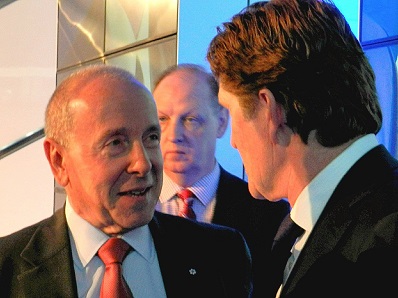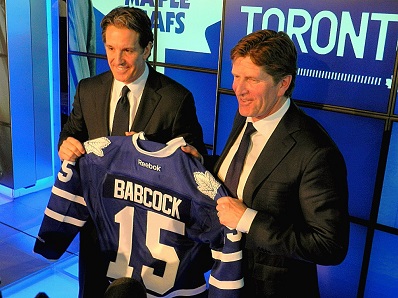 MORE OF MY PHOTOS (ABOVE AND BELOW) FROM MIKE BABCOCK'S INTRODUCTORY NEWS CONFERENCE AT THE AIR CANADA CENTRE ON MAY 21, 2015. SUCH UNFULFILLED HOPE BY THE LEAFS.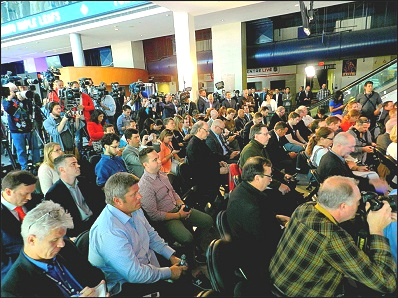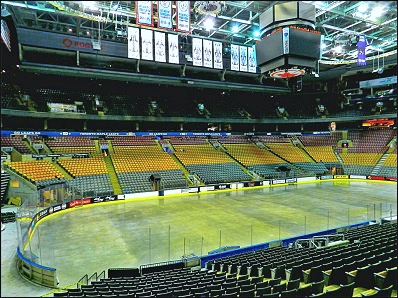 Keefe, 39, should experience a honeymoon phase as new coach of the Leafs. Exactly how he'll stop pucks when choosing to rest Andersen is a mystery, given his club — right now (and with apologies to Kasimir Kaskisuo) — can barely afford a street hobo as No. 2 stopper. How might Keefe surmount the near–total lack of hostility and belligerence at his disposal each night, knowing at any player — multi–millionaire or grunt — can be violated with impunity? What may he accomplish with the unavoidable, yet enormous gap between elite and bargain personnel up front? And, will young Sheldon become the first Leafs coach since Roger Neilson, in 1977, to cure the defensive malaise that has interminably marked the franchise?
As I tap on my computer, these are questions without answers.
March on, however, we do. Beginning tonight… in the desert.
LEAFS IN–SEASON COACHING CHANGES SINCE 1967
1980–81 — Mike Nykoluk replaced Joe Crozier after 40 games. First game — Jan. 10, 1981: 4–4 tie against Philadelphia at Maple Leaf Gardens. Record in first 10 games: 4–3–3. Missed the playoffs.
1988–89 — George Armstrong replaced John Brophy after 33 games. First game — Dec. 19, 1988: 4–3 win over St. Louis at Maple Leaf Gardens. Record in first 10 games: 4–5–1. Missed the playoffs.
1990–91 — Tom Watt replaced Doug Carpenter after 11 games. First game — Oct. 27, 1990: 3–1 loss to Buffalo at Maple Leaf Gardens. First 10 games: 3–7–0. Missed the playoffs.
1995–96 — Nick Beverley replaced Pat Burns after 65 games. First game — Mar. 6, 1996: 4–4 tie against New Jersey at Maple Leaf Gardens. First 10 games: 4–3–3. Eliminated in first round of playoffs.
2011–12 — Randy Carlyle replaced Ron Wilson after 64 games. First game — Mar. 3, 2012: 3–1 win at Montreal. First 10 games: 3–6–1. Missed the playoffs.
2014–15 — Peter Horachek replaced Randy Carlyle after 40 games. First game — Jan. 7, 2015: 6–2 win over Washington at the Air Canada Centre. First 10 games: 1–8–1. Missed the playoffs.
EMAIL: HOWARDLBERGER@GMAIL.COM