TORONTO (Nov. 26) — As a heterosexual male, I had never felt the urge to kiss another man. Until yesterday, when I read the impassioned offer of remorse from Maple Leafs forward Alex Kerfoot in the wake of his two–game suspension for planting ex–teammate Erik Johnson of Colorado into the boards from behind at the Pepsi Center on Saturday night. This was the mother–lode of mea culpas — unlike anything I've heard or read from a priest or a rabbi, let alone a professional athlete. It nearly had me in tears.
"First and foremost, I think I am disappointed in myself," Kerfoot told reporters about the incident. "I know Johnson well and I just hope he's alright; that he doesn't miss any time. I feel terrible. I didn't mean to do it… I saw him after the game and apologized. There is not much you can say. You can apologize all you want but it's something you shouldn't be doing on the ice. I am fully responsible for the play."
No disrespect to Kerfoot, who sounds like a remarkably upstanding guy. A person anyone would be proud to call a friend. But, the curmudgeonly hockey guy within me had to snicker. Can you imagine such former Leafs as Darryl Sittler, Dave (Tiger) Williams, Lanny McDonald, Borje Salming, Wendel Clark, Doug Gilmour, Glenn Anderson, Darcy Tucker, Gary Roberts or Tie Domi atoning, publicly, to such an extent? Or, to any extent? We're talking, here, about some of the toughest and most–ornery Toronto skaters of the past 40 years; all having enacted key roles with the best Leaf teams in the post–1967 era. Six of whom — Sittler, McDonald, Salming, Gilmour, Anderson and Roberts — are honored members of the Hockey Hall of Fame.

LEAFS FORWARD ALEX KERFOOT SOLEMNLY ATONES, ON MONDAY, FOR HIS HIT–FROM–BEHIND ON ERIK JOHNSON OF COLORADO AND SUBSEQUENT TWO–GAME SUSPENSION. BY COMPARISON, EVEN THE ANGELIC TERRY KOSHAN (FAR–RIGHT) LOOKS LIKE AN AX MURDERER.
As is the man currently at the top, Brendan Shanahan, considered among the most–talented, fiercest and dirtiest players in the National Hockey League through the 1990's. The only skater in NHL history with more than 600 goals and 2,000 penalty minutes. Suspended four times. "I played this sport, I understand the passion that's involved," Shanahan said in 2011. "I broke a lot of rules when I played and wasn't always happy when I got punished—even when I deserved it." How can such a miscreant preside, today, over a team full of absolute darlings? Alex Kerfoot personifies the skilled, yet gingerly and cordial group assembled by general manager Kyle Dubas. There isn't a smidgen of malice on the entire roster; the last vestige of immorality sent packing when Dubas traded Nazem Kadri to Colorado for the genial, engaging Tyson Barrie.
Were founder Conn Smythe in charge of the current Maple Leafs, his motto would be "If you can't love 'em in the alley, you can't beat 'em on the ice." Ol' Conn is likely spinning in his grave right now.
Really, it's a common thread. Who, among the top forwards on the club in recent memory, has performed as sweetly as William Nylander? Dancing so daintily on the perimeter of the ice for a mere $6,962,366 per season. With 15 goals in his past 79 games. And, all that flowing, blond hair. Good God, the man is adorable. How about Mitch Marner? Victim of that heinous, "provide–me–a–list" plot from Bad Mike Babcock — the story breaking, on Monday, like a felony with no statute of limitation. When queried about having his personal assessment of teammates shared, deviously, by the deposed coach, Marner replied, "to be honest, it was so long ago I'd forgotten about it until the report (yesterday)." I mean, can you be any nicer than that? When referring to the bench tyrant that put the clamps on all creativity, restricting poor Mitch to only 94 points last season? It's astounding to hear such gentle courtesy for a despot. Auston Matthews? Gimme a break. Yeah, the guy can score… but contemptible? When all he's done is mimic Patrick Kane and drop his drawers in an alcoholic haze? Sorry. The man is way too pleasant on the ice — maybe understandable after a pair of concussions and a severe shoulder ailment. No. 34 should swallow a fist–full of "nasty" pills.
Then we have John Tavares. Perhaps the most–dignified Leafs player of the modern era. Toronto's answer to Montreal legend Jean Beliveau (minus, right now, the 10 Stanley Cup titles). A perfect choice to be captain and face of the franchise. Particularly impeccable with this version of the team. Shanahan ought to change the club's logo from a blue maple leaf to a likeness of Johnny T. kissing babies. He is that charming. Heck, it even applies to Zach Hyman, the lone member of the clan willing to engage the opposition. He may provide some belligerence on the ice but, trust me, I know a good Jewish boy when I see one. As soon as Zachy smiles, my heart begins to melt. The new coach also seems benign and affectionate, though his checkered past (with the odious David Frost) indicates an underlying irascibility. Sheldon Keefe was a head–banger in junior hockey, ringing up seasons of 95 and 80 penalty minutes with Barrie and St. Mike's. Hardly Dave Schultz numbers but gritty, nonetheless. As the antidote to Babcock, however, Keefe is likely to replace morning skates with Bible study (Torah for Hyman). This saintly Toronto club demands such a change.
In fact, the 2019–20 Maple Leafs could become the first team to be awarded the Lady Byng Trophy.

TORONTO WINGER ZACH HYMAN: AGGRESSIVE ON THE ICE. BUT, SUCH A SWEET FACE.
How it all plays out in the Stanley Cup tournament is another matter. Compared to the Maple Leafs, there were 40 versions of Charles Manson in uniform during last spring's title round between the Boston Bruins and St. Louis Blues — a barbarous, seven–game affair in which the current Toronto club would have been easily subdued. "Nice" may cut it for much of the six–month regular schedule but it has no place in May and June, when the physical grind escalates. At the moment, this seems lost on Dubas, who stubbornly contends that skill, alone, can annex the silver mug. Even if proven correct at some point, his players will likely apologize for upsetting the other 30 NHL teams. There is no limit to affection.
50 YEARS AGO TONIGHT
at Maple Leaf Gardens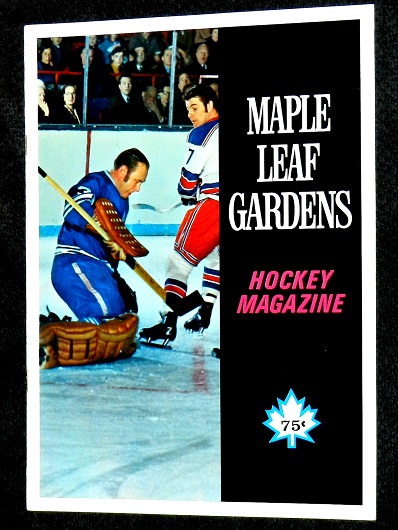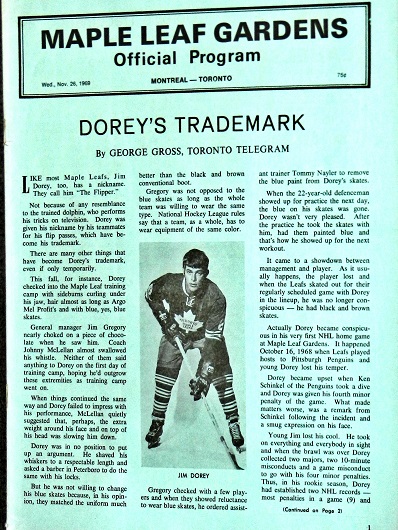 Continuing with my series of Maple Leaf Gardens programs from games I attended in 1969–70. It would have been nearly impossible to envision — on Nov. 26, 1969 — that the Leafs and Montreal Canadiens would miss the playoffs in the same season for the first time. Montreal defeated Toronto, 3–1, on goals by Bobby Rousseau, Serge Savard and Ralph Backstrom. Paul Henderson scored for the Leafs. The Habs were the two–time defending Stanley Cup champions and the victory at the Gardens improved their record, after 21 games, to 11–3–7 for 29 points, tied with Boston atop the 12–team overall standings. Montreal, however, would finish fifth in the East Division with 92 points — the exact record (38–22–16) as New York. But, the Rangers made the playoffs on a 246–244 edge in goals scored. As it turned out, a 3–7–1 slide (Feb. 11 to Mar. 8) would cost the Canadiens. On this night, Gump Worsley stopped 27 shots for the win while Bruce Gamble (35 saves) took the loss. The referee was John Ashley. The linesmen were Neil Armstrong and Ron Finn.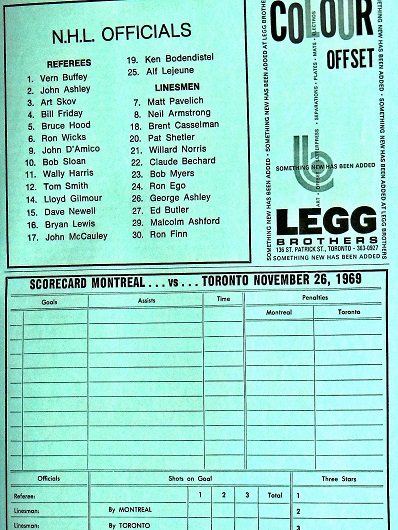 Wally Crouter (Aug. 5, 1923–Mar. 28, 2016) hosted the morning show on CFRB–1010 here in town (top–left). During the 1970's and 80's, no person in Canada drew more listeners in the key, 5–10 a.m. slot. Wally's son, Glenn Crouter, also became a broadcaster and worked, for many years, at the Ontario Jockey Club.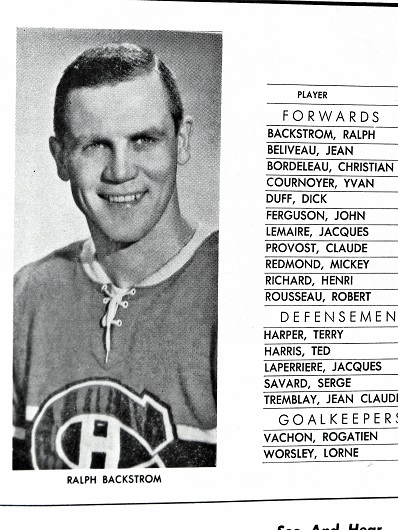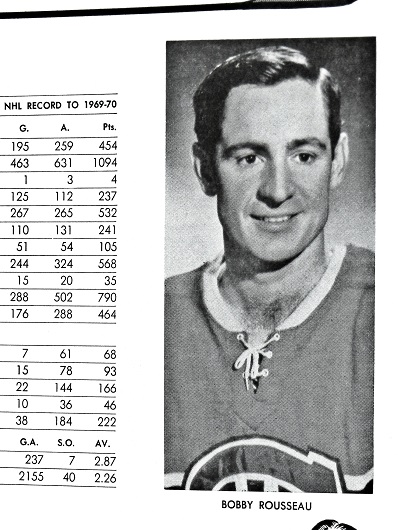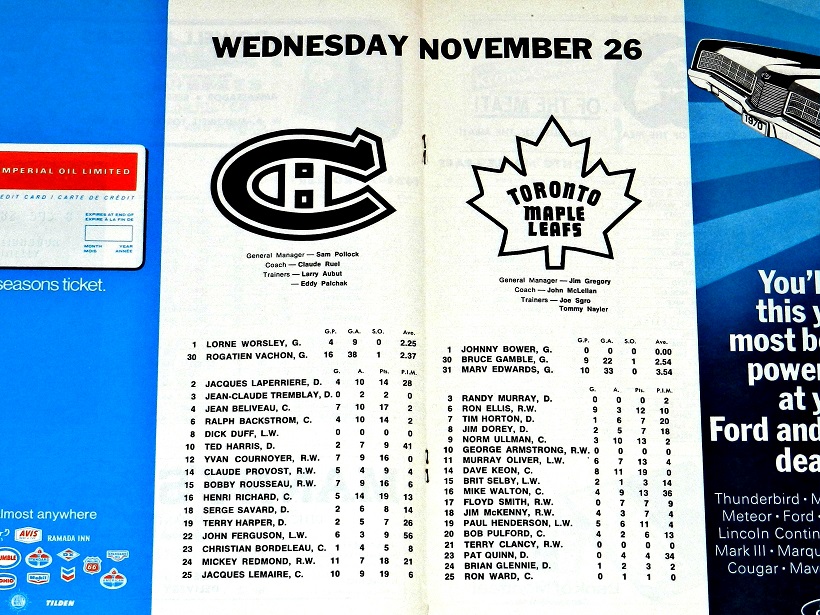 The 1969–70 Montreal roster — virtually identical to that of the previous year — featured future Hall–of–Fame players Gump Worsley, Rogatien Vachon, Jacques Laperriere, Jean Beliveau, Dick Duff, Yvan Cournoyer, Henri Richard, Serge Savard and Jacques Lemaire. Among the '69–70 Leafs to become Hall–of–Famers were Johnny Bower, Tim Horton, Norm Ullman, George Armstrong, Dave Keon and Bob Pulford. Without question, Paul Henderson should be in the Hall for one of hockey's most–famous accomplishments: scoring the winning goal for Team Canada in the 1972 summit series against the Russians.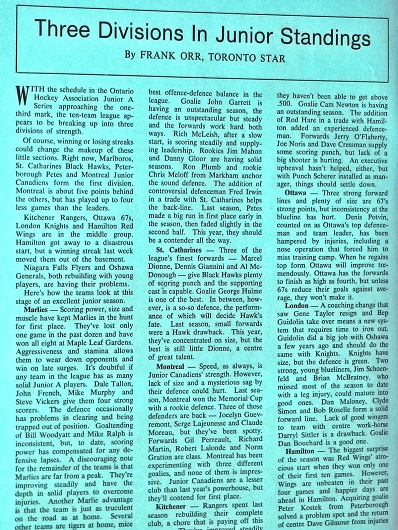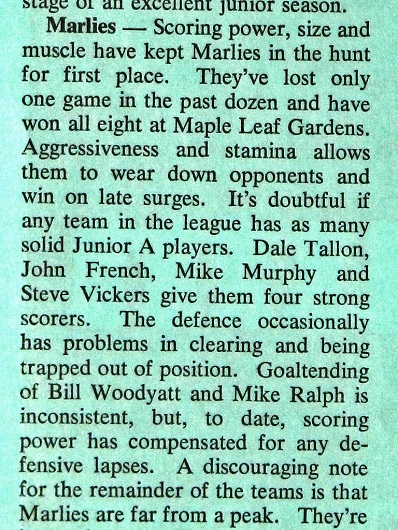 The junior hockey story penned by Frank Orr of the Toronto Star (above and below) mentioned a number of future NHL players then toiling in the Ontario Hockey Association — including more current Hall–of–Famers.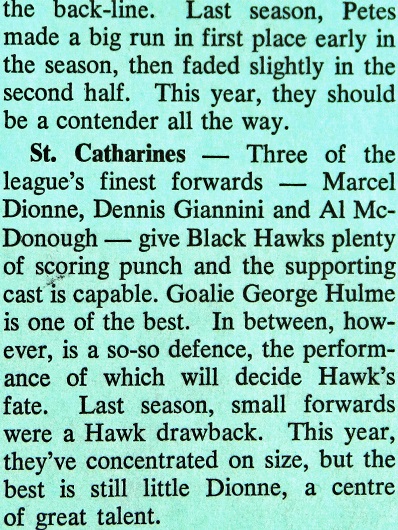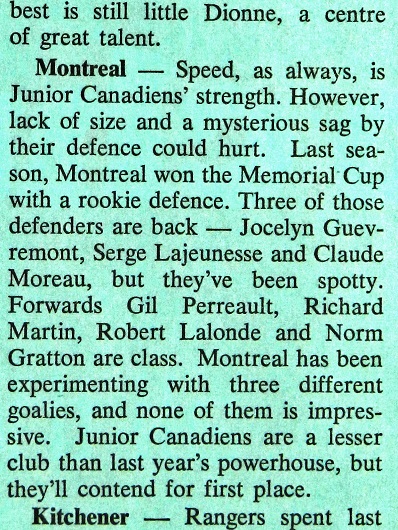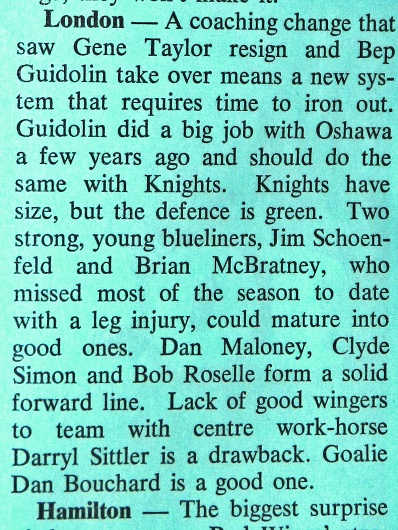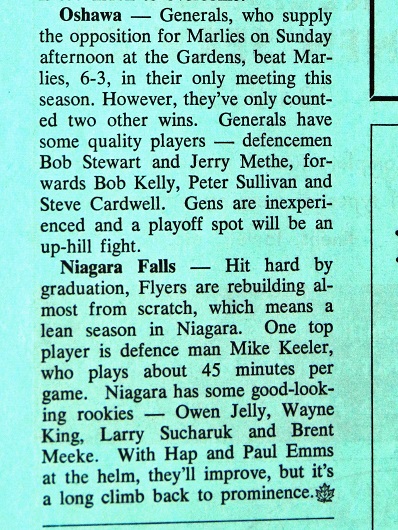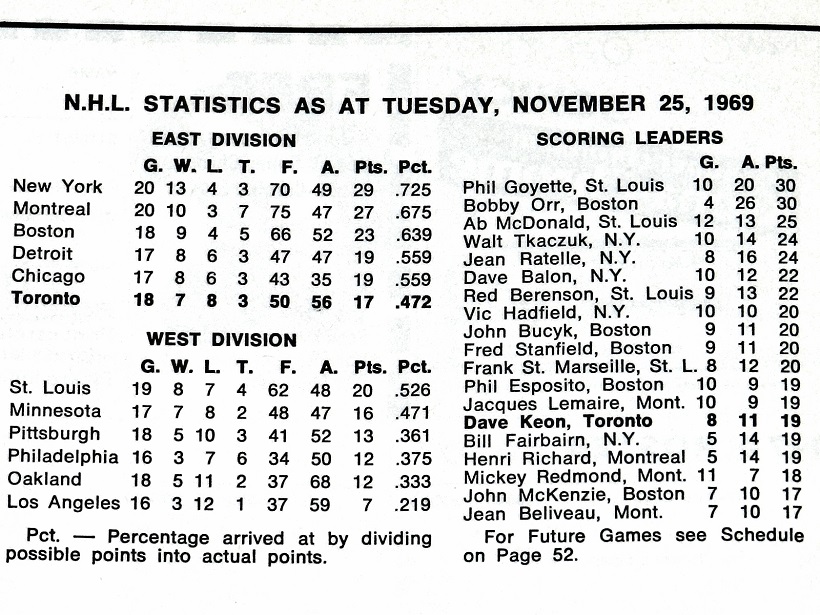 EMAIL: HOWARDLBERGER@GMAIL.COM