TORONTO (Nov. 12) — Let me tell you a quick story about Don Cherry that has no correlation with the purported reason for his firing on Monday by Rogers. It does, however, show a side to the man of which relatively few are aware, or have experienced. And, it may provide a different perspective about the proud Canadian that continues to absorb a pounding from the anonymous kooks on social media.
Sometime in mid–1999, while at the former Holly St. location of The FAN–590, I received a phone call from an old school friend, Jeff Sapers. Jeff's father, Mitch, was battling non–Hodgkin's lymphoma, an illness that would claim his life in October of that year. Mitch Sapers was among the countless hockey viewers in our land that looked forward to Coach's Corner each Saturday night. He loved the entertainment provided by Cherry; that Donald S. spoke his mind without a filter… and did not back down when criticized about his views. During that brief phone chat, Jeff wondered, without expectation, if there was any chance I would contact Cherry and ask him to give his dying father a quick call, hoping it may provide Mitch a moment of pleasure at a particularly strenuous time. I told Jeff I would happily make the call and put in the request.
About a month later, and having thought nothing more about it, I received another call from Jeff, who said that Cherry not only telephoned his father and spoke at length, but offered to have lunch with Mitch at his Grapevine Restaurant in Mississauga; Don would order a limo to pick him up and drop him off. "I was astonished that a busy and famous man like Don would take the time to call a relative shmoe like my father," Jeff remembered over the phone today. "They talked for a full two hours about hockey — the old days, with Howie Morenz and Jean Beliveau. Then, Don made the lunch offer. Sadly, my father was too sick at that point to go out. But, what a great moment for him. He was so thrilled and excited after that phone call. I'll never forget Don for his kindness, and for going the extra mile to make a complete stranger happy."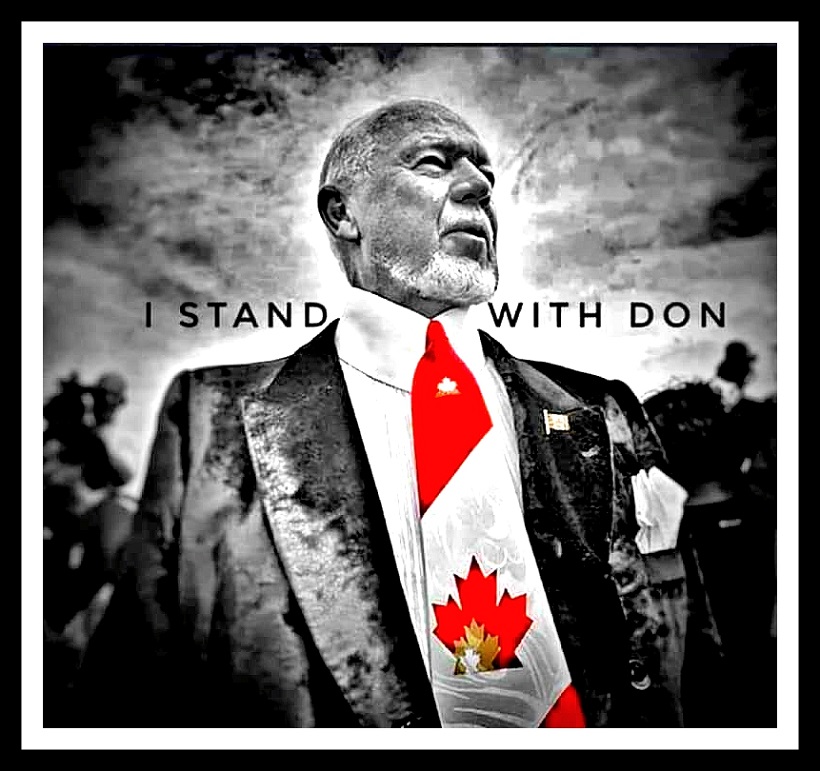 That's the ogre so many of you are vilifying today. And, I can guarantee there are dozens of similar stories where Cherry used his fame and soft heart to help others. Does it excuse him for making insensitive remarks on TV? Of course not. But, it provides some much–needed balance. For my part, I'm pleased that Cherry wasn't coerced into a mea culpa to save his position with Hockey Night In Canada. Though some form of apology may have been warranted, Don knows he'd have come off as a two–timer and a phony. He stuck to his guns and fell on his sword… even if the poobahs at Rogers were waiting for the next excuse to rinse him and help defray the feeble–minded, 12–year, $5.2 billion contract with the National Hockey League that has cost so many others their livelihood at Sportsnet. And, it brings me back to the freedom of speech coveted by Cherry during his TV moments with, first, Dave Hodge; then Ron MacLean.
The mainstream media is positioning Cherry's demise as the result of racism and hurt feelings (c'est dommage to the "immigrants" in our country that were permanently scarred by his comments on Saturday — all three of them). Rosie DiManno and Bruce Arthur of the Toronto Star (both of whom I respect) despised Cherry and are having a field day with their freedom of speech. Steve Simmons of the Toronto Sun, a Cherry friend and admirer, opined it was the lack of an apology — not the "immigrants" statement — that led to the firing. Which I believe, though, again, the Rogers chieftains were surely happy to wriggle out of Cherry's financial haul; why would they get rid of Bob McCown, Nick Kypreos, Doug MacLean, John Shannon et al and plan to keep him indefinitely. I'll say it once more: Don's remarks on Saturday night were, at most, insensitive; framed within his contention that all people living in Canada should wear poppies prior to Remembrance Day. And, yes, worthy of some clarity… perhaps formal atonement. But, not a firing offense.
In the realm of free speech, Cherry's dismissal has inhibited others from exercising their rights. I suspected that Brian Williams would be a good person to speak with; he and Cherry spent more than 30 years recording Grapeline — a radio show syndicated across Canada. Other than MacLean, no one in media circles was closer to Cherry. Brian was kind enough to return a phone call today but quickly insisted "I have nothing to say; nothing to add." Williams hasn't been devoid of opinion since his Mom was in labor, nearly 73 years ago. Today, he clammed up, feeling that any words about his good pal would somehow haunt him. I thought about calling Doug Gilmour, the fellow Kingston, Ont. native who Cherry famously kissed, in studio, during the 1993 Stanley Cup playoffs. They've always had a sincere bond. But, I reminded myself that Dougie was hired as a community rep by the Leafs two weeks ago; his team 37.5% owned by Rogers. How, then, could Gilmour exercise freedom of speech on the matter? MacLean, to my knowledge, has said nothing about Cherry since apologizing for Saturday's Coach's Corner off the top of Sunday's Hometown Hockey telecast from Welland, Ont. Ron could likely fill a book with his thoughts and emotions of the past 72 hours.
But, everyone's afraid to speak. And, that's what we risk, in a free society, by silencing people that aren't hesitant to offer opinion. In saying this, I differ between freedom of speech and expressions of hatred. Were it legal, I'd strangle any person that invokes bigotry (Cherry mentioning "immigrants" was slightly out of line, but not the same; he didn't attack Jews, Muslims, Blacks, Asians, or any identifiable group). We live in a hypersensitive era that, tragically, fuels the anonymous ranting on social media. Only those hiding, cowardly, beneath a moniker are "courageous" enough to speak out. It's a sickness borne of the Internet. Don Cherry, for the most part, said — out loud — what so many of us are thinking but afraid to say. The late comedian, George Carlin, crafted a brilliant career out of doing the same. We run around today like frightened rabbits.
If there's someone out there who can say that Cherry was lawfully dismissed, I'd like him (or her) to speak up. To explain the statute Donald S. contravened with his remarks on Saturday. There likely is no–such person. And, if there were, he or she would be too fearful to talk. It's sad. And getting sadder.
EMAIL: HOWARDLBERGER@GMAIL.COM