TORONTO (Dec. 26) — Though it seems like only yesterday, it was 40 years ago this week that Punch Imlach destroyed the Toronto Maple Leafs for more than a decade. Beginning somewhat innocuously on Christmas Eve 1979, it ended, five days later, with the most–damaging trade in the 104–year history of the franchise.
The time between Lanny McDonald and Doug Gilmour continues to represent a black hole for the Maple Leafs. From December 1979 to January 1993, the club was mostly a laughingstock — out of the playoffs on six occasions in the 21–team National Hockey League while advancing, only once, beyond the second round of the Stanley Cup tournament. It included the worst season in franchise history (20–52–8 for 48 points in 1984–85) and the worst–ever defensive season (387 goals allowed in 1983–84, an average of 4.84 per game). Five general managers (Imlach, Gerry McNamara, Gord Stellick, Floyd Smith, Cliff Fletcher) and nine coaches (Imlach, Smith, Joe Crozier, Mike Nykoluk, Dan Maloney, John Brophy, George Armstrong, Doug Carpenter, Tom Watt, Pat Burns) passed through town in less than 1½ decades. There was abject instability at the top with owner Harold Ballard; only his death, in April 1990, allowed the club to begin its recovery.
Ballard's decision, in the summer of 1979, to re–hire Imlach as GM and coach ignited the death–spiral. Imlach had guided the Leafs to four Stanley Cups in the 1960's, but the hockey universe (and society) had changed dramatically in the interim. Long–gone was the era when players in the NHL could be browbeaten by management. Salaries were into triple figures and all skaters had representation. Between 1974–75 and 1978–79, the Leafs developed into a promising team. Led by such good, young players as Darryl Sittler, McDonald, Borje Salming, Ian Turnbull, Dave (Tiger) Williams and Mike Palmateer, the club made some noise in the playoffs for the first time since the 1967 championship, winning six rounds. When it regressed, however, in '78–79 and got swept by Montreal in the quarterfinals for the second consecutive spring, Ballard replaced GM Jim Gregory and coach Roger Neilson with Imlach, who'd been fired in December 1978 as manager of the Buffalo Sabres. It proved to be the most–destructive appointment in Maple Leaf annals.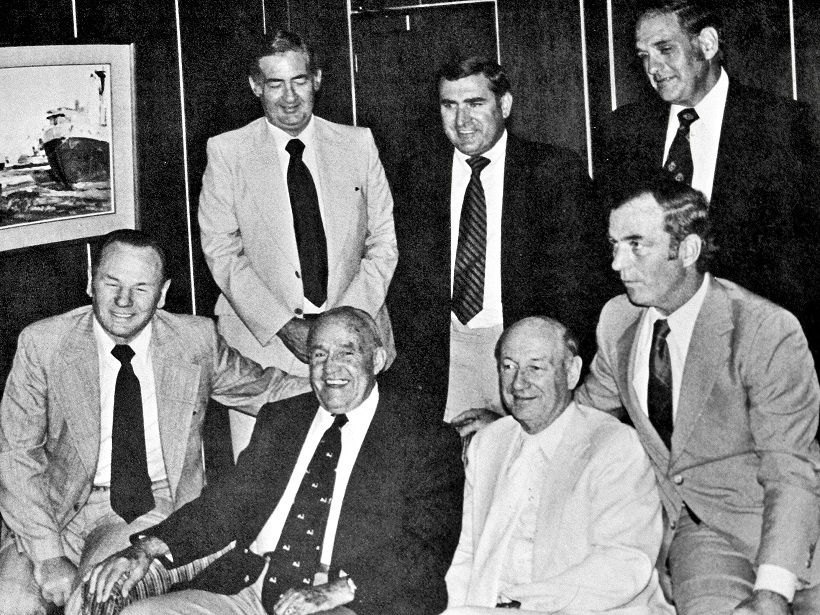 THE DAY TORONTO DIED: THERE WERE SMILES AT MAPLE LEAF GARDENS ON JULY 3, 1979, WHEN PUNCH IMLACH RETURNED. STANDING (LEFT–TO–RIGHT): JOHN McLELLAN, FLOYD SMITH, GERRY McNAMARA. SEATED (LEFT–TO–RIGHT): JOHNNY BOWER, KING CLANCY, IMLACH, DICK DUFF.
Imlach determined, not incorrectly, that the Leafs were a good team, but incapable of challenging for the Stanley Cup. Rather than building around the club's nucleus, however, he invoked the 60's doctrine of "I'm the boss and you'll follow my orders." Sittler, widely popular as captain, became the target of Imlach's struggle to create a fiefdom. Books have been written about the ensuing quarrel that lasted throughout the 1979–80 season; resulted in McDonald being traded to the old Colorado Rockies, and ended with Imlach suffering a heart attack. In the Coles Notes version, Imlach wanted to trade Sittler but was bound by a no–movement clause in the captain's contract. Instead, he chose to diminish Sittler by unloading his best friend and prolific line–mate. When, on Dec. 29, 1979, McDonald and defenseman Joel Quenneville went to Colorado for forwards Wilf Paiement and Pat Hickey, the Leafs were doomed to years of turmoil and decline.
The roster purge had begun earlier in the week with a one–for–one swap that quickly backfired. A 10–0 humiliation at Boston (Dec. 20, 1979) convinced Imlach it was time for change. "I had to start moving people," he wrote in his 1982 autobiography Heaven and Hell in the NHL. "I dealt Pat Boutette, a regular for us (32 games, zero goals, four assists), to Hartford for Bob Stephenson, who was with Springfield in the minors. Bad deal, but the best I could do at the time. I had to start somewhere." Bad deal, indeed. Cast as a defensive forward in Toronto, Boutette averaged 34 points per season. Hartford removed the shackles and he registered 44 points in 47 games; then followed with 80, 74 and 56 points for the Whalers and Pittsburgh.
Stephenson had two goals and four points in 14 games with the Maple Leafs. Yup… a bad deal.
Looking for blue–line help, Imlach un–retired defenseman Carl Brewer, who hadn't played in the NHL since 1971–72. I'll never forget attending a game at the Gardens 40 years ago tonight (Dec. 26, 1979) when Brewer — 41 years old; fat… and bald as an eagle — debuted for the Leafs in an 8–2 decimation by the Washington Capitals. A 5–3 loss in Buffalo the following night would be McDonald's final match in a Maple Leafs jersey.
By that time, Lanny had developed into the second–best right–winger in the NHL, behind only Guy Lafleur of Montreal, with seasons of 37, 46, 47 and 43 goals. He and Sittler combined spectacularly — first with Errol Thompson, then Tiger Williams. McDonald wasn't just a scorer, but a tenacious, unforgiving competitor with a laser shot and just enough of a mean streak to create space for himself. He was also wildly popular in the community for charitable work… and his walrus–like mustache. Neither before, nor since, have the Maple Leafs dealt such a commanding presence, on and off the ice (though Sittler was close). The trade with Colorado sparked a massive protest outside the Gardens the following night, prior to a Saturday encounter against Winnipeg. Fans marched with placards back and forth along Carlton Street. Sittler, distraught over the trade, famously had trainer Guy Kinnear un–stitch the captain's 'C' from his white, home uniform.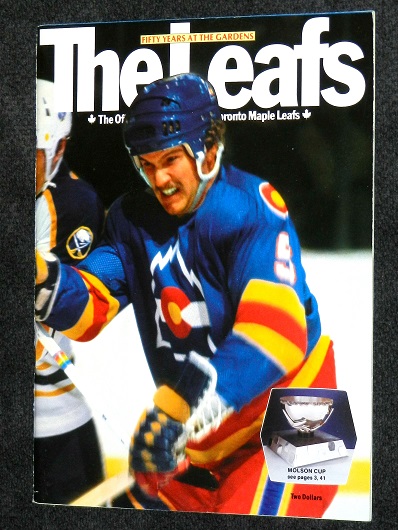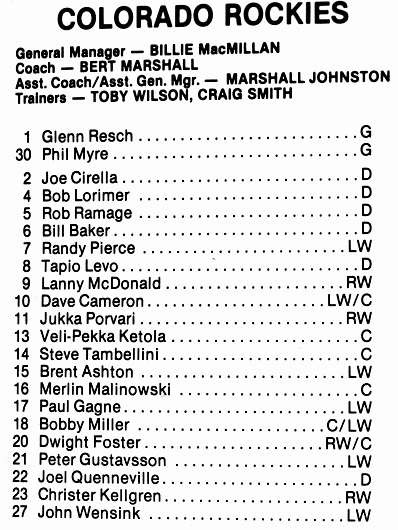 Though some good players passed through town — among them, Rick Vaive and Wendel Clark — it wasn't until Cliff Fletcher acquired Doug Gilmour from Calgary (12 years and four days after the McDonald trade) that the club truly began to recover. Gilmour was the first player in the Sittler/McDonald mold: singularly determined and capable of carrying the Leafs through long stretches. Not surprisingly, it took just more than one calendar year for the club to rocket forward, as Gilmour amassed team records for assists (95) and points (127) in 1992–93 before leading the Blue and White to within one game of the Stanley Cup final. By that time, McDonald was retired, having scored 66 goals (in 1982–83) and won the Stanley Cup (in 1989) — both with Calgary. Lanny and Dougie are, today, honored members of the Hockey Hall of Fame.
So, yeah, it was 40 years ago this week that Punch Imlach gave away Pat Boutette; allowed fat and bald Carl Brewer to resume his NHL career after eight seasons, and pulled off the most–destructive trade in the history of the Maple Leafs. Five days that endure in Blue and White infamy.
EMAIL: HOWARDLBERGER@GMAIL.COM