TORONTO (Dec. 13) — Compatible with his good nature, Sheldon Keefe is trying to make nice.
After 10 games as coach of the Toronto Maple Leafs, he continues to acknowledge that his No. 1 goalie, Frederik Andersen, will require intermittent blows between now and the end of the National Hockey League schedule in the second week of April. All the while concocting reasons, however valid, that Andersen is capable of nightly deployment at this juncture of the schedule. Buying time, in other words. Waiting for a fix.
Keefe is nobody's fool. He understands the math — that his team, barely over .500 (15–14–4) in mid–December, must embark on something quite phenomenal in order to avoid missing the playoffs. Given just about every example in the post–lockout era (after 2005), the Leafs, in their remaining 49 games, need to perform roughly 15 games above .500 to qualify for the Stanley Cup tournament. Given the club has recorded one measly point in the standings with someone other than Andersen perched between the pipes, Keefe has but one option: burn the living sh** out of his only legitimate stopper — game after game; week after week. Without a reasonable No. 2 goalie, it's pick your poison: virtually destroy Andersen in the next four months… or watch 16 other teams compete for the Cup. Realizing, full well, that if the big Dane can somehow carry his team into the tournament, he'll have nothing left once it begins. Such is the peril of undervaluing the two–goalie system — a hallmark, to this point, of Kyle Dubas's term as general manager.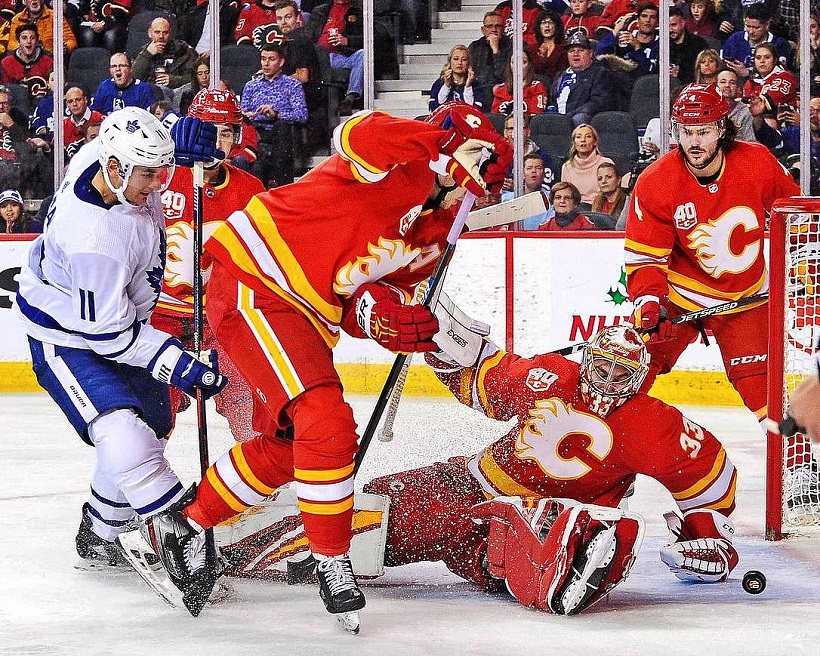 THE CALGARY FLAMES SCORED THREE GOALS IN A 2:49 SPAN AT THE SADDLEDOME THURSDAY NIGHT TO UPEND ZACH HYMAN (11) AND THE TORONTO MAPLE LEAFS, 4–2. JEFF McINTOSH THE ASSOCIATED PRESS
Quite frankly, I was aghast at the number of astute Leaf observers that were overjoyed after the 4–1 triumph in Vancouver on Tuesday. Expectation for the Blue and White has clearly plummeted. Even my good friend, Kevin Shea, the prolific hockey author, posted (on Facebook) something to effect of "that's the team I've been waiting to see." Kevin; my pal, every time I looked up, another Canucks player was in alone on Andersen. It was like watching a re–run of the "Showdown in the NHL" intermission series from the late–70's on Hockey Night In Canada. You cannot possibly want your team to perform so shabbily in front of its goaltender. Another few–such outings and ol' Freddy will be fried before the All Star break. In Calgary, on Thursday, Andersen couldn't stop anything to begin the third period. The Leafs played 57 good, and three lousy, minutes. The Flames won their seventh consecutive match. Such, again, is the critical importance of Toronto's lone NHL–caliber goalie. Even a brief lapse can turn a game sideways. As it did in the Saddledome.
It's obvious the Leafs are playing with more energy and purpose under Keefe than they did for Mike Babcock. Just as plain, however, is the ongoing lack of reasonable defensive posture. This team is built to attack the opposition; not to prevent scoring chances. On most nights, if not for spectacular goaltending, it has minimal hope of prevailing. That's why I don't think the Leafs will improve to the extent required for a playoff berth. You may ask, "well, then why did they make the playoffs last season, with the same defensive issues and lack of a No. 2 goalie?" Legitimate question, but an easy answer. The club was terrific to start the season: 11–5–0 after 16 games; 21–10–2 after 33 matches — a full 10 points better than today at the same juncture. Even if Dubas finally procures a No. 2 netminder, the physical and emotional toil of fighting from behind will be too much for the Leafs to overcome. Salvaging a mediocre start is profoundly difficult.
Yes, I know, St. Louis won the Stanley Cup last year, rising from dead–last in the NHL standings in early–January. But, I also know that a Jordan Binnington situation happens roughly three times per century — the previous example of a goalie coming from nowhere to win the NHL title being Patrick Roy, 33 years earlier, with the 1986 Montreal Canadiens. Prior to that, it was Ken Dryden with the '71 Habs. So, try and temper this analogy. The Blues, in fact, are a splendid example of what the Leafs must become: a club with two reliable, established goalies. Not one man whose energy reserves are depleted every year before the playoffs begin.
As will unavoidably happen, once again, with Frederik Andersen.
Sadly for the Maple Leafs, burnout is the lone remaining option. It falls squarely on the GM.
BIG LEAGUERS NO MORE: Is there anything more futile than the Toronto Blue Jays at the annual Baseball Winter Meetings? While the clubs truly committed to winning pulled up this week in San Diego with truck–loads of cash, the "small–market" Blue Jays arrived with an envelope. And left, predictably, with journeyman right-hander Tanner Roark, 33, who won 16 games with Washington in 2016, but hasn't since recorded more than 10 victories in a season. Yeah, he'll give the Jays some innings; after all, there's a 162–game schedule to be played. But, otherwise… yawn! Toronto baseball fans got a taste of success in 2015 and 2016, until the parent company — Rogers Communications — realized it was spending money. Then it quickly reverted to the Rogers way: cheap and generally indifferent toward anything but summer programming for Sportsnet. The celebrated Clevelanders (Mark Shapiro and Ross Atkins) came to town and quickly destroyed the momentum. Now, the Blue Jays, big–leaguers for two seasons since 1993, are spectators once again. I'll be the first to agree that contracts tendered, this week, to Gerrit Cole (New York Yankees) and Anthony Rendon (Los Angeles Angels) were ridiculous. But, that's the price of winning in the Majors. By comparison, the Blue Jays are in the Minors. With another long, lousy season ahead and no hope of remaining in the playoff picture beyond the middle of June. Heck, I remember covering Winter Meetings for The FAN–590 in 1991 (Miami Beach) and 1992 (Louisville) when the club pursued (and landed) such difference–makers as Jack Morris, Dave Winfield, Paul Molitor and Dave Stewart. Its original owner, the Labatt Brewing Company, ponied up and helped craft the consecutive World Series champions of '92 and '93. The current owner, even if among the largest and wealthiest companies in Canada, could hardly care less about its baseball wing.
Truthfully, it's pathetic. And getting worse.

MARK SHAPIRO (LEFT) AND ROSS ATKINS HAVE BEEN PROVIDED, BY OWNER ROGERS COMMUNICATIONS, NO CHANCE AT ALL TO COMPETE IN THE ULTRA–TOUGH AMERICAN LEAGUE EAST.
YAY TEAM! I'm not writing this to be critical of Laura Diakun, whose versatility as an anchor and sports reporter is an asset to TSN. Instead, I'm using Laura an an example of how media has changed with the cross–pollination of network television and team ownership. While doing a double–ender hit on Thursday with Toronto station CP–24, also owned by Bell Canada Enterprises, Diakun spoke accurately about the Maple Leafs victory over the Canucks the previous night, stating that Frederik Andersen had stolen two points for the visitors at Rogers Arena. But, then she did the 2019 thing. Instead of signing off and throwing back to the CP–24 host by saying "we'll see if the Leafs can continue their winning ways tonight in Calgary", she concluded with "let's hope the Leafs can keep winning tonight in Calgary." To some, it may constitute a minor detail. For others, with a bend toward journalism, it's symbolic of the cheer–leading that is so intrinsic today, especially on our two national sports networks — TSN and Sportsnet — whose parent companies own 75% of the Maple Leafs. I'm sure Laura never thought twice about her throwback line on Thursday. It was simply a bi–product of the "branding" that has tainted too much of hockey commentary in Toronto.
EMAIL: HOWARDLBERGER@GMAIL.COM