TORONTO (Dec. 23) — Rejoice, if you wish, in another sloppy win, as the Maple Leafs need every point available. But, ignore, at your peril, the tell–tale sign between the pipes, where Frederik Andersen is already beginning to wear down. Under Mike Babcock, this didn't happen until mid–to–late February. Sheldon Keefe is saddled with the problem much earlier, resulting from the club's 9–10–4 record when he replaced Babcock… and the energy required to claw from behind. Which the Leafs are doing, rather impressively.
But, at an incalculable cost.
Unless Kyle Dubas finds a stopper to adequately share the load in the second half of the schedule — against bad teams and good — Andersen will be spent by the beginning of March. It's been a two–year theme in this corner and nothing will change until the Leafs discover how to keep their No. 1 goalie fresh through the regular season; then during April, May and June. Providing, of course, that No. 1 goalie is of caliber to excel through the toughest parts of the National Hockey League marathon. Which hasn't yet been determined.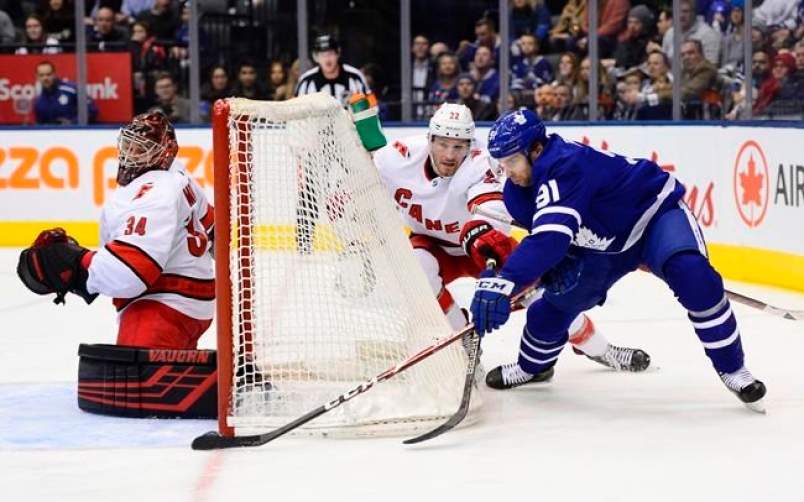 IT WAS WILD AND ENTERTAINING FOR A HOLIDAY CROWD AT SCOTIABANK ARENA THIS AFTERNOON, AS THE LEAFS DEFEATED THE CAROLINA HURRICANES, 8–6. FRANK GUNN THE CANADIAN PRESS
Andersen looked wonky in New York on Friday night and mostly horrible against Carolina this afternoon. Pond hockey won both games and, evidently, it's pond hockey that Dubas believes can triumph in four rounds of Stanley Cup toil. I beg to differ. As fun as it may be to watch — and Mitch Marner on a big night is more enthralling than any Leaf since Doug Gilmour — no–defense hockey will not serve the club by any measure next spring… nor will it get the Leafs to the post–season without completely destroying Andersen. Keefe has been a revelation for the Blue and White (now 11–4–0 in 15 games), but he will not transform the Leafs into a precise, methodical unit. The only real chance, long term, rests with Andersen being able to steal games between April and June against stingier opponents. When allowing six goals will not suffice.
Hockey observers in this town have pondered a similar narrative for much of the past 53 years. The longest current Stanley Cup drought hasn't resulted from a dearth of creativity and production — not amid such stars as Frank Mahovlich, Norm Ullman, Paul Henderson, Mike Walton, Darryl Sittler, Lanny McDonald, Errol Thompson, Rick Vaive, Steve Thomas, Wendel Clark, Gilmour, Dave Andreychuk, Mats Sundin, Gary Roberts, Alex Mogilny, Phil Kessel and the current Big Four (Marner, Auston Matthews, John Tavares, William Nylander). The Leafs have almost–always been able to score goals. But, they've almost–never proven defensively sound. Which is undoubtedly the case again this season. Even more–so than in the past.
Is there an ultimate answer — one that will carry the club through four grueling playoff rounds? Not with the current team and its prohibitive lack of balance. Until some equilibrium is provided, the Leafs will continue to rely disproportionately on spectacular goaltending. Which cannot materialize with Andersen pooped out. The big Dane is very good at his craft, but demonstrably prone to fatigue when overworked. Which he has been since first donning a Leafs jersey. We're not even at the halfway mark of the current season and Andersen is growing weary. As evidenced in his last two starts. He needs help. Big time. Which can only be provided by his general manager… ideally without delay after the holiday roster freeze.
EMAIL: HOWARDLBERGER@GMAIL.COM