TORONTO (Dec. 6) — You can debate any aspect of the Toronto Maple Leafs you wish, but all except one are immaterial. And, it's the deficit I keep referring to in this corner: back–up goaltending.
The numbers are simple, straightforward and indisputable. Last season, in the Eastern Conference, the playoff terminator was 98 points, accumulated by the No. 2 wild card team, Columbus. Today, after 30 games, the Leafs are treading water at .500: 13–13–4 for 30 points. Given the most–recent comparison, it will require Toronto — in its final 52 matches — to perform at a pace of 16 games above .500.* Or, something in the neighborhood of a 32–16–4 for the necessary 68 points. Is such an achievement possible? Almost certainly not, with the current roster. If there is, however, an infinitesimal chance, Frederik Andersen will need to play roughly 40 of the remaining games. Which will put him at 63 by schedule's end… and ensure, once more, that he has virtually nothing left toward the end of the first Stanley Cup round. Let alone for three ensuing rounds, which become incrementally more difficult. If there's a legitimate counter–argument to this, I'd like to know it. Even blind loyalty toward the Leafs — pandemic around here — cannot suffice.
*A Twitter follower mentioned the Leafs "only" need to finish third in the Atlantic Division to make the playoffs. That spot required 100 points last season (by Toronto). Or, 18 games over .500 from this juncture.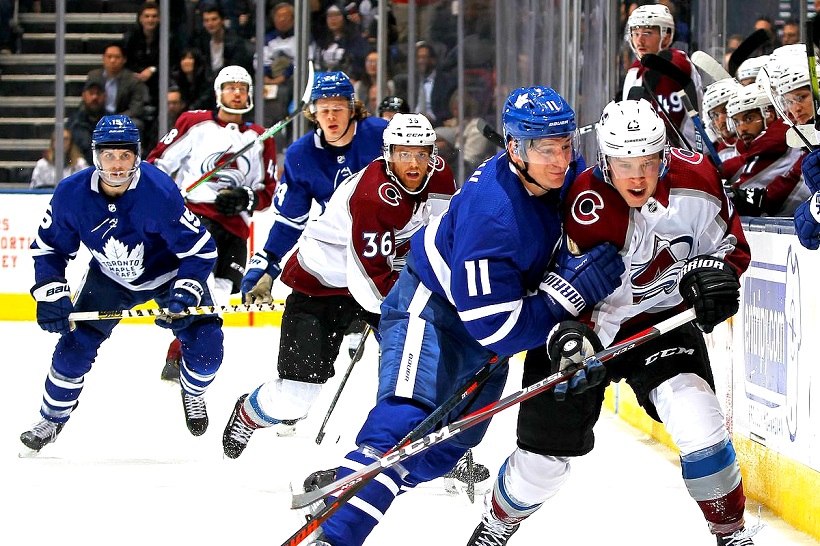 COLORADO BEAT TORONTO 3–1 AT SCOTIABANK ARENA WEDNESDAY NIGHT, DROPPING THE LEAFS RECORD TO 4–7–1 IN THEIR PAST 12 GAMES. CLAUS ANDERSEN GETTY IMAGES
It was less–than–noble for general manager Kyle Dubas to tell reporters, earlier this week when queried about his No. 2 goaltending slot, that he'd like to see the club "play a complete game" in front of Michael Hutchinson. Heck, the Leafs hardly ever do that in front of Andersen. To skirt around his massive shortcoming as GM of the club didn't reflect well on Dubas, yet what else could he say? "Sorry fellas, I never thought we needed much of a back–up to Freddy." That wouldn't likely have precluded a follow–up question. But, it's so obvious. Since Kyle replaced Lou Lamoriello in the big chair prior to last season, his No. 2 goalies have combined for a record of 8–14–2 in 24 games. Hutchinson and Kasimir Kaskisuo are 0–6–1 this season. In order for Andersen to have any juice for a playoff run, someone else will need to play goal in roughly 20 games the rest of the way. Multiplying back–up victories, thus far, by 20, equals zero. Get the picture?
So, I ask you again: How can the Leafs, as currently assembled, reel off 68 points in 52 games?
And, even if an established No. 2 stopper comes available via trade, how does Dubas cram in such a salary? As I mentioned here last week, Kyle must unload a mid–range contract: Alex Kerfoot ($3.5 million), Andreas Johnsson* ($3.4 million) or Kasperi Kapanen ($3.2 million). At the moment, he has no choice but to shuffle the Titanic chairs with Hutchinson and Kaskisuo. Nor has he provided Sheldon Keefe an alternative to deploying Andersen until he keels over. That's why the Leafs of 2019–20 are doomed. Even if Auston Matthews catches fire and Dubas somehow procures a defensive blue–liner before the Feb. 24 National Hockey League trade deadline. Without a reasonable stand–in for big Freddy, all matters are irrelevant.
*Johnsson has been placed on LTIR with a leg injury. Out until the new year. Provides $1,267,017 of temporary cap space.
50 YEARS AGO TONIGHT
at Maple Leaf Gardens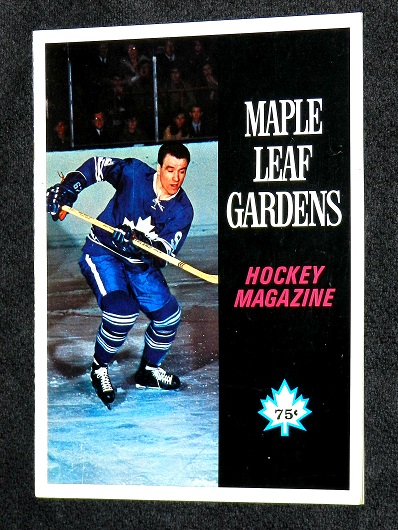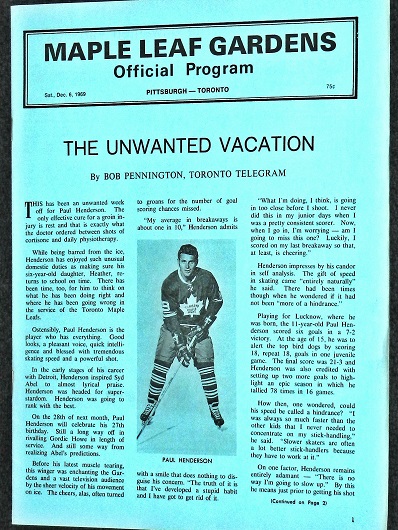 Continuing with my series of Maple Leaf Gardens programs from games I attended in 1969–70. This was a lop–sided triumph for Toronto in an otherwise dismal season. Fifty years ago tonight, the Leafs blanked Pittsburgh, 5–0, on goals by Terry Clancy, George Armstrong, Bob Pulford, Dave Keon and Norm Ullman (pictured, top–left, on program cover). Mike Walton had three assists. Bruce Gamble stopped 26 Penguins shots for the shut–out; ex–Leaf Al Smith took the loss at the other end. It was the lone victory for Toronto in a seven game span (1–5–1) between Nov. 30 and Dec. 13.
The referee was Bill Friday. The linesmen, Pat Shetler and George Ashley.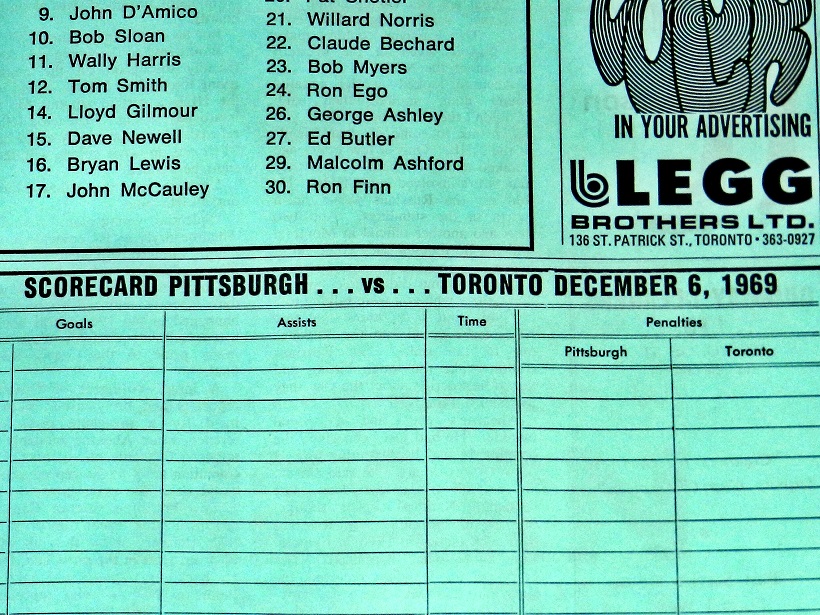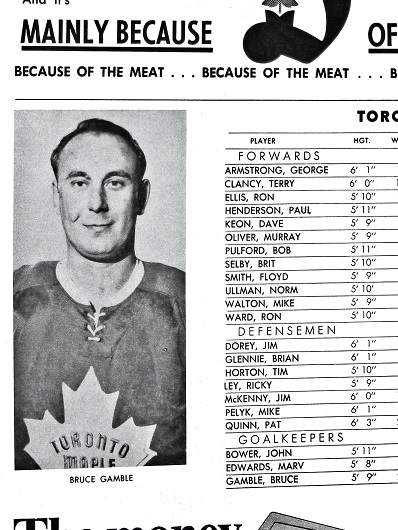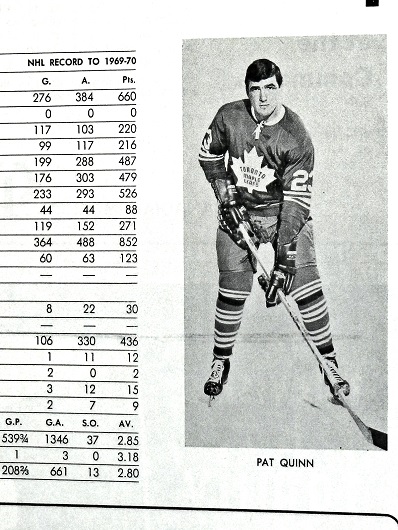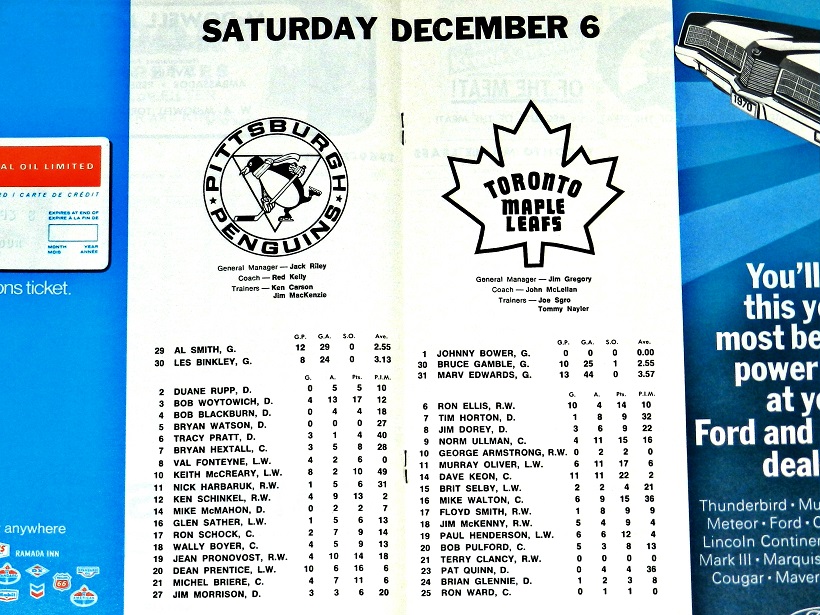 Wearing No. 16 for the Penguins was Glen Sather, then 26, who would later coach Wayne Gretzky and the Edmonton Oilers to Stanley Cup titles in 1984–85–87–88. Talented Pittsburgh rookie Michel Briere (No. 21) died on Apr. 13, 1971 of head trauma sustained in a car accident 11 months earlier. Four nights after this game (Dec. 10, 1969), Leafs goalie Johnny Bower made his final NHL start in a 6–3 loss at Montreal.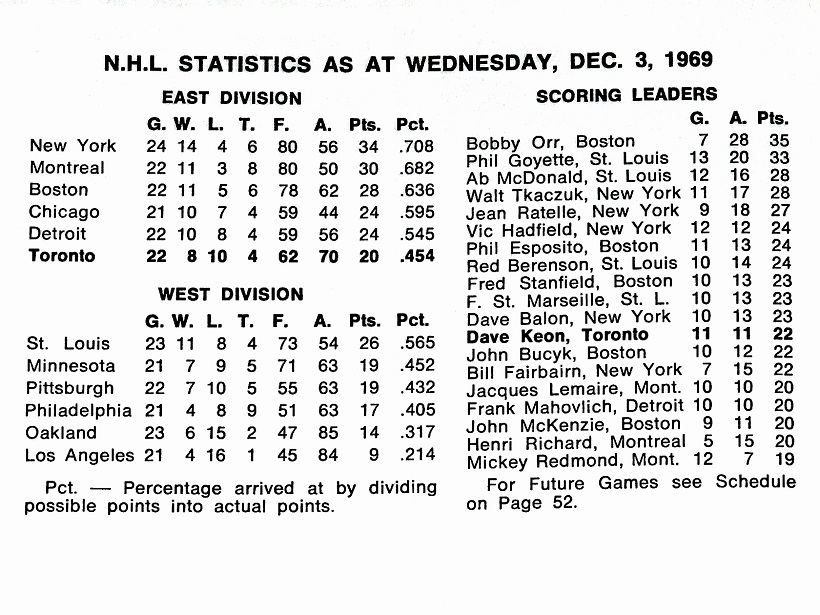 EMAIL: HOWARDLBERGER@GMAIL.COM