TORONTO (Jan. 1) — It is impossible to imagine the new year being as thoroughly dreadful as 2019 in the hockey media universe. Thanks almost solely to Rogers Communications — where employees are nothing but a designated number — the past 12 months featured an incomparable blood–letting on television at Sportsnet and radio at Sportsnet–590 (formerly The FAN–590). The tall foreheads at Rogers, led by Sportsnet president Bart Yabsley, fooled no one when positioning the mass layoffs and firings as some form of "re–organization". In fact, they were singularly prompted by the absurd 12–year, $5.2 billion contract signed with the National Hockey League in 2013 for TV rights across the land — an arrangement that allowed Rogers to "buy" its way to No. 1 in the ratings over TSN, but is the most–damaging in Canadian media history. Heaven knows what carnage lies between now and 2026, as the annual cost to the NHL escalates to $500 million.
The past year, astonishingly, featured the dismissal of perhaps the three most–notable names in Canadian sports media: Don Cherry, Bob McCown and Bob Cole. Anyone, last Jan. 1, predicting the demise of Cherry and McCown in less than a five–month span would have been medicated. Cole, to Rogers' credit, received an appropriate send–off in his 50th year calling games for Hockey Night In Canada. A late–summer purge swept out veteran analysts Nick Kypreos, Doug MacLean and John Shannon. Play–by–play voice Paul Romanuk was let go and replaced by the efficient, but less–pricey, John Bartlett. These moves were preceded by Rogers firing its most–knowledgeable and entertaining presence, rinkside voice Glenn Healy. Studio hosts Daren Millard and George Stromboulopoulos were also terminated — the latter after failing, through no personal fault, to modify the staid and traditional Saturday night audience. Only Rogers can attest to how many millions were salvaged in the bloodshed… and then re–directed toward its onerous NHL commitment.

As we begin the 21st year of the 21st century, the fallout appears to have settled mostly on Ron MacLean. For the first time in his storied career, MacLean was viewed adversely in the wake of his live apology to viewers the night after Cherry referred to immigrants as "you people" in a Coach's Corner diatribe over Remembrance Day. MacLean responded with a thumbs–up salute only to reverse sentiment prior to the Hometown Hockey telecast 24 hours later. He solemnly atoned for the segment that prompted Cherry's dismissal. "During last night's broadcast, Don made comments that were hurtful and prejudiced and I wish I had handled myself differently," MacLean said. "It was a divisive moment and I am truly upset with myself for allowing it. I have worked with Don for 30 years, and we both love hockey. But last night, we failed you."
On the surface, the apology appeared heartfelt; thoroughly consistent with MacLean. And, perhaps it was. Only later did we learn that MacLean had not informed Cherry, creating a rift between the long–time cohorts and best friends. Subsequent allegations implied the apology was "forced" upon MacLean by executives at Rogers, who had already chosen to fire Cherry and offered a similar threat. The host of Hockey Night In Canada since 1986 was considered a turncoat by viewers, upset that he'd thrown Cherry under the proverbial bus. In the Coach's Corner slot the following week, the first without Cherry, MacLean said, "Don's my guy, I'm in a foxhole with Don and I decided to go one way and he another… and you say 'okay, how can you choose principle over friendship?' But I had to. I thought a lot about falling on my own sword too."
On a larger scale, and lamentably, the tone of hockey coverage across Canada (especially here in Toronto) continued to follow the millennial trend. Critical commentary, in electronic and print media, all–but disappeared. In its place steadily evolved an abundance of cheer–leading, subjectivity and newspaper submissions referred to in the industry as "puff pieces". Sadly from this perspective, an entire generation of hockey watchers and readers is oblivious to the change. It's all the young people have known while following the sport. Rogers, not surprisingly, has led the way. It owns 37.5% of the Toronto Maple Leafs and is concerned with "branding" rather than critical analysis. Color commentary on Leafs telecasts has gone over–the–top in unwavering support for the "home" team. Job security apparently depends on it.
THE OLDEST PROGRAMS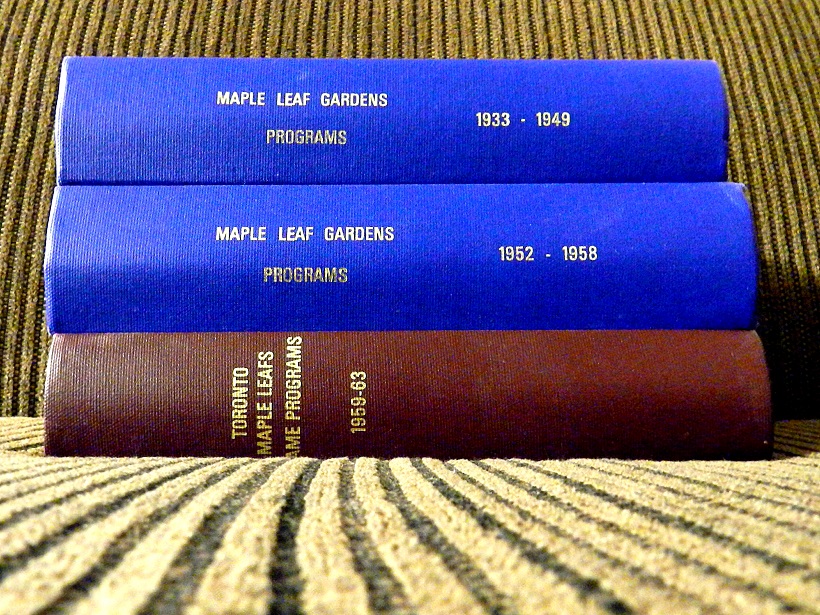 In my assortment of hockey programs from Maple Leaf Gardens, these are the oldest… and the most rare. During the 1980's, at various sports memorabilia shows, I bought more than 30 programs dating to the earliest era of the Gardens and the Toronto Maple Leafs. They span from Feb. 11, 1933 (2–1 win over the New York Rangers) to Nov. 23, 1963 (4–1 win over the Boston Bruins) — the latter game occurring the night after John F. Kennedy was assassinated in Dallas. All the programs were in mint condition, as if brand new. To properly maintain them through the years, I had the magazines (in 1989) bound into three books (above), each measuring 10 x 7 inches. These items remain among the most–coveted in my hockey collection.
80 YEARS AGO
at Maple Leaf Gardens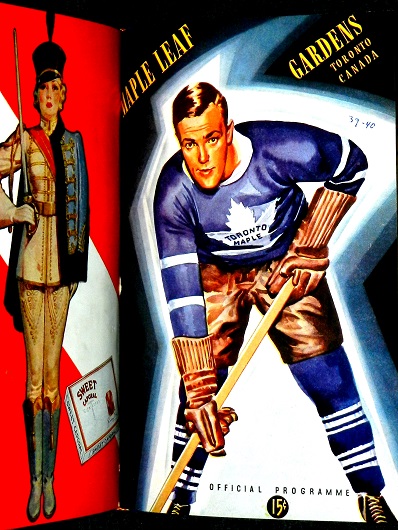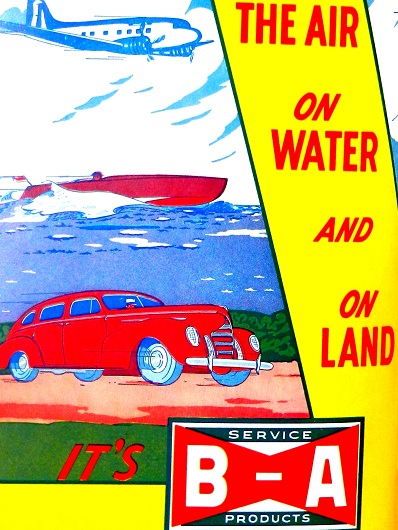 So, what were you doing on Dec. 30, 1939? Just more than eight years after the Gardens opened, the Maple Leafs were doubling the Chicago Black Hawks 4–2. The program cover is at left, above, and the inside–front advertisement is on the right. "B–A" stands for British–American Oil, which became Gulf Canada in 1969. Regis "Pep" Kelly (Jan. 9, 1914–Aug. 22, 1990) scored twice for the Leafs; Dave "Sweeney" Shriner (Nov. 30, 1911–July 4, 1990) and Bob Davidson (Feb. 10, 1912–Sep. 26, 1996) added singles. Bill Carse (May 29, 1914–October 31, 2000) and George Allen (July 27, 1914–Mar. 27, 2000) replied for Chicago. Walter "Turk" Broda (May 15, 1914–Oct. 17, 1972) played goal for Toronto; Paul Goodman (Feb. 25, 1905–Oct. 1, 1959) for the Black Hawks. The referee was Charles "Rabbit" McVeigh (Mar. 29, 1898–May 7, 1984), a center with the Black Hawks and New York Americans from 1926–27 to 1934–35. Some program contents here: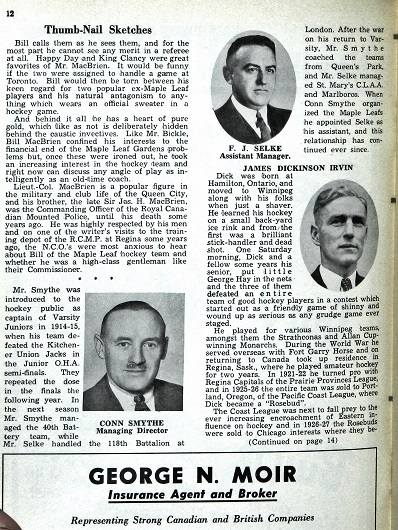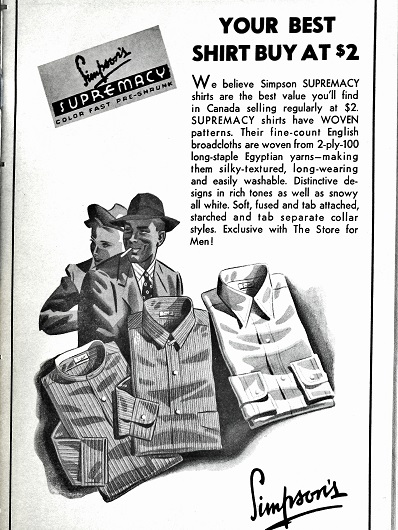 The 1939–40 Maple Leafs were run by the triumvirate (top–left) of Conn Smythe (Feb. 1, 1895–Nov. 18, 1980); Frank J. Selke (May 7, 1893–July 3, 1985) and Dick Irvin (July 19, 1892–May 16, 1957). Smythe founded the club and changed its name (on Feb. 14, 1926) from Toronto St. Pats to Maple Leafs. Selke managed the Leafs for Smythe during World War II (1939–45) then built the Montreal Canadiens dynasty of 1956–60; that club still holding the record of five consecutive Stanley Cup titles. Irvin coached the Leafs from 1931–40, winning the Cup in his first season. His son, Dick Irvin Jr. (b. Mar. 4, 1932), was a fixture on Hockey Night In Canada from 1966 to 1999 — first as color analyst alongside Danny Gallivan (Apr. 11, 1917–Feb. 24, 1993) on TV games from the Montreal Forum; then as play–by–play voice of the Canadiens on radio after Gallivan retired in 1984. The Robert Simpson Company operated department stores across Canada from 1872–1991, in competition with the T. Eaton Company (1869–1999). Simpson's sold $2 dress shirts in 1939 (top–right).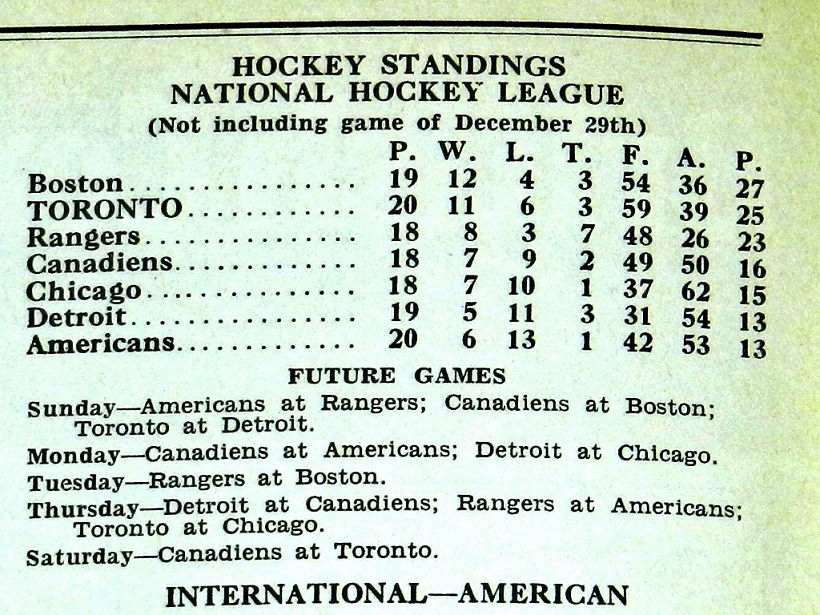 Seven teams comprised the National Hockey League in 1939–40. The New York Americans would suspend operation after the 1941–42 season; the remaining six clubs forming the NHL until expansion in 1967–68.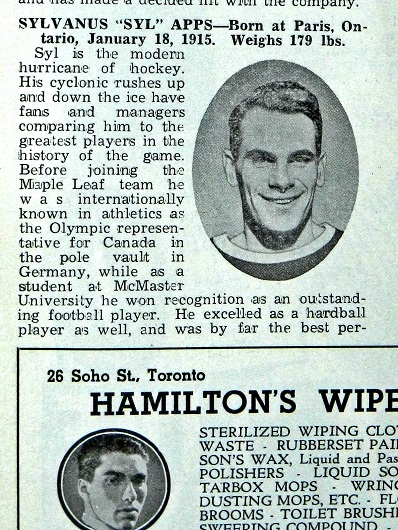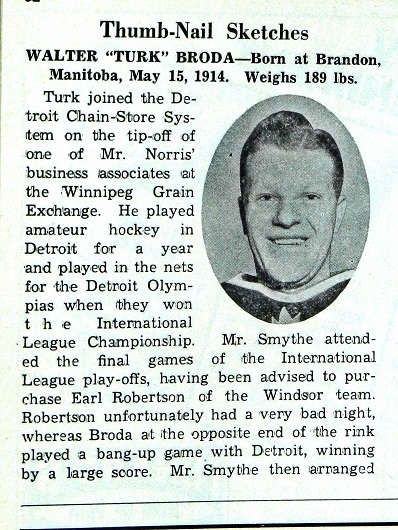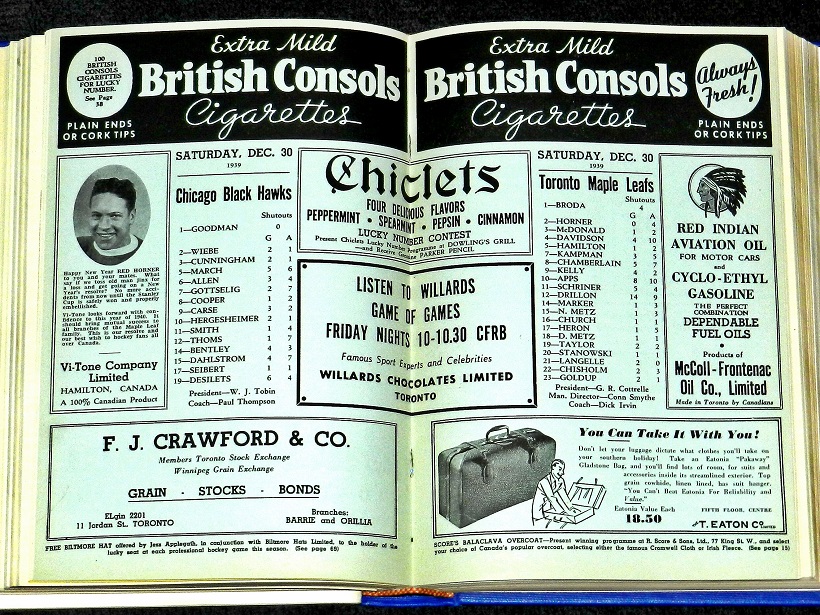 Line-ups center–spread, above, for Chicago at Toronto — Dec. 30, 1939. Closer look at the rosters, below. Still playing for the Black Hawks, wearing No. 5, was Harold "Mush" March (Oct. 18, 1908–Jan. 9, 2002), who scored the first goal in Maple Leaf Gardens on Nov. 12, 1931. March dropped the ceremonial puck prior to the final game at MLG (also Leafs vs. Chicago) on Feb. 13, 1999.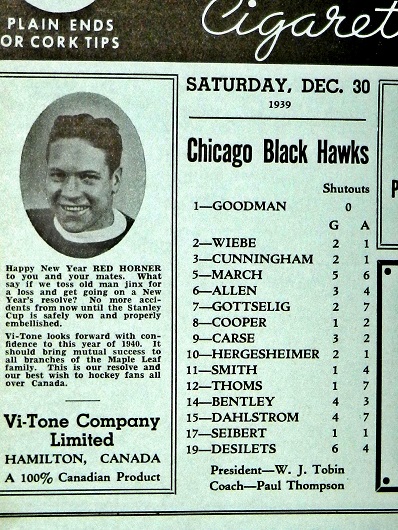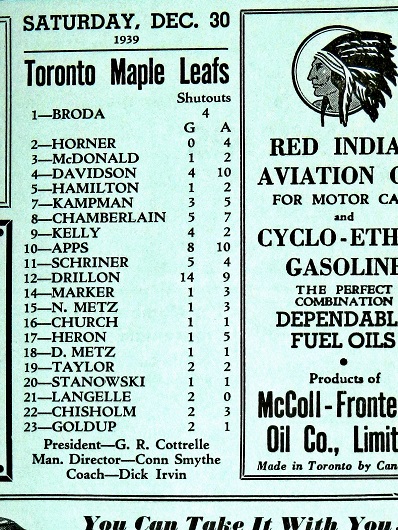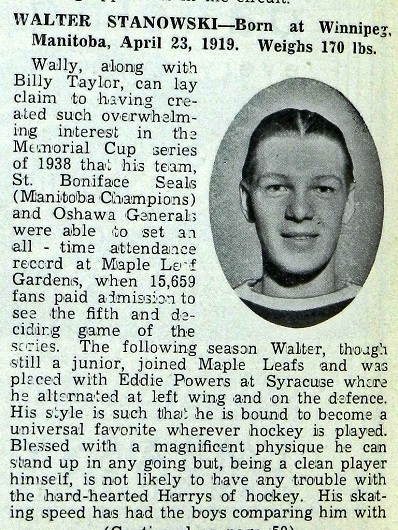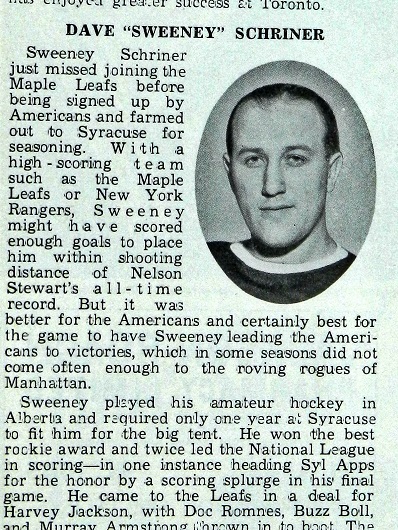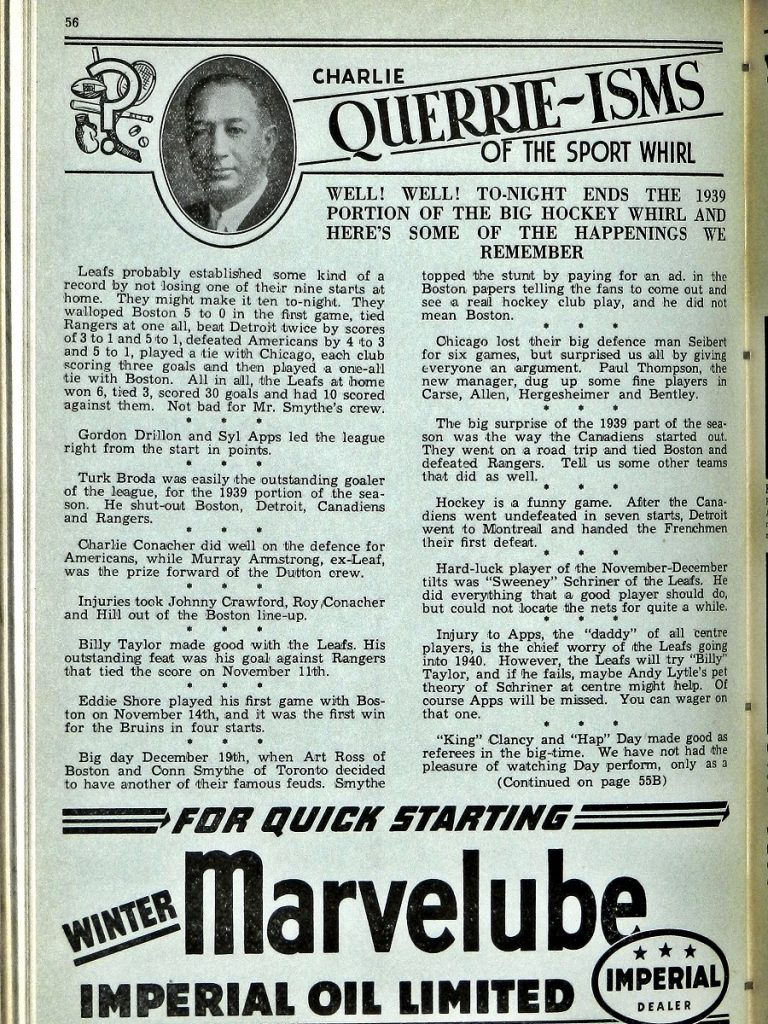 Charlie Querrie (July 25, 1877–Apr. 5, 1950) wrote a column (above) for the Gardens program. He had managed the forerunner to the Maple Leafs — the Toronto Arenas and St. Pats — from 1917–27.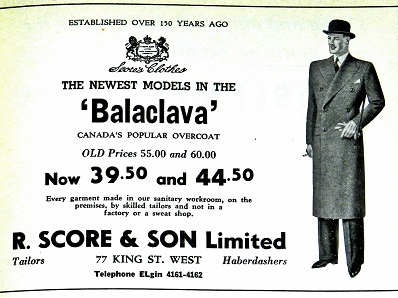 Amy man would wish to avoid "that tired feeling" (top–right. 🙂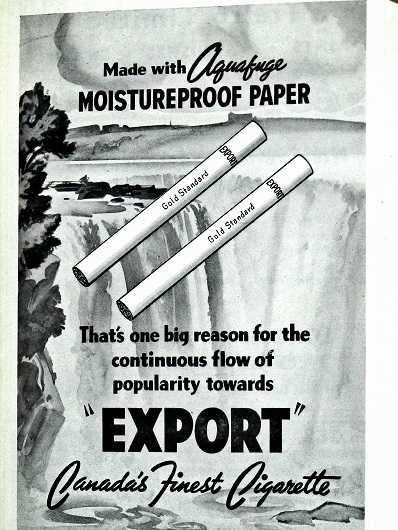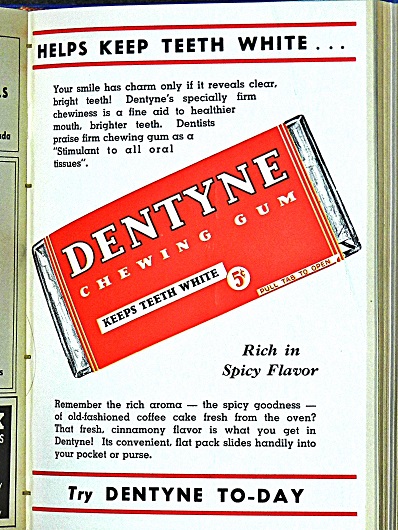 EMAIL: HOWARDLBERGER@GMAIL.COM