TORONTO (Jan. 11) — Should he remain injury–free throughout the National Hockey League schedule, Auston Matthews is a good bet to establish a Toronto Maple Leafs record for most goals in one season. Rick Vaive has held the mark — 54 — for nearly 40 years, since 1981–82. Dave Andreychuk connected for 54 in 1992–93, but his first 29 goals were scored for Buffalo prior to a trade (for goalie Grant Fuhr) on Feb. 2 of that season. Matthews would become only the second player drafted by the Leafs to attain the 50–goal milestone. Gary Leeman (24th overall from the Regina Pats in 1982) scored 51 in 1989–90 and was later dealt to Calgary (Jan. 2, 1992) in the 10–player swap that brought Doug Gilmour to Toronto.
Matthews, selected first overall in 2016, is second among goal–scorers with 31, four behind David Pastrnak of Boston. Matthews has appeared in all 45 games and is on pace for 59 tallies. No Toronto skater has led the NHL in goals since Gaye Stewart (37) in 1945–46. Should he achieve the mark, Auston would clearly be in consideration for the Hart Trophy, last awarded to a Leafs player — Ted Kennedy — in 1954–55 (Gilmour was runner–up to Mario Lemieux in 1992–93). Among Toronto skaters, only Lanny McDonald and Phil Kessel, in the modern era, have possessed as quick, hard and accurate a shot as Matthews.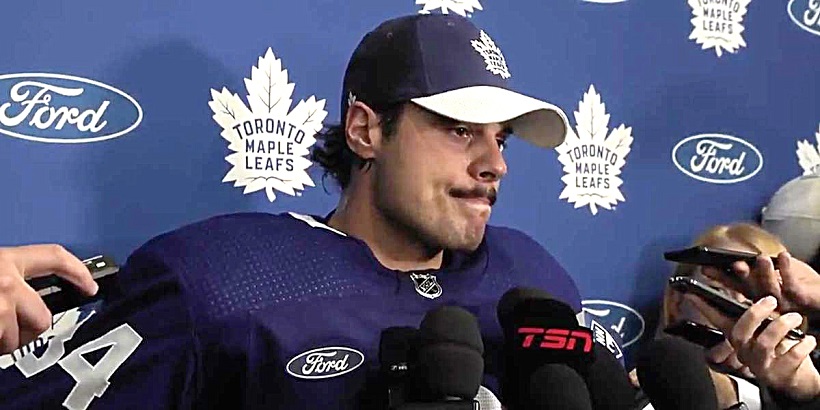 Why, then, do I so–often find myself being underwhelmed by No. 34? Clearly, he's among the most–dynamic shooters in Maple Leafs history, yet I don't look upon him the way I did such franchise legends as Dave Keon, Darryl Sittler, Borje Salming, Gilmour, Wendel Clark or Mats Sundin. Perhaps my age is an increasing factor… or maybe I'm not alone. The aforementioned players, of course, achieved some playoff success with the Leafs — Keon winning four Stanley Cup titles in the 1960's. To this point in his young career, Matthews has yet to perform in the second round of the Cup tournament. But, it's more than just post–season accomplishment. From my perspective, Matthews is a sniper… and not–much else. There is nothing untoward or unimportant about finding the range so frequently. The fans clearly enjoy his fist–pump after scoring and Auston does seem like a nice fellow. But, No. 34 goes about his craft without any noticeable charm or charisma, which places him in no exclusive category among today's banal, robotic NHL stars. With so many millions of dollars at stake, the faces of the league (Matthews, Sidney Crosby, Alex Ovechkin, Connor McDavid, Nathan MacKinnon, Jack Eichel) have long–been schooled (by agents) to present themselves conservatively and keep their innermost thoughts private. So rare today is such a prominent skater with character and individuality as P.K. Subban. Freedom of speech and expression is frowned upon.
We live in a different time than when I grew up in the 60's and 70's; far–more sensitive and appropriate. In my youth, black people were "Negroes" or "colored"; the physically–challenged were "crippled"; the mentally challenged were "retarded". In this era, we watch what we say for fear of even–remotely offending a group or an individual. Such outspoken personalities as Eddie Shack, Phil Esposito, Dave (Tiger) Williams, Billy Smith, Denis Potvin, Glenn Anderson, Jeremy Roenick, Brett Hull, Darcy Tucker, Tie Domi and Matthew Barnaby are relics — for better or worse. Neither is the NHL a six, 12 or 21–team league, as before. For all of these reasons, I suppose, Auston Matthews doesn't resonate to me as anything but a brilliant scorer.
After 53 years, of course, Toronto hockey fans wouldn't care if a Monk led them to the Stanley Cup.
25 YEARS AGO TODAY
When the NHL Returned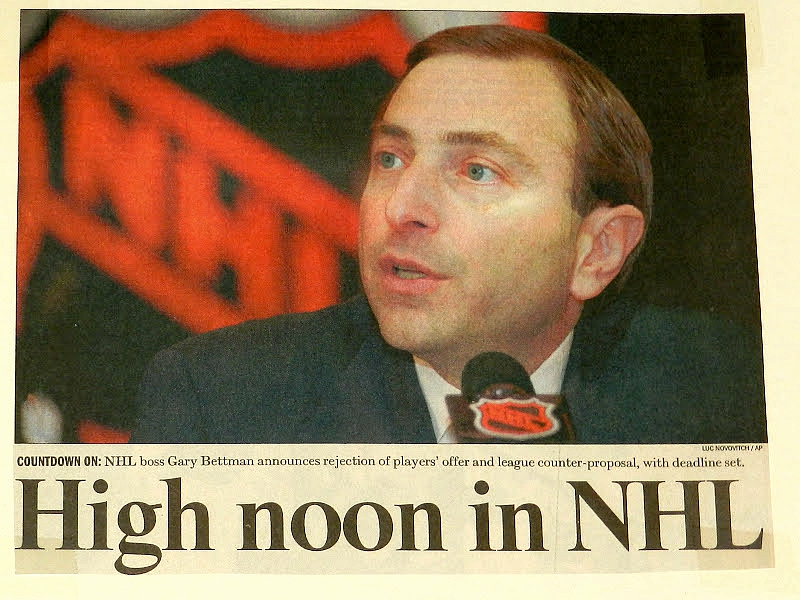 Nope, I will never forget the morning of Jan. 11, 1995. It ended the longest sleepless period of my life and proved a major turning point in my career as a radio reporter at The FAN–590. On that day, 25 years ago, the NHL and the NHL Players' Association finally agreed to a new Collective Bargaining Agreement, ending the most–lengthy and destructive work–stoppage (to that point) in the league's history: a 103–day owners' lockout that stifled the momentum garnered by the New York Rangers winning (in June 1994) their first Stanley Cup in 54 years. Having been dispatched to New York to cover what all parties agreed was a last–ditch attempt to save a portion of the 1994–95 season, I somehow remained awake for 38 consecutive hours, fearing a break in the negotiations were I to slumber. I recall spending a portion of the overnight hours playing Flintstones trivia on the air with my colleague back home, Mike Hogan.
Unexpectedly, the end of the lockout created a new beginning for me.
Moments after the NHL drew up a 48–game schedule in which teams would play only Conference opponents, I received a call from Jim Williamson at Warwick Publishing here in Toronto. He suggested I follow the Maple Leafs through their abbreviated season and write a diary–book. He would pay my expenses to attend the 24 road games. After running the idea past my bosses at the radio station — and Leafs coach Pat Burns — the project was launched. A book blandly entitled ON THE ROAD resulted from the lockout campaign after which, in the summer of 1995, The FAN lost radio–broadcast rights to the Leafs. It turned into the biggest break of my career. Beginning in 1995–96 and continuing through 2008–09, I attended virtually every Maple Leafs game, home and away, as the first radio beat–reporter in hockey (newspapers had covered the team at home and on the road for decades). And, all because of a brain–wave from a small book publisher. That's why I so–fondly remember a quarter–century ago today.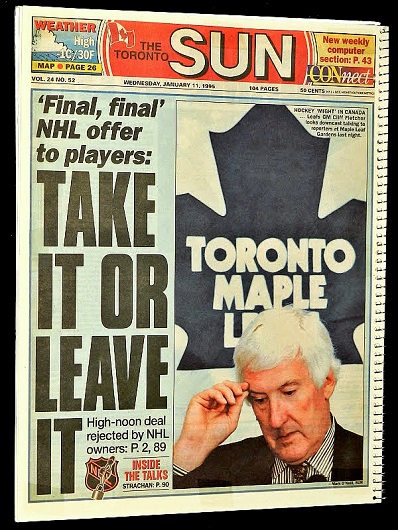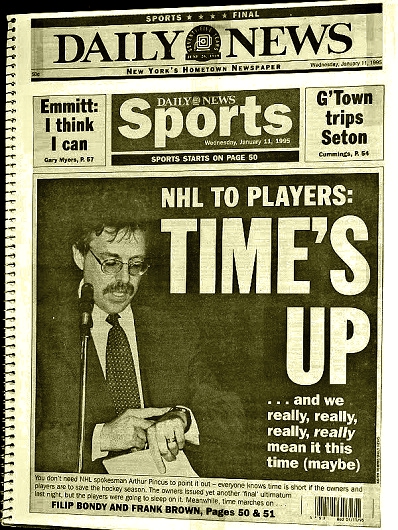 NEWSPAPER PAGES (ABOVE AND BELOW) FROM TORONTO AND NEW YORK LEADING UP TO THE END OF THE 103–DAY OWNERS' LOCKOUT THAT CONTRACTED THE 1994–95 NHL SEASON FROM 84 TO 48 GAMES.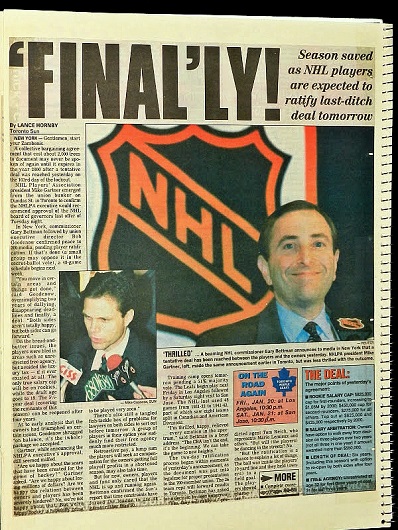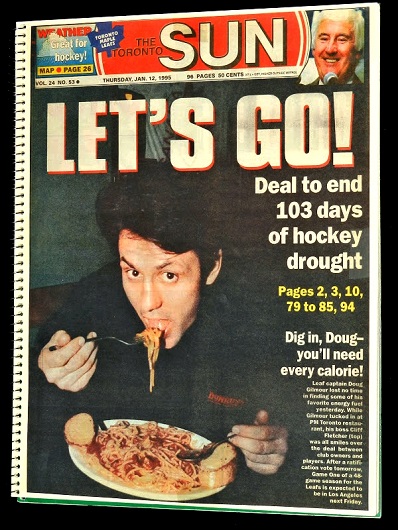 EMAIL: HOWARDLBERGER@GMAIL.COM