TORONTO (Jan. 3) — Yup, I was wrong. I doubt that I'll completely reverse my opinion of mid–term coaching changes, but the Toronto Maple Leafs pulled off a dandy maneuver on Nov. 20 when Sheldon Keefe replaced Mike Babcock. It's right there in the record book: 14–4–1 in 19 games since the switch — an accomplishment unequaled in franchise history. Even Punch Imlach, who fired Billy Reay and stepped behind the bench on Nov. 28, 1958, paled by comparison; his team compiling a 7–7–5 mark in its first 19 starts. Then we have, prior to Babcock/Keefe, the destitute Peter Horachek, who replaced Randy Carlyle on Jan. 6, 2015 and won his first two games, only to watch the team crumble to 1–15–2 in the ensuing 18 matches. So, yes, young Sheldon is achieving the unparalleled in his second full month as head coach.
It was mandatory for the Maple Leafs to embark on such a streak after a 9–10–4 blight under Babcock threatened early playoff aspiration. There are challenges ahead, but the club has worked itself into a more–advantageous position: second place in the Atlantic Division with 51 points, three ahead of third–place Tampa Bay (the Lightning with three games–in–hand) and four points up on Florida, currently out of a Wild Card spot in the Eastern Conference (the Panthers with two games–in–hand). As a result of struggling in their first 23 matches, the Leafs cannot afford another lengthy bout of middling performance. And, certainly not a protracted slump. There are still major concerns about defensive posture and the spelling of Frederik Andersen for more than just a game, here and there. Thursday night's 6–3 triumph in Winnipeg provided a microcosm of the Leafs: creativity, puck–possession and goal production while being out–shot, 48–28. Everything the club has accomplished under Keefe will be offset if general manager Kyle Dubas fails to obtain a reliable No. 2 goalie. Andersen has started 33 of 42 games and is on pace for 63 assignments. Again, he'll have virtually nothing to offer beyond the opening round of the playoffs, should the Leafs qualify.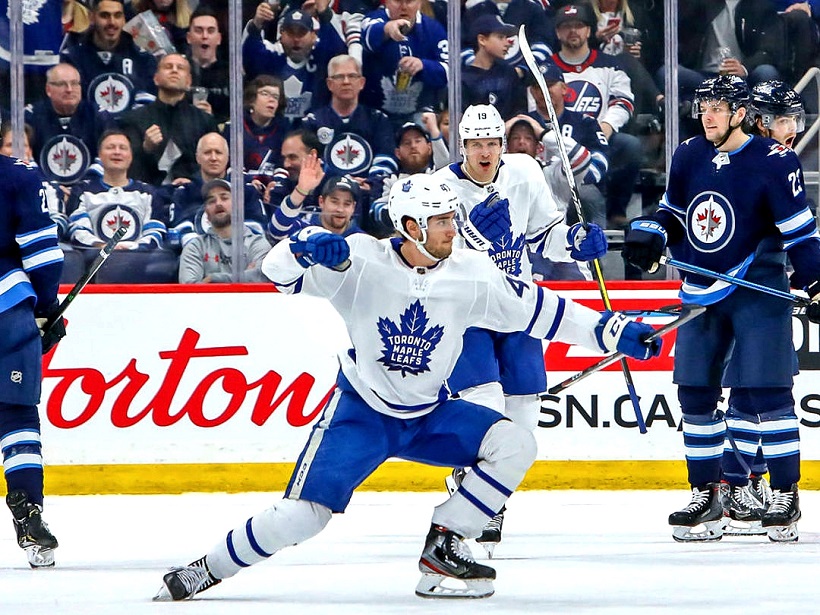 PIERRE ENGVALL OF THE LEAFS CELEBRATES HIS GOAL AT 9:37 OF THE SECOND PERIOD THURSDAY NIGHT IN WINNIPEG, PROVIDING THE VISITORS A 4–2 EDGE AND THE EVENTUAL WINNING MARKER. ENGVALL SCORED 34 SECONDS AFTER TEAMMATE TRAVIS DERMOTT TO BREAK OPEN A 2–2 GAME. JONATHAN KOZUB GETTY IMAGES/NHL
Through it all, Keefe, without question, has worked himself into Jack Adams Award territory. If he guides the Maple Leafs to one of the top three slots in the Atlantic Division with an exhausted goalie, he'll garner coach–of–the–year consideration. Neither Imlach nor any of the other mid–term replacements in modern franchise history — Mike Nykoluk for Joe Crozier: Jan. 10, 1981; George Armstrong for John Brophy: Dec. 17, 1988; Tom Watt for Doug Carpenter: Oct. 26, 1990; Nick Beverley for Pat Burns: Mar. 3, 1996; Randy Carlyle for Ron Wilson: Mar. 2, 2012; Horachek for Carlyle — prompted such an immediate and lengthy reversal. Hockey, even at the highest level, is about having fun on the ice. And, the Maple Leafs impressive core (Auston Matthews, John Tavares, Mitch Marner, William Nylander, Morgan Rielly, Tyson Barrie) has caught fire under Keefe, having clearly been stifled by Babcock in the previous calendar–year.
The Keefe/Imlach comparison, of course, requires some polishing. To put it mildly. Though the Leafs did not respond as quickly and spectacularly to Imlach, he did guide the club to a miracle finish in 1958–59 and a Stanley Cup final date with Montreal  (the Canadiens winning their fourth of a record five consecutive titles). Ol' Punch then stood behind the bench for Toronto Stanley Cup victories in 1962–63–64 and '67. As with any coach in any sport, Keefe's legacy will depend on playoff performance. But, he is off to an incredible start.
50 YEARS AGO TONIGHT
A Moment Impossible to Forget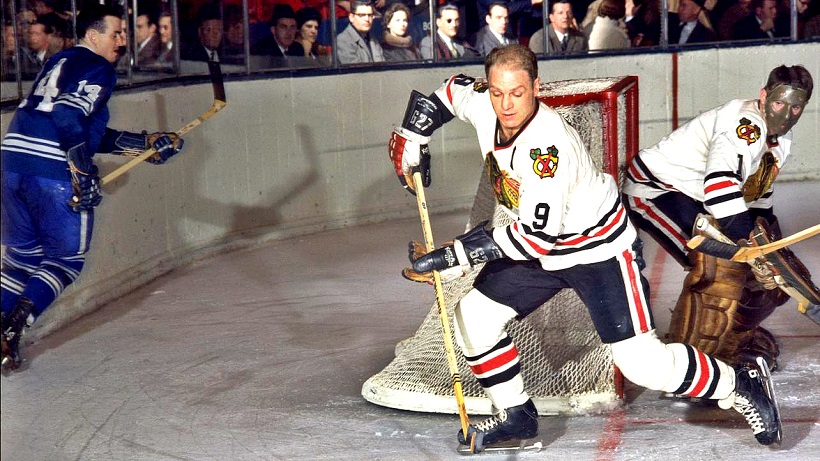 There are two hockey nights from my childhood that I remember foremost. Dec. 3, 1966: the first Leafs game I attended, a 5–2 win over Gordie Howe and the Detroit Red Wings. And, 50 years ago tonight — Jan. 3, 1970 — a 6–2 win over Bobby Hull and the Chicago Black Hawks. For the latter game, I sat directly at ice level, in the first row of the west Reds (which became Golds in 1974–75). These positions along the glass at Maple Leaf Gardens were known as "rails". My uncle, Ralph Blatt, is a dentist (still going strong at 85). Among his patients in the 1960's was a man named Dave Dees, whose wife, Elizabeth, taught Grade 4 at Wilmington Avenue Public School, which I attended (Kindergarten through Grade 6) from 1964–71. Dave's rail seats were the first two directly beside the visitors' penalty box. Occasionally, he would offer my uncle his tickets.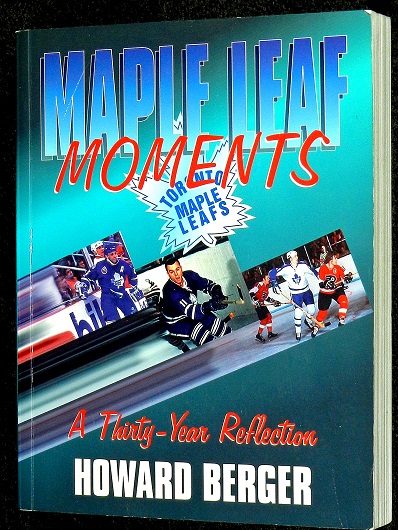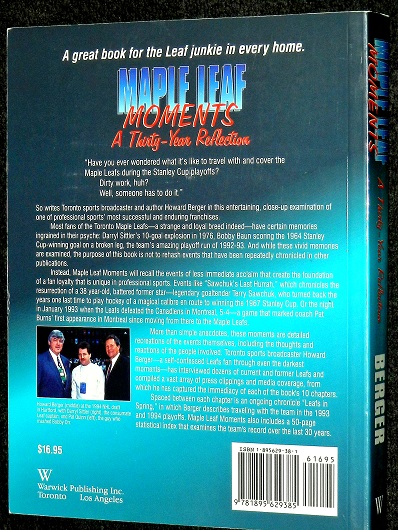 In my 1994 book, Maple Leaf Moments (above), I recounted the incredible incident that occurred as I sat in the rail seats with Uncle Ralph, one–half–century ago tonight, at nearly 11 years of age. Here's the passage: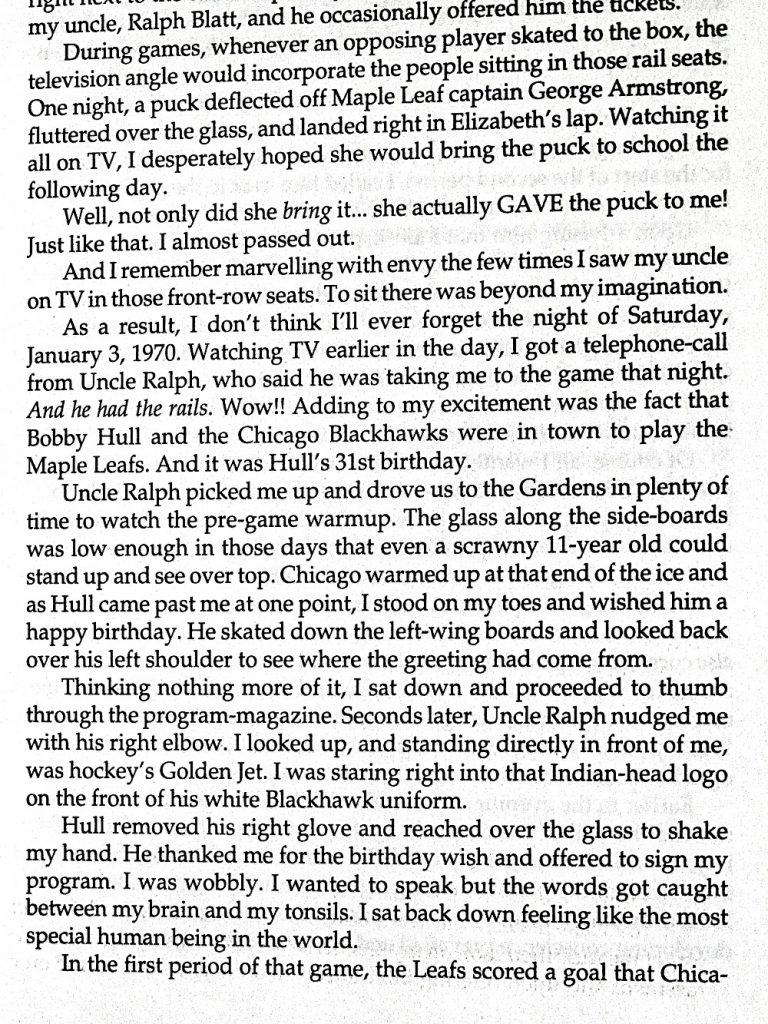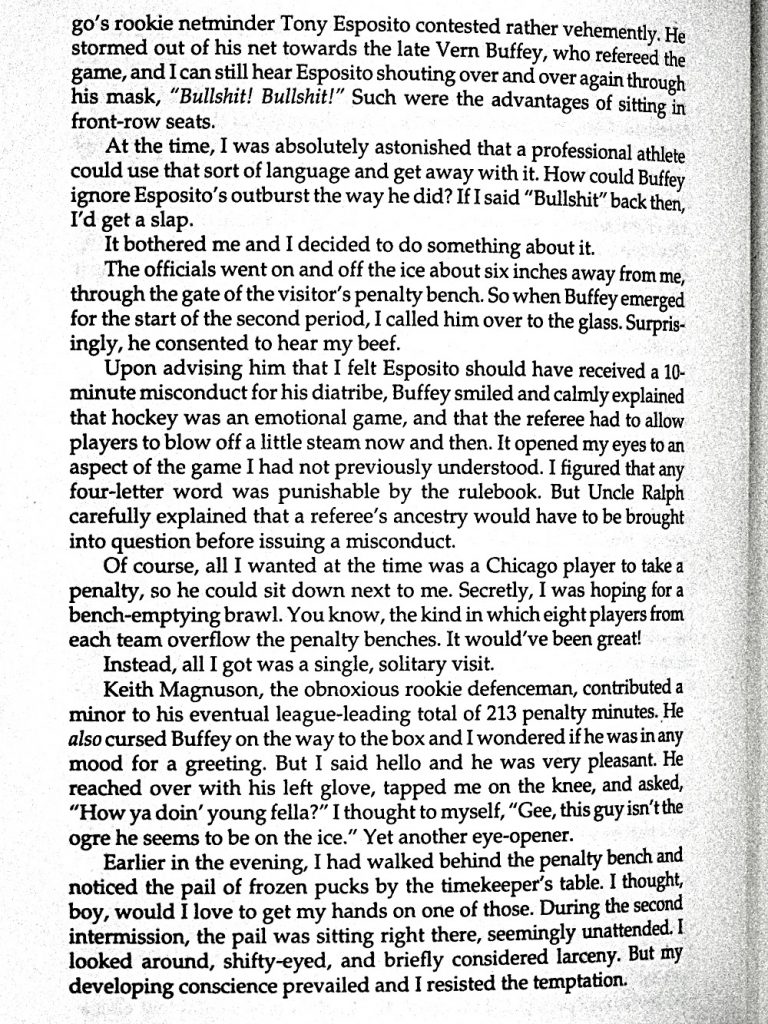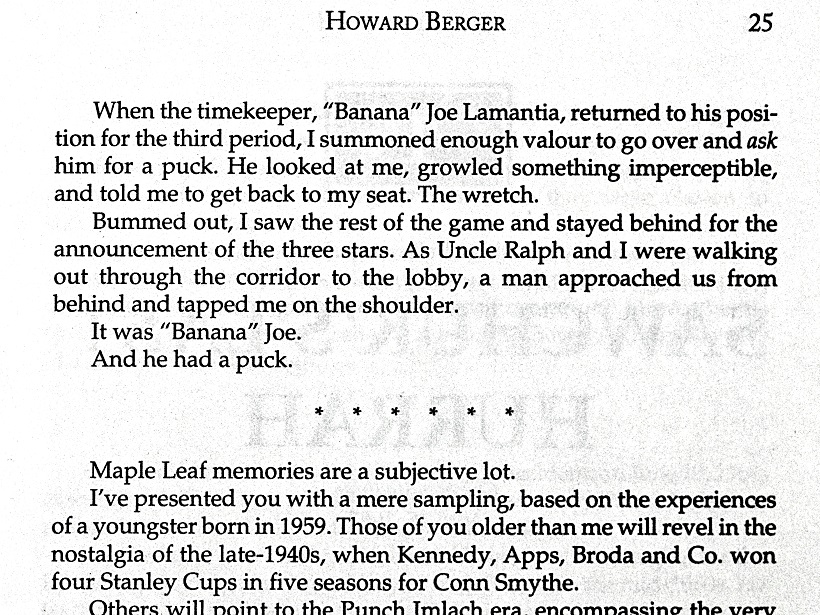 Today is Bobby Hull's 81st birthday. "Banana Joe" Lamantia, who I came to know very well during my time covering the Leafs for The FAN–590 (1993–2010), was the timekeeper at the Gardens for more than 40 years. He died on July 20, 2009. Keith Magnuson, the only Chicago player to sit beside me, would have turned 73 this year. He was killed in a car accident on Dec. 15, 2003; the vehicle driven by former Leafs captain Rob Ramage, who survived and was later found guilty of impaired driving causing death. Vern Buffey (pictured below), who so–generously explained to me why Tony Esposito continued in goal, was among the NHL's top referees in the 1960's before jumping to the rival World Hockey Association (in 1972) as referee–in–chief. He died at 62 on Sep. 11, 1990. His linesmen, 50 years ago tonight, were Neil Armstrong and Ron Finn.

ALSO… HAPPY 75th BIRTHDAY TODAY TO FORMER MAPLE LEAFS CENTER [1965–71] MIKE (SHAKEY) WALTON, PICTURED, BELOW, WEARING DARK–RIMMED GLASSES, ALONGSIDE EX–TORONTO TEAMMATES (left–to–right) GEORGE ARMSTRONG, BOB BAUN AND EDDIE SHACK.

EMAIL: HOWARDLBERGER@GMAIL.COM